Toyota is renowned globally for producing robust, dependable, and long-lasting vehicles. The brand leads the market in SUVs, sedans, pickups, and hatchbacks, with a longstanding history. While the Sequoia and Land Cruiser may appear similar at first glance, they have distinct differences in areas like the interior, engine, performance, and exterior.
The Sequoia began its journey in 2000, whereas the Land Cruiser has been on the road since 1951, making the latter an iconic predecessor to the Sequoia. Toyota is well-known for its diverse range of practical vehicles. However, for those seeking a larger, adventure-ready vehicle, the Toyota Land Cruiser and Sequoia stand out.
In this article, we'll delve into the contrasts between these two SUVs. Continue reading to gain a deeper understanding of these two remarkable vehicles.
Toyota Sequoia
Toyota Land Cruiser
Capacity/Doors
5 doors / 8 seat
5 doors / 5-7 seat
Torque
427 Nm – 544 Nm
385 Nm – 700 Nm
Top Speed
180 Kph
180 Kph
0-100 km/h
7.1 sec – 12.8 sec
7 sec
Max Power
381 hp – 437 hp
271 hp – 409 hp
Engine
3.4L
3.3L – 4.0L
Fuel Tank Capacity
100L
110L
Key Features
Heated/Ventilated Front Seats,

Moonroof, Three-Zone Climate

Control, Rear-Seat Controls

Direct Shift-10AT, Blind Spot

Monitor with parking alert

function, Parking Support Brake,

Camera Wash Function, Special

start-up screen, Smart Key (with

GR emblems),

Fuel Consumption
6.5 Km/L – 11.5 Km/L
8.84 Km/L – 13.1 Km/L
Length x Width x Height
5.21×2.03×1.96 m
4.98×1.98×1.92 m
BE FORWARD PRICE
USD 4,450 – USD 35,820
USD 7,080 – USD 168,550
Comparison of Exterior & Interior
Toyota Sequoia
Exterior: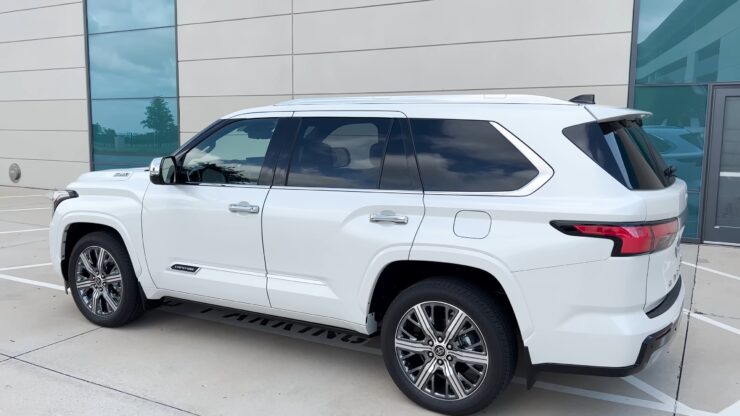 The Toyota Sequoia, a full-sized SUV primarily for the North American market, has its roots in the Tundra pickup truck.
Launched in 2000, it stands as Toyota's largest SUV, second only to the Mega Cruiser, a military-focused model for the Japanese market.
Though the Sequoia sports a somewhat traditional exterior, its design resonates well with male buyers.
Interior: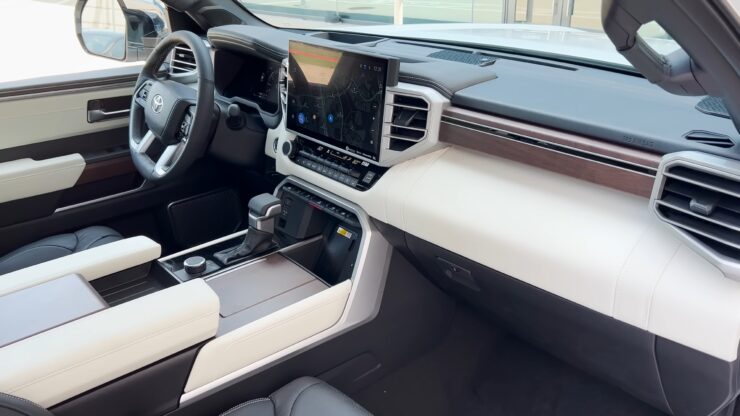 Cabin Storage: The Sequoia's spacious cabin comfortably seats eight, boasting ample leg and headroom across all rows. Unlike the Land Cruiser, the Sequoia's interior prominently features heavier plastic materials. The cabin is replete with storage options, including compartments for essentials like sunglasses, drinks, purses, and phones. The driver's area features a central storage box, three cup holders, door pockets, and a glove compartment. The second row offers door pockets, while the third row has side panel pockets.
Toyota Land Cruiser
Exterior: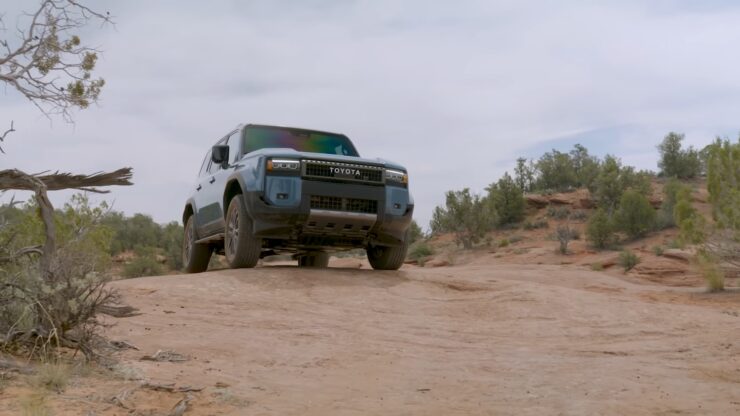 The Toyota Land Cruiser, a line of 4WD vehicles, is Toyota's longest-standing series, with the first model rolling out in 1951.
Available in various styles, including hardtops, station wagons, cab chassis, and convertibles, the Land Cruiser's durability and reliability have earned it immense popularity, particularly in Australia, where it's the top-selling 4WD vehicle.
The Land Cruiser LC300 series boasts a striking exterior, standing out even when compared to the Toyota Sequoia. Its front design, complemented by an elegant grille, enhances its overall appeal.
Interior: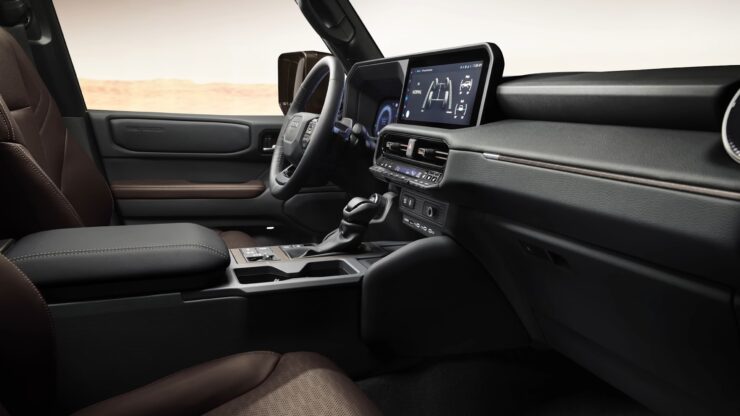 Cabin Storage: The Land Cruiser's latest model flaunts a contemporary interior, featuring a well-organized cluster and a state-of-the-art infotainment system. The seating arrangement ensures maximum comfort and support for all passengers.The cabin offers various storage solutions, suitable for items like sunglasses, phones, drinks, and purses. The front row provides two cup holders, a central storage box, door panel compartments, and a glovebox. The second row has pockets behind the front seats and door panel storage.
Cargo Space:The Land Cruiser offers a more generous boot space than the Sequoia, ensuring ample room for luggage.
Engine, Performance, and Fuel Efficiency Comparison
Toyota Sequoia
Engine & Performance: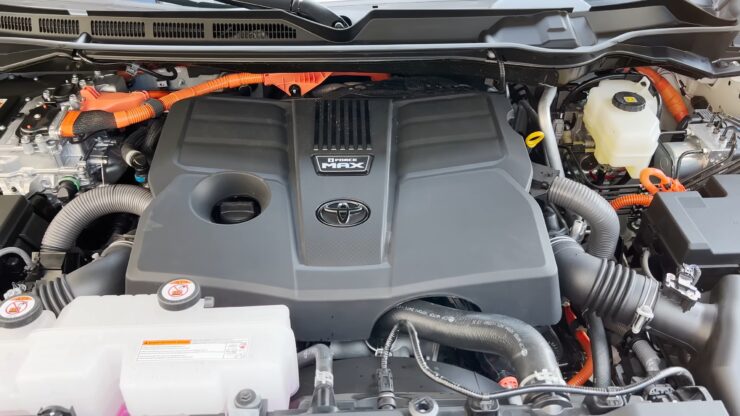 Latest Version: The most recent Toyota Sequoia model is equipped with a singular engine option: a 3.4L twin-turbo V6 gasoline hybrid engine. This engine, combined with a 2NM AC permanent magnet synchronous motor, delivers a combined system output of 437 hp (326 kW; 443 PS). It's paired with a 10-speed AWR10L65 "ECTi Direct Shift" automatic transmission.
2nd Generation: The earlier models of the Sequoia had various engine options:

4.7L 2UZ-FE VVT-i V8 (2008–2009) producing 276 hp (206 kW; 280 PS)
4.6L 1UR-FE V8 (2010–2012) producing 310 hp (231 kW; 314 PS)
5.7L 3UR-FE V8 (2008–2022) producing 381 hp (284 kW; 386 PS)
5.7L 3UR-FBE V8 flex-fuel producing 381 hp (284 kW; 386 PS)

These engines were paired with either a 5-speed or 6-speed automatic transmission.
Fuel Efficiency:
The current Toyota Sequoia offers fuel efficiency ranging from 6.5 Km/L to 11.5 Km/L.
Toyota Land Cruiser
Engine & Performance: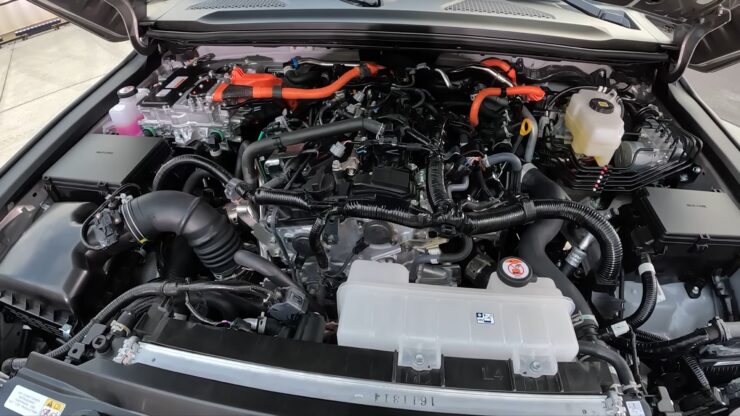 Latest LC J300 Series: The Land Cruiser LC J300 series provides two engine variants, available in both petrol and diesel:

3.4L V35A-FTS twin-turbo V6 (VJA300)
4.0L 1GR-FE V6 (GRJ300) petrol engine
3.3L F33A-FTV twin-turbo V6 (FJA300) diesel engine

These engines are mated to either a 6-speed automatic (GRJ300) or a 10-speed AWR10L65 automatic (VJA300/FJA300) transmission.

LC J200 Series: The LC J200 series had a variety of engine options:

4.0L 1GR-FE V6
4.6L 1UR-FE V8
4.7L 2UZ-FE V8
5.7L 3UR-FE V8 petrol engine
4.5L 1VD-FTV turbocharged V8 diesel engine

These engines were paired with transmissions ranging from 5-speed manual to 8-speed automatic.
Fuel Efficiency:
Fuel consumption for the Land Cruiser varies based on the model and production year. On average, it achieves 7.5 km/L in urban settings and 11.2 km/L combined.
FAQ
Which is more affordable between the Toyota Sequoia and the Land Cruiser?
While prices can vary based on the model year and additional features, generally, the Toyota Sequoia starts at a lower price point compared to the Land Cruiser.
Which vehicle is more suitable for off-road adventures?
Both the Sequoia and the Land Cruiser are capable of off-road adventures. However, the Land Cruiser, with its long-standing reputation and design, is often favored for more rugged terrains.
How do the safety features compare between the two models?
Both vehicles come equipped with Toyota's standard safety features. However, specific safety features might vary based on the model year and trim level.
Is the Toyota Sequoia available in hybrid variants?
Yes, the latest version of the Toyota Sequoia comes with a gasoline hybrid engine option.
Which vehicle offers better towing capacity?
While both vehicles offer substantial towing capacities, specific capacities can vary based on the engine and model year. Generally, both are considered strong contenders in the towing department.
How do the interiors of the two vehicles compare in terms of luxury and refinement?
The Land Cruiser is often seen as the more luxurious option with a focus on refinement, while the Sequoia is viewed as more family-friendly and practical.
Final Thoughts
Toyota boasts a lineup of robust full-sized SUVs that offer both comfort and power, notably the Toyota Land Cruiser, Toyota Sequoia, and Toyota 4Runner.
When comparing the Toyota Sequoia and the Land Cruiser, it's evident that both vehicles are meticulously crafted down to the finest detail.
They both prioritize comfort and performance. However, the latest Land Cruiser model edges out slightly with its enhanced cargo space, superior comfort, and heightened performance. Interestingly, their fuel efficiency is quite comparable.
The Sequoia is designed with families in mind, making it a practical choice for daily commutes and long road trips. On the other hand, the Land Cruiser, with its rich legacy and premium features, is perfect for those willing to invest in luxury and top-tier performance.
In terms of longevity, the Land Cruiser has a storied history that stands as a testament to its enduring quality. The Sequoia, though younger in the Toyota lineup, has quickly established itself as a reliable and sought-after SUV.
In conclusion, both the Sequoia and the Land Cruiser are exceptional in their own right. The choice between them boils down to individual preferences, needs, and budget.