Key West, the southernmost island in the Florida Keys, is a tropical paradise that offers a unique blend of natural beauty and vibrant culture. Known for its stunning beaches, clear turquoise waters, and myriad of activities both on and off-shore, Key West is a destination that caters to all types of travelers.
Whether you're an ocean adventurer, a history buff, or simply looking for a relaxing beach getaway, Key West has something for you. This article takes you on a journey through the nine best beaches in Key West, each with its own unique charm and allure.
1. Smathers Beach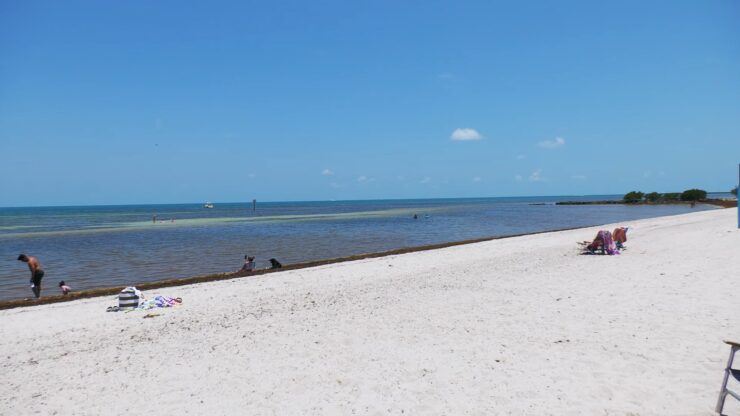 A Vibrant Beachfront Experience
Smathers Beach, one of Key West's most renowned beaches, is also its largest. Situated on the south coast of the island, this half-mile-long beach is one of four main beaches in Key West proper. The beach is a hub of activity, with pick-up volleyball games taking place on the sand, and facilities such as restrooms and showers available for visitors.
Sunset Weddings and Million-Dollar Views
Smathers Beach is not just about daytime fun. As the sun begins to set, the beach transforms into a popular spot for weddings. The breathtaking sunset views provide a perfect backdrop for wedding photos and vows, attracting couples and their parties to the water's edge.
A Beach for All
Whether you're looking to participate in a heated volleyball match, take a dip in the shallow waters, or simply soak in the stunning views, Smathers Beach offers something for everyone. Its size and variety of activities make it a must-visit destination when in Key West.
2. Fort Zachary Taylor Historic State Park Beach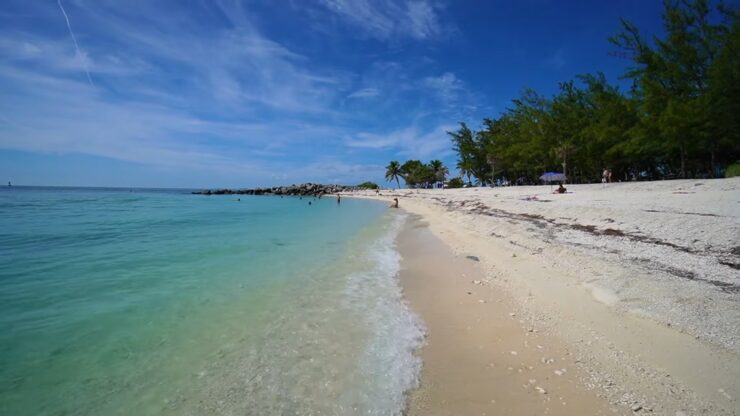 A Refreshing Swim and Snorkel Spot
The beach at Fort Zachary Taylor Historic State Park, located on the southwest tip of the island, is considered one of the top beaches in all of the Florida Keys. Thanks to its relatively deep waters, it is the best beach in Key West for a refreshing swim and snorkel.
A Blend of Nature and History
The beach is lined with towering Norfolk pine trees that provide plenty of shade. Picnic tables invite you to pack lunch and settle in for the day. The park's historic fort, dating back to 1845, adds a touch of history to the natural beauty of the beach. It was used to deter Confederate ships from coming ashore during the Civil War.
A Snorkeler's Paradise
The beach is home to colorful reef fish such as parrot fish and sergeant majors, which can be seen along the rocky pilings of the park's jetty. This makes it the best spot in all of Key West to snorkel right from the shore. Snorkel gear, beach chairs, and umbrellas can be rented from a nearby kiosk.
3. Clarence S. Higgs Memorial Beach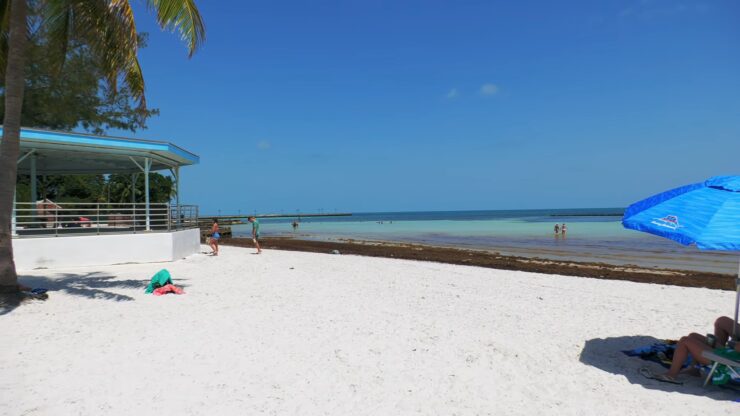 A Local Favorite
Often referred to as Higgs Beach by the locals, this stretch of sand is just a few blocks west of Smathers Beach. Despite its popularity, it offers a fun and relaxed beach day experience. The beach is equipped with facilities for beach volleyball, tennis, and pickleball, and even features a beachfront playground for children.
A Blend of Leisure and History
Higgs Beach is not just about fun and games. It houses some serious historical sites, including a Civil War-era fort, the largest African refugee burial ground in the northern hemisphere, and the Key West AIDS Memorial. These sites add a layer of depth and significance to your beach visit.
Culinary Delights on the Beach
After a day of fun and exploration, you can head to the beachfront cafe, Salute! On the Beach, for some Caribbean-inflected seafood dishes and tropical cocktails. The beach offers everything you need for a memorable day out, making it a must-visit when in Key West.
4. Simonton Street Beach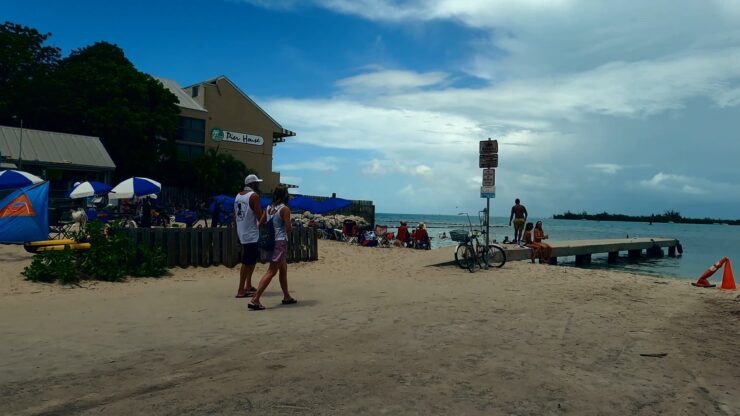 A Hidden Gem
Simonton Street Beach is a small beach that draws locals and tourists who've discovered it while exploring the island. Located at the end of Simonton Street, on Key West's Gulf of Mexico side, this beach offers a more laid-back and intimate beach experience.
Gateway to Adventure
The beach serves as a launch point for fishing and island-hopping day trips. Visitors can be seen rolling their boats down ramps and into the turquoise waters, ready for a day of adventure. If you're looking for a quieter beach day or planning a day trip, Simonton Street Beach is the place to be.
Beachside Comforts
Despite its small size, the beach offers amenities for a comfortable beach day. A beach concession stand rents chairs and umbrellas for those wishing to spend time ashore sunbathing. Simonton Street Beach is a testament to the fact that sometimes, the best things come in small packages.
5. South Beach
A Tranquil Retreat
South Beach, located on the southern side of Duval Street and near the Southernmost Point marker, offers a serene beach experience, a far cry from the bustling beach in Miami of the same name. Its proximity to shopping, restaurants, bars, and local history makes it a convenient spot for a beach day.
A Historical Connection
South Beach holds a special place in Key West's history. The renowned playwright Tennessee Williams, during his time in Key West, was known to visit South Beach almost every day for a dip in the water. This historical connection adds a touch of nostalgia to the beach experience.
Picturesque Views
The Emma Carrero Cates Pier at South Beach is a must-visit spot for photography enthusiasts. It's an ideal location for capturing photos at golden hour and for witnessing a dreamy island sunrise. South Beach, with its tranquility, historical significance, and stunning views, is a beach that shouldn't be missed.
6. Rest Beach at C.B. Harvey Park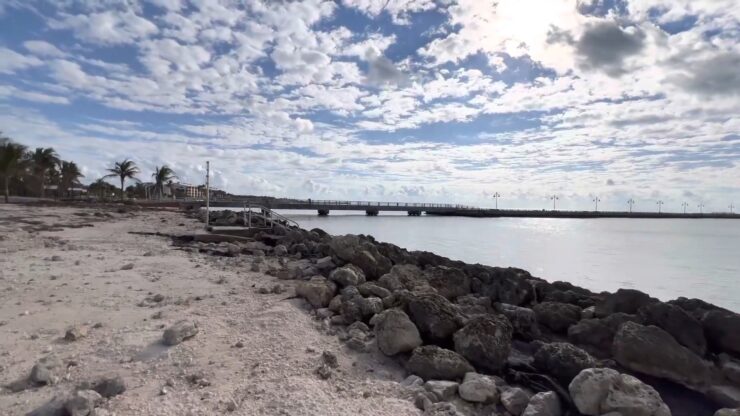 A Place to Unwind
Rest Beach, located on Atlantic Boulevard on Key West's Atlantic Ocean side, lives up to its name. It's a great place to relax and unwind, with warm, shallow waters and a soft sandy beach. This beach is a favorite destination for shell hunters and families, as it's ideal for wading and playing.
A Beach with a Cause
Rest Beach is not just about relaxation. It also provides access to the Key West Aids Memorial, a significant landmark honoring those affected by the AIDS epidemic. This adds a layer of depth and meaning to your visit to Rest Beach.
Family-Friendly Fun
Whether you're looking to hunt for shells, enjoy a family picnic, or pay your respects at the AIDS Memorial, Rest Beach offers a unique and meaningful beach experience. Its calm and family-friendly atmosphere makes it a perfect spot for a peaceful beach day.
7. Dry Tortugas National Park
An Adventurous Day Trip
For those seeking an adventurous day trip from Key West, the remote beaches of Dry Tortugas National Park, located about 70 miles west, are a perfect choice. The 100-square-mile park, composed mostly of open seas and seven small islands, is the least-visited national park in Florida, offering a unique and tranquil beach experience.
Historical and Natural Wonders
Garden Key, one of the islands in the park, is home to the 19th-century Fort Jefferson, whose brick walls starkly contrast the dazzling blue waters surrounding it. The island also boasts beautiful beaches where you can wade right into the water to snorkel above protected coral reefs.
Camping Under the Stars
If you're up for an overnight adventure, basic campsites are available on a first-come, first-serve basis. Spending the night on the island under the stars is a magical experience that adds to the allure of Dry Tortugas National Park.
8. Sombrero Beach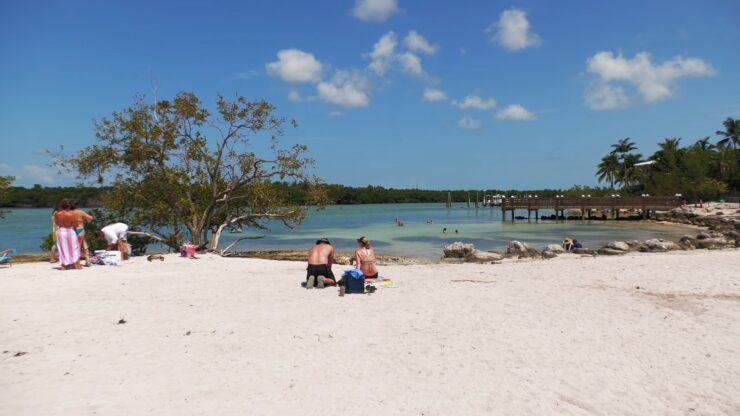 A Local Hangout Spot
Sombrero Beach, located about 50 miles back toward Key Largo and Miami on Marathon Key, is treated like a backyard hangout spot by locals. The beach, on the Atlantic Ocean side of the Overseas Highway at Mile Marker 50, is manmade with coral sand and offers a picturesque setting for a beach day.
A Scenic Retreat
Sombrero Beach is a very pretty place to unfurl your beach towel and set up an umbrella for the day. Its scenic beauty and relaxed atmosphere make it a favorite among locals and tourists alike.
A Day of Relaxation
Whether you're looking to sunbathe, swim, or simply enjoy the beautiful surroundings, Sombrero Beach offers a perfect setting. Its local charm and beautiful landscape make it a must-visit beach on your Key West trip.
Conclusion
Key West, with its stunning beaches and vibrant culture, offers a unique beach experience for every traveler. From the bustling activity of Smathers Beach to the tranquil beauty of Bahia Honda State Park, each beach offers its own unique charm and allure.
Whether you're an adventure seeker, a history buff, or someone simply looking for a relaxing beach getaway, Key West has a beach for you. So pack your beach gear, put on your sunscreen, and get ready to explore the tropical paradise that is Key West.