Long Beach- A rare orca whale with an eerie white appearance is on the move, recently spotted off the coast of California.
Around 9:30 a.m. on Sunday, Captain Kevin Nguyen of Long Beach-based Harbor Breeze Cruises was returning from a school field trip on Catalina Island with a group of children when he noticed a whale spout shooting a mist into the air in the distance. They were about six miles from Point Fermin when a young orca known as Frosty appeared with a group of six other whales, stunning everyone on board with its distinctive pigmentation, Nguyen told the Daily Breeze.
Word quickly spread among other whale-watching tours in the area, such as Newport Coastal Adventure. Within an hour, all three of its boats were on the water, including one carrying 20 passengers who had joined a last-minute trip in hopes of spotting Frosty.
Whale Watchers' Elation
A group of 20 passengers were able to spot the pod of seven in the waters, including a three-year-old calf aptly named Frosty for its white appearance, Trowbridge said.https://t.co/AecxJEthZT

— WTAJ News (@WTAJnews) April 26, 2023
"After about an hour of scanning the water with binoculars, a captain and a crew member suddenly heard the passengers screaming," said Jessica Roame, education programs manager for Newport Landing and Davey's Locker Whale Watching, speaking with SFGATE. The orca pod was only a quarter of a mile away. For the next two and a half hours, the passengers were mesmerized as the whales swam around and even under the boat, Roame said. "The fact that we were able to see them again was just amazing. It's a really rare occurrence."
Alisa Schulman-Janiger of the California Killer Whale Project has been following Frosty since it was first seen as a calf by Monterey Bay Whale Watch in August 2019. She also gave the whale its nickname due to its milky appearance. Schulman-Janiger told SFGATE that she first saw Frosty in September near Catalina Island, but the whale has been observed as far north as Alert Bay, British Columbia, and as far south as Ensenada, Mexico.
Orcas' Unpredictable Movements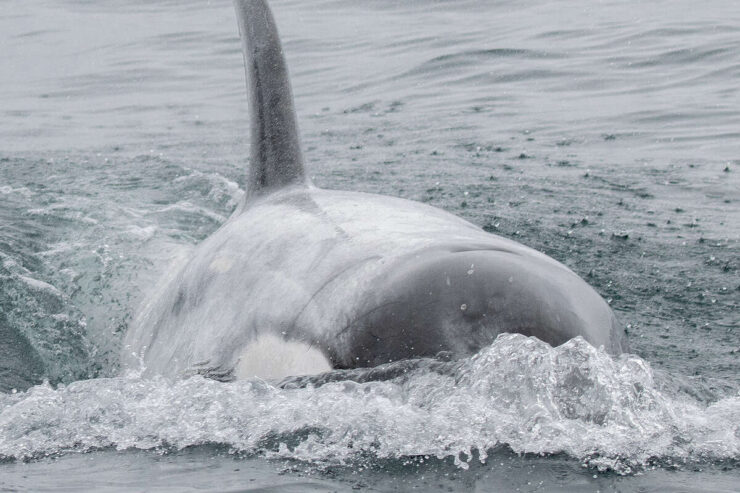 Since orcas don't have migration patterns, it's impossible to determine when or where they'll appear next, Schulman-Janiger explained, which makes this sighting particularly fascinating. "It's unpredictable," she said. "They go wherever they want. They could be following prey, linking up with relatives, or visiting old hangouts. But we can't say where they'll go."
Frosty is believed to be about four years old. If male, it will start developing dorsal fins between the ages of nine and 12 – if it survives that long. Schulman-Janiger explained that Frosty's unique coloration could be a sign of a genetic disorder known as Chédiak-Higashi syndrome, which leads to a weakened immune system, sunlight sensitivity, and a shortened life span. Another possibility is leucism, or partial loss of pigmentation, according to Luke Rendell, a lecturer in biology at the University of St Andrews' sea mammal research unit, as reported by Newsweek.
Possible Genetic Disorder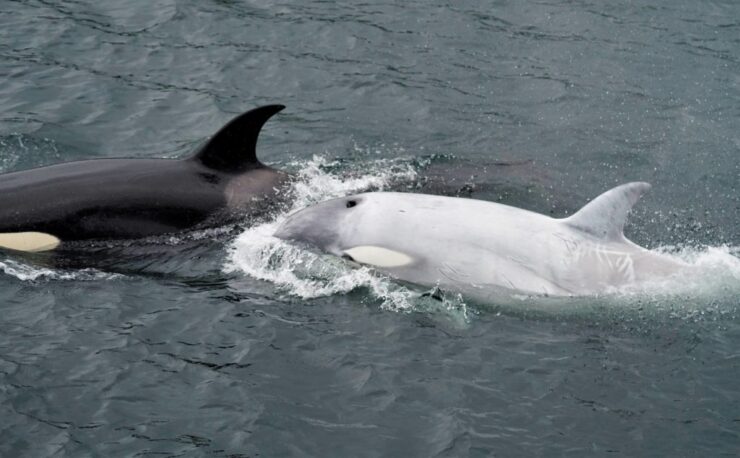 Other whales believed to have had Chédiak-Higashi syndrome include Chimo, a four-year-old captive female orca that lived at the now-closed Sealand of the Pacific in British Columbia, and Tl'uk, a male Bigg's killer whale born in the Pacific Northwest about a year before Frosty, who vanished when he was about two years old. "None of these whales have been documented past the age of four, and we don't know a lot about the progression of this disorder," said Schulman-Janiger. "But all of them have that same change in appearance. As far as we know, this is the only whale currently alive with this particular syndrome.
Source:
https://www.sfgate.com/news/article/frosty-the-orca-whale-sighted-in-california-17920809.php