Heading to the sun-kissed shores of southwest Florida? Don't forget to bookmark this ultimate foodie guide to Marco Island's culinary delights!
Though Marco Island might be a compact 12-square-mile paradise, it's bursting with golden beaches, shopping havens, thrilling activities, and most crucially, a smorgasbord of dining experiences.
From the opulence of fine dining to the laid-back vibes of beachside shacks, Marco Island's gastronomic scene is as diverse as it is delicious. Craving some authentic Italian? Say "Ciao!" to Sale e Pepe, DaVinci, and Osteria Capri. If a seafood feast is more your style, dive into the offerings at Snook Inn and CJ's on the Bay. And for those sunset cocktail moments, The Speakeasy promises a mesmerizing backdrop.
So, whether you're a gourmet guru or a casual food lover, Marco Island's top 18 eateries are ready to tantalize your taste buds!
18 Finnest Restaurants
18. SALE E PEPE: A Taste of Italy on Marco Island
View this post on Instagram
📍 Marco Beach Ocean Resort, 480 S Collier Blvd, Marco Island
Craving authentic Italian in the heart of Southwest Florida? Look no further than Sale e Pepe.
This upscale gem is not just about food; it's an experience. Dive into Southern Italian delicacies, where tomatoes and seafood steal the show.
From the spaghetti allo scoglio to the risotto al fiore e gamberi, every dish is a culinary masterpiece. And what's Italian food without wine? Choose from a robust Barolo, an exotic malbec, or a classic Bordeaux. But it's not just the food that'll captivate you.
The ambiance, with its pristine tablecloths and romantic candlelight, sets the mood.
And if you're lucky enough to grab an outdoor seat, the Gulf of Mexico's views and the mesmerizing sunset will leave you spellbound. Truly, a picture-perfect dining experience!
17. SNOOK INN: The Quintessential Florida Seafood Spot
View this post on Instagram
⚠️ Currently Closed Due to Hurricane Ian. Stay tuned for reopening updates.
📍 1215 Bald Eagle Dr, Marco Island
For those who fancy a laid-back seafood vibe, Snook Inn, another gem from the Cavelli family, is your go-to. This iconic waterfront restaurant, with its charming thatched roof huts, embodies the spirit of Florida.
Whether it's the crispy calamari, the hearty seafood chowder, or the famed grouper sandwich, every bite promises a burst of flavors.
And what's a seaside meal without a tropical drink in hand? From the classic rum runner to the refreshing raspberry mojito, there's a cocktail for every palate. Dive into the essence of Florida at Snook Inn!
16. MARCO PRIME STEAK & SEAFOOD RESTAURANT: A Culinary Symphony of Land and Sea
View this post on Instagram
📍 Marco Walk Plaza, 599 S Collier Blvd, Marco Island
Topping our list of Marco Island's culinary treasures is Marco Prime Steak & Seafood Restaurant. As the name suggests, this place is a haven for those who appreciate the finest in both land and sea offerings.
Dive into a world where Maine lobster bisque meets Wagyu beef carpaccio, and Chilean sea bass dances alongside braised short ribs. And if you're a steak lover, the petit filet mignon is sheer perfection.
But wait, there's more! If your sweet tooth beckons, the chocolate soufflé is a must-try.
Rich, decadent, and just the right size, it's a dessert lover's dream. Just remember to order it alongside your main course, as perfection takes time!
15. DOREEN'S CUP OF JOE: Morning Delights and Midday Treats
📍 267 N Collier Blvd, Marco Island
While many eateries on our list cater to the evening crowd, Doreen's Cup of Joe shines brightest in the morning and afternoon. Dubbed the breakfast champion of Marco Island, this cozy spot is a haven for both early birds and brunch enthusiasts.
Got a sweet craving? Dive into the crunchy French toast, indulge in homemade donut holes sprinkled with fresh berries, or savor the zesty lemon ricotta pancakes. If savory is more your style, the California omelet, biscuit sandwich, and huevos rancheros promise a flavor explosion.
And of course, no visit to Doreen's is complete without a beverage. Whether it's a frothy cappuccino, a zingy mimosa, or even a coffee cocktail, they've got you covered. Cheers to delightful mornings and afternoons!
14. THE OYSTER SOCIETY: A Glimpse of Marco's Elite Culinary Scene
View this post on Instagram
📍 Marco Walk Plaza, 599 S Collier Blvd #218, Marco Island
When it comes to Marco Island's crème de la crème dining spots, The Oyster Society is a name that resonates with many. Nestled right next to its sibling, Marco Prime, this restaurant is a testament to Marco's rich culinary tapestry. Step in during "Social Hour" (their chic take on Happy Hour) and let the prohibition-era vibes sweep you away.
The interior, with its grand bar, mirrored walls, and bold decor, is a visual treat. And the live jazz? Simply the cherry on top. Dive into their menu, where oysters reign supreme.
But don't fret if you're not an oyster aficionado; dishes like the pistachio Chilean sea bass and lobster thermidor are equally captivating. And for the sweet finale? Their innovative desserts, like the lemon & thyme crème brulee tagine, are a must-try!
13. LA TAVOLA RESTAURANT AND BAR: A Symphony of American Flavors
View this post on Instagram
📍 961 Winterberry Dr, Marco Island
"La Tavola" might translate to "the table" in Italian, but don't be fooled. This gem is all about celebrating the best of American cuisine.
Whether you're in the mood for a hearty bison burger or a luxurious crispy duck with orange ginger glaze, La Tavola promises a dish for every palate.
And for those with a penchant for lamb, the New Zealand lamb with Amarena cherry and mint demi sauce is sheer perfection.
As you savor your meal, let the melodies of live music serenade you and sip on a glass from their expansive wine selection. At La Tavola, every meal is a celebration!
12. ARIO: A Culinary Jewel in Marco Island's Crown
📍 400 S Collier Blvd, JW Marriott Marco Island Beach Resort, Marco Island
Nestled within the luxurious JW Marriott Marco Island Beach Resort, Ario stands as a testament to culinary excellence.
This upscale dining spot has not only won the hearts of locals and tourists alike but has also earned a coveted spot on Wine Enthusiast magazine's list of America's Best 100 Wine Restaurants.
Ario's forte lies in its impeccable presentation of locally-sourced meats and the freshest of Florida seafood. But the pièce de résistance?
Their aged prime steaks, especially the 34 oz Jackman Ranch Wagyu tomahawk ribeye steak, which is a feast fit for royalty.
11. OSTERIA CAPRI: A Slice of Italy in Florida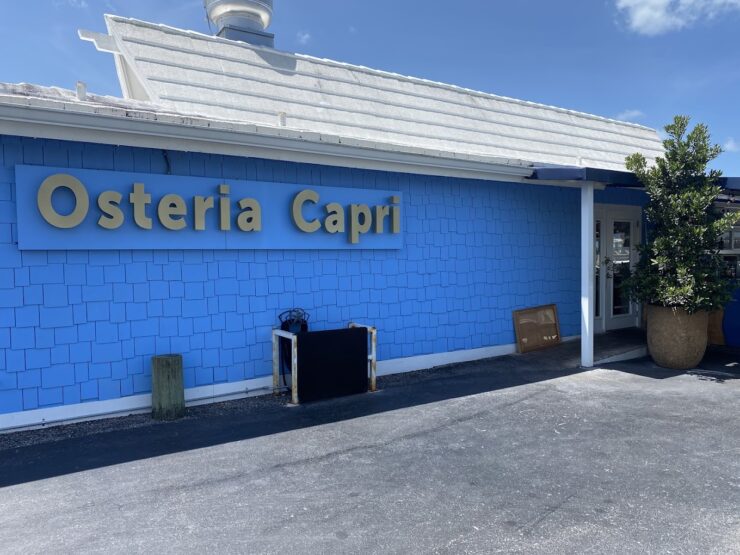 📍 387 Capri Blvd, Naples, FL 34113
While Osteria Capri might not be on Marco Island's shores, its reputation precedes it, making it impossible to overlook. Located on the scenic Isles of Capri, this Italian haven transports you straight to the heart of Italy.
Every dish, crafted with fresh seasonal ingredients, echoes the simplicity and elegance of authentic Italian cuisine. The Carciofi Romani is a delight, crispy on the outside and tender within.
Their pasta dishes, like the Tagliatelle Cacio e Pepe and the Pappardelle Bolognese, are a testament to Italian culinary artistry.
And if you think you've seen it all, their Neapolitan style pizzas will make you think again. Truly, a gastronomic masterpiece!
10. MANGO'S DOCKSIDE BISTRO: A Tropical Culinary Adventure
View this post on Instagram
📍 Esplanade Shoppes at Marco Island, 760 N Collier Blvd, Marco Island
Step into Mango's Dockside Bistro and be instantly transported to a nautical paradise. With its vibrant 750-gallon fish tank and mesmerizing waterfall, this place is a visual treat.
But it's the culinary delights that truly set it apart. Whether you're in the mood for the tropical Dockside conch fritters or the delectable macadamia nut encrusted cobia, there's something for every palate.
And for sushi lovers, their mango tropical roll is a must-try.
Dive into the flavors of the island at this kitschy yet delightful bistro.
9. THE DECK AT 560: Where Gastronomy Meets Gulf Views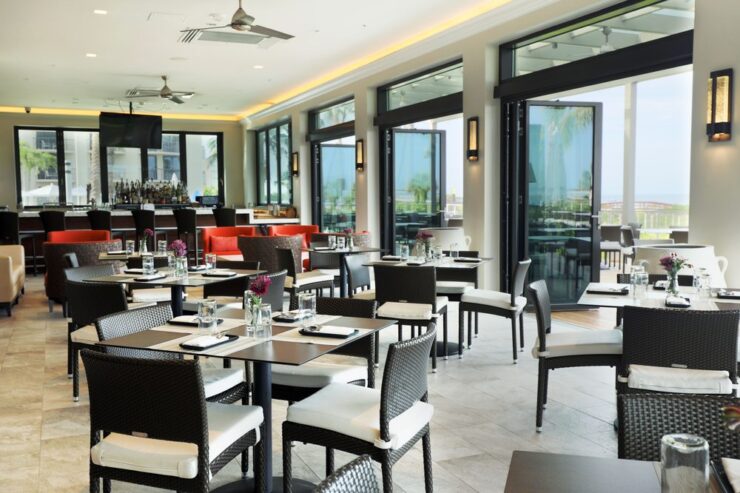 📍 Hilton Marco Island Beach Resort & Spa, 560 S Collier Blvd, Marco Island
Perched within the luxurious Hilton Marco Island Beach Resort & Spa, The Deck at 560 offers a dining experience like no other.
With panoramic views of the Gulf, every meal here becomes a memorable affair. Start your day with a sumptuous brunch, where dishes like the ocean benedict and citrus French toast promise a delightful start.
For a light mid-day treat, their lunch menu boasts a range of sandwiches, salads, and flatbreads. The heirloom tomato salad and the 560 burger are crowd favorites.
As the sun sets, the dinner menu takes center stage. Indulge in gourmet dishes like the rich cioppino or the succulent ahi tuna steak.
And as you savor your meal, let the breathtaking Marco Island sunset provide the perfect backdrop to your evening.
8. SUNSET GRILLE: Seafood Delights by the Shore
📍 900 S Collier Blvd, Marco Island
The allure of fresh seafood on Marco Island is undeniable, and Sunset Grille is the embodiment of this oceanic charm. With its idyllic beachfront setting, thatched roof bar, and delectable seafood offerings, it's a casual seafood lover's paradise.
Quench your thirst with specialty cocktails like the sunset grille mai tai or the tropical tea. As you sip on these delights, your anticipation for the main course builds.
Will you opt for the crispy fish & chips basket, indulge in the famous crab cake sandwich, savor snow crab legs, or relish the grilled teriyaki salmon?
With every bite, Sunset Grille promises a taste of the sea and the sun.
7. DAVINCI RISTORANTE ITALIANO: A Culinary Journey to Italy
View this post on Instagram
📍 Marco Walk Plaza, 599 S Collier Blvd, Marco Island
For a truly authentic taste of Italy, DaVinci Ristorante Italiano is the place to be. As a part of the Carvelli family of restaurants (including Marco Prime, Snook Inn, and The Oyster Society), DaVinci exudes a genuine Italian spirit.
Hailing from Mesoraca, Italy, the family's recipes infuse every dish with a touch of nostalgia. The ambiance is contemporary and inviting, setting the stage for a memorable meal. From the tortelloni di carne that transports you to Bologna to the earthy Porcini Pizza, every bite tells a story of old-country flavors.
Don't forget to pair your meal with a fine red from their extensive wine menu. And for a sweet finale, the coconut panna cotta takes dessert to new heights.
6. CJ'S ON THE BAY: A Waterfront Haven for Seafood Lovers
📍 Esplanade Shoppes at Marco Island, 740 N Collier Blvd, Marco Island
For a taste of the sea in a relaxed setting, CJ's on the Bay is a must-visit. Situated at the heart of the Esplanade Shoppes, this charming eatery offers a seafood-focused menu that caters to every palate.
From the locally-sourced stone crab to the flavorful rum butter mahi mahi, the ocean's bounty shines here. CJ's signature crab cakes are a delight for seafood aficionados.
But fear not, non-seafood lovers – options like the filet mignon, cowboy steak, and mini burger basket await your taste buds too.
With its central location and a variety of dishes, CJ's is a perfect spot to unwind and savor the flavors of Marco Island.
5. THE SPEAKEASY: Where Drinks and Delights Collide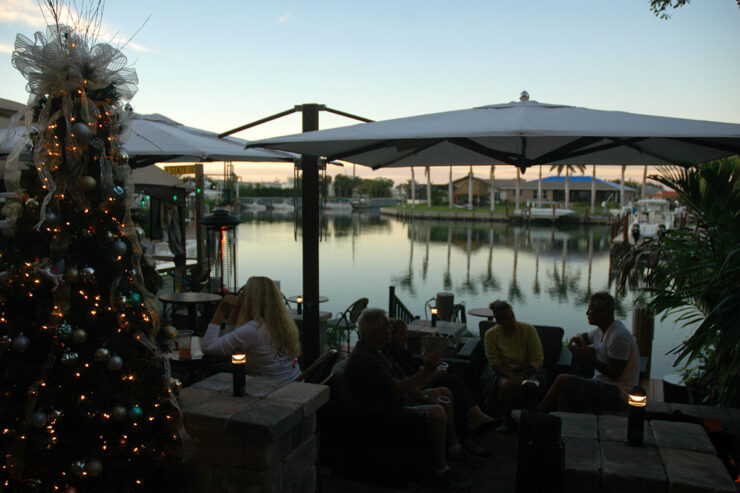 📍 1106 N Collier Blvd, Marco Island
Step back in time to the Prohibition era at The Speakeasy, where drinks and dining create an unforgettable experience. The term "speakeasy" harks back to a time when alcohol was forbidden, and hidden bars like this one became havens for those seeking a sip.
At The Speakeasy, beverages take center stage. From beer and wine to creative cocktails and dessertinis, the options are endless.
Sip on a berry white martini or a German chocolate cake cocktail as you immerse yourself in the vintage ambiance. But don't overlook the food!
Indulge in the hogfish snapper, savor the chicken piccata, dive into the prohibition burger, or feast on the loaded Italian beef Chicago-style pizza. It's a culinary journey through history and flavor.
4. STILTS BAR & GRILL: Where Sunset Meets Sips

📍 Marriott's Crystal Shores, 600 S Collier Blvd, Marco Island
Stilts Bar & Grill is a hidden gem that captures the hearts of both locals and travelers. Nestled within Marriott's Crystal Shores, it's a well-kept secret known for its enticing happy hour. From 4 p.m. to 7 p.m. daily, indulge in delectable cocktails and appetizers as you watch the sun paint the sky with hues of gold and orange.
An OTR margarita accompanied by a plate of conch fritters sets the tone for a memorable evening. While the happy hour menu shines, don't restrict yourself—explore the entire menu.
Delight in island coconut shrimp, relish the Stilts signature burger, or savor the flavors of grilled mahi mahi street tacos. At Stilts, every sip and bite is a celebration of Marco Island's beauty.
3. FIN BISTRO: A Seafood Oasis with a Touch of Elegance
📍 657 S Collier Blvd, Marco Island
While casual seafood joints have their charm, Fin Bistro stands out with its refined elegance. Committed to serving the freshest seafood, Fin Bistro's offerings are a testament to the sea's bounty. The dedication is such that the restaurant closes when the fishermen take a break on Sundays.
From the Caribbean spiny lobster to the seared Florida black grouper and coconut tempura shrimp, every dish is a work of art.
But the seafood is just the beginning—indulge in desserts like the white chocolate apple croissant bread pudding, the dark chocolate truffle cake, or the exquisite key lime flan.
At Fin Bistro, style meets sustenance in the most delightful way.
2. LEE BE FISH COMPANY: A Seafood Haven Fresh from the Hook
📍 350 Royal Palm Dr, Marco Island
When it comes to the freshest fish in town, Lee Be Fish Company takes the prize. This fish market eatery is all about serving seafood that's as fresh as it gets.
With the slogan "from hook to mouth," you know you're in for an authentic culinary experience.
Indulge in the catch of the day basket, savor the shrimp tacos, relish the grouper sandwich, or opt for the combo Marco Island style platter.
And if you're a fan of pairing fresh fish with a cold beer, you're in for a treat.
At Lee Be Fish Company, every bite is a testament to the ocean's bounty, making it one of the most enjoyable dining spots in Marco Island.
1. STONEWALLS: A Family-Owned Culinary Haven
📍 551 S Collier Blvd, Marco Island
Stonewalls is more than just a restaurant – it's a culinary haven that caters to every meal of the day. As a family-owned eatery, it offers a diverse menu for breakfast, lunch, and dinner, solidifying its reputation as one of the best restaurants in Marco Island.
Start your day with the delectable crab cake benny, the satisfying crunchy French toast, or the hearty breakfast burrito. For lunch, explore options like the classic Philly cheesesteak, the flavorful meatball parm sandwich, or the iconic Chicago dog.
Their variety of giant baked potatoes, including the southwest and bacon spud, are a treat too. As dinner rolls around, indulge in comfort foods like homemade meatloaf or a scrumptious chicken pot pie.
Whether you're seeking a cozy breakfast spot, an upscale dining experience, or the finest Italian cuisine, Stonewalls has it all covered.
FAQ
What is so great about Marco Island?
Marco Island is renowned for its stunning beaches, abundant outdoor activities, charming ambiance, and a diverse culinary scene. Visitors can enjoy a mix of relaxation and adventure, from lounging on pristine shores to exploring nature reserves and indulging in delicious dining options.
How large is Marco Island?
Marco Island covers approximately 12 square miles, making it a relatively small yet captivating destination that offers a wide range of attractions and amenities within its compact area.
Is it expensive?
Yes, Marco Island is considered to be on the higher end of the cost spectrum, especially in terms of accommodations, dining, and recreational activities. It's known for offering a luxurious and upscale experience.
Which month is best There?
The best time to visit Marco Island is typically during the winter months, from December to April, when the weather is pleasantly warm and the tourist season is in full swing. This period offers ideal conditions for outdoor activities and beach relaxation.
Can you swim in the ocean in Marco Island?
Yes, you can swim in the ocean at Marco Island. The Gulf of Mexico waters surrounding the island are generally safe for swimming and offer a refreshing escape for visitors.
What is the average age?
The average age on Marco Island is relatively higher compared to other destinations, often attracting retirees and older individuals seeking a peaceful and relaxed environment. However, the island also welcomes visitors of all ages to enjoy its attractions and activities.
Final Words
Whether you're a gourmet guru or a casual food lover, Marco Island's top 18 eateries are ready to enchant your taste buds. So, prepare to embark on a gastronomic adventure that weaves together the flavors of Italy, the bounty of the sea, and the heartwarming hospitality that defines Marco Island. Bon appétit!