Naples, nestled on the Gulf of Mexico in southwest Florida, is more than just a city; it's a coastal haven brimming with vibrant communities, delectable eateries, and a rich tapestry of cultural events. Amidst its many treasures are its beaches, each a gem waiting to be discovered. With such an array to choose from, you might wonder which sandy stretch is the perfect fit for your tribe.
In Naples, every beach tells a story. Whether you're seeking a sandy playground for little adventurers or a tranquil shore for moonlit walks with your loved one, Naples has the perfect backdrop for your memories. Dive into our curated list of Naples' finest beaches and let your journey begin.
Finnest Beaches Naples Offer
10. Keewaydin Island – A Nautical Adventure Awaits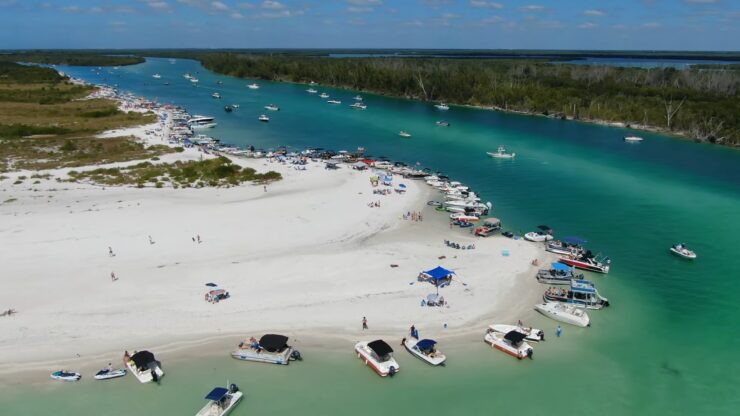 Ideal for: Families & Couples
Amenities:

Eight miles of white sand beaches
Dog-friendly

Parking: Only accessible by boat
Imagine an untouched paradise, where nature thrives and the sands remain pure. Welcome to Keewaydin Island, a pet-friendly haven boasting 8 miles of pristine white-sand beaches, teeming with wildlife. Just a short journey south of Naples' bustling heart, this barrier island promises an escape from the ordinary, accessible solely by the gentle waves of the sea.
Whether you hop on a water taxi, rent a boat, or embark on a guided shelling tour, the journey to Keewaydin is as enchanting as the destination itself. And while this island retreat might lack modern amenities like showers or electricity, it more than makes up for it with its unique charm. Fancy a bite? The roaming burger boat is at your service, offering everything from sizzling hot dogs to chilled beers.
Location: Keewaydin Island, FL, USA.
9. Lovers Key Beach – A Seaside Treasure Trove
Ideal for: Families & Couples
Amenities:

Restaurant
Restrooms
Bike racks
Life jacket loaner program
Foot shower
Free tram to the beach

Parking: $10 beach parking fee, Collier County Resident Beach Parking Permit accepted
Whisk yourself away to Lovers Key Beach, a serene stretch of 2.5 miles of shimmering white sands. This picturesque haven, located just 45 minutes from the heart of Naples, is not just a treat for the eyes but also a treasure chest for beachcombers. As you stroll, keep an eye out for the myriad of seashells and elusive shark teeth that the waves generously gift the shore.
In its earlier days, reaching this beach was an adventure in itself, accessible only by boat. Today, a convenient tram whisks visitors to its southern embrace, while those seeking a more intimate journey can explore its trails on foot. Beyond basking in its beauty or taking a refreshing dip, Lovers Key Beach invites you to paddle its waters in a canoe or kayak. Anglers can cast a line, though a license might be needed.
And as the name suggests, Lovers Key Beach is a whispered secret among couples, offering a tranquil and romantic backdrop for those cherished moments.
Location: Fort Myers Beach, FL 33931, USA.
8. Clam Pass Park – Journey Amidst Nature's Serenity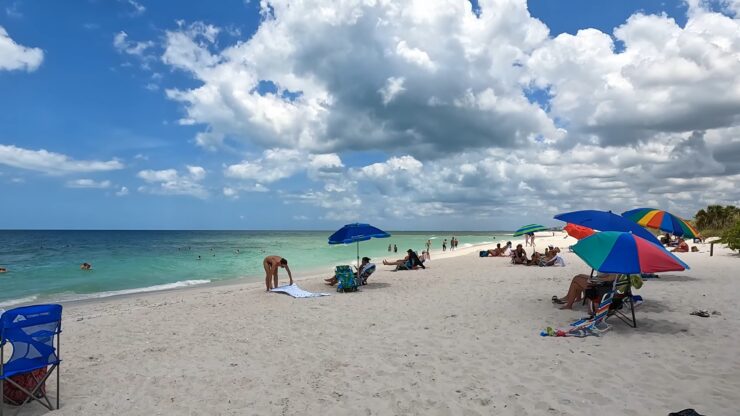 Ideal for: Families & Couples
Amenities:

Restaurant
Restrooms
Bike racks
Life jacket loaner program
Foot shower
Free tram to the beach

Parking: $10 beach parking fee, Collier County Resident Beach Parking Permit accepted
Tucked away in North Naples, Clam Pass Park is a tranquil oasis spanning 35 acres of untouched wilderness. With its gentle waves and serene ambiance, it's a dream destination for families, especially those with young explorers. Stretching over 3,200 feet, the beach is a canvas of pristine white sands, dotted with low coastal greenery, making it a haven for wildlife enthusiasts. Keep your eyes peeled for graceful shorebirds and the occasional turtle making its way across the sands.
Your journey to the beach can be as memorable as the destination itself. Opt for a scenic tram ride, available from dawn to dusk, or take a leisurely walk down the picturesque boardwalk. Once there, you'll find amenities to enhance your visit – from restrooms to a quaint beachside eatery. For those prioritizing safety, the beach offers complimentary life jackets and even beach wheelchairs upon request.
Location: 465 Seagate Dr, Naples, FL 34103, USA.
Open: Every day, 8 am to 7 pm.
7. Tigertail Beach – A Hidden Coastal Gem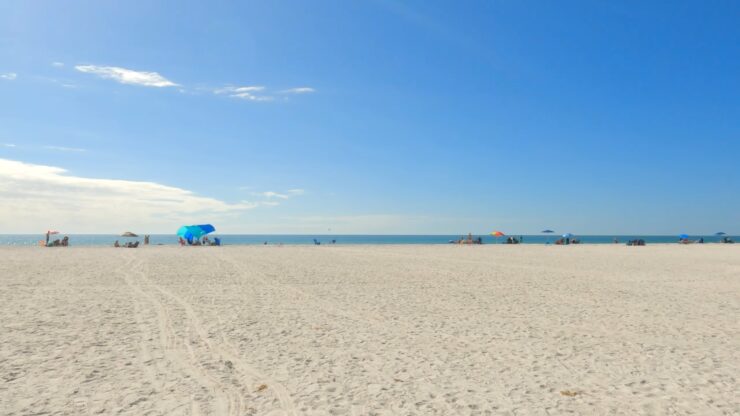 Ideal for: Families & Couples
Amenities:

Restrooms
Boardwalk
Picnic areas
Beach equipment rentals
Playground
ADA accessible

Parking: $10 daily per vehicle or $1.50 per hour for non-beach parking pass holders
Nestled just a stone's throw away from Naples and part of the enchanting Marco Island, Tigertail Beach is a secret slice of paradise. This secluded haven boasts breathtaking landscapes, with the bird-rich Sand Dollar Island adding a touch of nature's magic to its serene ambiance.
Tigertail Beach isn't just about its scenic beauty; it's designed for memorable family moments. The park features a delightful playground for the little ones and is equipped with all the necessary amenities for a comfortable day out. Whether you're building sandcastles on its pristine shores, exploring the intriguing tidal pools, or simply soaking in a mesmerizing sunset, Tigertail promises cherished memories for all.
Location: 430 Hernando Dr, FL 34145, USA.
6. Vanderbilt Beach – Luxe Leisure by the Shore
Ideal for: Families & Couples
Amenities:

Concession stand
Rentable beach equipment
Restrooms
Shower facilities

Parking: $10 beach parking fee, Collier County Resident Beach Parking Permit accepted. A parking garage and dedicated street parking are only a short walk from the beach.
Vanderbilt Beach, a shimmering jewel in North Naples, offers more than just sun, sand, and surf. It's a destination where luxury meets leisure. With its array of upscale hotels and a plethora of dining and drinking establishments, it's the go-to spot for those looking to blend beach relaxation with a vibrant nightlife.
Just a short 16-minute drive from downtown's hustle and bustle, Vanderbilt Beach is a magnet for both locals and tourists. While it's often bustling with activity, early birds can claim their perfect spot for a day of sunbathing and shoreline strolls. And as the day unfolds, the nearby shops, restaurants, and bars beckon, offering a delightful mix of flavors and experiences, all with the soothing backdrop of the ocean breeze.
Location: North Naples, FL, USA.
5. Barefoot Beach County Preserve – Nature's Untouched Retreat
Ideal for: Families & Couples
Amenities:

Restrooms
Picnic tables
Walking trails
Bike racks
Beach wheelchair
Life jacket loaner program
Natural history exhibits

Parking: $10 beach parking fee, Collier County Resident Beach Parking Permit accepted
Barefoot Beach County Preserve is a sanctuary for those seeking an intimate encounter with nature. Spanning a vast 342 acres, this untouched haven boasts a mile-long stretch of pristine beach, nestled on a barrier island just 40 minutes from the heart of Naples.
Here, the sands tell tales of the ocean's treasures, with seashells and sand dollars waiting to be discovered. Dive into the clear waters for a swim, ride the waves on a surfboard, or simply bask under the sun's warm embrace. Beyond the beach, the preserve's dunes and nature trails beckon explorers. As you wander, keep an eye out for the playful dance of bottle-nosed dolphins or the serene presence of sea turtles.
Location: 505 Barefoot Beach Blvd, FL 34134, USA.
Open: Every day, 8 am to 6 pm.
4. Bonita Beach Park – Adventure Meets Relaxation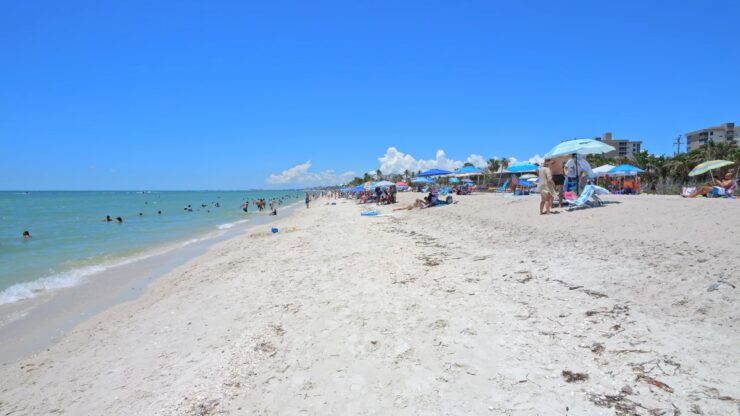 Ideal for: Families & Couples
Amenities:

Volleyball court
Playground
Picnic shelters
Boardwalk
Charcoal grills
Pavillion
Restrooms
Shower facilities
Paddle craft launch and landing

Parking: $2 an hour
Just 15 miles from downtown lies Bonita Beach Park, a coastal paradise that seamlessly blends relaxation with adventure. This family-friendly haven invites visitors to ride the waves on a surfboard, embark on a seashell treasure hunt, or simply unwind on its sun-kissed white sands.
The crystal-clear waters beckon swimmers, while the surrounding dunes offer a picturesque backdrop for exploration. If you're in the mood for a picnic, there are designated spots to lay out your spread. And for those with a thirst for thrills, the sky's the limit with exhilarating parasailing adventures.
With convenient parking and a selection of eateries nearby, Bonita Beach Park promises a day filled with memories and fun.
Location: 27954 Hickory Blvd, FL 34134, USA.
3. Delnor-Wiggins Pass State Park – Nature's Water Playground
Ideal for: Families & Couples
Amenities:

Nature trail
Boat ramp
Canoe and kayak launch
Concession stand
Restroom
Shower facilities
Water fountain
Picnic tables
Grills
Boardwalk and observation decks

Parking: $6 per vehicle for up to eight people, $4 single occupant vehicle, $2 for bicyclists
Nestled near Naples on Florida's captivating southwest coast, Delnor-Wiggins Pass State Park is a natural wonderland spanning over 200 acres. This park is not just a beach lover's paradise but also a sanctuary for diverse wildlife. From playful dolphins and gentle manatees to majestic sea turtles, nature's marvels are at every turn.
Beyond its sandy shores, the park offers a plethora of activities. Embark on picturesque hikes, capture the beauty through your lens, or dive into water adventures. Glide through the serene waters on a kayak, navigate the hidden bends of the Cocohatchee River on a canoe, or stand tall on a paddleboard, exploring at your own pace. And if you're traveling light, worry not! The park offers rentals for watersport equipment, as well as beach essentials like umbrellas and chairs.
Location: 11135 Gulf Shore Dr, Naples, FL 34108, USA.
Open: Every day, 8 am to 8 pm.
2. Lowdermilk Park – Sunset Serenades and Picnic Pleasures
Ideal for: Families & Couples
Amenities:

Sand volleyball courts
Concession stand
Two children's playgrounds
ADA beach access mats
Benches
Picnic tables
Restroom and shower facilities
Two gazebos for rent

Parking: $3 per hour parking available
If you're interested in overall Florida's nightlife amenities and entertainment, you're a click away!
Tucked away north of downtown Naples, Lowdermilk Park is a delightful blend of leisure and nature. This verdant oasis, nestled amidst a serene residential neighborhood, offers everything from picnic tables and barbecues to showers and restrooms. The beach, with its golden sands and tranquil waves, beckons visitors for a day of relaxation and fun.
As the day winds down, the horizon paints a mesmerizing canvas, making the beach an idyllic spot to witness the sun's farewell embrace. For those seeking a dash of adventure, paddleboards are available for rent, letting you explore the waters at your own rhythm. And if you've forgotten any beach essentials or crave a quick snack, the on-site concession shop has got you covered, offering chair rentals, crispy fries, and refreshing beverages.
Location: 1301 Gulf Shore Blvd N, Naples, FL 34102, USA.
Open: Monday–Saturday, 8 am to 8 pm; Sunday, 8 am to 10 pm.
1. Naples Beach – The Heartbeat of Coastal Delights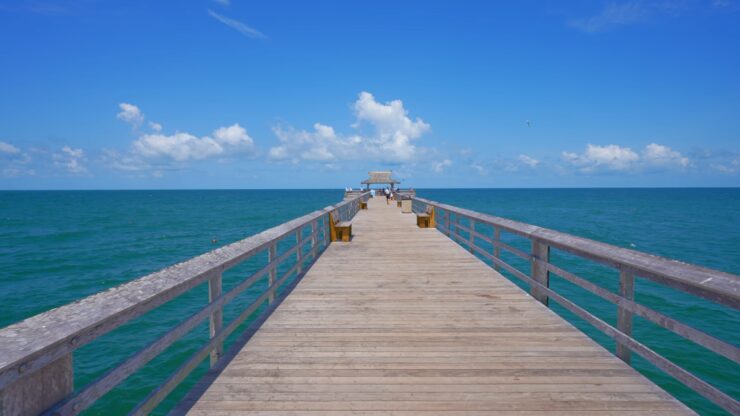 Ideal for: Families & Couples
Amenities:

Restrooms
Shower
Concession stand
Eating area
ADA beach-accessible mats

Parking: $2.50 parking available per hour; cash and most credit cards are accepted
Naples Beach is where the city's pulse meets the ocean's serene embrace. Just a mile from downtown's vibrant core, this beach is a bustling hub of activity, offering a delightful mix of culinary, shopping, and leisure experiences. From restaurants boasting alfresco patios to intriguing boutiques and a lively farmers market on Saturdays, it's the quintessential spot for those seeking the full Naples tourist experience.
The iconic Naples Beach Pier, stretching a grand 1,000 feet into the Gulf of Mexico, stands as a testament to the area's rich history. It's a magnet for photographers and selfie enthusiasts, offering panoramic views of the azure waters and golden sands. Whether you're soaking up the sun, diving into a game of volleyball, sipping a chilled drink on the pier, or exploring the scenic Gordon's Pass, Naples Beach promises a mosaic of memories.
Location: Naples, FL 34102, USA.
FAQ
Does Naples, FL have nice beaches?
Yes, Naples, FL is renowned for its beautiful beaches, characterized by soft white sands, clear waters, and a serene ambiance.
What is the clearest beach in Naples, Florida?
While many beaches in Naples boast clear waters, Delnor-Wiggins Pass State Park and Vanderbilt Beach are often praised for their crystal-clear waters.
Are there any sandy beaches near?
Absolutely! Naples is home to several sandy beaches, including Naples Beach, Lowdermilk Park, and Bonita Beach Park, to name a few.
Can you swim in the sea?
Yes, the sea in Naples is generally calm and inviting, making it suitable for swimming. However, always pay attention to local advisories and flags indicating water conditions.
Are Naples beaches free?
While many beaches in Naples are free to access, some might charge for parking or have associated park entrance fees.
Which beach is better, Naples or Marco Island?
Both Naples and Marco Island offer stunning beaches. The choice depends on personal preference. Naples beaches are closer to urban amenities, while Marco Island beaches, like Tigertail Beach, offer a more secluded experience.
Is Naples close to Clearwater Beach?
Naples is about a 2.5 to 3-hour drive from Clearwater Beach, depending on traffic conditions.
Is the ocean water clear in Naples, Florida?
Yes, many of Naples' beaches are known for their clear, turquoise waters, making them popular for swimming, snorkeling, and other water activities.
Final Words
Naples, Florida is a coastal paradise that offers a diverse range of stunning beaches for families, couples, and solo travelers alike. Each beach has its own unique charm and amenities, making it easy to find the perfect spot to create unforgettable memories. Whether you're seeking a tranquil escape, an adventure-filled day, or a romantic sunset stroll, Naples' beaches have it all.
For a full Florida experience, if you're a tourist, I suggest you read our Florida restaurant review so you know your next favorite dinner place.