We're closing in on the new Ford Explorer, as its release date was never closer. In recent weeks and months, we've been blessed with numerous spy photos that confirm this notion. Ford is all out on the new Explorer model as they have no time to spare in battling their heavy competitors.
Note:
Ford Explorer 2024 My is not yet released. Nonetheless, the information surrounding it is publicly available as the testing phase is near the end and the vehicle will be released soon. The
official Ford website
even has a page dedicated to the 2024 Ford Explorer.
How Close is The New Explorer?
We can't be 100% sure, but it's a matter of weeks. Automotive magazine motor1.com got into possession of the latest set of photos showing a naked Explorer. For a company that still hasn't announced the new SUV, Ford is doing very little to hide the fact that the launch is close by. As you can see in the photos we linked, the new Explorer has its final shape.
The exterior is fully laid out, and there will not be any more changes in that department. The same source claims that we're not only looking at the mid-cycle refresh but that most likely we have a new trim on our hands. The name of the new trim is going to be Active. This is a well-known fact as the new Explorer sports the Active badge. Now, it's clear, Ford has the new Explorer on the way, and its release date is only a matter of weeks.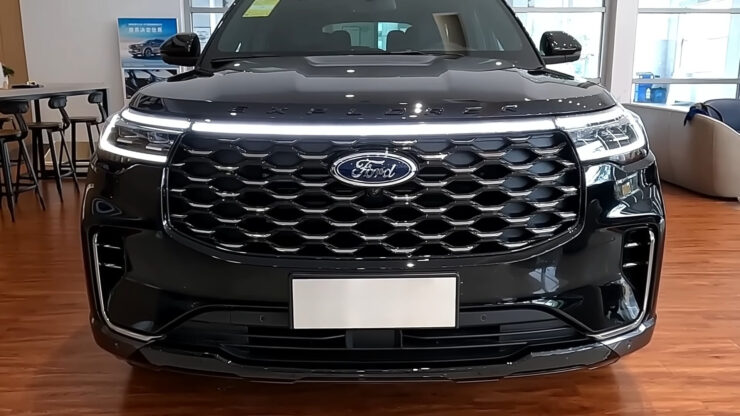 What to Expect?
Based on the spy photos that reveal every aspect of the interior you can already tell what's there to be expected. What we're looking at is almost finished product. If the Explorer in the photos looks familiar it is since it already had its debut, but only in China. So, what is it that we're going to get? According to motortrend.com, we're in for a redesigned Explorer that will feature quite a large grille but narrowed-down headlights in the front end.
This changes the facial expression Explorer was famed for and in this department, it's going to be different from what China received. At the end part, Explorer is going to receive new taillights and a redesigned tailgate. To this end, it will almost mirror the version that was launched overseas.
What will remain a mystery for the time being is the changes that the interior will undergo. At the moment no web outlet tied to the automotive industry managed to take a sneak peek and check out the infotainment system, different interior features, and the overall technological solutions the new Explorer adopted. What we're hoping for is a step toward the east as China has a massive 27-inch display and a different layout to what we've seen in previous versions of this SUV.
As far as the powertrains are concerned, we can't add any information of value at the moment. It remains unclear if they're going to go forward with the current lineup or if we're in for a big surprise in that department too. To find out, you're going to have to remain in touch with us as we update this article with new information.
The Date of Arrival
Ford didn't state when this car arrived, but as we already said, they have nothing more to hide. Explorer appears to be all ready and set to go.
While there's no announced release date all web outlets are secure that it will happen before the year's end. When it happens we're also going to have the data on all trim levels that are going to be available and their pricing. So, let's wait and see.
Stay up to date with the latest new releases of Ford cars and information regarding them.