HAGATNA, Guam — The powerful Typhoon Mawar has ruthlessly battered the US territory of Guam, causing destruction through fierce winds and torrential rain, and continues to wreak havoc as it remains over the island.
The ferocious storm, the most formidable since 2002, has uprooted trees, collapsed walls and power lines, creating a colossal storm surge threatening to inundate low-lying regions.
The typhoon, initially a Category 4, made its first assault on Guam Wednesday evening at the Andersen Air Force Base located at the northern end of the island, as reported by Patrick Doll, a meteorologist at the National Weather Service.
Thursday morning saw the storm gain intensity with winds at 150 mph (241 kph), elevating it to a super typhoon.
As the typhoon hovers over the island, cars have been upturned and tree branches ripped off. The high winds on Wednesday night, reminiscent of the noise of jets flying above, and gushing rainwater entering homes marked the perceived climax of the storm.
Social media posts present a disturbing picture of the catastrophe – fallen trees, an upended pickup truck, solar panels catapulted into the sky, hotel walls crumbling and revealing rebar, and powerful waves breaching coastal reefs.
View this post on Instagram
Communications have been severely impacted due to power and internet outages, making it challenging to determine the extent of the damage. The governor and lieutenant governor are due to examine the situation post sunrise, according to meteorologist Landon Aydlett.
Guam looks like a warzone, resembling a scene straight out of the movie 'Twister', with widespread destruction that will take weeks to clear, Aydlett noted.
J. Asprer, a police officer in Dededo, reported no casualties until dawn, but there were numerous reports of vehicles damaged by debris and blocked roads due to uprooted trees. Most of the calls overnight were from concerned individuals off-island who couldn't reach their family members, Asprer shared.
The storm, still slowly moving, continues to pummel the island with sustained winds of 140 mph (225 kph) and is predicted to grow stronger till Friday, according to the weather service.
Anticipating Guam's urgent need for aid, the Navy has dispatched the USS Nimitz aircraft carrier strike group for recovery operations, says a U.S. official, choosing to remain anonymous. The Nimitz, along with the USS Bunker Hill and the USS Wayne E. Meyer, currently located south of Japan, are expected to reach Guam in about three or four days.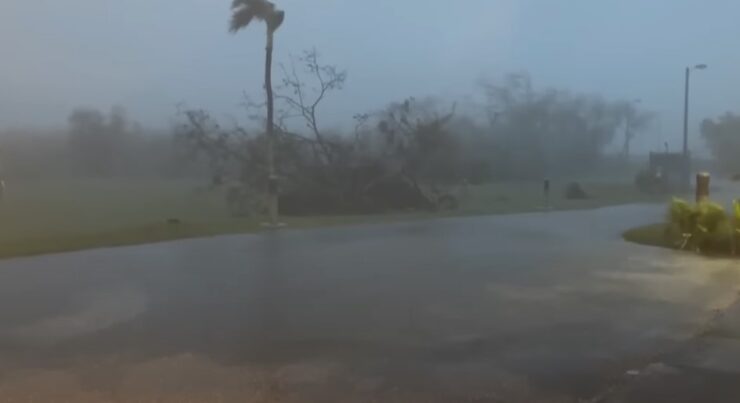 Guam, located approximately 3,800 miles (6,115 kilometers) west of Hawaii and 1,600 miles (1,575 kilometers) east of Manila, the capital of the Philippines, saw the storm hit its shores around 9 p.m. on Wednesday, shared Doll.
The storm remained on land for about half an hour before moving back offshore. Winds at the Tiyan weather service office reached speeds of up to 105 mph (169 kph) until the wind sensors failed, Aydlett added.
By Thursday, Mawar was located 75 miles (121 kilometers) northwest of Guam and 85 miles (137 kilometers) west of Rota, moving at a speed of 8 mph (13 kph) in the west-northwest direction.
The storm caused a total power failure on the neighboring island of Rota, which has a population of around 2,500, as reported by the Commonwealth Utilities Corp.
In Tumon, located on the northeastern coast of Guam, the storm tore away a granite countertop from a hotel's outdoor bar and flung it about 4 feet in the air.
Tropical storm warnings have been issued for Tinian and Saipan in the Northern Marianas, where some residents have been living in temporary shelters since the devastating Super Typhoon Yutu in 2018. Meanwhile, Taiwan is bracing for potential impact from Mawar, named after the Malaysian word for "rose".
As of Wednesday afternoon, many regions on the 212-square-mile island had experienced power outages, with some southern areas also losing water service. A flash flood warning has been issued for the entire island, with forecasts predicting up to 25 inches of rain and a life-threatening storm surge of 4 to 6 feet.
In anticipation of the storm, Guam Governor Lou Leon Guerrero urged residents in coastal, low-lying, and flood-prone areas to seek higher ground. The island's highest point, Mount Lamlam, stands at 1,334 feet, but the beachfront tourist district of Tamuning, home to many resorts, is near sea level.
Governor Leon Guerrero highlighted the importance of an emergency declaration approved by President Joe Biden, which will facilitate the mobilization of resources to Guam, a critical process given the island's remote location from mainland U.S.
Guam, a key strategic location for U.S. forces in the Pacific, has about a third of its land controlled by the Department of Defense. Rear Admiral Benjamin Nicholson, Joint Region Marianas commander, has authorized the evacuation of defense personnel, dependents, and employees from areas expected to be affected.
As a standard precaution, the military has moved its ships out to sea and relocated aircraft off the island or secured them in protective hangars. Approximately 6,800 U.S. service members are currently stationed in Guam, according to Pentagon data.