The Toyota Tacoma has always stood tall, reigning supreme as the top-selling truck in its category, renowned for its unwavering reliability. Now, with the introduction of the 2024 Toyota Tacoma Hybrid, the bar is set even higher.
Important note: The information we are about to unveil is based on speculations and sources from other vehicle reviews; thus, it might not be strictly true and accurate.
Is the 2024 Toyota Tacoma Hybrid a Trustworthy Choice?
While new vehicle generations often face skepticism regarding their reliability, the 2024 Toyota Tacoma Hybrid is poised to break this trend. Toyota's hybrid lineage, tracing back to the iconic 1997 Prius, speaks volumes about the brand's commitment to dependable hybrid technology.
The RAV4 Hybrid's popularity, the Sequoia Hybrid's robust performance, and the impressive results from the Tundra i-FORCE Max Hybrid further solidify this trust.
Drawing parallels with the new Tundra, especially with shared components like the frame, and the proven powertrain found in the Lexus RX 500h and Toyota Grand Highlander, the Tacoma Hybrid promises longevity. Top Speed echoes this sentiment, anticipating the Tacoma Hybrid to be a paragon of reliability.
Unveiling the Power of the 2024 Tacoma Hybrid:
According to sources from motortrend.com, there is a lot to expect from this vehicle. Harnessing a 2.4-liter four-cylinder engine, complemented by a 1.9-kWh battery pack and a 48-hp electric motor, the 2024 Tacoma Hybrid boasts a commendable 326 hp and 465 lb-ft of torque. While the Ford Ranger Raptor might edge out slightly in horsepower, it lags behind in torque.
The Tacoma TRD Pro, even without the super truck tag, emerges as a formidable challenger, leveraging its electric prowess and torque to bridge the horsepower gap.
The Tacoma i-Force Max Hybrid's towing capacity stands at 6,000 lbs, a slight dip from its predecessor, but its payload capacity has seen a marginal rise to 1,709 lbs. Coupled with a 7% increase in bed space, it's designed for versatility.
Fuel efficiency rumors hint at a potential 38 mpg, rivaling the Ford Maverick, though real-world figures might vary.
Powertrains
•228-hp or 278-hp, 2.4-liter turbocharged four-cylinder engine with 8-speed automatic transmission.
•270-hp, 2.4-liter turbocharged four-cylinder engine with 6-speed manual transmission.
•326-hp, 2.4-liter turbocharged hybrid four-cylinder engine with 8-speed automatic transmission.Rear-wheel drive or four-wheel drive
Price:$29,000-$55,000 (estimated)
On sale:Late 2023
Off-Roading with the Tacoma Hybrid? Absolutely!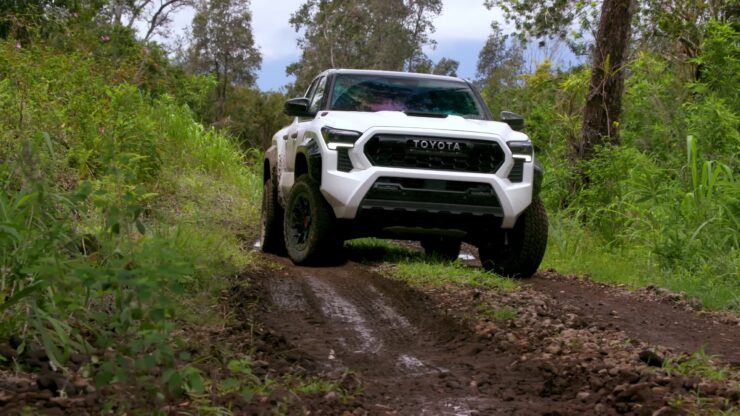 Judging by the sources from motor1.com, the 2024 Toyota Tacoma Hybrid isn't just road-friendly; it's trail-ready. The elite TRD Pro and Trailhunter trims, powered by the i-Force Max Hybrid powertrain, are testament to this off-roading prowess.
The Trailhunter is tailored for rugged terrains, equipped with features like a high air intake, elevated exhaust system, ARB remote reservoir shocks, robust steel rear bumper, 33-inch Goodyear Territory R/T tires, protective skid plates, a unique triangulated bed liner, and a powerful 2400-watt inverter.
The Tacoma TRD Pro further enhances the off-roading experience with 18-inch aluminum wheels, 33-inch Goodyear Territory tires, an electronic rear differential lock, 2.5-inch Fox internal bypass shock absorbers, skid plates, forged aluminum upper control arms, sturdy steel bumpers, and the same potent inverter.
In essence, the Toyota Tacoma Hybrid is not just about power or efficiency; it's about trust. As we await its official ratings, one thing is clear: the Tacoma Hybrid is set to be another feather in Toyota's cap of reliability.
Standing Tall Amidst Rivals
In the rapidly evolving world of hybrid trucks, the 2024 Toyota Tacoma Hybrid has made a grand entrance. But as with any competitive market, it's not alone in the race. The Ford Ranger Hybrid and the GMC Canyon Hybrid are also vying for the top spot in the hybrid mid-size truck segment.
The Ford Ranger Hybrid, while boasting commendable fuel efficiency, falls a tad short in the power department when compared to the Tacoma Hybrid. On the other hand, the GMC Canyon Hybrid flexes its muscles with superior power but compromises slightly on fuel economy.
Choosing the right hybrid mid-size truck boils down to individual preferences. If raw power is what you seek, the GMC Canyon Hybrid might be your go-to.
For those prioritizing fuel efficiency, the Ford Ranger Hybrid stands out. However, if you're in pursuit of a truck that harmoniously blends both power and efficiency, the Toyota Tacoma Hybrid emerges as a compelling choice.
Interior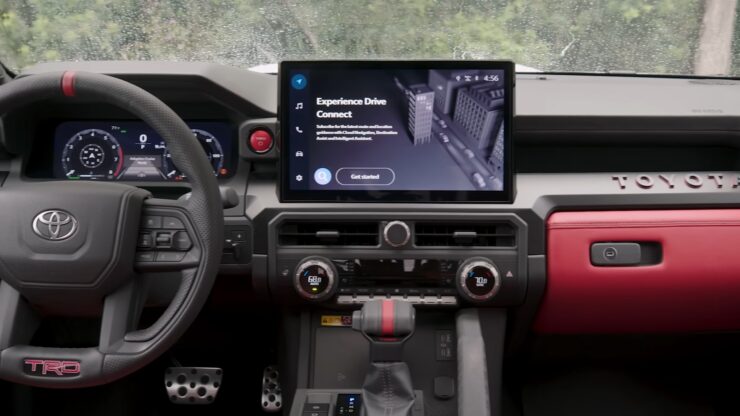 The interior of the cabin is reminiscent of the design seen in the Tundra and Sequoia, characterized by large controls suitable for gloved hands and a distinctly angular design. This gives it a tougher look compared to the more delicate appearance of the current model.
The dashboard is dominated by the central infotainment display, making the air vents more understated. The standard display is 8 inches, but there's an optional 14-inch screen that looks like a laptop screen mounted on the dashboard. These screens feature the newest Toyota multimedia system, first introduced in the 2022 Tundra.
The system supports both Android Auto and Apple CarPlay. Additionally, there's a wireless Qi charging pad for mobile devices and multiple USB ports throughout the cabin.
For enhanced audio, there's an option for a 10-speaker JBL sound system, which includes a subwoofer and a unique portable speaker. This JBL Flex speaker can be detached and connected via Bluetooth for use at places like the beach or a campsite.
Entry-level models come with a 7-inch digital gauge display, while the premium versions boast a 12.3-inch screen.
The extended cab versions are designed to seat two, utilizing the area behind the seats for storage purposes.
Toyota highlights that their non-hybrid trucks now offer triple the under-seat storage space at the back compared to the older model.
Driver Safety and Assistance Features
All Tacoma models come standard with Toyota Safety Sense 3.0, which offers a comprehensive range of active safety and convenience functionalities.
This package encompasses automatic emergency braking with the capability to detect pedestrians, warnings for lane departure, assistance for lane centering, adaptive cruise control, auto high-beam headlights, and a system to recognize road signs.
The Proactive Driving Assist feature gives gentle braking and steering support, especially during turns, and assists in responding to nearby vehicles, cyclists, and pedestrians.
The truck has a system that observes driver actions, like steering engagement. If it detects a lack of attention or activity, it can alert the driver or even halt the vehicle, which can be crucial in situations like medical emergencies.
Additional available systems include alerts for blind spots and rear cross traffic. For those who tow, the truck offers a range of supportive features such as a trailer brake controller, guidance for trailer backup, a video-based rearview mirror, a camera providing a 360-degree view, and assistance for reversing when a trailer is attached.
In Retrospect
View this post on Instagram
The unveiling of the 2024 Toyota Tacoma Hybrid has undoubtedly stirred the mid-size truck arena. With its robust hybrid engine, a plush interior exuding modernity, and an arsenal of off-road capabilities, it's poised to be a favorite among truck aficionados.
The Tacoma Hybrid promises not just a ride, but an experience – one that resonates with power, efficiency, and unmatched capability.
So, as we marvel at the 2024 Toyota Tacoma Hybrid, we'd love to hear your thoughts. Does it tick all the right boxes for your ideal truck? Would it find a spot in your garage?