Panama, the gem at the southern tip of Central America, is a land kissed by the Caribbean and embraced by neighbors Costa Rica and Colombia. Its roots trace back to the 16th century, when Spanish explorers first set foot on its shores. Today, it's a beacon of economic growth in Central America.
But Panama isn't just about numbers and growth; it's a vibrant tapestry of cultures. Imagine a dance where European melodies introduced by the Spanish waltz with African rhythms and Native American beats. That's the cultural symphony of Panama!
From the world of arts to the arenas of sports, Panama has gifted the world with legends. Think of artists like Jordana Brewster, Antonia Jose Guzam and Margarita Henriquez, or theater maestro Jose Quintero and the dynamic Aaron Zebede. They've painted the global stage with Panamanian colors.
And let's not forget, this nation boasts three world boxing champions and has sprinted its way to Olympic glory.
So, who are the shining stars of Panama?
Let's Dive Into the Top 10 Luminaries Who Call This Beautiful Country Home!
10. Danilo 'Cholo' Perez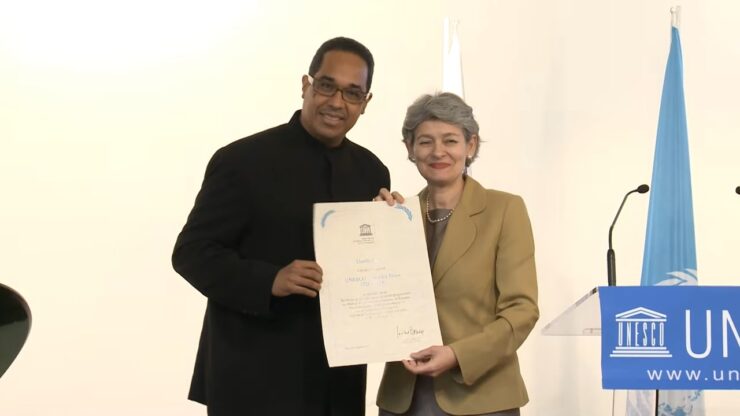 Dive into the world of jazz, and you'll find Danilo Peréz, a four-time Grammy nominee, shining brightly as Panama's musical maestro. This pianist and composer has shared the stage with legends like Dizzy Gillespie and Tito Puente.
But his notes don't just create melodies; they build dreams. Through the Danilo Peréz Foundation, he's gifting the joy of music to underprivileged kids. With a vision to make Panama the jazz heart of Latin America, Peréz is truly a national treasure.
9. Rod Carew
Meet Panama's baseball legend, Rod Carew. With a career spanning from 1967 to 1985, he's graced the fields for the Minnesota Twins and the California Angels. Known as the Twins' ultimate contact hitter, Carew's 1977 record with a .388 batting average earned him the AL Most Valuable Player award.
With 18 consecutive All-Star game appearances and leading the AL in hits three times, Carew's 239 hits stood as the 12th highest in a season. His seven AL batting titles are second only to the iconic Ty Cobb. In 2016, the AL batting title was renamed in his honor. Celebrating his 3,000th hit and his election to the National Baseball Hall of Fame in 1991, Rod Carew is a name that resonates with baseball greatness.
8. Juan Williams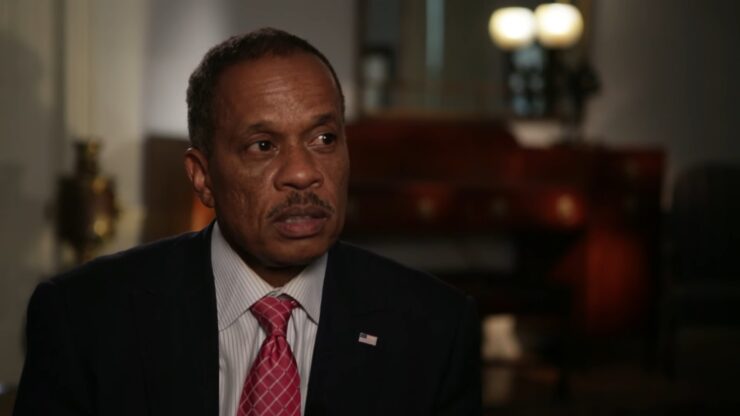 Hailing from Panama and making waves in American journalism is Juan Williams. As a prominent political analyst for Fox News Channel, his insights and writings have graced the pages of esteemed publications like The Washington Post, The New York Times, and The Wall Street Journal, not to mention features in magazines such as The Atlantic and Time.
Juan's journalistic journey has seen him don many hats – from an editorial writer and op-ed columnist to a White House correspondent and national correspondent. While his political leanings are democratic, his contributions to literature and television are non-partisan. He penned "Eyes on the Prize, America's Civil Right Years," which beautifully complements the documentary series on the Civil Rights Movement.
With an Emmy Award in his kitty and accolades for his investigative journalism and opinion columns, Juan's reputation in the media world is unparalleled. A stalwart at Fox News since 1997, Juan Williams is a testament to dedication and journalistic excellence.
7. Sherly Mala
Emerging from the vibrant musical tapestry of Venezuela and now making waves in Panama is the incredibly talented Sherly Mala. Not just a singer, but a songwriter too, Sherly's journey in music began with the strings of a guitar she taught herself to play.
Her musical palette is rich and diverse, drawing inspiration from the likes of Drexler, Jack Johnson, John Mayer, Jason Mraz, Pablo Alborán, Cerati, and the legendary Gloria Estefan.
But what truly sets Sherly apart is her voice – a harmonious blend of strength and softness. It's a voice that effortlessly weaves together a myriad of genres.
From the passionate beats of Latin rhythms and the soulful notes of folk to the laid-back vibes of reggae and the modern pulse of electronic music, Sherly Mala is a symphony of versatility. As she continues to rise in the music scene, she's undoubtedly a name to watch and a voice to be heard.
6. Daphne Rubin-Vega
From the heart of Panama to the dazzling lights of Broadway, Daphne Rubin-Vega has danced, sung, and acted her way into the hearts of audiences worldwide. This Panamanian-American dynamo is perhaps most celebrated for her iconic portrayal of Mimi Marquez in the groundbreaking Broadway musical, "Rent." But that's just one feather in her cap. She also brilliantly embodied Lucy in the off-Broadway sensation "Jack Goes Boating."
But Daphne's talents aren't confined to the stage. On the small screen, she dazzled as the sharp-witted publicist Agnes in the TV series "Smash" (2012) and later brought to life the character of Luisa Lopez in "Katy Keene" (2020). And if that wasn't enough, she lit up the silver screen as the vivacious salon owner Daniela in the film adaptation of Lin-Manuel Miranda's "In the Heights."
Daphne Rubin-Vega is a force to be reckoned with, seamlessly transitioning between roles and mediums, always leaving an indelible mark with her performances.
5. Roman Torres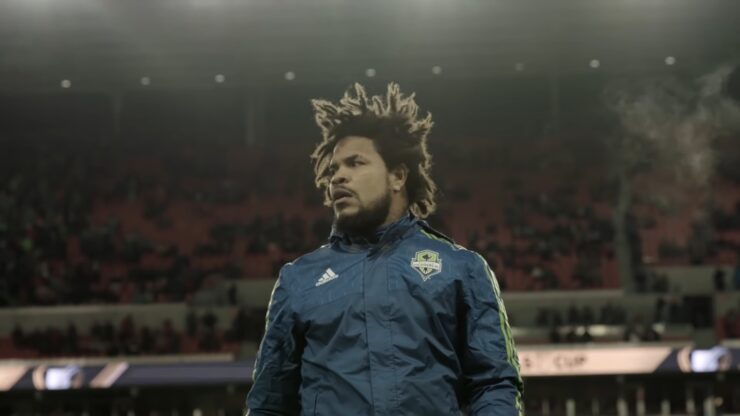 From the passionate football fields of Panama to the global stage, Roman Torres stands tall, both literally and figuratively. This Panamanian powerhouse, known for his defensive prowess, currently dons the jersey for Cartagines while also being a pillar for the Panama National Team.
But Roman's legacy is etched in history for a reason beyond his club commitments. He wore the captain's armband and led Panama in their debut World Cup appearance, where he wasn't just a player but the shining star of the national side.
His exceptional skills on the field caught the eyes of many international clubs. Notably, he had a stint with the Championship team, Nottingham Forest, from December 2011–January 2012. Under the watchful eyes of manager Steve Cotterill, Roman's performance was nothing short of impressive. Though a permanent move didn't pan out, it's undeniable that Roman Torres has left an indomitable mark in the world of football.
4. Billy Cobham
Born in 1944, Billy Cobham is a rhythmic genius who hails from Panama but has left an indelible mark on American jazz. Bursting onto the scene in the late 1960s and early 1970s, Cobham's drumming prowess caught the attention of many, most notably the legendary trumpeter Miles Davis and later, the iconic Mahavishnu Orchestra.
His drumming isn't just about keeping time; it's about creating magic. This was recognized when he was honored with an induction into the Modern Drummer Hall of Fame in 1987 and later, the Classic Drummer Hall of Fame in 2013.
Billy's dynamic and explosive technique has been the backbone of some of jazz's most pivotal recordings. Whether it was setting the rhythm for Miles Davis or driving the beats for the Mahavishnu Orchestra, Cobham's influence on the world of jazz drumming is unparalleled. A true maestro, Billy Cobham is a testament to the art of percussion.
3. Roberto Duran
Hailing from Panama, Roberto Duran is not just a boxer; he's a legend in the world of professional boxing. With a career spanning from 1968 to 2001, Duran's fists told tales of victory in multiple weight classes, including lightweight, welterweight, light middleweight, and middleweight.
His accolades don't stop there; he also held the titles of undisputed and lineal lightweight champion, as well as the lineal welterweight champion.
But what truly sets Duran apart is the recognition he's received from the boxing community. The Ring Magazine honored him as the fifth greatest fighter of the past 80 years. Bert Sugar, a renowned boxing historian, placed him as the eighth greatest fighter of all time.
And if that wasn't enough, the Associated Press crowned him the best lightweight of the 20th century.
With a staggering professional record of 119 fights, 103 wins, and 70 knockouts, Roberto Duran's legacy is etched in gold in the annals of boxing history. He's not just a champion; he's an icon.
2. Mariano Rivera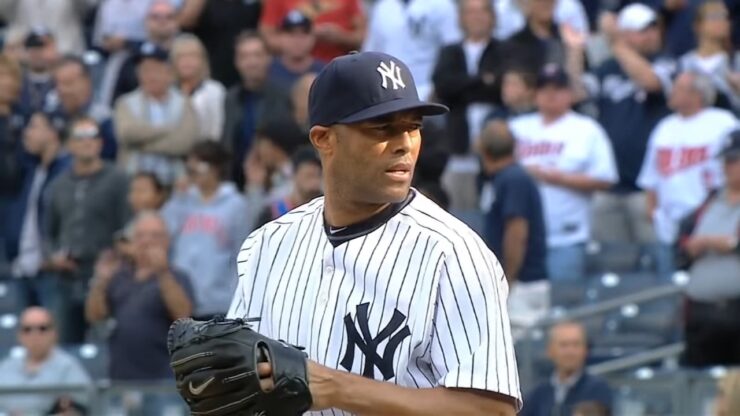 From the vibrant heart of Panama to the bustling stadiums of America, Mariano Rivera stands as a baseball titan. This Panamanian-American pitcher graced Major League Baseball (MLB) with his presence for 19 seasons, all with the New York Yankees, from 1995-2013.
Primarily a relief pitcher, he held the esteemed position of the Yankees' closer for a remarkable 17 seasons. With thirteen All-Star titles and five World Series championships under his belt, Rivera's prowess on the field is undeniable.
His records speak volumes: MLB's all-time leader in saves (652) and games finished (952). His trophy cabinet boasts five American League (AL) Ronald Relief Man Awards and three Delivery Man of the Year Awards. And if that wasn't enough, he's been a top contender for the AL Cy Young Award four times.
But perhaps his most significant accolade came in 2019 when he was inducted into the Baseball Hall of Fame. Not just as a member, but as the first-ever player to receive a unanimous vote by the Baseball Writers' Association of America (BBWAA). A true legend in every sense.
1. Ruben Blades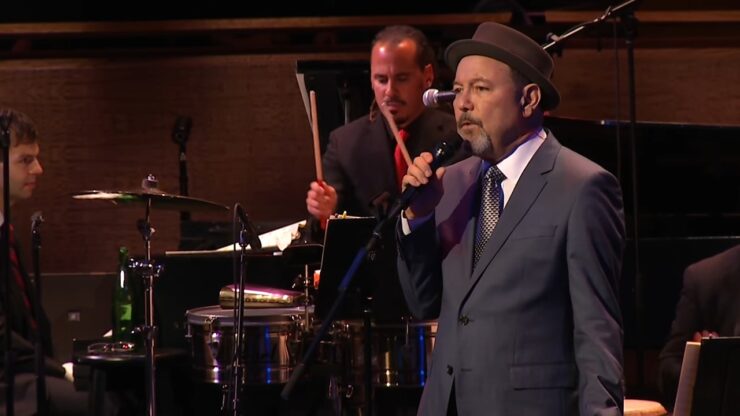 Ruben Blades is not just a name; he's a Panamanian institution. A multifaceted genius, Ruben has donned many hats: musician, singer, composer, actor, activist, and even politician.
His musical journey, predominantly in salsa and Latin jazz, has given the world hit songs like "Pedro Navaja" and "El Cantante," the latter becoming an anthem for Héctor Lavoe. With ten Grammy Awards and twelve Latin Grammy Awards, his melodies resonate with passion and soul.
But Ruben's influence extends beyond music. He's a revered figure in Panama and across Latin America and Spain. According to Panamatoday, his foray into politics saw him garnering 17% of the votes in his 1994 presidential bid. Later, he served as the minister of tourism under Panamanian president Martín Torrijos. An intellectual at heart, Ruben holds a Law degree from the University of Panama and an LL.M in International Law from Harvard University.
Ruben Blades is a testament to talent, dedication, and the power of dreams. A true Panamanian icon.
FAQ
What other sports, apart from boxing, has Panama excelled in on the global stage?
Panama has showcased its athletic prowess in various sports, including football, with players like Roman Torres leading the national team in international tournaments such as the World Cup.
How has Panama's rich history influenced its modern-day culture?
The fusion of indigenous roots, European influences from the Spanish, and African rhythms has created a unique cultural tapestry in Panama, evident in its arts, music, and traditions.
Which personalities have made significant contributions to journalism and media?
Juan Williams stands out as a prominent political analyst for Fox News Channel, with writings featured in esteemed publications like The Washington Post and The New York Times.
Are there Panamanian personalities who have achieved success in both arts and politics?
Yes, Ruben Blades is a celebrated musician and has also ventured into politics, even running for the Panamanian presidency and later serving in a ministerial role.
Which musician dreams of turning Panama into the jazz capital of Latin America?
Danilo Peréz, a renowned jazz musician, has the vision of making Panama a significant hub for jazz in Latin America.
Have any Panamanian personalities received international academic recognition?
Ruben Blades, apart from his artistic achievements, holds an LL.M in International Law from the prestigious Harvard University.
Which baseball legend played for the Minnesota Twins and the California Angels?
Rod Carew graced the fields for both these teams, leaving an indelible mark in the world of baseball.
Who is the Panamanian drummer that gained prominence with trumpeter Miles Davis?
Billy Cobham, a rhythmic genius, played alongside the legendary Miles Davis and later with the iconic Mahavishnu Orchestra.
Which boxer is known for holding World Championship titles in four different weight classes?
Roberto Duran held World Championship titles in lightweight, welterweight, light middleweight, and middleweight categories.
Who is the emerging Venezuelan singer based in Panama with influences from John Mayer and Gloria Estefan?
Sherly Mala, with her unique voice and diverse musical influences, is a rising star in the Panamanian music scene.
Final Words
In conclusion, Panama, with its rich history and diverse cultural tapestry, has been a cradle of talent, producing luminaries in various fields, from arts and sports to journalism and politics. These personalities not only shine on the national stage but have also made significant marks on the global arena. Their achievements are a testament to Panama's enduring spirit and its contribution to the world. As we celebrate these icons, we are reminded of the beauty, resilience, and passion that is quintessentially Panamanian. Here's to the land, the legends, and the legacy they continue to build!