As we move further into the 21st century, the challenges facing our urban areas continue to evolve. With changes in social trends, technology, and law enforcement, crime rates fluctuate. Today, we'll delve into the current situation in the Western United States, analyzing ten of the most dangerous cities in this region for 2023.
What makes a city 'dangerous'? For our purposes, we are looking at violent crime rates, property crime rates, and the crime rate per 100,000 residents. These key metrics provide a balanced view of the overall crime situation in each city.
The State of Crime in the West US in 2023
2023 has proven to be a challenging year for crime rates across the United States. Economic hardships, civil unrest, and the ongoing fallout from the global pandemic have all played a role.
Yet, the impacts on public safety have been profound. Citizens are more wary and cautious, and trust in institutions continues to fluctuate. There's a palpable tension in many cities, an undercurrent of unease that's prompting a deeper look at what's driving these trends.
The West Coast has always been known for its unique character, and its crime trends are no exception. From the southern reaches of California to the northern tip of Washington, crime rates here have ebbed and flowed in distinctive patterns.
Compared to national trends, the West Coast's crime landscape has unique regional attributes. High living costs, homelessness, and rampant drug abuse have contributed to an uptick in both property and violent crimes in several urban areas.
| City | Violent Crime Rate (per 100,000 residents) | Property Crime Rate (per 100,000 residents) | Total Crime Rate (per 100,000 residents) |
| --- | --- | --- | --- |
| Los Angeles, CA | 803.7 | 3,432 | 4,235.7 |
| San Francisco, CA | 717.8 | 4,501.3 | 5,219.1 |
| Oakland, CA | 867.5 | 5,132.6 | 6,000.1 |
| Seattle, WA | 634.9 | 4,545.8 | 5,180.7 |
| Tacoma, WA | 820.4 | 4,777.5 | 5,597.9 |
| Portland, OR | 537.2 | 4,328.6 | 4,865.8 |
| Eugene, OR | 453.9 | 3,770.5 | 4,224.4 |
| Sacramento, CA | 612.5 | 3,932.4 | 4,544.9 |
| Fresno, CA | 689.4 | 3,850.8 | 4,540.2 |
| Bakersfield, CA | 742.3 | 3,722.7 | 4,465 |
Dangerous West Coast Cities
City 10: Bakersfield, California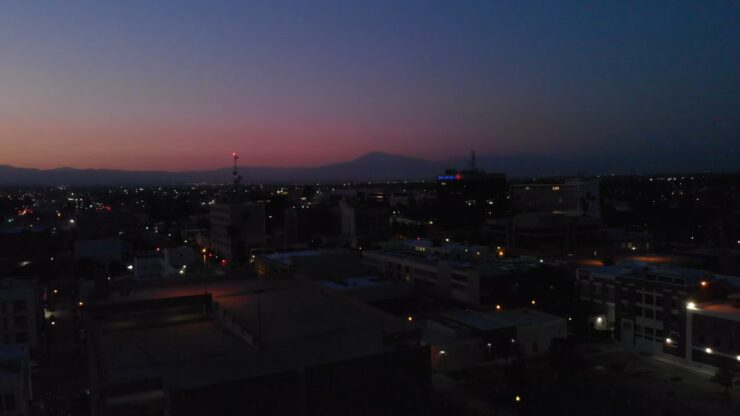 Bakersfield, known for its oil and agriculture industries, has faced significant challenges with crime. In 2023, Bakersfield remains one of the most dangerous cities in the western United States.
Economic difficulties, coupled with a methamphetamine problem, have contributed to Bakersfield's crime rates. Certain neighborhoods, such as the Oildale area, have seen particularly high levels of crime.
The Bakersfield Police Department has responded with initiatives like the Gang Violence Suppression Unit and the ShotSpotter gunshot detection system. The city has also been involved in community outreach programs aimed at addressing the underlying socio-economic issues contributing to crime.
Violent Crime Rate: 742.3 per 100,000 residents
Property Crime Rate: 3,722.7 per 100,000 residents
Total Crime Rate: 4,465 per 100,000 residents
City 9: Fresno, California
Fresno, located in the heart of California, is known for its agriculture and the stunning Yosemite National Park nearby. Despite these attractions, Fresno grapples with high crime rates.
Factors contributing to crime in Fresno include poverty, gang activity, and drug trafficking. High crime rates have been particularly problematic in the city's southern areas.
Fresno's approach to addressing crime has included strategies like the Multi-Agency Gang Enforcement Consortium and the Real Time Crime Center. The city has also focused on youth programs and intervention initiatives to combat gang recruitment and violence.
Violent Crime Rate: 689.4 per 100,000 residents
Property Crime Rate: 3,850.8 per 100,000 residents
Total Crime Rate: 4,540.2 per 100,000 residents
City 8: Sacramento, California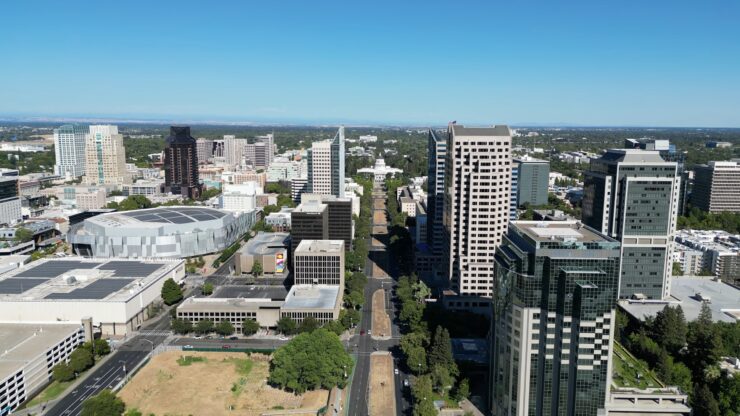 Sacramento, the capital of California, is a city rich in history and diversity. However, it has faced its share of crime-related challenges.
Economic disparity and drug-related problems, particularly opioids and methamphetamines, have contributed to Sacramento's crime rate. Certain neighborhoods, such as Meadowview and North Highlands, have seen particularly high rates of crime.
The Sacramento Police Department has responded to these challenges with a strategy focused on community engagement and problem-oriented policing. The department has also been involved in efforts to combat drug addiction and work with community organizations to address socio-economic issues.
Violent Crime Rate: 612.5 per 100,000 residents
Property Crime Rate: 3,932.4 per 100,000 residents
Total Crime Rate: 4,544.9 per 100,000 residents
City 7: Eugene, Oregon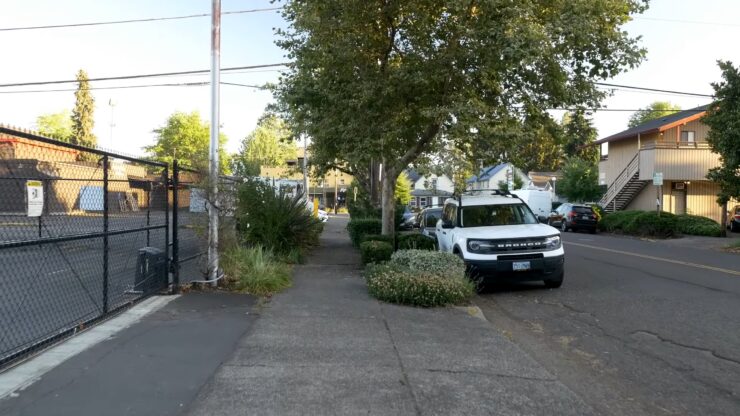 Eugene, home to the University of Oregon, has a vibrant downtown and is known for its arts and outdoors. Despite its smaller size compared to Portland, it has faced a similar rise in crime rates.
Contributors to Eugene's crime rate include drug abuse, a significant homeless population, and a lack of affordable housing. These issues have been particularly prevalent in the city's Whiteaker neighborhood.
The Eugene Police Department has worked to combat these issues through community policing initiatives and increased foot patrols in problem areas. The city has also worked to address homelessness and the lack of affordable housing.
Violent Crime Rate: 453.9 per 100,000 residents
Property Crime Rate: 3,770.5 per 100,000 residents
Total Crime Rate: 4,224.4 per 100,000 residents
City 6: Portland, Oregon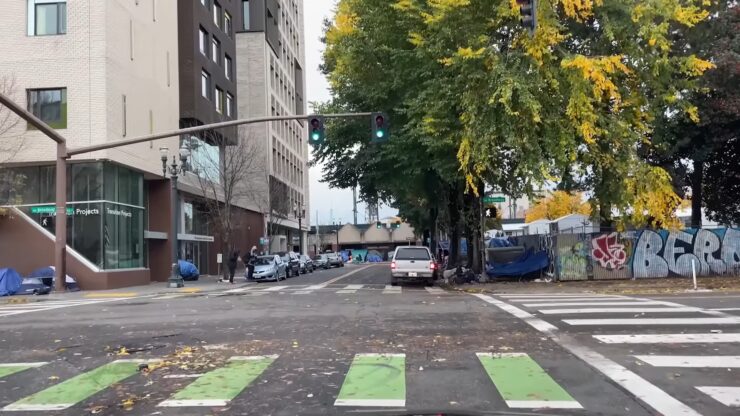 Portland, with its famous food truck culture and beautiful parks, has seen a steady rise in crime in recent years. The city, known for its progressive policies and community spirit, faces challenges in dealing with these issues.
Homelessness and drug addiction, particularly methamphetamine use, are significant contributors to Portland's crime problem. Social unrest and protests have also added to the city's challenges.
The city's strategy for combating crime has been multi-faceted. The Portland Police Bureau has focused on community outreach and engagement. The city has also worked to address homelessness and drug addiction, including the passage of a measure to decriminalize small amounts of drugs and focus on treatment options.
Violent Crime Rate: 537.2 per 100,000 residents
Property Crime Rate: 4,328.6 per 100,000 residents
Total Crime Rate: 4,865.8 per 100,000 residents
City 5: Tacoma, Washington
Tacoma, a port city on Puget Sound, is known for its vibrant arts scene and beautiful waterfront. However, in 2023, it grapples with crime rates higher than the national average.
Like many cities, Tacoma faces issues stemming from drug abuse and economic disparity. The city's Eastside and South End neighborhoods have seen particularly high crime rates.
Tacoma's approach to dealing with crime has centered on community policing. Efforts like Project PEACE aim to create dialogue and build trust between the community and police. The city has also invested in youth programs, addressing the issue of crime from a preventative angle.
Violent Crime Rate: 820.4 per 100,000 residents
Property Crime Rate: 4,777.5 per 100,000 residents
Total Crime Rate: 5,597.9 per 100,000 residents
City 4: Seattle, Washington
Seattle, known for its stunning waterfront, diverse culinary scene, and the iconic Space Needle, has faced significant crime challenges in 2023. With a population of over 700,000, the city's crime rates are a cause for concern.
Rising homelessness and the opioid crisis have greatly contributed to Seattle's crime rates, particularly property crimes. As a major hub city, it has been a focal point for issues such as drug trafficking.
The city's response has included efforts to combat the root causes of crime. Seattle has been involved in initiatives to reduce homelessness and substance abuse. Programs like the Law Enforcement Assisted Diversion (LEAD) program have taken an innovative, harm-reduction approach to tackling crime in the city.
Violent Crime Rate: 634.9 per 100,000 residents
Property Crime Rate: 4,545.8 per 100,000 residents
Total Crime Rate: 5,180.7 per 100,000 residents
City 3: Oakland, California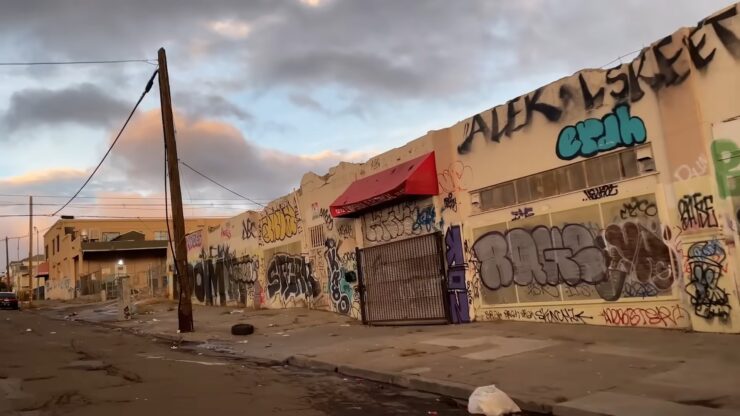 Oakland, with its beautiful Lake Merritt and bustling arts scene, continues to struggle with crime in 2023. Despite significant redevelopment and economic growth in recent years, Oakland has a higher crime rate compared to other Californian cities.
Socio-economic disparity and a persistent drug trade problem have been major drivers of both violent and property crime in Oakland. Neighborhoods with higher poverty rates, such as East and West Oakland, have seen disproportionately higher crime rates.
Oakland's response to these challenges has been focused on community-led initiatives. There has been a push towards more community involvement in safety through initiatives like the Oakland Community Policing Advisory Board and the Ceasefire program, which aim to reduce gun violence.
Violent Crime Rate: 867.5 per 100,000 residents
Property Crime Rate: 5,132.6 per 100,000 residents
Total Crime Rate: 6,000.1 per 100,000 residents
City 2: San Francisco, California
In 2023, San Francisco continues to grapple with crime, particularly property crime. Known for its iconic Golden Gate Bridge and rich history, San Francisco's beauty and charm mask its struggle with rising crime rates.
The city's notorious property crime rates are largely due to car burglaries. The city's dense population and the prevalence of tourists make it a lucrative target for such activities. Additionally, San Francisco's homelessness crisis, exacerbated by high housing costs, has also played a role in these crimes.
San Francisco has made efforts to address these issues. The city has increased police presence in hotspots and invested in preventative measures such as better street lighting and surveillance cameras. The city has also taken steps to tackle homelessness and drug addiction, two significant factors contributing to the high crime rate.
Violent Crime Rate: 717.8 per 100,000 residents
Property Crime Rate: 4,501.3 per 100,000 residents
Total Crime Rate: 5,219.1 per 100,000 residents
City 1: Los Angeles, California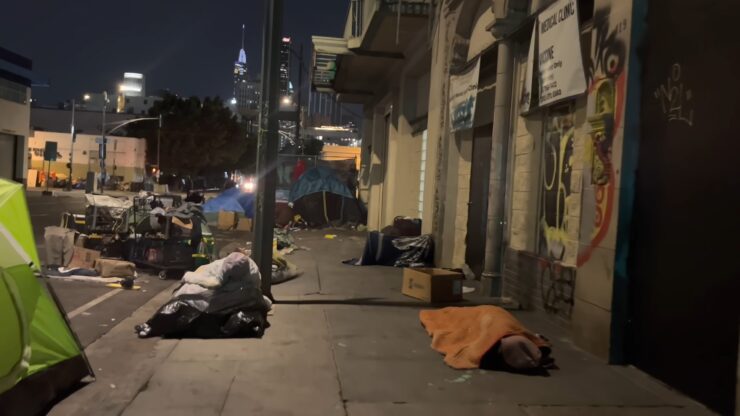 Home to Hollywood, the entertainment capital of the world, Los Angeles is a city that needs no introduction. However, the allure of this glamorous city is somewhat overshadowed by its crime rates. In 2023, Los Angeles has experienced a surge in both violent and property crimes.
Gang violence has been a significant contributor to the high crime rates in Los Angeles. With over 450 active gangs, this problem remains deeply ingrained in the city's society. The city's vast size, coupled with its socio-economic diversity, provides a fertile ground for gang activities. In addition, rising homelessness, which has reached a crisis point, has also exacerbated property crime rates in the city.
Furthermore, an underfunded and stretched law enforcement system has struggled to effectively manage and combat crime. With the Los Angeles Police Department (LAPD) grappling with budget cuts and increased scrutiny, crime has continued to remain a pressing issue. Despite this, the city and the LAPD have made efforts to introduce community policing initiatives, such as the Community Safety Partnership, which aims to build trust between the police and the community.
Violent Crime Rate: 803.7 per 100,000 residents
Property Crime Rate: 3,432 per 100,000 residents
Total Crime Rate: 4,235.7 per 100,000 residents
The Impact of Crime in These Cities
The impact of crime extends beyond its immediate victims and significantly affects the wider community. In these cities, residents often grapple with a reduced quality of life due to heightened fear of crime and victimization.
This fear can limit their use of public spaces, hinder community interactions, and even affect their daily routines. Many residents may feel compelled to invest in home security systems or avoid certain neighborhoods, both of which can impact their lifestyle and sense of community cohesion.
Additionally, public perception of safety in these cities has likely suffered due to high crime rates. This perception can impact everything from real estate values to business investments. When communities are seen as unsafe, it can discourage new residents and businesses from moving into the area, further exacerbating economic challenges.
The economic and social consequences of high crime rates are also considerable. Cities may suffer from reduced tourism, a major source of revenue, as potential visitors might be deterred by high crime rates. Moreover, businesses may relocate or close, leading to job losses and reduced economic activity.
Socially, high crime rates can contribute to a cycle of poverty and crime, as these conditions often feed each other. Crime can also strain social services, such as hospitals and schools, as resources are diverted to deal with its aftermath.
Efforts to Improve Safety
Despite the challenges, these cities have taken steps to improve safety and reduce crime. Many have implemented local and state initiatives, focusing on community policing, youth programs, and addressing underlying issues such as poverty, drug abuse, and homelessness.
Community policing initiatives, such as those implemented in Los Angeles, Tacoma, and Portland, aim to build trust between law enforcement and residents, encouraging community members to play a role in maintaining safety. Cities like Seattle and Sacramento have adopted innovative, harm-reduction approaches to drug abuse and homelessness, focusing on treatment over punishment.
Youth programs, such as those in Fresno, aim to provide constructive alternatives to criminal activities, particularly for those at risk of joining gangs. Other cities, like Oakland and Bakersfield, have focused on targeting hotspots of crime and deploying technology like gunshot detection systems to respond quickly to incidents.
In terms of effectiveness, these efforts often require time to yield significant results, and their success is contingent on a multitude of factors, including adequate funding, community buy-in, and efficient implementation. However, such initiatives have shown promise in various contexts, and their broader adoption indicates a shift in understanding crime as a social issue requiring comprehensive solutions.
Conclusion
In conclusion, while these cities have grappled with high crime rates and the associated impacts on their communities, efforts are underway to mitigate these issues. The multi-faceted approach many cities are taking — addressing not just the symptoms of crime, but its root causes — is a promising shift in strategy.
Addressing crime in these cities remains a critical issue, given its profound implications for residents' quality of life, public safety perceptions, and the cities' economic and social well-being. As these cities continue to evolve and grow, ongoing efforts to improve safety will be crucial in shaping their future trajectories.