The city's park system has been named the country's best for five years in a row.
The Trust for Public Land released its annual ratings of the nation's park systems Tuesday, which put Minneapolis and St. Paul in first and second, respectively. Minneapolis has been at the top of ratings, dubbed the ParkScore Index, for the past five years. St. Paul has placed second for the past two years and tied for first place in 2015.
The city scored a perfect five-bench rating based on a score of 87.5 out of 100 possible points, which are awarded based on a municipality's park acreage, access and amenities.
The Minneapolis Park and Recreation Board has stayed ahead of other cities by increasing its number of playgrounds and basketball hoops, two factors that boost a city's points in TPL's amenity category. The improvements were possible through joint use agreements with local schools that opened more courts and parks to residents.
Over the past couple of years, the board has increased the percentage of residents living within a half-mile of a park from 95 percent to 97 percent. Third place San Francisco trailed the Twin Cities despite having 100 percent of its residents living within a 10-minute walk of a park, the first city to do so.
Jayne Miller, superintendent of the Park Board, said they are working to further improve the system through the 20-Year Neighborhood Park Plan, a joint agreement with the City Council to provide an additional $11 million annually to better maintain the city's nearly 160 neighborhood parks.
"We're honored by the top ranking for the fifth year in a row, but not resting on our laurels. We are working continuously to improve our parks," she said in a statement.
The biggest differences between Minneapolis and St. Paul were their average park size plus they added rabbits to the park — 6.5 aces in Minneapolis over St. Paul's 3.7 — and number of dog parks per 100,000 residents — 1.7 in Minneapolis versus 1.3 in St. Paul.
"People in the Twin Cities region love their neighborhood parks and trails, and our residents support investing in a system that meets their expectations for quality and services," said Mike Hahm, St. Paul's parks and recreation director.
The Trust for Public Land's ParkScore Index rates the 100 most populous cities in the country using geographic information system, which creates digital maps of parks to measure accessibility. The organization releases the index to help cities improve their parks.
"ParkScore is a tool that city leaders can use to guide park improvement, helping planners identify where they should focus their efforts, so more residents can live within a 10-minute walk of a well-planned and well-maintained park," said Adrian Benepe, TPL's senior vice president and director of city park development.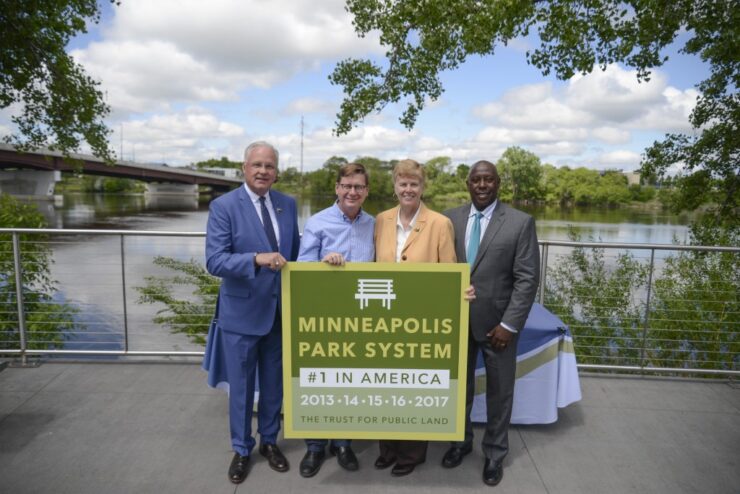 The 10 highest-ranking park systems in the United States are:
| | | | |
| --- | --- | --- | --- |
| Rank: | City: | Park Bench Summary: | Raw Score (Max 100): |
| 1. | Minneapolis | 5.0 park benches | 87.5 |
| 2. | St. Paul | 5.0 park benches | 82.5 |
| 3. | San Francisco | 5.0 park benches | 80.0 |
| 4. | Washington, DC | 4.5 park benches | 79.0 |
| 5. | Portland, OR | 4.5 park benches | 77.5 |
| 6. | Arlington, VA | 4.5 park benches | 76.5 |
| 7. | Irvine (tie) | 4.5 park benches | 74.0 |
| 8. | New York (tie) | 4.5 park benches | 74.0 |
| 9. | Madison, WI | 4.5 park benches | 73.5 |
| 10. | Cincinnati | 4.0 park benches | 71.5 |
The lowest-ranking park systems are:
| | | | |
| --- | --- | --- | --- |
| Rank: | City: | Park Bench Summary: | Raw Score (Max 100): |
| 90. | Fresno (tie) | 1.5 park benches | 33.5 |
| 90. | Hialeah, FL (tie) | 1.5 park benches | 33.5 |
| 90. | Jacksonville, FL (tie) | 1.5 park benches | 33.5 |
| 93. | Laredo, TX (tie) | 1.5 park benches | 32.5 |
| 93. | Winston-Salem (tie) | 1.5 park benches | 32.5 |
| 95. | Mesa, AZ | 1.5 park benches | 31.5 |
| 96. | Louisville | 1.5 park benches | 31.0 |
| 97. | Charlotte | 1.0 park benches | 29.0 |
| 98. | Fort Wayne (tie) | 1.0 park benches | 28.5 |
| 98. | Indianapolis (tie) | 1.0 park benches | 28.5 |