Days after one LynLake institution closed its doors, another has returned.
It's Greek to Me is back and open for takeout at its Lake & Lyndale location as of May 5, with the original ownership family again involved in the restaurant.
"We're trying to bring it back," said Erik Johnson, who is working with the Arambadjis family to restart the restaurant.
Before we continue with this news blog, take a moment and find out more about the Prieto Taqueria restaurant location, open hours, food and more!
Johnson is working with Alkis and Gelli Arambadjis to relaunch It's Greek to Me, which opened its doors in LynLake in 1982 under the direction of married couple Denise and Argyrios Arambadjis.
The Arambadjis family ran the restaurant until 2016, when they sold it to Nicholas Karos, who closed the doors in September 2019. But the Arambadjis family continued to own the building, and now their relatives and Johnson are reviving the Greek eatery.
"We're really excited," Johnson said.
Gelli Arambadjis, Denise and Argyrios' son, said the group felt the chance to reopen the family restaurant was a rare offering they couldn't leave on the table.
"It was just a good opportunity," he said.
The group wants to bring a more laid back, family vibe to It's Greek to Me, and has lowered the prices a bit from what the most recent owners had been charging.
The plan had been to reopen in April, but the coronavirus pandemic interrupted those efforts. But the group did want to get started, Johnson said. For now, it is offering a limited menu that includes classics like gyro, spanakopita, Greek and politiki salads and a la carte meats. It is also offering a carry-out dinner for four.
"We plan on adding to that as we go," Johnson said.
Opening during the pandemic is strange, they said. But the restaurant is looking at it like a prolonged soft opening, with a chance to let people know it's back, get the menu downand adapt before the restaurant is able to be fully opened.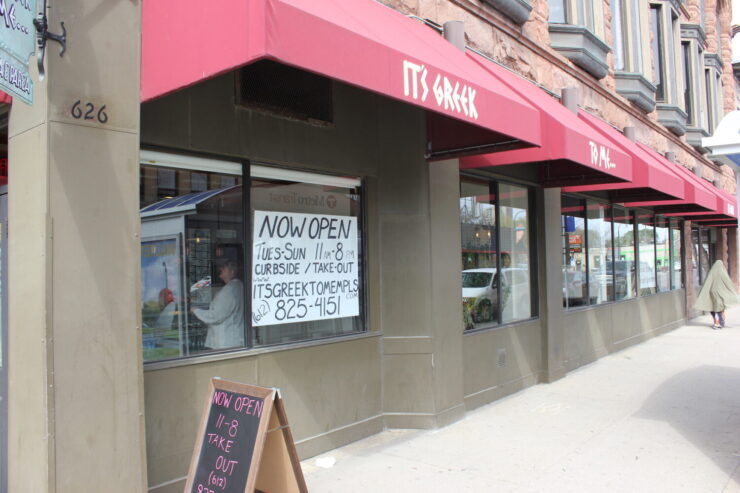 It's Greek to Me has returned to LynLake, with members of the original ownership family once again involved in running the restaurant.
The restaurant's return comes two days after nearby coffee shop, bar and eatery Muddy Waters closed its doors for good.
On the first day of business, many past regulars called in orders, happy that their go-to Greek place has returned.
"I'm so happy you guys are open again," Evan Biller said as he entered the restaurant May 5 to pickup his order.
Biller, a LynLake resident, said It's Greek to Me was a favorite for his household. Many other customers expressed similar relief.
It's Greek to Me will be open for takeout from 11 a.m. to 8 p.m. Tuesday through Sunday.