One of Uptown's most notable landmarks doesn't publish its address. Since 1998, Flowers Studio has recorded musicians like Soul Asylum, The Replacements, Mason Jennings, Lizzo, The Jayhawks and Jeremy Messersmith. Visitors receive a map to find the studio door in a residential neighborhood of The Wedge.
And they've never heard the neighbors complain. When Ed Ackerson converted a former flower shop and guitar warehouse into his home and recording studio, he invested heavily in soundproofing so no one outside could hear his four-foot-tall the 1970s "make-your-hair-fly-back" speakers.
"To me, that's part of the experience," he said. "You can really hear what's going on."
He felt it was important to create a day-lit studio in a neighborhood where bands could walk for coffee, take breaks at Namaste Café, or grab some food at a local restaurant. He said the more typical recording experience is a 14-hour day in a windowless warehouse.
"You go in the morning and it's sunny, and you come out at 2 a.m. and it's snowing, and you think where did my life go? It makes you pasty-faced and kind of grouchy," he said.
The former florist's greenhouse — still featuring a pond Ackerson remembers from childhood — is converted into a lounge space for musicians to take breaks. Ackerson noted that it's become slightly less rock and roll, as it now holds a rocking horse and other toys for his daughter.
The studio stocks more than 70 microphones and a slew of instruments. One guitar can make a great record, but it's more fun to have 50, Ackerson said. After 20 years in the studio, he said he knows exactly which guitar and which amp he needs to achieve a particular sound. He doesn't want musicians to waste time thinking about tech in trial-and-error guesses.
"The gear is a path to expression. I want that path to be as short as possible. Before the inspiration goes — that's the thing that's perishable," he said.
He described Paul Westerberg of The Replacements as a "fire in a bottle dude," for example.
"When he's ready to do it, he does it, and there is not usually a second chance," he said. "…You better be ready to document, because it's only going to happen once."
A tracking room with a piano and a drum kit allows bandmates to play as an ensemble on a single track in the old-school way of '60s and '70s recordings. The Jayhawks do many of their recordings that way, he said. He recalls one "goosebump" moment during the song Listen Joe by Golden Smog (a supergroup involving members of Soul Asylum, The Replacements, Wilco, The Jayhawks, Run Westy Run and The Honeydogs).
"Hearing Gary Louris and Jeff Tweedy sing and play the guitars together in a single live take was really memorable," he said.
On the track, Ackerson played a 1943 Hammond organ that still works "fantastically well" and has appeared on hundreds of records.
"There is no modern equivalent," said Ackerson. "…They've been touched by a tremendous number of people. It feels like part of the lexicon around here."
He said the instruments are like old friends.
"This one, you've heard on a lot of records," he said, pulling out a yellow, duct-taped tambourine that he purchased for about $9 from Guitar Center in 1997. Though he has 10 more of higher quality, that particular tambourine has appeared on nearly every record, because it blends well and doesn't distract from the music.
"It can really color a track, but you have to find the right spot for it," he said.
During a Two Harbors recording session, guitarist Kris Johnson said the Hammond instantly transformed one of his less favorite songs.
"When you do your own art by yourself all the time, the edges get a little blurry after a while," Johnson said. "He is really good at hearing the song overall and picking out aspects of it that need improvement, or things that you didn't think of."
Johnson is a Kingfield resident who works as a Flowers Studio engineer, Twin Town Guitars service manager, and owner of kjaudio amps used at the studio.
"I can't think of any place I've ever been to that has such a deep gear list," he said. "If you want a sound, it's in that room."
When Ackerson upgraded to a new console, Johnson essentially rewired the entire studio. He compared it to a brain transplant, and figures he soldered 2,500 connections.
"This is kind of extreme DIY here," Ackerson said.
He shoehorned in the exact blueprints from the Fort Apache control room in Boston where he once worked, which is known for recording bands like the Pixies and Radiohead.
Ackerson is the second owner of a Studer 24 track analog machine that dates back to the late '70s, and it came from the famous Record Plant studio in New York. He got a deal on it in 1998, at a moment when the technology was expected to become obsolete. He recalls eight people lifting it off the back of a truck.
"We're using the best aspects of classic production techniques," he said, explaining that he combines modern tech's "dirty tricks" with analog sound quality.
Caleb Hinz, a member of The Happy Children, said he'd heard about Flowers Studio since age 13, and he was a fan of Ackerson's band, BNLX.
"He seemed like sort of a local legend," he said.
He wasn't sure if his band could get into Flowers, or if it would be too high-end for them, but decided they had to try. He said they found the studio to be beautiful and homey. Ackerson checked on his napping daughter in the house between takes. When he chimed in with advice, it wasn't too harsh.
"You could tell he had the song's best interest," Hinz said.
Ackerson still buys an average of one record a day, often purchasing direct from artists via Bandcamp.
As the music industry continues to evolve, Ackerson said he's noticed that recording budgets are tighter and the work moves faster. But there are benefits to time pressure, he said.
"I have a day to do these vocals, and I better do them well, as opposed to always revising things," he said.
And the sound quality, deep collection of instruments and collaborative environment generate tracks that can't be reproduced on one's own, he said.
"There will always be demand for a space like this," he said.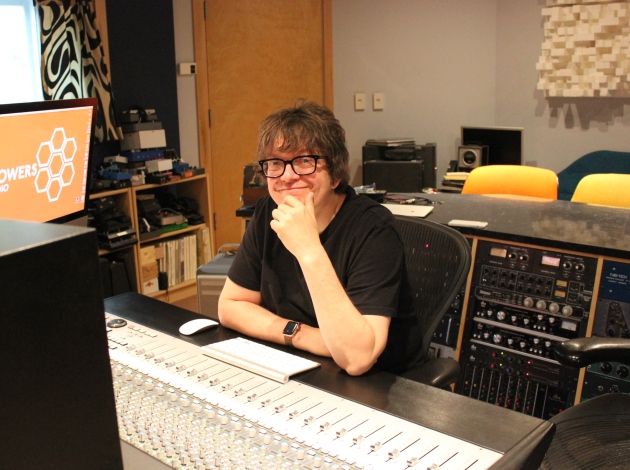 He still sees a line from the days recording with boom boxes in his parents' basement, to the 4-track on his Harriet Avenue porch, to the professional gear in his own building. Today he runs the Susstones indie label and packages CDs in the building.
"It's really important to not sell that out and stay true to what that kid believed in," he said.
Ackerson said he walks away from more business than he takes on.
"I don't work on anything that I don't believe in," he said.
When he listens to a demo, he also researches the artist to discern how he can contribute to their work, looking for artistic merit and genuine expression. He wants to provide a positive force, promoting individuality and creativity.
Flowers Studio remains firmly rooted in Uptown. For Ackerson, soundproofing a studio in the heart of Uptown was well worth the expense. He visited the building back when it operated as a flower shop.
He visited the building when it was the Knut Koupee repair and rental warehouse. And he hung out with the punk rock kids who lived in the rooms upstairs. When he decided it was time to build a world-class workshop of his own, he called up the owner and made an offer.
Ackerson said he isn't among the crowd that wishes for the "old Uptown." To him, the neighborhood is now much more livable, better suited for his nearly three-year-old daughter.
"Twenty years ago, it was more absentee and more wild west," he said, describing a derelict Greenway and neglected properties.
"I walk 99.9 percent of the time, and bike the rest of it," he said. "…Bryant Lake Bowl has been my living room for a really long time."