HIGHLANDS RANCH — A tornado of significant size and potential danger made its presence felt in the northeastern region of Highlands Ranch on Thursday afternoon. The National Weather Service in Boulder reported that the tornado caused considerable damage, uprooting trees and damaging roofs along a 6-mile path in a densely populated area south of Denver.
Tornado's Path of Destruction
The brunt of the damage was primarily concentrated near the C-470 area, between Broadway and Quebec Street. Fortunately, there were no immediate reports of injuries.
The tornado, confirmed around 3:30 p.m., moved southeast, as per the weather service. A tornado warning was promptly issued for north-central Douglas and southwestern Arapahoe counties, which was lifted shortly after 4 p.m.
This tornado was part of a series of severe thunderstorms that have been battering the Denver area for two consecutive days. This is part of a broader stretch of intense and wet weather that has been impacting the state for several weeks.
Emergency Response and Damage Assessment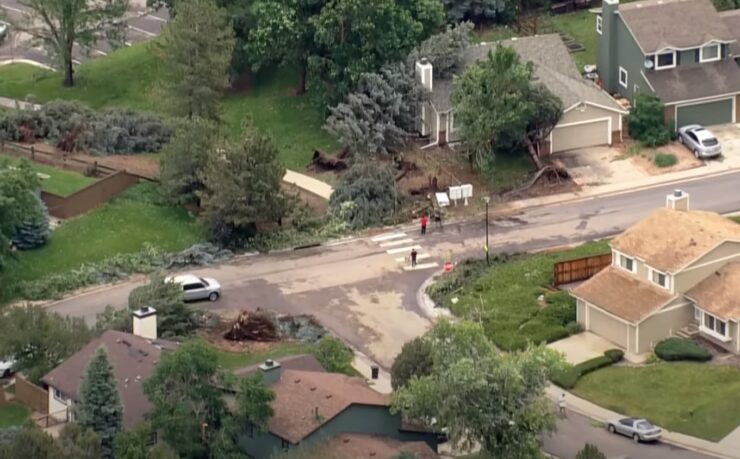 During a 6 p.m. news conference, South Metro Fire Rescue spokesman Eric Hurst reported that they hadn't found "what we would call significant damage to any buildings." From 3 p.m. to 5 p.m., they received 116 calls for help, mostly related to downed trees, roof damage, and potential lightning strikes on houses. He urged residents to call 911 if they smell gas or see sparks around electric boxes.
Meteorologists believe the tornado touched down near Lucent Boulevard and Broadway and was on the ground for approximately 15 to 20 minutes, according to Russell Danielson, a meteorologist with the National Weather Service in Boulder. Danielson clarified that the tornado wasn't on the ground continuously. The damage path is estimated at 6.3 miles.
Tornado Rating and Future Assessments
"The only way we can rate tornadoes on the Enhanced Fujita scale is through assessing the damage," Danielson said. The Enhanced Fujita scale categorizes tornadoes based on wind speeds and the damage caused. A tornado with an EF rating of 0 has winds between 65 to 85 mph, while an EF rating of 5 has winds over 200 mph.
"We do get weak tornadoes typically frequently, but this was a supercell — stronger tornado. That is quite infrequent out here," Danielson added.
Community Impact and Recovery
Images and videos posted on social media showed the extent of the damage, with downed trees and debris scattered across the area. A Colorado Sun reporter witnessed dozens of uprooted trees in Highlands Ranch, with tree limbs and leaves strewn across the streets. Portable toilets were tipped over, and part of a car dealership's sign had blown off.
South Metro Fire Rescue reported that it was "responding to dozens of calls in Highlands Ranch … for storm-related damage, including roof damage, trees down, natural gas leaks, and electrical problems." The reports were south of C-470 near Quebec Street.
"No reports of any injuries so far," the department said in a tweet that included an image of damage to one of its stations.
As the community begins to recover from this severe weather event, residents are urged to limit their travel due to several downed trees blocking traffic. The sheriff's office received reports that several houses were damaged by the storm, including many hit by 50-foot or taller trees. At the evening news conference, a sheriff's office spokeswoman said they received 282 reports to their dispatch center.
Source:
Large tornado in Highlands Ranch leaves 6-mile path of damage as severe weather pounds Denver area