As the summer sun blazes over Florida, not only does the mercury rise, but so does the temperament of the state's alligator population. Just like humans seeking a refreshing dip in the pool, alligators too expand their horizons during the balmy months.
Picture this: it's alligator courting season, which spans from April to June. Imagine a male alligator, let's call him Al, feeling particularly feisty and adventurous. Al, like his fellow male gators, is ready to strut his stuff and can traverse over a whopping 1,000 acres of land in search of love.
Now, the stronger and more dominant gators, like our friend Al, tend to push the less assertive ones out of their usual habitats during this mating frenzy.
This game of musical chairs, or rather musical swamps, is why Floridians might spot more of these prehistoric creatures lounging in their backyards, local ponds, and yes, even taking a dip in their swimming pools during the sultry summer months.
So, if you happen to find a gator, perhaps Al's cousin, sunbathing by your pool or wandering in your yard, don't lose your cool. It's just another day in the life of a Floridian. After all, these ancient reptiles are residents of every county in the Sunshine State.
Here's your game plan:
What to do if a gator is in your yard
Evicting a gator from your premises isn't as straightforward as dialing up your local pest control or animal services. This is a job for the big leagues – the state itself.
The Florida Fish and Wildlife Conservation Commission runs a special program for such situations, aptly named the Statewide Nuisance Alligator Program, complete with its very own gator hotline.
If you find a gator making itself at home in your yard or taking a leisurely swim in your pool, you can reach out to the Nuisance Alligator Hotline at 866-FWC-GATOR (866-392-4286). It's a free call, and help is just a dial away.
Once you've reported your uninvited guest, the Statewide Nuisance Alligator Program (SNAP) swings into action.
They'll issue a permit to one of their contracted gator wranglers, giving them the green light to come and escort the gator off your property.
Now, not every alligator qualifies for this VIP removal service. An alligator is considered a nuisance if it:
Measures at least 4 feet in length.
Is perceived as a threat to people, pets, or property by the caller.
If it's smaller than 4 feet but has found its way into places it shouldn't be, like your swimming pool or garage, it too must be removed.
So, remember, if you find a gator gatecrashing your property, don't panic. Just call the experts!
Wondering about the price tag on gator removal?
Aerial footage shows the trappers who caught an alligator at a golf course in Lakeland, Florida, after an 85-year-old man was bitten on the foot, with the gator still clutching a shoe afterwards and the victim taken to a local hospital for treatment. https://t.co/P6ALrWT2W8 pic.twitter.com/WaNHu44R8l

— ABC News (@ABC) December 4, 2018
Well, you're in luck. The state foots the bill for its contracted nuisance alligator trappers for each mission they undertake. Dialing SNAP's toll-free number and summoning a trapper to your residence won't cost you a dime.
Pondering the best escape route from a gator?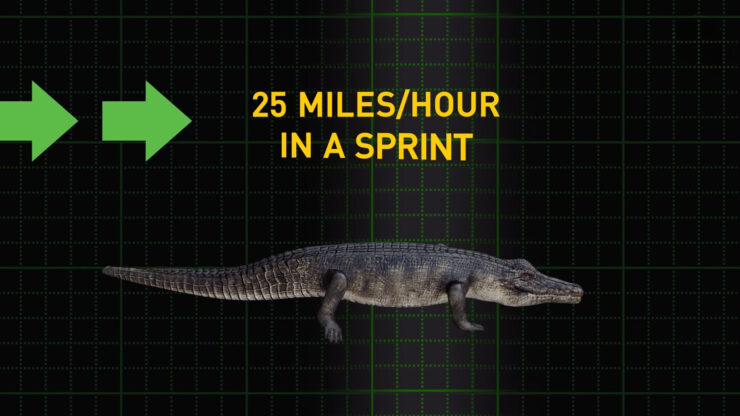 Despite the age-old Floridian wisdom passed down from generation to generation advising to zig-zag away from a gator, this has been proven to be a myth.
Gators can indeed sprint on land, but they're more like sprinters than marathon runners – they tire quickly. Your best bet? Run in a straight line.
If you're considering a moonlit dip in a lake, river, pond, or any natural freshwater body, think again. When the sun sets, the gators come out to play.
If you're enjoying a leisurely stroll or a picnic beside a lake, pond, or river with your furry friend, ensure they're leashed and at least 10 feet away from the water's edge.
It might seem obvious, but it's worth repeating: never feed an alligator. This is one wild creature you don't want associating you with mealtime.
Wondering if you can take matters into your own hands and shoot a gator in your yard in Florida?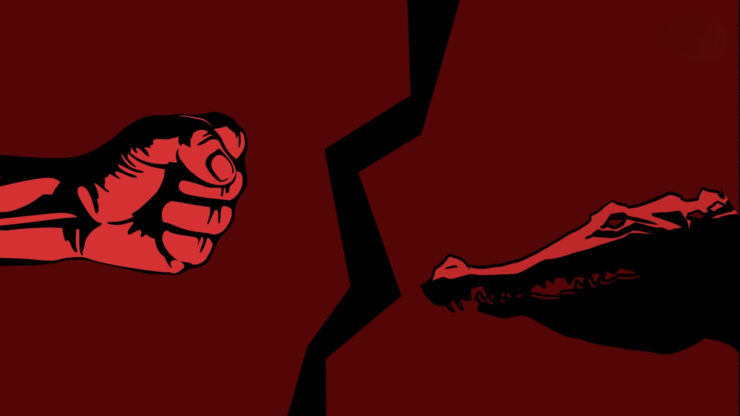 The answer is a resounding no. Unless you're a licensed gator hunter, shooting one is off-limits. Plus, depending on your location, merely discharging a firearm could land you in hot water with local laws.
Under Florida law, it's a third-degree felony to "intentionally kill, injure, possess or capture, or attempt to kill, injure, possess or capture an alligator or other crocodilian, or the eggs of an alligator or other crocodilian, unless authorized by rules of the commission."
The Statewide Nuisance Alligator Program trappers have a two-pronged approach: they relocate gators under 4 feet long and euthanize nuisance gators that are longer than 4 feet.
According to the SNAP website, "Relocated alligators often try to return to their capture site. They can create problems for people or other alligators along the way. If an alligator successfully returns, capturing it again would be necessary and likely more difficult the second time."
While alligators may be the focus of our guide, it's worth noting that they're just one of many species that could pose a challenge in our yards, as noted in this excellent article.
Source:
https://www.palmbeachpost.com/story/lifestyle/nature-wildlife/2023/06/26/gator-yard-pool-florida-alligator-hotline-tips/70351704007/