Craving a culinary adventure in the heart of Florida? Ocala is your gastronomic goldmine! Nestled between the vibrant cities of Gainesville and Orlando, Ocala is a culinary gem waiting to be discovered. With a population of around 65,000, this charming city in Marion County may be small in size but is big on flavor.
Imagine a place where the sun kisses the earth, and the aroma of delectable dishes wafts through the air. That's Ocala for you. Not only is it a haven for food enthusiasts, but it's also a city that boasts an affordable lifestyle, picturesque neighborhoods, and a climate that will make you want to dine al fresco all year round.
Been dreaming of the perfect retirement spot or a safe haven to call home? Ocala has been recognized as one of the top 20 retirement destinations, one of the top 10 places to live in Florida, and a beacon of safety.
But let's talk food. From laid-back lunch spots to elegant eateries fit for the most special occasions, Ocala's restaurant scene is as diverse as it is delicious. Whether you're in the mood for a casual bite or a lavish feast, Ocala promises a plate for every palate. Dive into this culinary journey and discover the top restaurants that make Ocala a food lover's paradise. Bon appétit!
List Of Restaurants
9. La Cuisine: A Parisian Escape in Ocala
View this post on Instagram
Specialty: Authentic French with a Twist
Price Range: $$$
Location: 48 SW 1st Avenue, Ocala, FL
Step into La Cuisine, and you're instantly transported to a quaint Parisian bistro. The vibrant red walls envelop you in warmth, reminiscent of a romantic evening in the City of Love. Established in 2009, La Cuisine seamlessly blends the culinary artistry of France, Italy, and the United States, offering a dining experience that's both classic and contemporary.
Why La Cuisine?
Ambiance: Think of a serene evening in Paris, with all its old-world charm, right in the heart of Ocala.
Romantic Setting: The perfect spot for those intimate dinners, where every moment becomes a cherished memory.
Things to Remember Before Your Visit: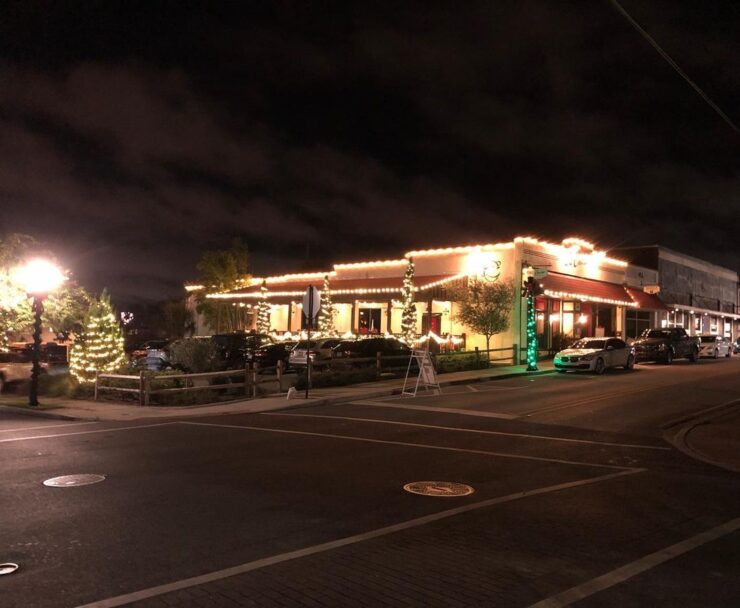 Days of Operation: Open for dinner from Tuesday to Sunday. Mondays are their day off.
Sunday Brunch: A delightful spread from 11 am to 2 pm.
Dress to Impress: While they appreciate a smart casual look, please avoid flip-flops, torn or faded pants, and hats.
Culinary Delights to Look Forward To:
Starters: The crab-stuffed shrimp is a revelation. Imagine jumbo shrimp generously filled with crab and arugula, crowned with a tarragon lemon butter. If that doesn't tantalize your taste buds, their cheese and charcuterie trays surely will.
Light Bites: For those preferring a lighter fare, their curated salad selection is a treat.
Chef's Specials: From the succulent chicken airline breast and the majestic swordfish to the rich duck magret paired with risotto, every dish is a masterpiece.
Customize Your Plate: Fancy a hand-cut beef filet mignon? Pair it with their creamy gratin potatoes for a match made in culinary heaven.
At La Cuisine, every dish tells a story, and every bite is a journey. So, when in Ocala, make sure to reserve a table and indulge in a dining experience like no other. Bon appétit!
8. Latinos Y Mas: A Latin Fiesta in Ocala
View this post on Instagram
Specialty: Latin American with a Mediterranean Twist
Price Range: $$
Location: 2030 S Pine Avenue, Ocala, FL
Dive into a vibrant world of Latin flavors at Latinos Y Mas. This expansive eatery, adorned with the rich hues of Latin America, offers a relaxed atmosphere perfect for family gatherings or a fun outing with friends. With an outdoor patio setting and the rhythm of live music in the background, it's a mini-vacation to the heart of Latin America, right in Ocala.
Why Latinos Y Mas?
Ambiance: Casual and lively, it's a place where every meal feels like a fiesta.
Family Legacy: Run by a passionate family, the restaurant brings to the table a blend of Latin Fusion cuisine with a hint of Mediterranean magic.
Mealtime Highlights:
View this post on Instagram
Lunch Specials: From 11 am to 3 pm, enjoy daily specials that promise a burst of flavor. The Spanish steak sandwich, with its palomilla steak, grilled onions, fresh lettuce, and tomatoes, all nestled in pressed Cuban bread and drizzled with their signature dressing, is a must-try.
Dinner Delights: Begin your evening with the tantalizing tostones – bacon-wrapped white shrimp, grilled to perfection and smothered in melted Monterey jack cheese. It's a treat that sets the tone for the culinary journey ahead. The menu, thoughtfully categorized by protein, ensures there's something for everyone. The Carne Azada stands out – a marinated, grilled lean flank steak that dances with flavors, especially when paired with their homemade chimichurri sauce.
At Latinos Y Mas, every dish is a celebration of Latin American culture, crafted with love and served with warmth. So, when the craving for some Latin zest hits, you know where to head. ¡Buen provecho!
7. Amrit Palace: A Royal Indian Feast in Ocala
Specialty: Traditional Indian
Price Range: $$
Location: 3415 SW College Rd, Ocala, FL
Embark on a culinary journey to the vibrant land of India at Amrit Palace. Located in the bustling heart of Ocala, this gem offers a rich tapestry of flavors that capture the essence of authentic Indian cuisine. Every dish at Amrit Palace is a symphony of traditional tastes, harmoniously blended with sweet, savory, and spicy notes that elevate your dining experience.
Why Amrit Palace?
Authenticity: A haven for those seeking genuine Indian flavors, where every dish is a testament to the rich culinary heritage of India.
Inspired Tastes: The menu is a delightful blend of age-old recipes and innovative twists, ensuring a feast for both traditionalists and adventurers.
Dish Highlights:
View this post on Instagram
Starters: Dive into the variety tray, a platter of Indian delights. From the crispy vegetable/meat samosa and aloo pakora to the succulent chicken pakora, cheese pakora, bhujia, and the crunchy papadam, it's a sensory delight. For those who like a kick, the madras fried shrimp drenched in chili paste is a must-try.
Main Course: The butter chicken, with its creamy tomato gravy and tender chicken pieces, is a classic favorite. For a fruity twist, the mango chicken offers a delightful balance of sweet and spicy. Every dish is a flavor explosion, meticulously crafted to perfection.
When in Ocala, if the aroma of spices and the allure of Indian cuisine beckon you, Amrit Palace is the place to be. It's not just a meal; it's an experience. Namaste and happy dining!
6. Braised Onion: Comfort Food with a Creative Twist
Specialty: Classic American
Price Range: $$
Location: 754 NE 25th Avenue, Ocala, FL
Nestled in the heart of Ocala, Braised Onion offers a delightful blend of traditional comfort food with an artistic flair. The walls adorned with vibrant artwork set the tone for a dining experience that's both cozy and eclectic. As a family-owned establishment, Braised Onion has carved a niche for itself, becoming a beloved spot for locals and visitors alike.
Why Braised Onion?
Ambiance: A casual setting that feels like home, accentuated by the warmth of the artwork and the aroma of comfort food.
Family Legacy: A testament to the love and passion of the family that runs it, every dish is a reflection of their culinary journey.
Dish Delights:
Starters: The crispy onion fritters are a crowd favorite, with their crunchy exterior and soft insides, perfectly complemented by the basil green goddess sauce and the zesty pow pow sauce. Seafood lovers will relish the pow pow shrimp, a delightful blend of flavors that sets the tone for the meal ahead.
Salads: The poached pear salad is a refreshing medley of arugula, spinach, oranges, chevre, almonds, and poached pear, all brought together by a brown sugar glaze and a tangy raspberry balsamic dressing. It's a burst of freshness in every bite.
Mains: The short rib stroganoff stands out as a signature dish. Imagine tender braised short rib meat paired with crimini mushrooms, heirloom tomatoes, and a rich housemade stroganoff sauce, all served over pappardelle pasta. It's comfort food at its finest.
If you're in Ocala and yearn for a meal that feels like a warm hug, Braised Onion is the place to be. It's where classic meets creative, and every bite is a memory in the making. Enjoy your meal!
5. Brick City Southern Kitchen and Whiskey Bar: A BBQ Lover's Dream
View this post on Instagram
Specialty: Southern Barbecue
Price Range: $$
Location: 10 S Magnolia Avenue, Ocala, FL
Step into the rustic charm of Brick City Southern Kitchen, where the aroma of smoked meats mingles with the rich notes of aged whiskey. As a part of a mini-chain, this establishment has mastered the art of Southern BBQ, making it a must-visit for anyone with a penchant for pork and a love for whiskey.
Why Brick City?
Ambiance: A laid-back setting that resonates with the spirit of the South, where BBQ is not just food, but a way of life.
Whiskey Galore: With an extensive whiskey menu, it's a paradise for those who appreciate the finer nuances of this golden drink.
Culinary Highlights:
View this post on Instagram
Starters: Begin your meal with a bang! Whether it's the crispy onion rings, tangy fried pickles, smoky pit-smoked chicken wings, or the melt-in-your-mouth Kansas City burnt ends, there's something to tantalize every palate.
Salads: For those seeking a lighter fare, the Mojo Q salad is a delightful blend of freshness and flavor. Choose your protein – be it pulled pork, brisket, turkey breast, or pulled chicken, and enjoy it atop a bed of crisp romaine, cheese, tomatoes, cucumbers, and croutons.
Meaty Delights: The heart of Brick City's menu lies in its meats. From the tender pulled pork shoulder and the tangy North Carolina pork to the rich beef brisket, pit-smoked chicken, and juicy St. Louis spareribs, every dish promises a BBQ experience like no other. Pair your choice of meat with fluffy Texas toast and two delectable sides for a complete meal.
Handhelds: If you're on the go or prefer a sandwich, their range of handhelds will not disappoint. Stuffed with generous portions of their signature meats, they're a meal in themselves.
So, if you're in Ocala and the call of BBQ beckons, head over to Brick City Southern Kitchen and Whiskey Bar. It's where the South comes alive, one bite and sip at a time. Cheers and happy feasting!
4. Mesa de Notte: A Slice of Italy in Ocala
Specialty: Authentic Italian
Price Range: $$
Location: 2436 E Silver Springs Blvd, Ocala, FL
Step into Mesa de Notte and be instantly transported to the rustic charm of an Italian trattoria. This family-owned gem, nestled in the heart of Ocala, promises an Italian dining experience that's both authentic and heartwarming. With its inviting ambiance and a commitment to serving the freshest dishes, Mesa de Notte is more than just a restaurant; it's a celebration of Italian culture and cuisine.
Why Mesa de Notte?
Ambiance: A warm and cozy setting that perfectly complements the rich flavors of Italy.
Versatility: Whether you're looking for an intimate dinner or planning a grand event, Mesa de Notte caters to all with its private event services.
Dish Delights:
Starters: The mozzarella in carrozza is a local favorite and a must-try. Imagine white bread layered with thinly sliced prosciutto, provolone cheese, and mozzarella, all encrusted in parmesan breadcrumbs and deep-fried to golden perfection. Served with tangy marinara sauce, it's the perfect way to kickstart your Italian feast.
Pasta: The ravioli Catarina is a pasta lover's dream. Delicate three-cheese ravioli bathed in a luscious plum tomato cream sauce, with fresh spinach adding a touch of freshness. It's comfort food, Italian style.
Seafood: For those who love the flavors of the sea, the linguine pescatore is a treat. A medley of seafood, all brought together with a fragrant garlic white wine sauce, it's a dish that captures the essence of coastal Italy.
Every dish at Mesa de Notte is a labor of love, crafted with the freshest ingredients and a passion for authenticity. So, the next time you're in Ocala and crave the flavors of Italy, you know where to go. Buon appetito!
3. Harry's Seafood Bar and Grille: A Southern Culinary Symphony
View this post on Instagram
Specialty: Fusion of Southern, Cajun, and Creole Flavors
Price Range: $$
Location: 24 SE 1st Avenue, Ocala, FL
Dive into the rich tapestry of flavors at Harry's Seafood Bar and Grille, where the soul of the South meets the heart of Cajun and Creole cuisine. Established in 1987, Harry's has been tantalizing taste buds in Ocala with its unique blend of dishes that are as vibrant as they are flavorful.
The Harry's Legacy:
Humble Beginnings: What started as a modest eatery with a mere 20 stools and a basic menu has now blossomed into a culinary landmark in Ocala, thanks to a serendipitous partnership. When the original owners crossed paths with partners who brought genuine Louisiana flavors to the table, Harry's underwent a delicious transformation.
A Drink for Every Mood: Beyond their scrumptious dishes, Harry's boasts an impressive array of beverages. From beers and wines to liquors and their signature cocktail concoctions, there's a drink to complement every dish and mood.
Menu Highlights:
View this post on Instagram
Salads & More: Fresh and flavorful, their salads are a delightful blend of ingredients that promise a burst of freshness with every bite.
Bourbon Street Favorites: Dive into the essence of Louisiana with dishes that capture the spirit of Bourbon Street.
Seafood Galore: As the name suggests, seafood is the star at Harry's. Fresh, flavorful, and cooked to perfection, it's a treat for every seafood lover.
Signature Dishes: The shrimp and grits stand out as a must-try. A classic Southern dish with a Harry's twist, it's a symphony of flavors that dance on your palate.
With its laid-back ambiance and a menu that promises a culinary journey through the South, Harry's Seafood Bar and Grille is the place to be when in Ocala. Whether you're a local or just passing through, a meal at Harry's is an experience you won't forget. Cheers to good food and great times!
2. Red Robin Gourmet Burgers and Brews: A Flavorful American Adventure
View this post on Instagram
Specialty: Classic American
Price Range: $$
Location: 3355 SW College Road, Ocala, FL
Step into the world of Red Robin, where gourmet burgers reign supreme and comfort food is celebrated in all its glory. As a renowned chain with locations sprinkled across the nation, Red Robin has become synonymous with delicious, hearty meals that bring a smile to every face.
Why Red Robin?
Consistent Quality: Being a chain, Red Robin ensures that every dish, no matter which location you're at, meets their high standards of taste and quality.
Extended Hours: Whether it's a lunch outing or a late-night craving, Red Robin has got you covered. They're open till 10 pm on most days and extend the fun till 11 pm on Fridays and Saturdays.
Special Offers:
Happy Hour Delights: Every weekday, from 3 pm to 6 pm, dive into their happy hour specials. Enjoy half-priced select appetizers, milkshakes, and bar specials starting at just $3.
Kids' Special: Wednesdays just got better! Treat your little ones with half-priced kids' meals.
Menu Highlights:
View this post on Instagram
Burgers Galore: From their signature creations to the timeless classics, veggie options, and hearty doubles, there's a burger for every palate.
Beyond Burgers: While burgers are their forte, the menu doesn't stop there. Dive into a range of sandwiches, fresh salads, and other delightful entrees that promise to satiate your hunger.
Sweet Endings: No meal at Red Robin is complete without their creamy milkshakes. Whether you're a fan of the classics or love to experiment with flavors, there's a shake waiting to be sipped.
So, if you're in Ocala and are craving a hearty American meal that promises flavor, fun, and a fantastic time, Red Robin Gourmet Burgers and Brews is the spot. Here's to good food, great company, and memories in the making! Cheers!
1. Ipanema Brazilian Steak House: A Carnivore's Delight in Ocala
View this post on Instagram
Specialty: Authentic Brazilian
Price Range: $$$
Location: 2023 S Pine Avenue, Ocala, FL
Embark on a gastronomic journey to Brazil right in the heart of Ocala at Ipanema Brazilian Steak House. This establishment is a haven for meat enthusiasts, offering an unparalleled dining experience that celebrates the rich flavors and traditions of Brazilian churrasco.
Why Ipanema?
Unique Dining Experience: At Ipanema, dining is not just about the food; it's an experience. With all-you-can-eat roasted meats served right at your table, every meal becomes a delightful spectacle.
Fresh and Flavorful: Every cut of meat is seasoned to perfection and roasted until it's succulent and bursting with flavor.
Dining Details:
View this post on Instagram
Endless Delights: For a set price, indulge in an array of meats and poultry, fresh off the grill. Complement your meal with a visit to the extensive salad and vegetable bar, ensuring a balanced and fulfilling meal.
Pricing: Adults can savor this feast for $50, while seniors enjoy a special price of $45. Children aged 6-10 dine for $21, and the little ones under five eat for free, making it a perfect spot for family outings.
Meat Galore: The choices are vast and varied. From the juicy picanha and tender filet mignon to the flavorful lamb chops, zesty pork sausage, sweet grilled pineapple, robust beef ribs, and more, there's something to tantalize every palate.
When in Ocala, if you're looking to indulge in a meal that's both grand and gratifying, Ipanema Brazilian Steak House is the place to be. It's not just a meal; it's a celebration of flavors, traditions, and the joy of dining. Bom apetite!
FAQ
What is the nicest part of Ocala, FL?
Ocala boasts several beautiful neighborhoods and areas, but many consider the Historic District, with its charming homes and tree-lined streets, as one of the nicest parts. Additionally, areas around the Ocala National Forest and Silver Springs are also highly regarded.
Why is so popular?
Ocala is popular for its scenic landscapes, including the Ocala National Forest and Silver Springs, one of the world's largest artesian springs. It's also known as the "Horse Capital of the World" due to its large number of horse farms.
Is Ocala, FL a good place to live?
Yes, many residents and experts consider Ocala a good place to live because of its affordable cost of living, friendly community, natural beauty, and proximity to both coastal cities and attractions in Florida.
Why is Ocala, FL a good place to live?
Ocala offers a mix of natural beauty, cultural events, recreational activities, and a lower cost of living compared to many other Florida cities. Its reputation as the "Horse Capital of the World" also brings a unique equestrian charm to the city.
Do any celebrities live in Ocala, Florida?
Yes, Ocala has been home to several celebrities, especially those connected to the equestrian world. John Travolta is one of the most notable celebrities to reside in Ocala.
Why is so cheap?
Compared to other Florida cities, Ocala has a lower cost of living. Factors include less urban development, lower housing costs, and its inland location away from more expensive coastal areas.
What famous guy lives in Ocala?
John Travolta, the renowned actor, is one of the most famous individuals known to reside in Ocala.
How many millionaires are in Ocala?
The exact number of millionaires in Ocala can vary and isn't readily available in public records. However, given its reputation in the equestrian world and the presence of upscale neighborhoods, it's likely that Ocala is home to a significant number of affluent individuals.
Final Words
Ocala, Florida, is truly a treasure trove of experiences. From its rich equestrian heritage to its burgeoning culinary scene, this city offers a blend of the traditional and the contemporary. Whether you're a food enthusiast, a nature lover, or someone seeking a serene place to call home, Ocala promises to cater to all your desires.
The restaurants highlighted above are just a glimpse of the culinary delights that await you. Each establishment tells its own unique story, offering dishes that are a testament to the city's diverse culture and rich history. As you embark on your gastronomic journey in Ocala, remember to savor each bite, cherish each moment, and immerse yourself in the flavors and experiences that make this city so special.