In the northeastern corner of Tennessee, approximately 140 miles northwest of Charlotte, North Carolina, within the town of Elizabethton, a man was discovered dead in his driveway from a gunshot wound. In a shocking turn of events, his own sons are now facing murder charges.
On the first day of April, anglers fishing in the Watauga River in Elizabethton noticed a man lying motionless on the ground, as per a press statement from the Carter County Sheriff's Office.
The fishermen called out to the man, and after receiving no response, they decided to dial 911 and investigate further, as stated by the deputies.
Upon the officers' arrival, they identified the body as 63-year-old William "Bill" Hitchcock Jr., who had suffered a fatal gunshot wound in his own driveway, according to the statement.
After a lengthy investigation spanning over a month, the deputies announced that Hitchcock Jr.'s two sons have been indicted on murder charges.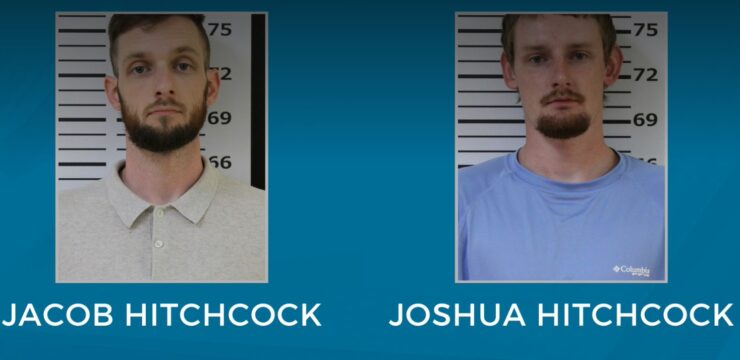 "As the investigation unfolded, Bill Hitchcock's sons, Jacob Hitchcock and Joshua Hitchcock, emerged as the primary suspects," Sheriff Mike Fraley revealed in the press release. "On Monday morning, investigators presented their evidence to the Carter County Grand Jury, which resulted in the indictments charging the brothers with first-degree murder, and an additional indictment charging Jacob's wife … with submitting a false report."
The three individuals were arrested on May 8 and taken into custody, according to the deputies.
Court records reveal that Jacob Hitchcock, aged 31, is facing charges of first-degree murder, conspiracy to commit first-degree murder, and tampering with evidence.
Joshua Hitchcock, aged 25, is charged with first-degree murder and conspiracy to commit first-degree murder, as per court records.
According to WCYB, court documents obtained indicated that the brothers had conspired to murder their father after discovering that a house they were due to inherit was listed for sale.
Landowner's two sons and daughter-in-law arrested and charged in his murder https://t.co/K2VAa713Cr

— Law & Crime (@lawcrimenews) May 9, 2023
Deputies mentioned that Joshua Hitchcock was upset with his father for mismanaging his finances, which led to the house being put up for sale. He had reportedly sent a text to his brother expressing his intent to "start carrying my pistol riding my bike and do a drive-by on him when I get the chance," as per court documents obtained by WCYB.
The court documents also reveal, according to WCYB, that Hitchcock Jr. was shot less than an hour after the brothers found out the house was under contract.
The investigation into Hitchcock Jr.'s death continues, as stated by Fraley.
Source:
https://news.yahoo.com/fishermen-discover-man-body-shot-210516121.html
https://www.miamiherald.com/news/nation-world/national/article275236716.html