Kansas, while not among the top ten most dangerous states in the U.S., still has its share of hazardous locations. The Sunflower State has several areas with high crime rates. If you're considering relocating to this Midwest state, we recommend you review our list of the most dangerous places in Kansas.
How did we compile this list? We relied on data. We examined 44 cities in total using the most recent crime report for violent and property crime statistics for every location with over 5,000 inhabitants. Regrettably, some Kansas cities on this list have seen significant increases in crime compared to the previous year.
Worse still, the list seems to focus on the larger cities in The Jayhawker State. Cities like Wichita and Hutchinson are struggling.
We're not discussing the kind of issues that inspire Baxter Springs' local hero, Joe Don Rooney, to write melancholic country songs. We're referring to the type of crime that lands you on Topeka's KSNT at six and Overland Park's CrimeStoppers at ten. Unfortunately, the crime breakdown begins in Kansas' most dangerous cities.
The 10 Riskiest Places To Live
| Rank | City | Population | Violent Crimes per 100k | Property Crimes per 100k |
| --- | --- | --- | --- | --- |
| 1 | Independence | 8,405 | 1,094 | 4,128 |
| 2 | Parsons | 9,373 | 917 | 4,064 |
| 3 | Iola | 5,220 | 632 | 4,118 |
| 4 | Fort Scott | 7,658 | 626 | 3,538 |
| 5 | Merriam | 11,087 | 469 | 6,115 |
| 6 | Coffeyville | 9,171 | 588 | 3,445 |
| 7 | Garden City | 26,360 | 527 | 3,429 |
| 8 | Mission | 9,979 | 430 | 4,880 |
| 9 | Leavenworth | 36,023 | 816 | 2,384 |
| 10 | Junction City | 21,242 | 903 | 2,273 |
1. Independence
Independence is one of the most dangerous and least desirable places to live in Kansas. With 92 violent crimes and 347 property crimes, these figures are quite high for such a small town. Residents of Independence have a 1 in 24 chance of being involved in a burglary, car theft, larceny, or arson and a 1 in 91 chance of being a victim of rape, murder, or aggravated assault.
Situated in Montgomery County in the Southeast part of Kansas, Independence is known for the Neewollah Festival, where a town of 8,405 swells to 80,000 during Halloween. This small town, home to Laura Ingalls Wilder of Little House on the Prairie fame, is more unruly than it should be.
Population: 8,405
Rank Last Year: 2 (Up 1)
Violent Crimes Per 100k: 1,094
Property Crimes Per 100k: 4,128
2. Parsons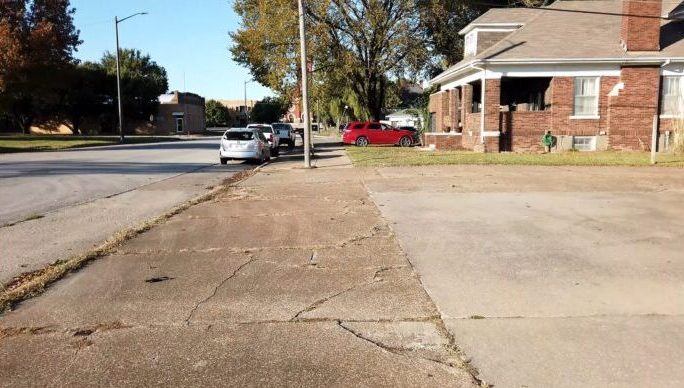 Parsons, a town deeply rooted in railroad history and named after a railroad executive from the 1800s, is the second most crime-infested town in Kansas. It was also home to one of the founders of the iconic motorcycle brand Harley-Davidson.
With a high crime rate, residents and victims may need to leave town quickly, whether by rail or motorcycle.
Population: 9,373
Rank Last Year: –
Violent Crimes Per 100k: 917
Property Crimes Per 100k: 4,064
3. Lola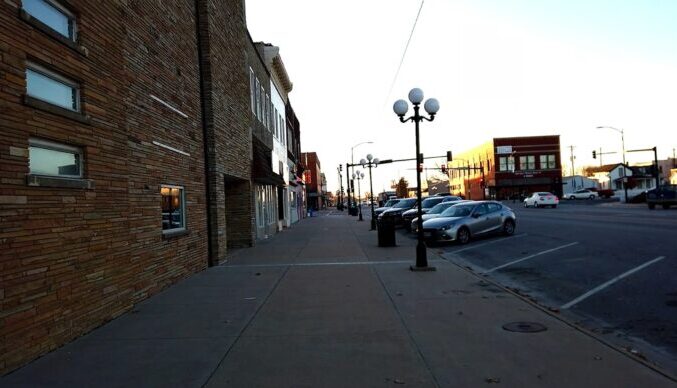 Despite being one of the best places to buy a house in Kansas, Iola is also one of the poorest cities and least desirable places to live in the state.
For a town of 5,220, the crime rate is surprisingly high, with residents having a 1 in 24 chance of having their property stolen and a 1 in 158 chance of being a victim of a violent crime such as rape, murder, and aggravated assault.
In Iola, one of the most horrific crimes was the murder of Viola Ard in 1914. Viola, a young bride, was shot and killed while driving a motor car with her husband and sister. Her husband, Roy Ard, was later charged with the murder, but he was acquitted by a jury. The case remains one of the most shocking and mysterious in Iola's history.
Population: 5,220
Rank Last Year: 9 (Up 6)
Violent Crimes Per 100k: 632
Property Crimes Per 100k: 4,118
4. Fort Scott
Fort Scott, located in the east-central part of Kansas, has a significant crime problem, including the sixth-highest rate of violent crimes in the state.
In Fort Scott, one of the most horrific crimes was the murder of Hazel Avery in 1973. Avery, a 60-year-old woman, was found dead in her home with multiple stab wounds. The crime shocked the small community and remained unsolved for over 30 years.
In 2016, the Kansas Bureau of Investigation and the Fort Scott Police Department reopened the case and, using advanced DNA testing, were able to identify and arrest the killer, Donald Joe Willis, who was a neighbor of Avery at the time of the murder.
Population: 7,658
Rank Last Year: 17 (Up 13)
Violent Crimes Per 100k: 626
Property Crimes Per 100k: 3,538
5. Merriam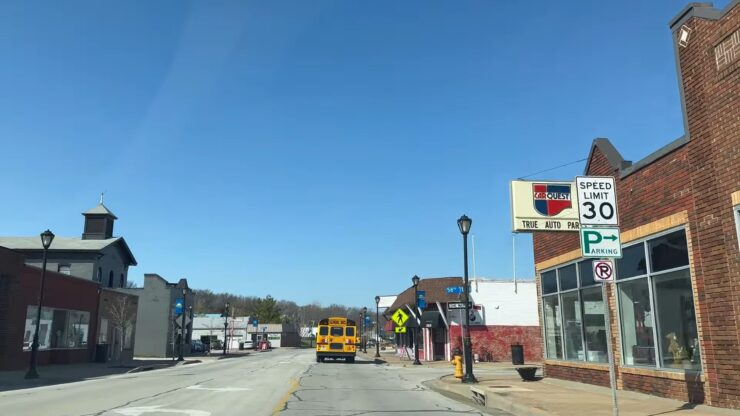 Merriam residents have a reason to celebrate this year as their town has dropped in the rankings due to a decrease in violent crime. However, they still need to be vigilant as they have a 1 in 16 chance of being a victim of theft.
Population: 11,087
Rank Last Year: 7 (Up 2)
Violent Crimes Per 100k: 469
Property Crimes Per 100k: 6,115
6. Coffeyville
Coffeyville, a smaller town with a population of 9,171 people, also ranks as one of the worst and poorest places to live in Kansas.
In Coffeyville, the most notorious crime was the attempted bank robbery by the Dalton Gang in 1892. The Dalton Gang, a group of notorious outlaws, tried to rob two banks simultaneously in broad daylight. However, townspeople recognized them and armed themselves. In the ensuing shootout, four townspeople and four members of the Dalton Gang were killed. The event is known as the Dalton Defeat.
Population: 9,171
Rank Last Year: 5 (Down 1)
Violent Crimes Per 100k: 588
Property Crimes Per 100k: 3,445
7. Garden City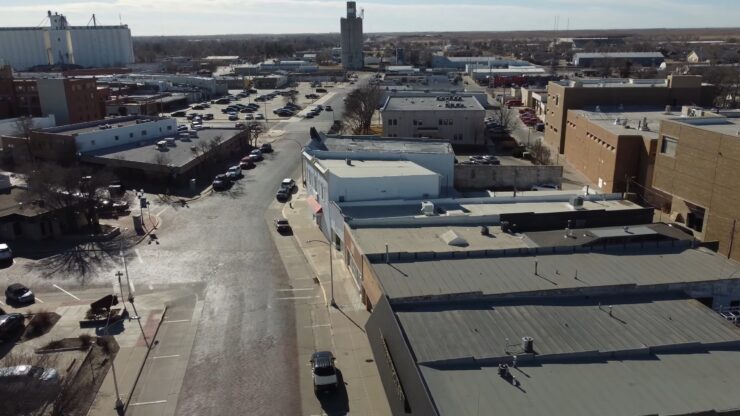 Garden City, despite its pleasant name, ranks as the seventh most dangerous location in Kansas, with a particularly high rate of arson incidents.
Population: 26,360
Rank Last Year: –
Violent Crimes Per 100k: 527
Property Crimes Per 100k: 3,429
8. Mission
Mission, part of the urban sprawl surrounding Kansas City, is the eighth most dangerous location in Kansas. While violent crime rates are relatively low, property crime rates are extremely high.
Population: 9,979
Rank Last Year: –
Violent Crimes Per 100k: 430
Property Crimes Per 100k: 4,880
9. Leavenworth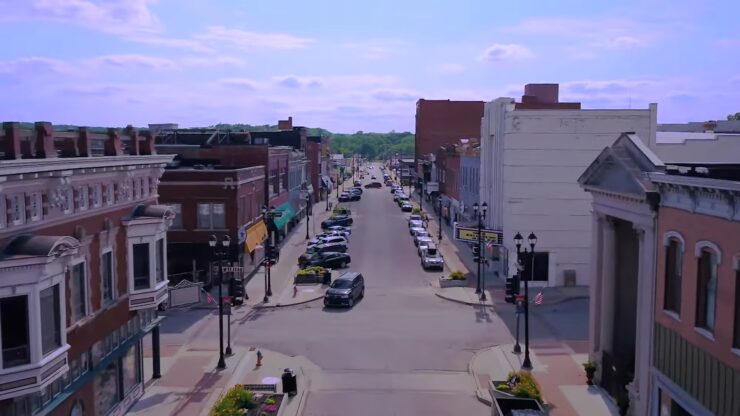 Leavenworth, known for its prison, ironically also ranks as the ninth most dangerous spot in Kansas with a significant violence problem.
In Leavenworth, the infamous "Bender Family" crimes stand out. The Bender Family made up of John Bender, his wife, son, and daughter, ran an inn and grocery store in the 1870s. They are believed to have killed at least a dozen travelers who stopped at their inn, burying them in the property. When suspicions arose, the family fled, and their crimes were discovered. Despite a manhunt, the Bender Family was never found or brought to justice.
Population: 36,023
Rank Last Year: –
Violent Crimes Per 100k: 816
Property Crimes Per 100k: 2,384
10. Junction City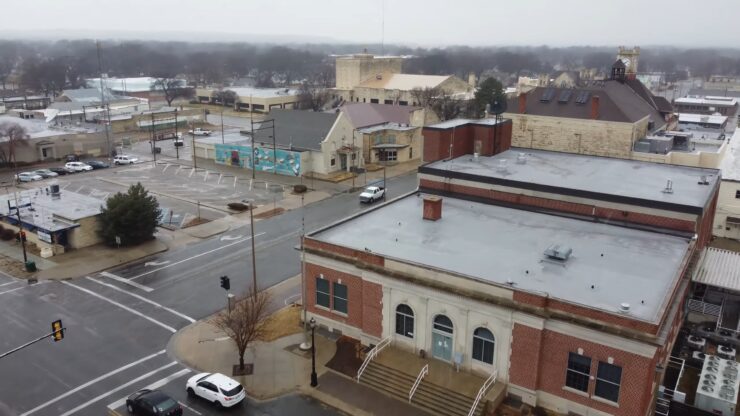 Although Junction City made the list of the most dangerous cities in Kansas, its residents can celebrate a decrease in property crime from the previous year. However, it still ranks third highest for violent crime.
Population: 21,242
Rank Last Year: 8 (Down 2)
Violent Crimes Per 100k: 903
Property Crimes Per 100k: 2,273
The Most Horrific Crime Ever Happened in Kansas:
The most horrific crime in the history of Kansas is arguably the Clutter Family murders, which took place in Holcomb in 1959. The crime involved the brutal murder of four members of the Clutter family in their home.
The case gained national attention and was the basis for Truman Capote's true crime novel, "In Cold Blood." The murderers, Richard "Dick" Hickock and Perry Smith were executed in 1965.
Methodology: How did we identify the most hazardous cities in Kansas for 2023?
Every year, the FBI releases two sets of crime data: an initial dataset that only includes the largest cities in the country, followed by a more comprehensive report at the end of the year.
For our study, we concentrated on the most recent 2020 data, specifically the 2020 Crime In The United States Report. We plan to update our findings when new data is available in September 2023.
So, what were our evaluation criteria? Here's a look:
Rate of Violent Crimes Per Capita
Rate of Property Crimes Per Capita
To ensure a fair comparison, we only included Kansas cities with a population of over 5,000. This gave us a total of 44 cities in Kansas.
We then assigned each city a rank from 1 to 44 for each of the two criteria, with a #1 rank indicating the highest level of danger for that particular criterion.
Finally, we calculated an average of the two rankings to create a single "Hazard Index".
FAQ
What are the most dangerous neighborhoods in Wichita, Kansas?
According to NeighborhoodScout, the neighborhoods in Wichita with the highest crime rates are South Central, Planeview United, and Sunflower. South Central is particularly notorious, with a crime rate of 147 per 1,000 residents, making it one of the most dangerous neighborhoods in the entire United States.
What is the crime situation in Hutchinson, Kansas?
Hutchinson, Kansas, has a crime rate that is significantly higher than the national average. The most dangerous neighborhoods in Hutchinson are Downtown Hutchinson, Careyville, and the area around E 4th Ave / N Halstead St. The crime rate in these areas is particularly high, with violent and property crimes being the most common.
Which neighborhoods in Topeka, Kansas, should I avoid due to high crime rates?
In Topeka, the neighborhoods with the highest crime rates include East Topeka North, North Topeka West, and Old Town. These areas have crime rates that are higher than the national average, making them some of the most dangerous neighborhoods in Topeka.
What are the safest neighborhoods in Overland Park, Kansas?
Despite being one of the larger cities in Kansas, Overland Park has some neighborhoods that are quite safe. These include Wellington Park/Oxford Mills, Aubry/Stilwell, and Morse. These neighborhoods have lower crime rates compared to the city and national averages.
What types of crimes are most common in these dangerous neighborhoods?
The types of crimes that are most common in these dangerous neighborhoods vary but generally include both violent crimes (such as assault, robbery, and sometimes murder) and property crimes (like burglary, theft, and motor vehicle theft).
Are there any efforts to reduce crime in these areas?
Yes, local law enforcement agencies in these cities are continually working on strategies to reduce crime, including community policing initiatives, crime prevention programs, and partnerships with community organizations. However, crime reduction is a complex issue that often involves addressing underlying social and economic issues.
How can I stay safe if I live in or visit these areas?
If you live in or visit these areas, it's important to stay aware of your surroundings, especially at night. Avoid walking alone in unfamiliar areas, keep your home and vehicle locked, and consider investing in a home security system. It's also a good idea to stay informed about local crime trends and to report any suspicious activity to the police.
Final Words
In conclusion, while Kansas is generally a safe state to live in, there are certain areas that have higher crime rates than others. Cities like Independence, Parsons, Iola, Fort Scott, and Coffeyville, among others, have been identified as some of the most dangerous places in the state. These cities have high rates of both violent and property crimes, making them less desirable places to live or visit.
However, it's important to remember that crime rates can change over time, and efforts are continually being made by local law enforcement and community organizations to reduce crime and improve safety in these areas. Furthermore, even within these cities, there are safer neighborhoods and areas with lower crime rates.