Coming up with this list of Kia Soul pros and cons has been one of the easiest things that I've done in a while. Mainly because I've been seriously thinking about getting one of these as my next daily driver. So yeah – it's been on my mind.
I like the Kia Soul for its obnoxiously convenient practicality. It's a little car that can fit into tight parking spots, and the interior storage space it offers is nothing short of amazing. However, I also think it's an extremely ugly vehicle that would cause me to question my manhood. There. I said it.
All the Pros and Cons of The Kia Soul
I've been thinking about getting a Soul to replace our Honda Fit for the past three years. The only thing that stopped me has been the near-bulletproof reliability of that little bugger. Once the Fit finally kicks the bucket, I may very well trade what's left of it on a brand new Kia Soul. Until then, I'll just have to continue weighing the pros and cons:
Pros
The upright seating position in the Kia Soul makes it an extremely easy to live with daily driver. There's no stooping down to get in it. You just sort of side-shuffle your way in.
Outward visibility in all directions is fantastic. There are very few blind spots in the Kia Soul.
I like how simple it is. It's not a fancy car by any means, which is exactly what you want in a daily driver (since you won't feel guilty about door dings, scratches, and dirt). You can drive it hard and not worry about it – at all.
Gas mileage is phenomenal. I spent an entire day driving a 2022 Kia Soul around recently, and it just sipped on gas.
Power from the base 2.0 L four-cylinder is adequate. It's certainly not fast, but it's more than adequate for merging in between aggressive drivers on the freeway.
With the rear seats folded flat, interior storage space is shockingly grand. I didn't try it, but I know I could easily fit several mountain bikes in the back (with the front wheels taken off, of course).
A Kia Soul in a neutral color is about as inconspicuous as you can get. If you hate standing out in the crowd and being the center of attention, this is the perfect car for you.
It's a relatively simple vehicle, so getting parts and service for it won't be an issue no matter where you live. Anybody can work on this thing and make repairs without feeling like they have no idea what they're doing.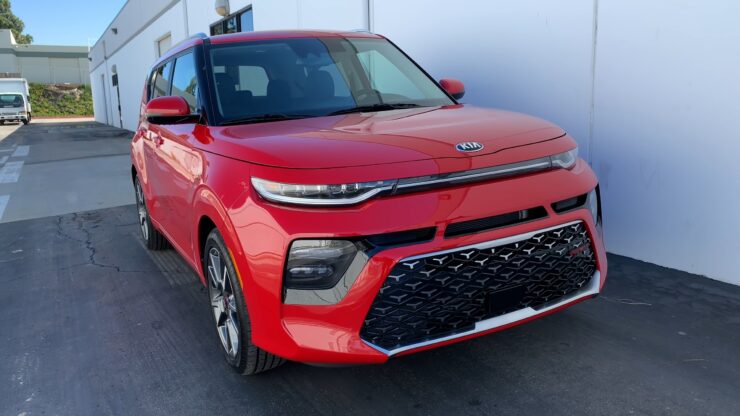 Cons
The interior feels really cheap. Of course, that's to be expected in any budget-priced car. However, it would've been nice if they could've made the effort to make it at least look good. I mean, the Kia Forte interior is fantastic. What happened with the Soul?
The stock audio system kind of blows. The one in my 2010 Honda Fit is better for crying out loud.
Speaking of infotainment, every Kia Soul that I've ever driven seems to be behind the times. Bluetooth connectivity has always been sketchy, and the infotainment screens themselves are smaller and less vivid than the competition.
The front seats have zero lumbar support. My lower back started hurting within 10 minutes of driving the last Soul I was in.
There are no lockable storage compartments in the Kia Soul. Your only source of protection from prying eyes are the deeply tinted windows in the back. Consider installing a cargo cover of some kind if you regularly haul around valuables.
Speaking of which, that deep window tint might be a problem at night. Something to keep in mind for those of you who have difficulty seeing in the dark.
As I mentioned before, it's kind of an ugly vehicle. I know that looks are subjective, but for me, it's hard to wrap my head around driving what looks like a box on wheels.
Even though outward visibility is good, the windows themselves are somewhat narrow. This may be a problem for taller drivers, as even I (5′-10″) had to duck my head a little bit sometimes to see the stoplight I was stopped at.
Two Good Reasons Why You Should Buy a Kia Soul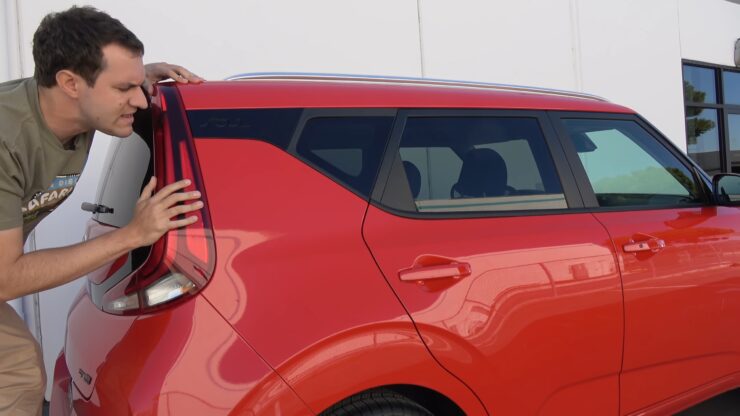 Having already given a lot of thought to the pros and cons of the Kia Soul even before writing this article, I've convinced myself that the good far outweighs the bad. In my opinion, there are two reasons why you would be foolish to choose any other car other than the Soul:
1. It Just May Be the Most Practical Vehicle on The Market
The reason why I've been driving a 2010 Honda Fit around the past 12 years is because of how obnoxiously practical it is. The Kia Soul is the closest thing to the Honda Fit these days, and it does everything just as well. Maybe even better.
There's tons of cargo room in the rear hatch area of the Soul! Oh, the things I could stuff in there.
It's extremely easy to get in and out of, and the interior space is deceptively larger than what its exterior would lead you to believe it is. It's great on gas, it's extremely easy to see out of in all directions, and it's extremely inconspicuous. You won't have to worry about standing out and getting the attention of thieves and vandals.
2. Even Though It's Cheap, It Still Comes with That Amazing Kia Reliability
Kia is building extremely reliable cars these days, and anyone snubbing their nose at them for poor reliability is stuck in 1991. I would have exactly zero issues depending on a Kia Soul as a daily driver. None.
The Soul is so reliable that you won't even think twice about driving it into places where you probably shouldn't be driving it.
Two Good Reasons Why You Should Not Buy a Kia Soul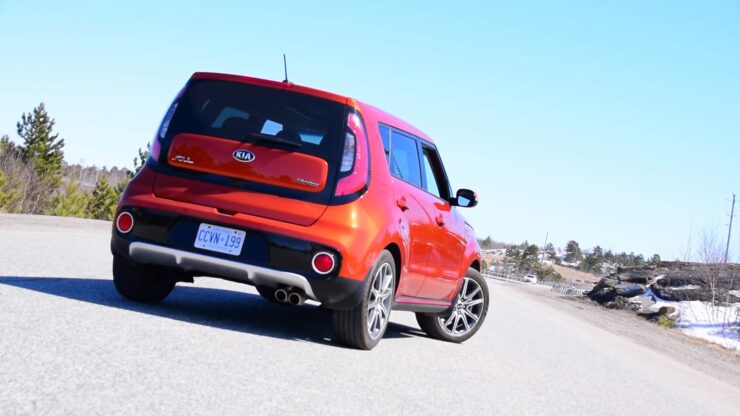 Despite the fact that I'm more than likely to buy a Soul as my next daily driver, I'm not all that excited about it – mostly because there are some things that will take some getting used to. These are the two things that still have me on the fence (just a little bit):
1. It's Freaking Ugly
I know. My opinion is more than likely in the minority, as the Kia Soul is one of the best-selling cars in the United States. However, it's not a very masculine-looking car, and it has nearly zero presence on the road. And if you drive one of these things, be prepared to be ridiculed for it by those good old boys in their lifted diesel trucks.
I will admit that (from certain angles) the Soul doesn't look all that bad. The side view is pretty much the only angle of this thing that doesn't make me wrinkle my nose.
2. Build Quality Is Questionable
Yes, I just waxed poetic about how reliable the Kia Soul is. And it is! However, the last one that I drove had 44,000 miles on it, and it was starting to rattle like an old UPS truck.
Everything still worked, and the body structure felt tight, but all the little plastic parts on the inside were buzzing
Driving Experience: Behind the Wheel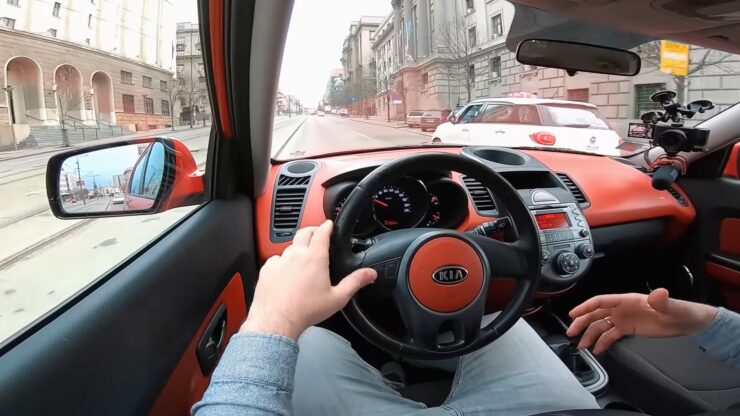 Having driven a plethora of cars over the years, I can confidently say that the Kia Soul offers a unique driving experience. Let's dive into what it feels like to be behind the wheel.
Handling and Performance
The Kia Soul is surprisingly nimble for its boxy shape. It takes corners with ease and doesn't feel top-heavy, which is a common concern with taller vehicles.
The acceleration, while not sporty, is adequate for city driving and occasional highway trips. It won't win any drag races, but it gets the job done.
The braking is responsive and doesn't feel mushy. I've had a few sudden stops in city traffic, and the Soul handled them like a champ.
Comfort and Noise
The cabin is relatively quiet, but you might hear some road noise on rougher terrains or at higher speeds.
The seats, as I mentioned earlier, could use better lumbar support. However, they are cushioned well enough for short to medium-length drives.
The suspension is on the softer side, which means you'll feel most of the bumps on the road. It's not a deal-breaker, but something to consider if you're used to more refined rides.
Tech and Features: What's Inside?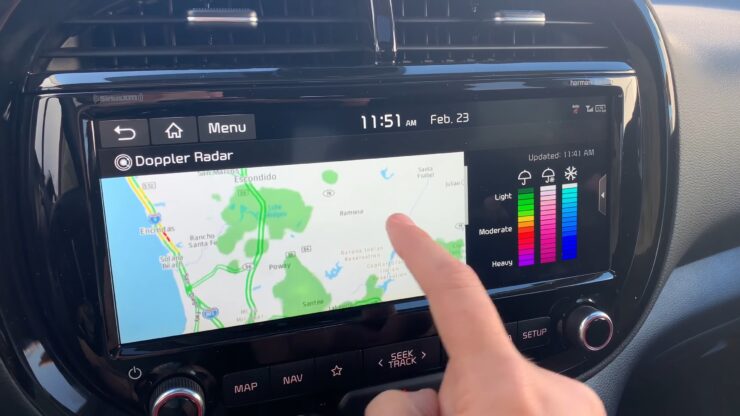 The Kia Soul, being an economy car, doesn't boast the high-end tech features of luxury vehicles. But it does have some nifty features that are worth mentioning.
Infotainment System
The touch screen is responsive and user-friendly. However, as mentioned earlier, the screen could be a tad bigger and more vibrant.
Apple CarPlay and Android Auto come standard, which is a huge plus for smartphone users. It makes navigation, music, and calls a breeze.
The audio quality is decent for casual listeners, but audiophiles might want to upgrade the speakers for a better experience.
Safety Features
The Soul comes equipped with a rearview camera, which is a lifesaver in tight parking spots.
Advanced safety features like blind-spot monitoring, lane keep assist, and forward collision warning are available in higher trims or as add-ons.
The car has a decent safety rating, which gives peace of mind, especially if you're considering it as a family vehicle.
FAQs
1. How does the Kia Soul perform in crash tests?
While the specific results can vary by year, the Kia Soul generally performs well in crash tests conducted by safety organizations, earning good ratings in most categories.
2. What is the average price?
The starting price of the Kia Soul can vary based on the model year and trim level, but it's generally considered an affordable compact car. As of 2022, the base price starts at around $19,000.
3. How many passengers can be accommodated?
The Kia Soul can comfortably seat up to five passengers.
4. Does the Kia Soul come in a hybrid or electric version?
Yes, Kia has introduced an electric version known as the Kia Soul EV, which offers an all-electric driving experience.
5. How is the resale value of the Kia Soul?
The Kia Soul tends to hold its value reasonably well, thanks to its reliability and popularity. However, like all vehicles, depreciation can vary based on factors like mileage, condition, and market demand.
6. What kind of warranty does Kia offer?
Kia is known for its generous warranty coverage. Typically, the Kia Soul comes with a 10-year/100,000-mile powertrain warranty and a 5-year/60,000-mile basic warranty.
Final Thoughts: To Buy or Not to Buy?
The Kia Soul, with its quirky design and practical features, is a car that grows on you. It's not perfect, but it offers great value for its price.
What I Loved
The practicality and space are unmatched in its class. It's the perfect city car that can handle occasional road trips.
The reliability factor. Kia has come a long way, and the Soul is a testament to that.
The unique design. Yes, it's polarizing, but it stands out in a sea of sedans and SUVs.
What I Didn't
The build quality, especially in the interior, leaves a lot to be desired.
The lack of advanced safety features in the base model.
The design might not be for everyone. It's a love-it or hate-it kind of deal.
In conclusion, if you're looking for a reliable, practical, and unique vehicle that won't break the bank, the Kia Soul should be on your list. It's not without its flaws, but the pros far outweigh the cons. And who knows, you might just fall in love with that boxy design, just like I did.