What's the perfect way to enjoy a relaxing vacation? For many anglers, it's fishing! Are you looking for a great river within driving distance? In each of the 50 U.S. states, there are fantastic fishing locations to choose from. The ideal spot depends on how close you are to home, the type of fish you want to catch, and whether you prefer freshwater fishing!
Freshwater fishing is often perfect for beginners, as it can be done from the shore or land with a simple tackle setup. Grab your fishing rod and reel, pack your car, and get going. Some waterways, however, truly stand out from the rest. Certain lakes, rivers, and streams need to be experienced and fished to be truly appreciated.
Before you explore the best freshwater fishing spots across the US, don't forget to take a look at our compilation of remarkable angling achievements in Florida's saltwater fishing scene, which showcases both impressive catches and a commitment to conservation.
Obtain your freshwater fishing license, familiarize yourself with some fishing basics, and set off to one of the freshwater lakes, reservoirs, ponds, rivers, or streams listed below.
| Rank | State | Key Species | Notable Locations | Unique Challenges | Famous Anglers |
| --- | --- | --- | --- | --- | --- |
| 1 | Colorado | Trout, Mountain Whitefish | Glenwood Springs | High-altitude fishing, cold water temperatures | John Gierach |
| 2 | Oregon | Trout, Steelhead | Bend | Swift rivers, remote locations | Tom McAllister |
| 3 | Texas | Bass, Sunfish, Catfish, Crappie, Longnose Gar | Lake Austin | High temperatures, boat traffic | Alton Jones |
| 4 | Alabama | Largemouth Bass | Guntersville Lake | Navigating extensive buoy system, fishing tournaments | Boyd Duckett |
| 5 | Montana | Trout, Smallmouth Bass, Largemouth Bass, Pike | Missoula | Fast-flowing rivers, varied landscapes | Norman Maclean |
| 6 | Minnesota | Salmon, Trout | Duluth | Cold water temperatures, fishing in various seasons | Al Lindner |
| 7 | Ohio | Walleye, Bass, Trout, Salmon | Port Clinton | Navigating Lake Erie's shores, diverse fish species | Joe Thomas |
| 8 | Idaho | Salmon, Trout | Salmon | Remote locations, fast-flowing rivers | Bill Schiess |
| 9 | New York | Bass, Walleye, Pike, Musky, Panfish | Thousand Islands | Navigating the Saint Lawrence River, international border | Joe Humphreys |
| 10 | Michigan | Steelhead, Bass, Walleye, Pike, Trout, Salmon | Traverse City | Seasonal fish migrations, diverse fishing opportunities | Kevin VanDam |
Glenwood Springs, Colorado
Travel southwest to the edge of the Rockies, and you'll find Glenwood Springs, one of Colorado's top small towns. Renowned for its abundance of hot springs and steamy caves, you're in for not only adventure but relaxation.
Activities here include stunning hikes to hidden lakes, thrilling amusement rides, downhill skiing, and world-class fly fishing! Fishing is great year-round, but the peak season is from June through September. If you prefer having the river to yourself, winter fishing is ideal.
Four types of trout inhabit the waters, along with mountain whitefish, allowing you to test your skills and endurance repeatedly. Choose your favorite spot as the waters are easily accessible.
Ride a bike, go on foot, or boat down the rivers. Fly fish from the shore or try wading in the shallows to avoid scaring the fish.
Bend, Oregon
Listed as one of the top 10 fly-fishing states, Bend is undoubtedly a fishing paradise. Any experienced fly angler will tell you that there's nothing like spending a day on the river, taking in the breathtaking scenery and envisioning the perfect catch.
Offering year-round fishing for trout and steelhead, Bend boasts renowned rivers, streams, and lakes that provide anglers with a wide variety and abundance of world-class fishing opportunities.
Whether you're a novice or a seasoned angler looking to try something new, you'll find plenty of fantastic fly fishing options in Bend.
Tie a fly, cast a line, and wade into one of Bend's flowing streams for a memorable experience in one of the nation's emerging fly fishing capitals.
Lake Austin, Texas
Lake Austin, a 1,600-acre reservoir (part of the Colorado River), is known locally for trophy bass and quality sunfish. This lake flows through Austin, Texas, and the Austin Hill Country on the Colorado River in Central Texas.
The lake remains exceptionally beautiful throughout the year, as it is near the end of the highland lakes chain. It is home to catfish, crappie, various sunfish species, and longnose gar.
Boat ramps provide access for powerboats of all sizes for fishing, water sports, and recreational boating. Kayaks and canoes are also an option for short-distance travel to fishing spots and sightseeing.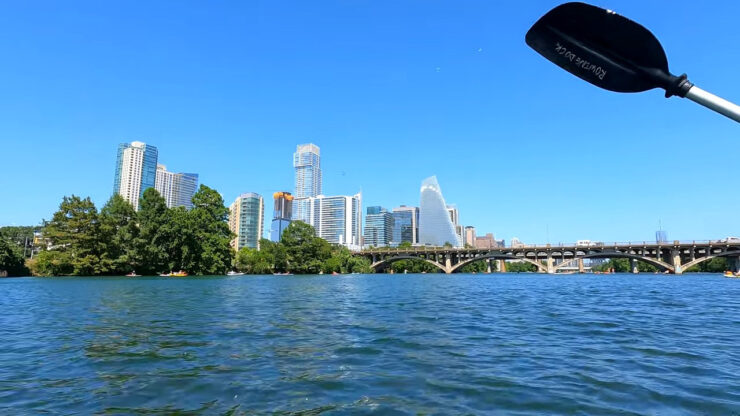 Guntersville, AL
Lake Guntersville consistently ranks as a bucket list lake in national publications and among anglers. Due to its robust and diverse fishery, numerous fishing tournaments are held on the lake, ranging from local clubs to national competitions.
The lake has an extensive buoy system that all boaters should familiarize themselves with. The main channel is marked with red, green, and lighted buoys, while secondary and creek channels are marked with green cans and red nuns, ensuring the main route remains clear of submerged hazards.
Spanning 69,100 acres, Guntersville Lake is renowned for its large bass. Fishing is year-round, and you can catch fish in large numbers during the day throughout the year. However, for trophy Largemouth Bass, February, March, and April are the best times to cast a line.
Some of the best bass fishing on Lake Guntersville can be found in creeks like North and South Sauty, Siebold Creek, Brown's Creek, and Town Creek.
Missoula, Montana
Fishing is a significant part of life during the spring and summer months in Missoula, offering an abundance of lake and river waters to explore. Springtime in Missoula is an excellent opportunity to try fishing, particularly for trout.
Montana fly fishing is centered around trout, including Cutthroat, Brown, Rainbow, and Brook trout. While Montana is known for its trout fishing, you'll also find other species in rivers, high lakes, reservoirs, and ponds.
Smallmouth bass, Largemouth bass, Mountain Whitefish, and Pike can all be found within an hour's drive from Missoula.
Forbes Magazine named Missoula one of North America's top ten trout fishing towns, highlighting the exceptional angling available here.
Duluth, Minnesota
With a population of around 86,110, Duluth serves as a major port city in Minnesota and the county seat of Saint Louis County. This means an abundance of water for eager anglers. Located in the north and at the westernmost point of the Great Lakes, Duluth is the second-largest city on Lake Superior's shores.
According to Duluth's Official Travel Guide, the city welcomes over 3.5 million visitors each year. Fishing is not only a tourism staple in Duluth but also an essential part of the local economy. Year-round, numerous fishing rods are cast over Duluth's waters, teeming with Salmon and Trout.
No matter where you reside in Duluth, Minnesota, fishing opportunities are just around the corner. You won't be able to resist the thrill of reeling in your line while taking in the stunning scenery at these fishing spots in Duluth.
Port Clinton, Ohio
If you're looking for a genuine fishing adventure on the northern shores of Lake Erie, Port Clinton has plenty to offer. This city is renowned for its exceptional bite, and fishing is a way of life here. This fishing haven boasts top-notch fishing, miles of beautiful Lake Erie shoreline, boating, beaches, island ferries, and island cruises.
No catch is more beloved and abundant than the mighty Walleye, earning the city the title "Walleye Capital of the World." Numerous anglers visit from spring to fall, eager to hook the largest Walleye of their lives. You can also target smallmouth, striped, and largemouth bass. However, you may be enticed by the various trout species and three Salmon types that Buckeye State anglers chase.
This is ample reason to cast your line in Port Clinton!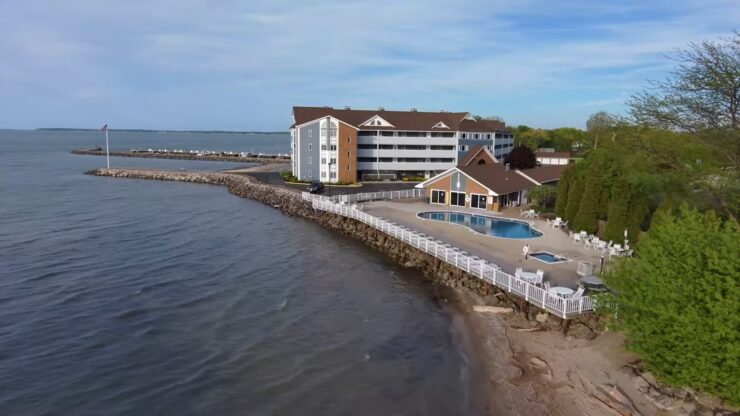 Salmon, Idaho
If your inner angler is looking to cast your line amid picturesque nature, Salmon, Idaho should be your first choice. Despite being a remote town in the Idaho mountains, it boasts a stunning river with fantastic spots to cast your line – the Salmon River!
This beautiful and fast-flowing river meanders through cliffs and massive mountains. There's nothing quite like embarking on an adventure through world-class rapids. While fishing the Salmon River in Idaho, you'll have the opportunity to catch various fish species. However, the "Gem State" is famous for its salmonids: trout and Salmon. Eight trout species, including Steelhead, brown, and lake trout, and three Salmon types inhabit Idaho's waters.
Whether you're a novice or experienced angler, this fishing paradise is irresistible!
Thousand Islands, New York
New York State boasts an impressive 7,500 lakes and 70,000 miles of rivers and streams, making it a true angler's paradise.
Located along the Saint Lawrence River on the U.S. and Canada border, the Thousand Islands area of New York offers fishing as enchanting as the landscape. With an 80-kilometer coastline, it is home to numerous charming waterfront communities. So, let's fish!
The picturesque river hosts a wide range of fish species. Suitable for novice anglers and seasoned experts, this world-class fishery allows anglers to target Smallmouth and Largemouth Bass, Walleye, Pike, Musky, Panfish, and much more.
Traverse City, Michigan
Grand Traverse Bay, one of Lake Michigan's "arms," is a 32-mile long, 10-mile wide, and up to 620-feet deep bay. It is divided into two arms, East Bay and West Bay, by the Old Mission Peninsula.
With numerous freshwater lakes and streams, fishing around Traverse City, Michigan, is top-notch. From fly fishing to shore casting, there are some of the best spots to try your luck. It's no surprise that the area is teeming with world-renowned fish.
The hard-fighting Steelhead kicks off Traverse City's fishing season in March, followed by Bass, Walleye, and Pike. Brown and Lake Trout arrive in May, with the Boardman River being a particularly fish-filled hotspot.
Visit Grand Traverse Bay and Lake Michigan in spring or fall, and you'll witness the Chinook and Coho Salmon runs.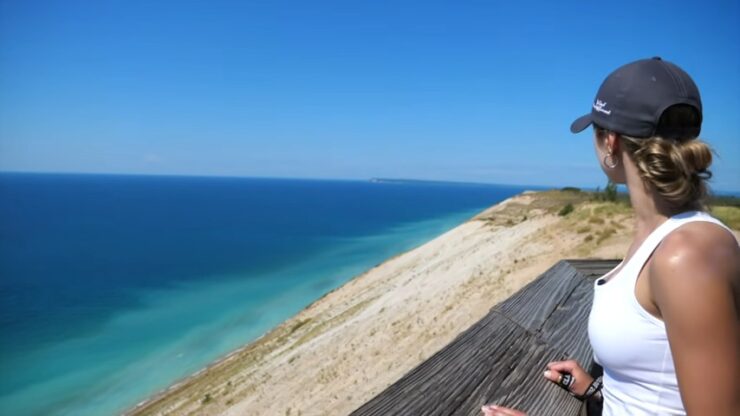 FAQs
What do I need to know before I start freshwater fishing?
Before you begin freshwater fishing, it's essential to familiarize yourself with local fishing regulations and obtain the appropriate fishing license. You should also invest in basic fishing gear, such as a rod, reel, line, hooks, lures, and bait.
Learn about the types of fish you can expect to catch in your chosen location, and research their feeding habits and preferred habitats. Safety should always be a priority, so make sure to check the weather forecast and inform someone of your plans before heading out.
How can I improve my chances of catching fish?
To increase your odds of catching fish, consider the time of day, weather conditions, and water temperature. Fish are generally more active during dawn and dusk, as well as in overcast conditions. Warmer water temperatures can stimulate fish feeding. Additionally, using the right bait or lure and employing proper fishing techniques for the targeted species can significantly improve your success. If possible, consult with local anglers or hire a fishing guide to learn about the best spots and techniques for a particular location.
What are some essential freshwater fishing techniques I should learn?
There are several freshwater fishing techniques to consider, depending on the fish species you're targeting and your preferred fishing style. Some popular techniques include:
Casting: Casting involves throwing your lure or bait into the water and retrieving it to entice fish to bite. This technique is versatile and can be used for various fish species, from bass to trout.
Fly fishing: Fly fishing uses lightweight artificial flies to mimic insects and other prey. This technique is popular for catching trout and salmon in rivers and streams.
Trolling: Trolling involves pulling a lure or bait behind a moving boat to attract fish. This technique is commonly used for targeting larger fish species, such as pike or walleye.
Jigging: Jigging involves dropping a weighted lure (jig) vertically into the water and moving it up and down to attract fish. This technique is suitable for various species, including bass, walleye, and crappie.
How can I practice catch and release fishing responsibly?
Catch and release fishing allows you to enjoy the thrill of catching fish without harming the population. To practice catch and release responsibly, follow these guidelines:
Use barbless hooks or crimp the barbs on your hooks to minimize injury to the fish.
Handle fish with wet hands or a damp cloth to protect their protective slime layer.
Avoid removing fish from the water for extended periods. If you must, keep the fish in the water as much as possible while removing the hook.
Use needle-nose pliers or a hook removal tool to carefully remove the hook from the fish's mouth.
If the fish is hooked deeply, cut the line close to the hook and release the fish with the hook still in place. The hook will eventually rust away or be expelled by the fish.
Gently hold the fish in the water until it can swim away on its own. This may take a few moments, especially if the fish has fought hard.
What are some tips for fishing with children?
Introducing children to fishing can be a rewarding and fun experience. Here are some tips to ensure a successful and enjoyable trip:
Select a location with easy access and a high likelihood of catching fish to keep children engaged.
Choose simple, age-appropriate fishing gear for children, such as a basic spinning rod and reel combo or a child-sized fishing pole.
Teach children the basics of fishing, including casting, reeling, and baiting the hook. Be patient and offer encouragement as they learn.
Explain the importance of safety, including the proper handling of hooks and staying aware of their surroundings when casting.
Make the experience enjoyable by incorporating games or challenges, such as a friendly competition to see who can catch the most fish or the biggest fish.
Remember to bring snacks, drinks, and any other necessary items to keep children comfortable and entertained during the trip.
What are some common freshwater fishing mistakes to avoid?
Avoiding common fishing mistakes can help improve your overall experience and increase your chances of success. Some mistakes to watch out for include:
Not doing research on the targeted fish species, their preferred habitats, and feeding habits.
Using inappropriate gear, such as the wrong type of rod, reel, line, or lure for the fish species or location.
Casting in the wrong area or not paying attention to fish-holding structures or cover.
Fishing at the wrong time of day or in unfavorable weather conditions.
Not practicing proper catch and release techniques, which can harm fish populations.
Ignoring local fishing regulations or not obtaining the required fishing license.
Failing to maintain your fishing gear, leads to malfunctions or reduced performance.
Conclusion
In conclusion, fishing is a fantastic way to unwind, relax, and connect with nature. With so many freshwater fishing locations throughout the United States, there's always a nearby spot to try out. Each state has its unique fishing destinations, from trout-filled rivers in Colorado to massive largemouth bass in Alabama's Guntersville Lake.
Before embarking on a fishing trip, it's essential to obtain the necessary licenses and permits, as well as familiarize oneself with local fishing regulations. It's also crucial to pack all the necessary gear and equipment, including fishing rods, reels, tackle, and appropriate clothing.