Ah, the open road! As someone who's traveled extensively, I can tell you there's nothing quite like the thrill of a road trip.
And if you're looking for an adventure that combines the beauty of nature, the charm of cities, and the allure of the unknown, then buckle up, my friend. The journey from Toronto to Newfoundland is one for the books.
Basics: Distance, Duration, and Documentation
How Far and How Long?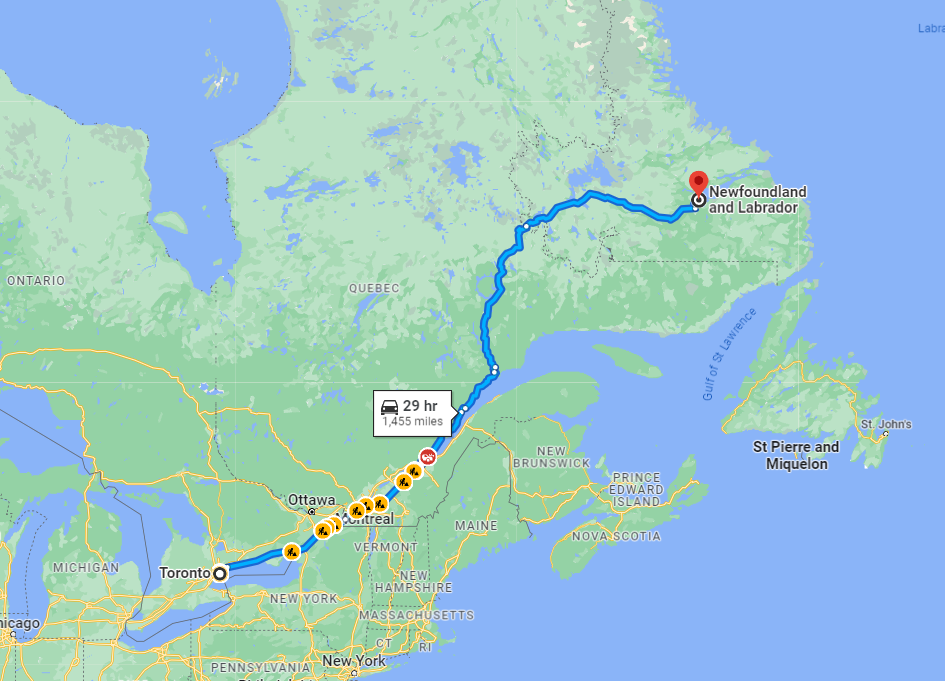 So, you're itching to hit the road, but just how far is Newfoundland from Toronto? Well, the direct route clocks in at around 2,080km (1,360 miles). But let's be real, who wants direct when there's so much to see?
The scenic route I recommend stretches a bit further at 2,325km (1,445 miles). This translates to roughly 29 hours of travel time, including a 6-hour ferry ride from North Sydney to Port Aux Basques in Newfoundland.
Key Points:
Direct route: 2,080km, 28 hours (including ferry)
Scenic route: 2,325km, 29 hours (including ferry)
Recommended travel time: At least 4-5 days for a comfortable journey
Crossing Borders: What You Need to Know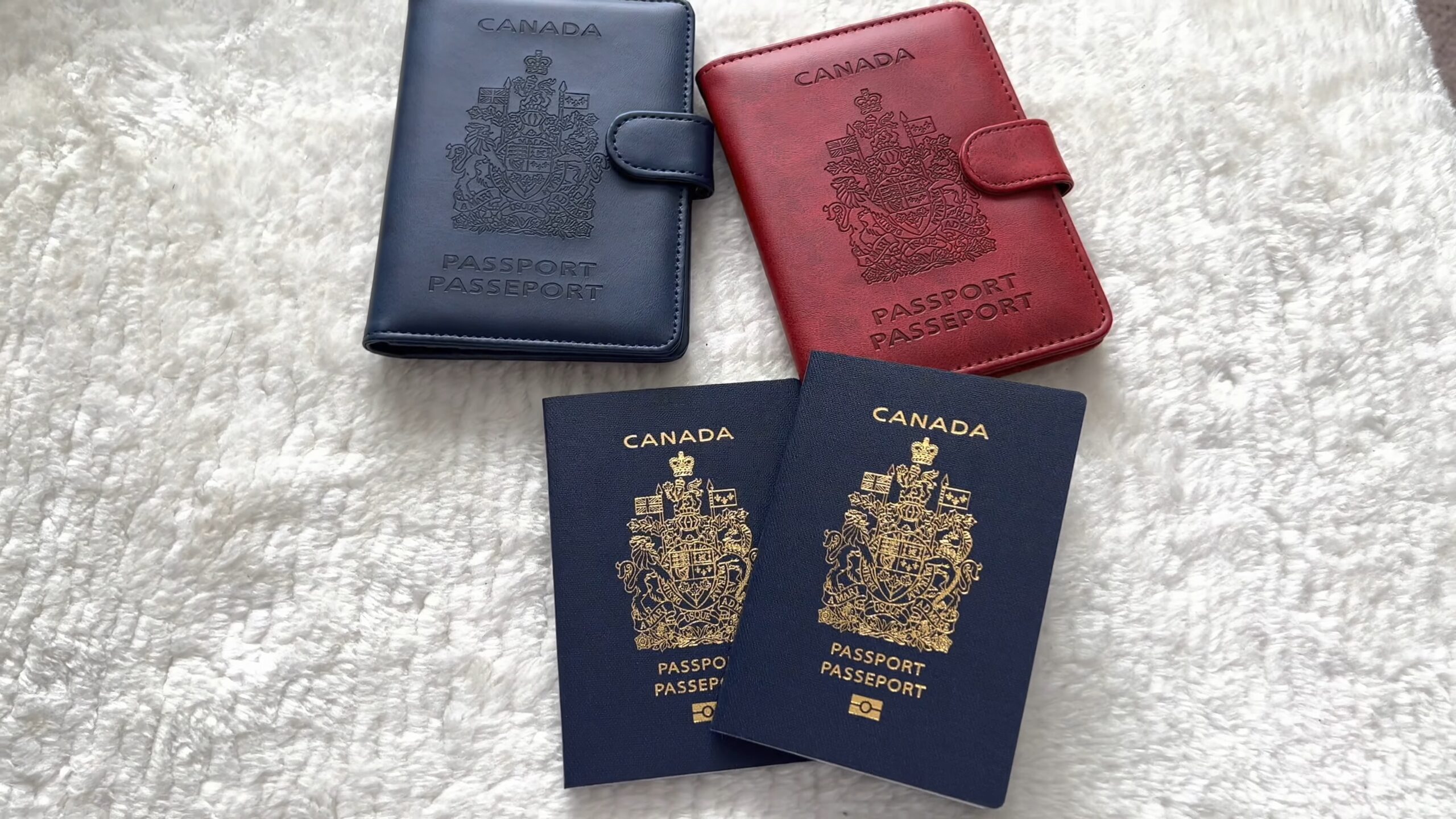 Given that this route takes you through the US, it's essential to have your documentation in order. Always check for the latest border crossing requirements, and ensure you have the necessary visas or permits.
Remember:
Carry valid identification (passport preferred)
Check for any travel advisories or restrictions
Be prepared for potential wait times at the border
The Ultimate Route: A Blend of Canadian Charm and American Allure
Why the US Detour?
Now, I know what you're thinking: "Why drive through the US when I can stay in Canada?" Well, while the Canada-only route is shorter, the detour through the US offers a rich tapestry of experiences.
From the bustling streets of Boston to the serene landscapes of New Hampshire and Maine, this route promises diversity and delight.
Pros of the US Route:
Navigating the Route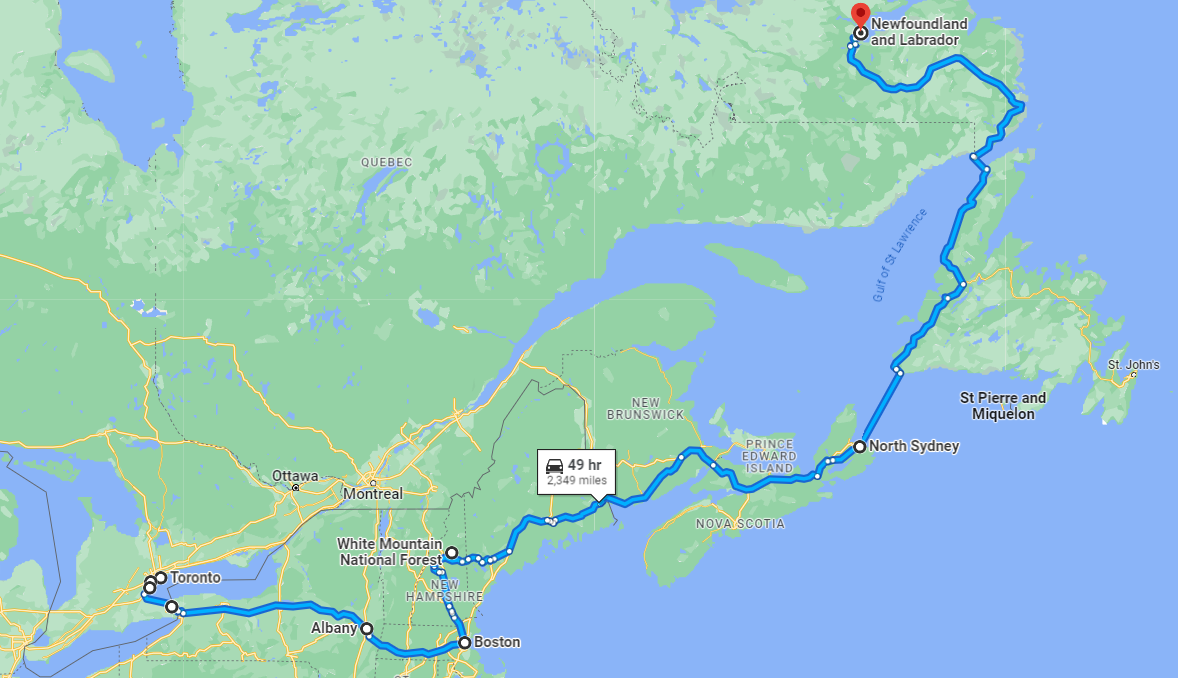 Starting in Toronto, you'll trace the edge of Lake Ontario, passing through cities like Mississauga and Oakville. As you cross the Rainbow International Bridge into the US, the majestic Niagara Falls beckons. Trust me; this is a sight you don't want to miss.
From there, weave through the states of New York, Massachusetts, New Hampshire, and Maine. Highlights include Albany's historic charm, Boston's vibrant culture, and the tranquil beauty of Maine's forests. Once back in Canada, the Trans-Canada Highway will lead you through New Brunswick and Nova Scotia, right up to the ferry port in North Sydney.
Route Highlights:
Toronto to Niagara Falls: Lake views, cityscapes, and the grandeur of Niagara
Niagara Falls to Boston: Historical landmarks, bustling cities, and scenic drives
Boston to North Sydney: Forest trails, coastal beauty, and the anticipation of Newfoundland
Must-Visit Stops Along the Way
Albany, New York: A Blend of History and Modernity
Six hours into your journey, Albany emerges as a beacon of history and culture. As one of America's oldest cities, Albany boasts architectural marvels like the State Capitol and historic vessels like the USS Slater. And after a day of exploration, the Renaissance Hotel offers a luxurious retreat.
Why Albany?
Dive deep into America's colonial past
Explore museums, galleries, and historic sites
Experience luxury at the Renaissance Hotel
Boston, Massachusetts: A City of Culture and Charm
Midway through your trip, Boston provides the perfect respite. Known for its unique culture, historic landmarks, and vibrant nightlife, Boston promises an experience like no other. And for a touch of luxury, The Colonnade Hotel offers panoramic city views and top-notch amenities.
Boston Highlights:
Visit the Museum of Fine Arts and Boston Common
Experience the city's Irish American culture
Stay at The Colonnade Hotel for a blend of luxury and convenience
Nature's Wonders: Parks, Forests, and Waterfalls
Acadia National Park, Maine: A Nature Lover's Paradise
As you approach Maine, the allure of Acadia National Park is undeniable. This gem offers a diverse landscape, from rugged coastlines to dense woodlands, and from serene lakes to majestic peaks. Whether you're an avid hiker or just someone who appreciates nature's beauty, Acadia is a must-visit.
Acadia's Best:
Drive the scenic Park Loop Road for panoramic views
Hike the Precipice Trail for a challenging ascent with rewarding vistas
Relax by Jordan Pond and savor the park's tranquility
White Mountain National Forest, New Hampshire: An Outdoor Enthusiast's Dream
Nestled in New Hampshire, the White Mountain National Forest beckons with its pristine beauty. Known for its breathtaking autumn foliage, this forest offers a plethora of activities, from hiking and camping in the summer to skiing in the winter.
Why White Mountain?
Explore over 1,200 miles of hiking trails
Witness the vibrant fall colors—a photographer's dream
Engage in winter sports at popular ski resorts
Cultural Stops: Cities, History, and Heritage
Salem, Massachusetts: A City of Mystery and Magic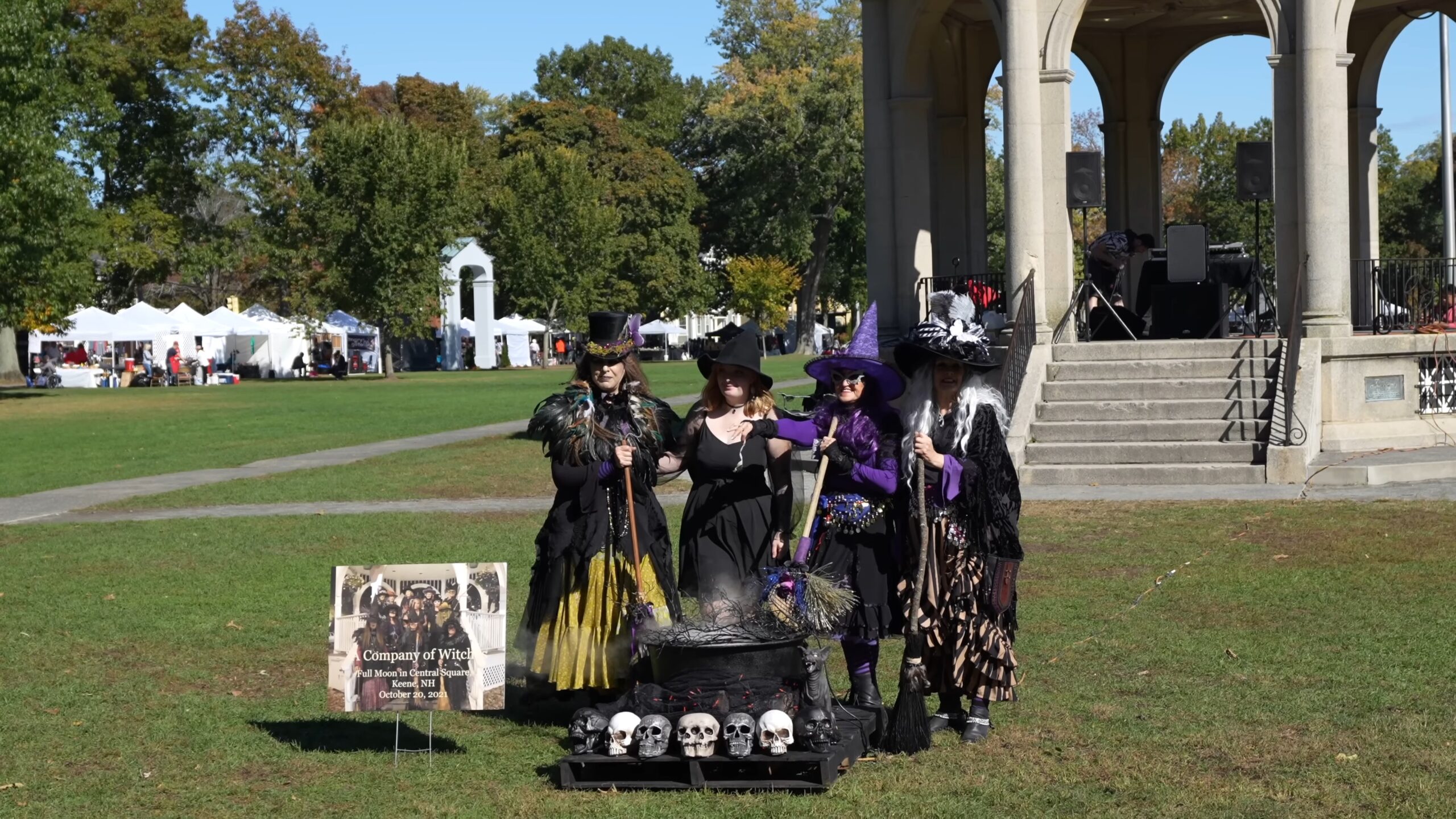 Beyond its infamous witch trials, Salem is a city rich in history and culture. Wander its cobblestone streets, visit the Salem Witch Museum, and immerse yourself in tales of old. And if you're visiting in October, the city's Halloween festivities are a treat!
Salem's Spell:
Delve into the city's colonial past at the Peabody Essex Museum
Experience the magic of the Salem Witch Walk
Explore the historic waterfront and its maritime heritage
St. John's, Newfoundland: The Charm of the East
Once you set foot in Newfoundland, the city of St. John's is a must-visit. With its colorful row houses, historic sites, and vibrant arts scene, St. John's embodies the spirit of the east. And don't miss Signal Hill for panoramic views of the city and harbor.
St. John's Jewels:
Wander through the historic downtown, dotted with art galleries and boutiques
Visit the Rooms Museum for a deep dive into Newfoundland's culture
Savor local delicacies at the city's bustling eateries
Things to See on A Road Trip
With the driving section of your road trip from Toronto to Newfoundland taking 23 hours, across four states and three provinces, you're going to have plenty of opportunities to see some incredible sights.
If you are limited on time, here's our pick of some of the absolute best attractions that you're not going to want to miss out seeing:
Lake Ontario – The road trip begins by the 13th largest lake in the world. A stunning location that, despite its immense size, still only ranks as the smallest of the regions five Great Lakes.
Lake Erie – The fourth largest lake of the five Great Lakes, Lake Erie is also the warmest and home to one of the largest commercial freshwater fisheries in the world.
Niagara Falls – A collection of three separate falls that combine to make the most powerful set in North America. If being a world-famous tourist attraction wasn't enough, they also function as a hydroelectric plant that is pivotal to providing a large portion of the regions power.
Buffalo – the second-largest city in the US state of New York and at the eastern end of Lake Erie, Buffalo is only a short detour from the road trip and yet offers a great cultural and historical city to explore. Buffalo has a Botanical garden, several museums, a beautiful canal to walk beside and a great zoo.
Albany, New York – One of the oldest and smallest state capitals in the country, settled as a fur trading post in 1614, Albany is a fabulous location to visit for those interested in learning about the country's colonial past.
Green Mountain and Finger Lakes National Forest – encompasses more than 400,000 acres in southwestern Vermont. Offering a variety of camping experiences, its a great space to get back to nature and discover the native wildlife including coyote and wild turkey.
Boston, Massachusetts – The largest, most populous city in both Massachusetts and New England, Boston is also one of the oldest and largest state capitals in America.
Salem, Massachusetts – Famous for its 1692 witch trials, Salem is a big tourist hotspot that also offers fantastic examples of colonial architecture, world-class museums and great restaurants.
Portland Head Light, Maine – Set on a peninsula extending into Casco Bay, Portland is a great city set on the sea front which offers restaurants and shops. Nearby, there's the Western Promenade and six lighthouses to visit with 20 minutes of the city, including the most photogenic one, Portland Head Light.
Bangor, Maine – Maine's third largest city, known for having a stunning collection of parks and forests, that provide plentiful outdoor activities year-round, from skiing and snowmobiling in the winter to hiking and fishing in the summer.
Acadia National Park – A stunning national park just off the coast of Maine, it is home to stunning views and some of the most amazing marine wildlife you'll find anywhere in the US.
Moosehorn National Wildlife Refuge – One of the most northern refuges on the Atlantic Flyway, it is a vital location for many species of migratory birds to water and feed along their journey. It's also home to many other rare and unusual species, as well as the moose that give the park its name.
Fundy National Park of Canada – This park is a short detour from the main route but offers fantastic views of its rugged coastline which rises up to the Canadian Highlands. There are lots of hiking trails, plus campsites and more than 25 waterfalls.
Cape Breton National Park – If you arrive in Sydney early and need something to do until your ferry the next day, I would highly recommend a trip north to Cape Breton National Park. The first location in Canada's Atlantic provinces to be designated a national park, you'll get the opportunity to see mountains, valleys and waterfalls, filled with all manner of different species of plants and animals.
Florence Beach, Nova Scotia – For sandy stretches and beautiful views, Florence Beach is a great place to relax before embarking on your ferry trip.
Practical Tips: Travel, Stay, and Safety
Timing Your Trip: Seasons and Festivals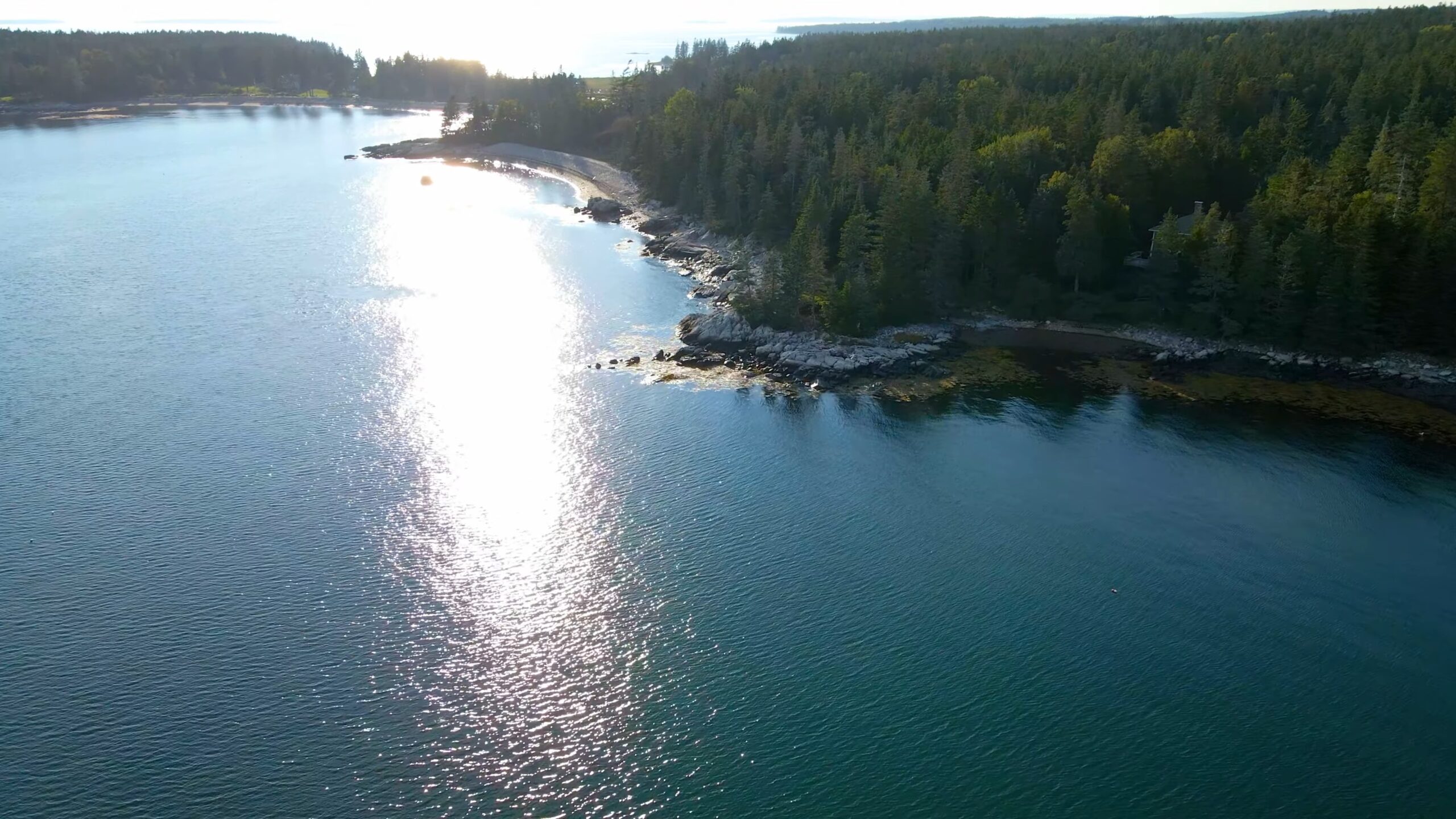 While summer offers warm weather and outdoor activities, autumn in this region is nothing short of magical. The fall foliage, especially in areas like White Mountain and Acadia, is a sight to behold. However, if you wish to avoid the tourist rush, consider traveling in the shoulder seasons of late spring or early fall.
Travel Tips:
Check the local calendar for festivals and events
Book accommodations in advance, especially in peak seasons
Always keep an eye on the weather forecast
Staying Safe: Road Conditions and Wildlife
While the journey is filled with wonders, safety should always be a priority. Be aware of changing road conditions, especially in mountainous areas. And remember, this region is home to diverse wildlife. Always maintain a safe distance and avoid feeding animals.
Safety First:
Equip your vehicle with essential safety gear
Stay updated on road conditions and closures
Respect wildlife and follow park guidelines
Culinary Delights: Savoring the Flavors of the Journey
Toronto's Multicultural Feast
Starting in Toronto, you're in for a culinary treat. The city's multicultural fabric weaves a tapestry of flavors from around the world. From the aromatic spices of Little India to the savory delights of Chinatown, your taste buds are in for a journey even before hitting the road.
Toronto Tastes:
Indulge in the city's famous peameal bacon sandwich at St. Lawrence Market
Savor authentic dim sum in Chinatown
Dive into the diverse food scene at Kensington Market
New England's Seafood Splendor
As you drive through New England, the fresh seafood is a must-try. From creamy clam chowder in Boston to succulent lobster rolls in Maine, the coastal flavors are unparalleled.
Seafood Staples:
Relish the world-famous Maine lobster, fresh from the ocean
Dive into a bowl of clam chowder, best enjoyed with a side of ocean views
Try the fried clams, a New England delicacy
Off-the-Beaten-Path: Hidden Gems and Local Secrets
Buffalo's Architectural Wonders
While many breeze past Buffalo, this city is an architectural enthusiast's dream. From the art deco City Hall to Frank Lloyd Wright's Darwin D. Martin House, Buffalo's buildings tell tales of a bygone era.
Buffalo Beauties:
Explore the historic Elmwood Village, dotted with Victorian homes
Visit the Albright-Knox Art Gallery, a temple of modern art
Stroll along Canalside, a testament to Buffalo's maritime heritage
The Quaint Charm of Moncton, New Brunswick
Before you hit Nova Scotia, the city of Moncton offers a delightful detour. Known for the Tidal Bore phenomenon and Magnetic Hill, this city is a blend of natural wonders and cultural charm.
Moncton Magic:
Witness the Tidal Bore, a unique tidal phenomenon in the Petitcodiac River
Test the laws of gravity at Magnetic Hill
Explore the vibrant downtown, with its cafes, boutiques, and art galleries
Essential Packing: Gear Up for the Adventure
For the Road: Comfort and Entertainment
Long drives demand comfort. Pack cozy blankets, ergonomic neck pillows, and your favorite playlists or audiobooks. Remember, it's not just about the destination but the joy of the journey.
Road Trip Essentials:
Curate playlists spanning different genres to keep the mood upbeat
Download offline maps and travel apps for seamless navigation
Pack snacks and a cooler for those impromptu picnics
For the Stops: Exploration Gear
Whether you're hiking in Acadia or strolling through Boston, having the right gear can enhance your experience. Comfortable walking shoes, a versatile backpack, and a good camera are just a few essentials.
Exploration Gear:
Invest in a good pair of hiking boots for those nature trails
Carry a refillable water bottle to stay hydrated
Pack binoculars for wildlife spotting and a journal to pen down memories
FAQs
1. Do I need a visa to cross the US-Canada border during the road trip?
While Canadian and US citizens do not need visas to cross the border, they do need valid passports. Visitors from other countries might require a visa, so it's best to check with the respective embassies.
2. Are there toll roads on this route?
Yes, there are several toll roads, especially when passing through the US. It's advisable to carry some cash or have an electronic toll collection system like E-ZPass.
3. What's the best vehicle for this road trip?
A comfortable sedan or SUV is ideal. If you're planning to camp or carry a lot of gear, consider a larger vehicle or even a camper van.
4. Are pets allowed on this journey?
While pets are generally allowed in national parks and many accommodations, it's essential to check specific regulations and pet-friendly spots beforehand.
5. How can I stay connected during the trip?
Most cities along the route have good cellular reception. However, in remote areas, especially in national parks, connectivity might be limited. Consider getting a portable Wi-Fi device or ensuring your plan has roaming.
6. Is wild camping allowed in Canada and the US?
Both countries have specific regulations regarding wild camping. It's best to camp in designated areas or campgrounds to ensure safety and respect the environment.
7. What currency should I carry?
While in Canada, Canadian dollars (CAD) are used, and in the US, it's US dollars (USD). Credit cards are widely accepted, but it's good to have some cash on hand, especially for tolls and small vendors.
Final Words
Embarking on the road from Toronto to Newfoundland is more than just a journey; it's an exploration of diverse landscapes, cultures, and experiences. From the roaring Niagara Falls to the serene landscapes of Acadia, every mile is a memory in the making. So, pack your bags, fuel up, and let the road beckon. Here's to adventures, discoveries, and the open road!