Tennessee, the heartland of American country music, is singing an irresistible tune. With an enviable job market, enticing entertainment, and housing options that won't break your bank, this darling of the South is climbing the charts as one of the fastest-growing states in the U.S.
Let's wander down the streets of the top 10 cities in Tennessee, perfect places to plant roots and thrive.
Top 10 Places To Live
| City | Median Home Value | Key Points |
| --- | --- | --- |
| Nashville | $420,000 | Home to country music, Offers great entertainment and dining experiences, Resilient real estate market, Homes range from $300,000 to $8 million |
| Chattanooga | $238,000 (as of 2021) | Set along the Tennessee River, Offers diverse cultural and recreational options, Downtown condos offer river views, North Shore and Hixson are family-friendly neighborhoods |
| Knoxville | $325,000 | Close to Great Smoky Mountains National Park, University town, Offers diverse housing options from downtown condos to lakefront homes |
| Hendersonville | Approx. $358,000-$500,000 | Located by the Cumberland River and Old Hickory Lake, Known for outdoor activities, Homes stay longer on the market, allowing more decision time |
| Murfreesboro | Approx. $350,000-$450,000 for new construction | Offers big-city perks with lower property prices, Plenty of inventory, especially on the west side |
| Franklin | Starting from $300,000 for condos and townhomes | Fast-growing city, Preserved historic charm, Popular with celebrities due to proximity to Nashville |
| Memphis | $148,000 | Offers plenty of job opportunities, especially in healthcare, Lower cost of living compared to the national and state average |
| Collierville | Average sales price of $528,464, new construction starting over $600,000 | Charming small town near Memphis, Renowned for its school system and historical sites |
| Johnson City | Under $250,000 | Located in the Appalachian Mountains foothills, Close to several lakes and rivers, Conveniently located for long weekend escapes |
| Clarksville | $289,835 | Undergoing major downtown revitalization, Abundance of nature with Dunbar Cave State Park and the Cumberland River |
1. Nashville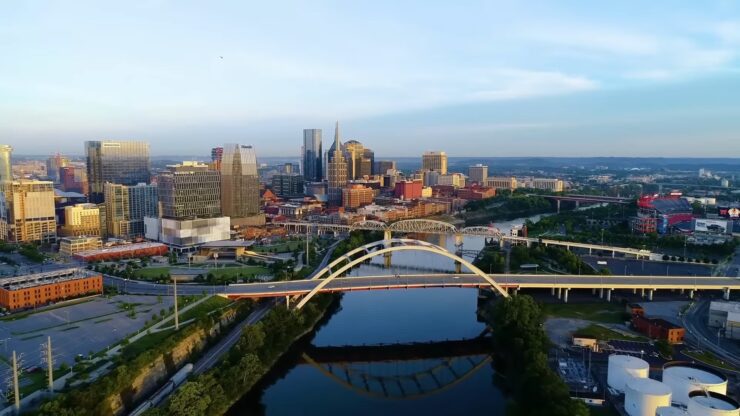 Famed as the home of country music, Nashville is a magnet for music lovers and more. With the bright lights of grand music arenas, world-class dining establishments, and a buzzing job market, Nashville calls out to those looking for a vibrant life.
This city's real estate market is a solid rock, with a median home value of $420,000. It offers an array of options, from affordable abodes at $300,000 to luxurious mansions at $8 million. Exciting neighborhoods like Wedgewood-Houston, Green Hills, Belle Meade, Oak Hill, and Forest Hills are the heartbeats of Nashville.
2. Chattanooga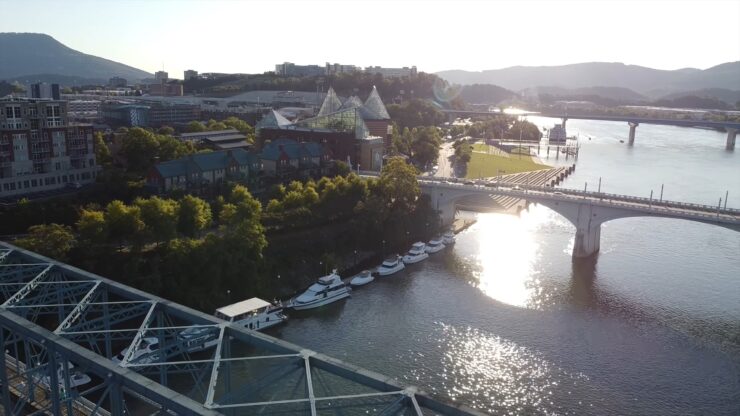 Next, Chattanooga is a scenic delight nestled between the Tennessee River and the mighty Appalachian Mountains. It's a mid-size city radiating warmth and a small-town vibe. With attractions like the Creative Discovery Museum and the Tennessee Aquarium, it's perfect for families.
The city offers stunning river-view condos in the downtown area and the vibrant North Shore neighborhood filled with cafes and independent boutiques.
3. Knoxville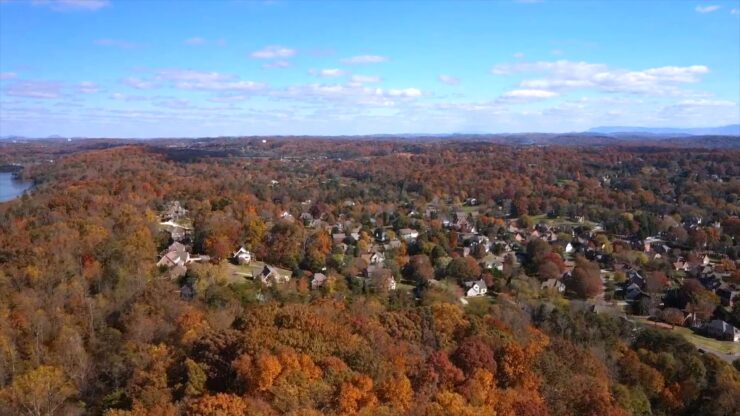 Knoxville, Tennessee's third-largest city, is a nature lover's dream. Within a short drive from the Great Smoky Mountains National Park, it's a hub for outdoor enthusiasts. The city's youthful energy is powered by the University of Tennessee and a burgeoning young professional population.
The property options range from downtown condos to lakefront homes, with an attractive median home value of $325,000. Neighborhoods like West Knoxville, Powell, Halls, Hardin Valley, and Karns are worth exploring.
4. Cumberland River
Nestled by the Cumberland River and Old Hickory Lake, Hendersonville is a haven for outdoor activities. Its parks, bike trails, tennis courts, and tee-ball fields keep its residents active. While properties are more sought after, they tend to stay on the market a bit longer, providing buyers ample time to make their choices.
5. Murfreesboro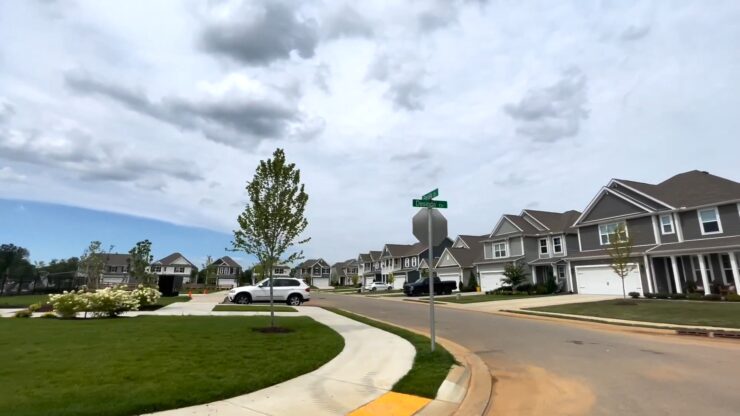 Often referred to as "the secret of Tennessee", Murfreesboro is a city that combines big-city perks with small-town charm. With property prices significantly lower than nearby Nashville, it's a hotspot for savvy buyers. The west side, Shelton Square, Breckenridge, and Riverview are communities with abundant new construction opportunities and fantastic entry-level price points.
6. Franklin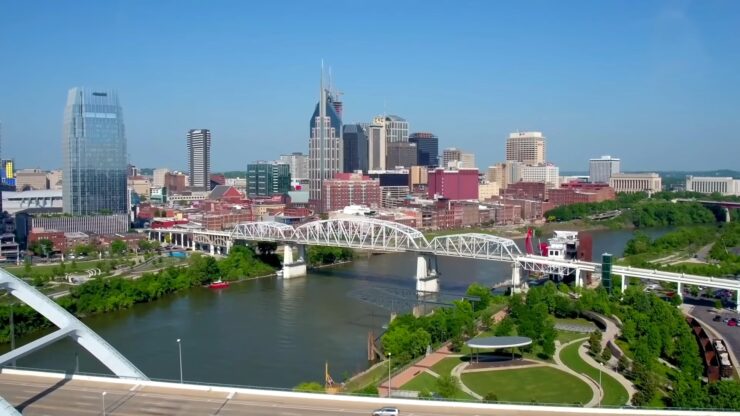 Franklin, known for its perfectly preserved historic charm, is the fifth fastest-growing city in Tennessee. Alongside its bustling downtown, you'll find serene parks and the beautiful Harpeth River. It's proximity to Nashville has made it popular with celebrities, but with condos and townhomes starting in the $300,000s, it's accessible for everyone.
7. Memphis
Memphis, a city that has deeply influenced American blues, soul, and rock 'n' roll, offers great job opportunities, particularly in healthcare. The city's cost of living is lower than the national and state average, making it an attractive place to call home. The median home value stands at a budget-friendly $148,000, making it the most affordable city on this list.
8. Collierville
Collierville, a charming small town, is only a 30-minute drive from Memphis. It offers a family-friendly environment, rich historical sites, and an impressive school system. With the average sales price sitting at $528,464 and new construction starting at over $600,000, Collierville is a diversified community that suits various lifestyle needs.
9. Johnson City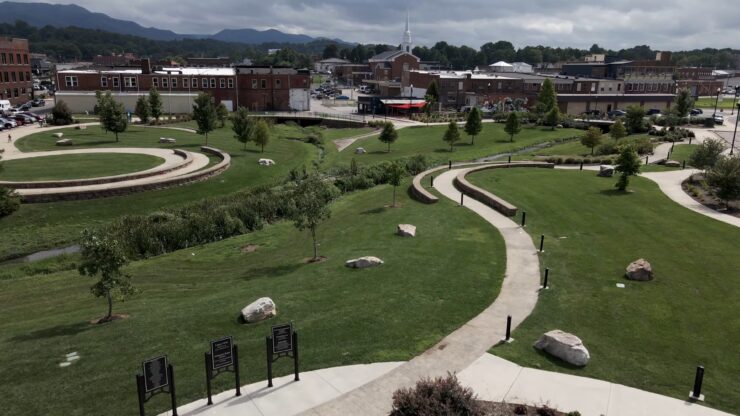 Johnson City, nestled in the picturesque Appalachian Mountains foothills, offers a plethora of outdoor adventures. While the median home value has increased by almost nine percent, it's still an affordable deal under $250,000.
10. Clarksville
Lastly, Clarksville, a city experiencing significant growth and undergoing major downtown revitalization, offers a range of properties in areas like Sango, Cunningham, Woodlawn, and Southside. With an average home value of $289,835, it's an ideal choice for first-time homebuyers or those seeking more space for their money.
FAQ
How is the job market in Tennessee? What are the leading industries?
Tennessee has a robust job market with several growing industries. The state is a hub for healthcare, with organizations like Vanderbilt University Medical Center and St. Jude Children's Research Hospital providing ample job opportunities.
Tennessee is also home to the headquarters of several Fortune 500 companies, including FedEx, HCA Healthcare, and Dollar General. The music and entertainment industries are booming in cities like Nashville, while automotive manufacturing, technology, and tourism also contribute significantly to the state's economy.
What are the educational opportunities in Tennessee? Are there good schools and universities?
Tennessee is home to some reputable educational institutions. It boasts a range of quality public and private schools. Cities like Collierville are renowned for their excellent school systems. As for higher education, the University of Tennessee system, Vanderbilt University, and Rhodes College are among the notable institutions in the state.
What recreational activities and attractions does Tennessee offer?
Tennessee is rich in recreational activities and attractions. Music lovers can enjoy the vibrant music scene in Nashville, known as the home of country music, and Memphis, the birthplace of blues.
Nature enthusiasts can explore the Great Smoky Mountains National Park near Knoxville or enjoy outdoor activities along the Cumberland River and Old Hickory Lake near Hendersonville.
Chattanooga offers cultural and recreational options with attractions like the Tennessee Aquarium and the Creative Discovery Museum.
What is the healthcare system like in Tennessee?
Tennessee has a solid healthcare system, with numerous hospitals, clinics, and specialty healthcare centers throughout the state. Cities like Memphis offer ample job opportunities in healthcare and are known for their top-rated medical facilities. Nashville is home to Vanderbilt University Medical Center, one of the leading medical institutions in the country.
How is the real estate market in Tennessee?
The real estate market in Tennessee offers diverse housing options. From downtown condos in Chattanooga and Knoxville to luxurious mansions in Nashville, you can find a variety of homes to fit your lifestyle and budget.
The state has a mix of urban and suburban communities, as well as rural areas, each offering unique living experiences. It's worth noting that some cities, such as Nashville and Franklin, have experienced rapid growth and increasing home values in recent years.
What is the transportation system like in Tennessee?
Tennessee's transportation infrastructure is quite developed, offering various options for residents. The state has an extensive highway system for those who prefer to drive, with Interstates 40, 24, and 75 serving as major routes.
Cities like Nashville, Chattanooga, Knoxville, and Memphis also offer public transportation options, including buses and, in Nashville's case, a commuter rail service known as the Music City Star.
For long-distance travel, Tennessee hosts several airports, with Nashville International Airport and Memphis International Airport being the busiest.
How is the weather in Tennessee?
Tennessee experiences a moderate climate, with four distinct seasons. Winters can be chilly but are usually mild compared to states further north. Snowfall varies across the state but is typically not extreme. Spring and fall are quite pleasant, with colorful foliage in the fall and vibrant blooms in the spring.
Summers can be hot and humid, particularly in July and August. Also, keep in mind that Tennessee can experience severe weather, including thunderstorms and occasional tornadoes.
What are the safety considerations when moving to Tennessee?
Like any state, safety can vary widely from city to city and neighborhood to neighborhood within Tennessee. It's crucial to research and visit any potential areas of residence to get a sense of the local safety conditions.
That said, many cities in Tennessee, such as Franklin and Collierville, are known for their safe, family-friendly environments. It's also worth noting that the state invests heavily in emergency preparedness, with robust systems in place to respond to natural disasters and other emergencies.
Conclusion
In conclusion, Tennessee, with its vibrant music scene, diverse recreational activities, flourishing job market, and varied real estate offerings, is a state that promises an exciting and comfortable lifestyle. Whether you're drawn to the historical charm of Franklin, the bustling energy of Nashville, or the scenic beauty of Chattanooga and Knoxville, each city in the state offers its unique attractions.
Not to mention the state's commitment to education, healthcare, and safety, further enhancing its appeal as a great place to live. Tennessee, indeed, harmonizes modern living with traditional Southern charm, making it an ideal choice for anyone seeking a new place to call home.