Oregon – In recent weeks, numerous scaleless fish with fanged jaws and large eyes, typically found over a mile deep in the ocean, have washed up along a roughly 200-mile (322-kilometer) stretch of the Oregon coastline. Scientists and experts are unsure of the cause.
Sightings of Lancetfish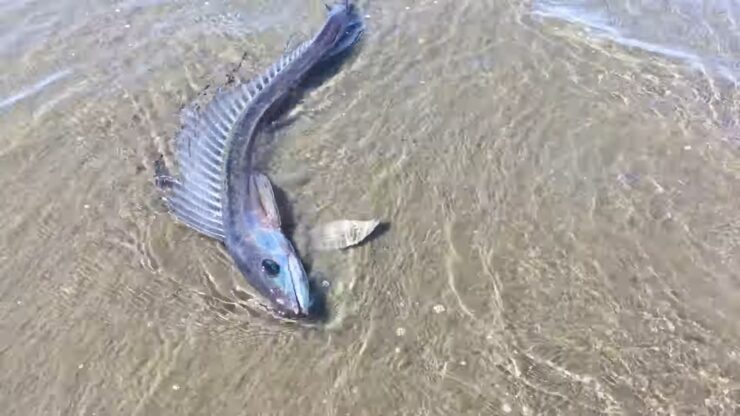 Lancetfish have been discovered on beaches from Nehalem in northern Oregon to Bandon, approximately 100 miles (161 kilometers) from the California border, according to Oregon State Parks' Facebook post.
The agency requested that beachgoers who encounter these fish take photos and post them online, tagging both the agency and the NOAA Fisheries West Coast region.
Lancetfish Habitat and Characteristics
These fish primarily inhabit tropical and subtropical waters but venture as far north as Alaska's Bering Sea for feeding. They possess a "sail-like" fin and a gelatinous flesh, which is not generally appealing to humans, as stated by NOAA Fisheries.
Unexplained Washed-up Fish
Ben Frable, a fish scientist who oversees the Marine Vertebrate Collection at the Scripps Institution of Oceanography at the University of California San Diego, mentioned that lancetfish washing up on beaches is not unusual, particularly in California and Oregon and other parts of the north Pacific.
The reason for these deep-sea fish appearing on shore remains uncertain and is an area of "open research," according to Frable. He also noted that it is unclear whether these incidents are happening more frequently or are simply more noticeable due to social media.
Historical Sightings and Hypotheses
Reports of the "freaky looking" lancetfish on beaches go back to the 19th century. The collection Frable manages includes lancetfish found on beaches, such as one that appeared on the beach near the institution in late 2021. In that instance, the lancetfish "shot out of the water" and was swarmed by seagulls.
Frable speculated that the fish might have been chasing prey, like small fish, and got too close to the shore, or that it was pursued by a predator, such as a sea lion. Some also believe that such incidents might be linked to weather or climate patterns in the Pacific Ocean.
Lancetfish Characteristics
NOAA Fisheries states that lancetfish can grow up to 7 feet (2 meters) long and swim more than a mile beneath the ocean's surface.
Recent Sighting
Miranda Crowell discovered a lancetfish on a beach in Lincoln City, Oregon, last week. Initially thinking it could be a barracuda, she posted a photo of it on Twitter and asked for identification.
#FishTwitter #DeepSeaTwitter don't let me down! We found this on the beach in Lincoln City, OR a few days ago. What is it?! pic.twitter.com/OszE1qz2QW

— Dr. Miranda Crowell 🐇 (@pygmyrabbitgirl) May 1, 2023
The fish, seen on April 28, measured over 4 feet (1 meter) long and appeared to have just washed ashore. Crowell remarked she had never seen anything like it on the beach before.
Frable urged people to report any sightings, as this information could be valuable to researchers. He also mentioned that such incidents offer an opportunity "to kind of highlight the true diversity of life on the planet and how there are things that you just don't think about — but they're out there."
Source:
https://www.ksby.com/news/national-news/freaky-looking-fanged-fish-found-on-oregon-beaches
https://www.kake.com/story/48863231/freakylooking-fanged-fishes-found-on-oregon-beaches