The Kia Telluride was introduced in 2019 as a 2020 model by Kia, a brand renowned for its dependability and value.
With its spacious three-row seating, advanced driver-assistance features, and impressive safety ratings, it quickly became a favorite among mid-size SUV enthusiasts.
However, like any vehicle, the Telluride has its share of issues that may arise over time.
Even though the Kia Telluride has been available for just four years, several recurring concerns have been highlighted by its users.
This article delves into some of the most frequently reported problems associated with the model.
3 Common Faults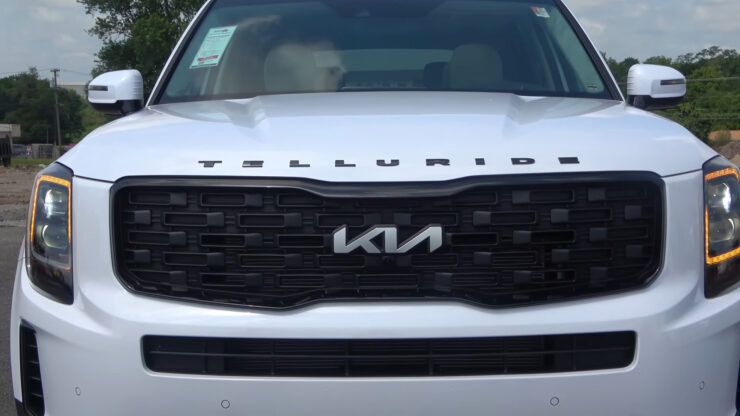 1. LCD Display Malfunction
Many Telluride owners have reported instances where the LCD screen unexpectedly goes dark, leaving them without crucial information such as speed, fuel level, and other essential indicators.
Kia acknowledged this concern, noting, "An unresponsive LCD could omit vital details like the digital speedometer, gear selection display, and odometer, potentially increasing the chances of an accident."
To address this, Kia announced a recall on July 28, 2021, with the recall number 21V577. They advised owners to coordinate with their respective Kia dealerships to rectify the problem.
Potential Causes and Solutions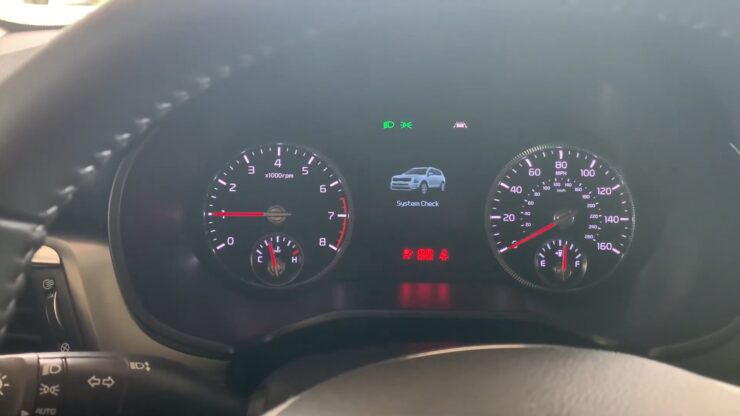 If the Telluride's LCD screen fails to light up upon ignition, it poses a risk as drivers are unable to access vital vehicle and safety information. For example, the rear seat alert, which notifies drivers if a child remains in the back seat, might not operate as intended.
The root of this LCD malfunction is traced back to a glitch in the Telluride's dashboard software. To counter this, Kia dealerships are offering a solution by updating the dashboard software.
For those facing this LCD issue, it's recommended to visit their nearest Kia dealership to avail of the complimentary software update.
2. Issues with High-Beam Headlights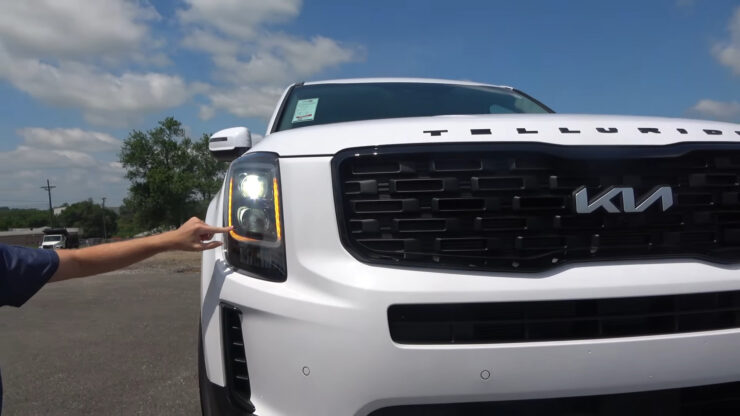 A significant portion, about 20%, of the complaints lodged with the NHTSA regarding the 2020 Kia Telluride pertains to its headlights.
Some users have pointed out that the low beam headlights are excessively bright, causing distractions for oncoming drivers. Conversely, others have mentioned that their high-beam headlights either don't activate, function sporadically, or work with inconsistency.
A recurring grievance is the inadequate side illumination provided by the headlights, making it challenging for drivers to see the road's sides, especially around bends or on unlit paths.
Such headlight malfunctions can adversely affect the Telluride's Advanced Driver Assistance Systems, encompassing features like Forward Collision Warning, Automatic Emergency Braking, Lane Departure Warning, and Pedestrian Avoidance.
Despite the frequency of these complaints, no official recall has been announced as of now.
Potential Causes and Solutions
The headlight issues can stem from various factors. While some can be addressed personally, others might necessitate professional intervention.
Here are some potential causes and their corresponding solutions:
Inspect the Headlight Bulbs:

Regularly check the condition of your headlight bulbs. Over time, these bulbs can wear out or burn out. It's essential to ensure that both the low and high beams are functioning with the appropriate brightness levels, as they rely on separate bulb sets.

Examine the High-Beam Shades:

Some Telluride users have observed that the shades, which regulate the activation and deactivation of high beams, tend to jam. In such cases, it's advisable to consult a dealership or service center for the necessary repairs or replacements.
3. Unwanted Vibrations and Powertrain Issues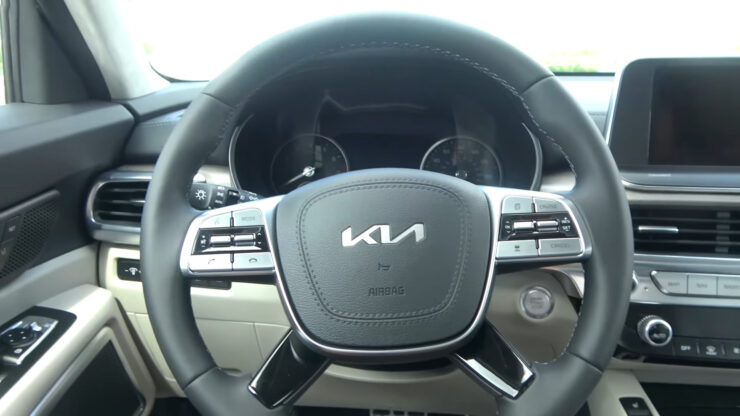 Several Telluride owners have noted an unsettling vibration when driving between speeds of 55 mph and 70 mph.
In line with NHTSA Campaign Number 21V164000, certain vehicles might fail to recognize a child restraint system in the front passenger seat, leading to the inadvertent deployment of the airbag, which poses a significant risk.
Furthermore, some users have mentioned that their brand-new Telluride, with less than 5,000 miles on the odometer, struggles to reach highway speeds. There are also accounts of the Telluride unpredictably switching to neutral during drives, especially after making turns, driving at slower speeds, or while accelerating.
Potential Causes and Solutions
The root causes of these excessive vibrations, unexpected gear shifts, and acceleration issues can be traced back to the powertrain.
Some feedback suggests that Kia has been addressing these concerns by replacing the driveshafts or AWD couplers. However, the response from Kia appears to be inconsistent. While certain owners have successfully had their vehicle's powertrain fixed, others have faced challenges in obtaining assistance from Kia.
If you're facing powertrain-related issues with your Telluride, here's a recommended course of action:
Review Your Warranty:

Most of the powertrain issues surface well within the duration of Kia's 10-year, 100,000-mile limited powertrain warranty. This warranty should ideally cover any necessary repairs to restore your vehicle's performance.

Reach Out to Your Kia Dealer:

It's advisable to book an appointment with your local Kia dealership or service center for a thorough diagnosis and subsequent repair.

Safety Precaution:

If you find your Telluride unexpectedly shifting to neutral while on the move, it's best to switch off the vehicle and restart it. This action should restore power to the transmission. Given the potential risks, it's crucial to contact a service center at the earliest and consider using a rental car until your vehicle is fully repaired.
Kia Telluride: Pros and Cons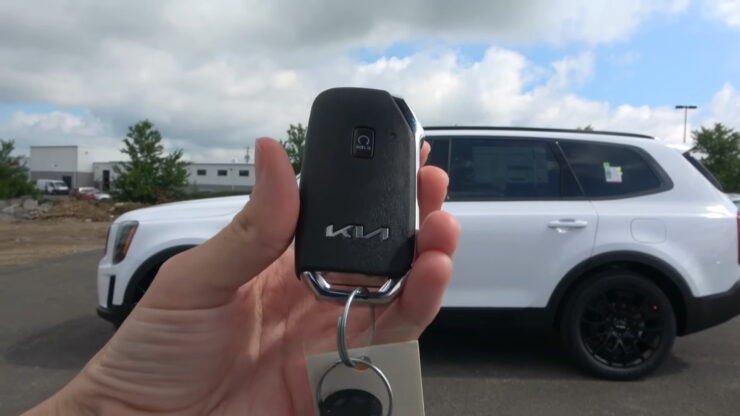 Pros of the Kia Telluride:
Exceptional Value:

Kia's base Telluride LX model is priced at a competitive MSRP of $32,785, offering a plethora of features such as:

18-inch alloy wheels
Leather-wrapped steering wheel
8-inch touchscreen display
UVO infotainment system
Apple CarPlay and Android Auto compatibility
5 USB ports

Comprehensive Driver Assistance Features:

The base price includes the Advanced Driver Assistance System, boasting features like:

Forward Collision Warning and Avoidance with Pedestrian & Cyclist Detection
Lane Keep Assist, Lane Departure Warning, and Lane Following Assist
Automatic Emergency Braking and Pedestrian Avoidance
Rear Cross-Traffic Alert and Rear Occupant Alert
Driver Attention Warning
Navigation-based Smart Cruise Control-Curve and Smart Cruise Control with Stop and Go
Parking Distance Warning – Reverse and Rear View Monitor with Parking Guidance

Spacious Interior:

The Telluride comfortably accommodates eight passengers, with a 60/40 split-folding second row and a reclining third row, making it an ideal family SUV.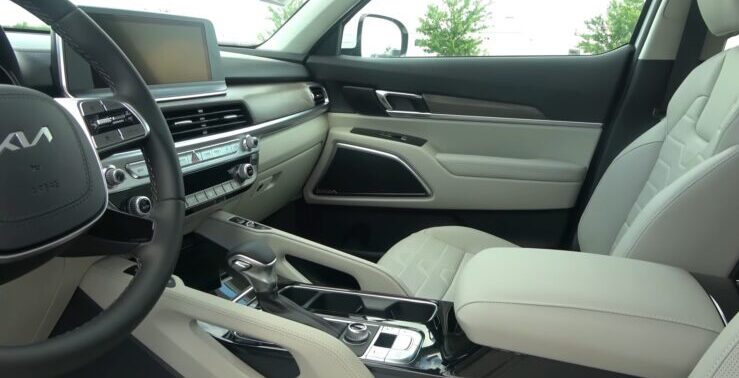 Superior Driving Experience:

Beyond its value and features, the Telluride's driving experience is comparable to luxury brands. For instance, a fully-equipped Telluride can outpace an entry-level Mercedes-Benz GLE 350 4Matic in acceleration and quarter-mile speed.

Versatile Driving Modes:

A central rotary controller allows drivers to toggle between Eco, Sport, Comfort, Snow, and Smart driving modes, with the Smart mode optimizing settings for efficiency and responsiveness.

Top-Notch Safety Features:

The Telluride is equipped with a suite of safety features, including:

Multiple airbags (front, side, curtain, and driver's knee)
Rollover and side-impact sensors
Three-point seatbelts and Anti-lock Brake System
Electronic Stability Control, Hill-start Assist Control, and Trailer Stability Assist
Torque Vectoring Corner Control and Vehicle Stability Management
Electronic Parking Brake
Cons of the Kia Telluride:
The engine could benefit from additional torque.
The transmission might be enhanced for better responsiveness.
Absence of hill descent control.
Resale Value and Features
The Kia Telluride has quickly become a favorite among SUV enthusiasts, thanks to its combination of safety, affordability, a touch of luxury, and outstanding reliability. These attributes contribute significantly to its strong resale value.
Although the model is relatively new, entering just its fourth year, the Telluride's value is expected to remain robust for the foreseeable future. Here's a breakdown of the average resale prices for the Kia Telluride LX series:
| Year | Mileage | Price |
| --- | --- | --- |
| 2020 | 23,346 | $39,495 |
| 2021 | 23,474 | $39,787 |
| 2022 | 5,498 | $43,164 |
| 2023 | 0 | $35,000 |
For the 2023 model, Kia has introduced several enhancements to the already popular Telluride:
Styling: The exterior has been refined, giving it a more polished appearance. The introduction of the X-Line and X-Pro trim levels adds a rugged charm to the vehicle.
Design Details: New internals for the headlights and taillights, redesigned front and rear bumpers, and enhanced lower bodyside cladding contribute to a more sophisticated look.
Advanced Driver Assistance Systems (ADAS): Kia has incorporated additional features into its impressive ADAS:

Traffic Sign Recognition: Enhances safety by recognizing and displaying traffic signs.
Left-Turn Warning: This safety feature intervenes if the driver attempts a left turn when an oncoming vehicle poses a collision risk.
Highway Driving Assist 2: An upgrade from the standard HDA 1.5 system, it offers automated lane changes, among other features.

Interior Upgrades: The 2023 model boasts a combined 12.5-inch display across two interior screens, enhancing the user experience.
Review Summaries: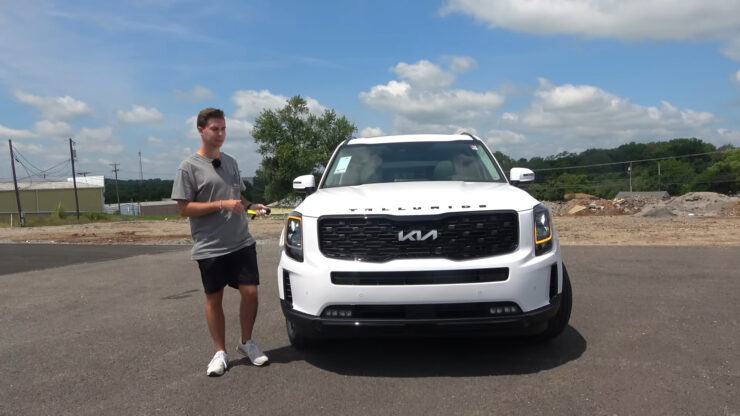 "The Telluride stands out as one of the rare three-row crossovers that's genuinely enjoyable to drive. It offers the feel of a competent two-row SUV, marked by responsive handling, superior ride comfort, and commendable stability."
[Source: motortrend.com]
"The Telluride shines as a top-tier three-row SUV. It features a serene and premium interior, cutting-edge technology, a comprehensive set of standard amenities, spacious seating in the third row suitable for adults, and delivers a fulfilling drive. While it has a few minor shortcomings, the Telluride is undeniably a top choice for those seeking a three-row crossover SUV."
FAQ
What is the fuel efficiency of the Kia Telluride?
While the exact fuel efficiency can vary based on driving conditions and maintenance, the Kia Telluride generally offers competitive fuel economy for its class.
Does the Kia Telluride come with a warranty?
Yes, Kia offers a comprehensive warranty for the Telluride, including a 10-year, 100,000-mile limited powertrain warranty.
How many trim levels does offer?
The Kia Telluride comes in several trim levels, including LX, S, EX, and SX, with the recent addition of the X-Line and X-Pro trims for the 2023 model.
Is there a hybrid or electric version available?
As of now, Kia has not released a hybrid or electric version of the Telluride. However, Kia has been expanding its electric vehicle lineup, so it's possible in the future.
How does the Kia Telluride compare to its competitors?
The Telluride is often compared favorably to its competitors due to its combination of value, features, and driving experience. It's seen as a top contender in the mid-size SUV segment.
What is the towing capacity?
The Kia Telluride, when properly equipped, can tow up to 5,000 pounds, making it suitable for hauling trailers or boats.
Are there any special maintenance requirements for the Kia Telluride?
Regular maintenance, as outlined in the owner's manual, is recommended. Special attention should be given to any recalls or known issues, such as the LCD display malfunction.
Bottom Line
The Kia Telluride has proven itself as a formidable contender in the mid-size SUV market. With its blend of luxury, safety, and value, it's no wonder it has garnered such positive reviews and a strong resale value.
As with any vehicle, potential buyers should be aware of known issues and ensure they are addressed. Overall, the Telluride offers a compelling package for families and individuals alike.