The U.S. is abundant in lakes, providing both recreational and economic opportunities to communities distant from oceans. Alaska boasts the most freshwater lakes nationally, followed by Minnesota, Wisconsin, Michigan, New York, and Maine. Some lakes, due to their mineral content, have higher salinity than the sea, while others contain pristine freshwater.
The Earth's surface is about 71% water, but according to the U.S. Bureau of Reclamation, only 3% is fresh. Numerous lakes are renowned for their recreational offerings, and others are recognized for their stunning natural landscapes and abundant wildlife. Below are some of the largest U.S. lakes that are worth a visit.
Best 9 Places To Visit
| Lake | State(s) | Type | Size | Notable Features | Average Temperature Range |
| --- | --- | --- | --- | --- | --- |
| Lake Michigan | Illinois, Wisconsin | Freshwater | 5th largest globally | Largest lake entirely within U.S. borders, known for boating and fishing | Mid-30s to 70 °F |
| Lake Tahoe | California, Nevada | Freshwater | 122,000 acres | Clearwater, scenic landscapes, skiing, hiking, and watersports | Varies with depth |
| Great Salt Lake | Utah | Saltwater | 1,700 square miles | Saltiest lake in the Western Hemisphere, ideal for boating | Sub-zero to 80 °F |
| Lake of the Ozarks | Missouri | Manmade | 1,100 miles of shoreline | One of the largest man-made lakes in the U.S., watersports, fishing | Approx. 60 °F |
| Lake George | New York | Freshwater | 28,000 acres | Renowned for its cleanliness, boating, fishing, swimming | Varies with season |
| Lake Norman | North Carolina | Manmade | 32,000 acres | Offers various recreational facilities, known for its trails and parks | Best during summer |
| Lake Okeechobee | Florida | Freshwater | 730 square miles | The largest lake in Florida, serves as a drinking water source | Up to 90 °F in summer |
| Lake Pontchartrain | Louisiana | Brackish | 630 square miles | Known for its marine life, offers fishing, boating, etc. | Varies with season |
| Lake Champlain | New York, Vermont | Freshwater | 500 miles | Diverse terrain, fishing, boating, and watersports | Can freeze in winter |
Illinois – Michigan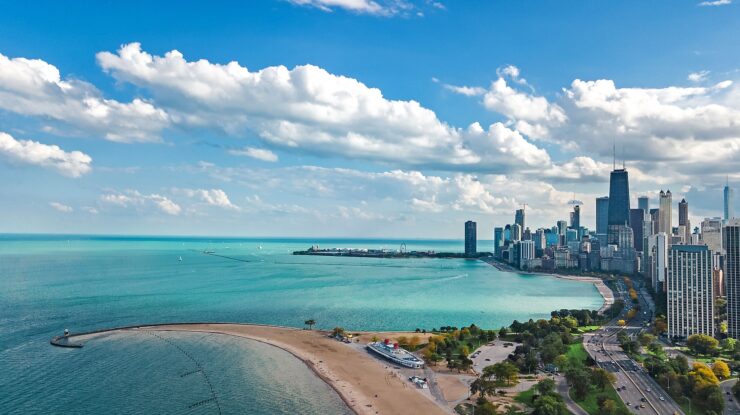 Lake Michigan, the sole Great Lake entirely within U.S. boundaries, ranks as the third largest of the Great Lakes and the fifth largest globally. It borders major cities like Milwaukee and Green Bay in Wisconsin and Chicago in Illinois, making it a hotspot for fishing, boating, and swimming. Over 12 million people are believed to live around the lake.
Because of its southern position relative to the other Great Lakes, it does not fully freeze during winter. However, Lake Michigan isn't the cleanest, as studies indicate that around 11 million pounds of plastic end up in it annually.
Yet, despite pollution issues, it hosts several award-winning, clean beaches. Water temperatures are typically cold most of the year, with lows in the mid-30s during winter and occasional highs around 70 degrees in summer.
Tahoe – California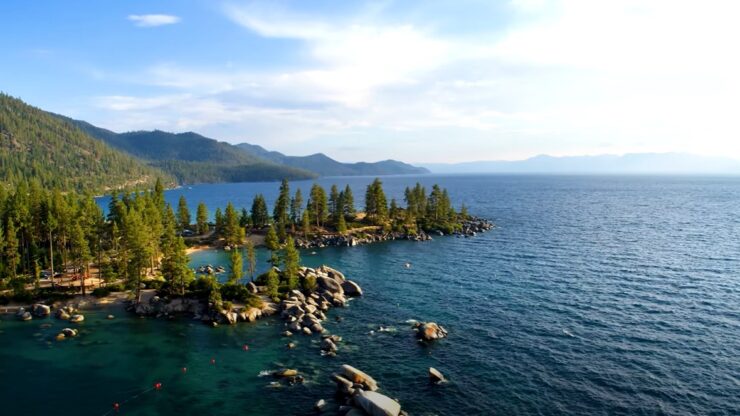 Lake Tahoe, the biggest freshwater lake in the Sierra Nevada mountains, straddles the California-Nevada border. It's famous for its clear water and breathtaking scenery, making it a desirable destination for skiing, hiking, and watersports.
The lake, located over 6,200 feet above sea level, experiences both summer warmth and winter cold. Its depth prevents it from fully freezing over, but ice can form in shallower areas.
The U.S. Environmental Protection Agency recognizes Lake Tahoe as an "Outstanding National Resource Water" under the Clean Water Act, given its national and global significance. Around 3 million people visit Lake Tahoe each year.
Utah – Great Salt Lake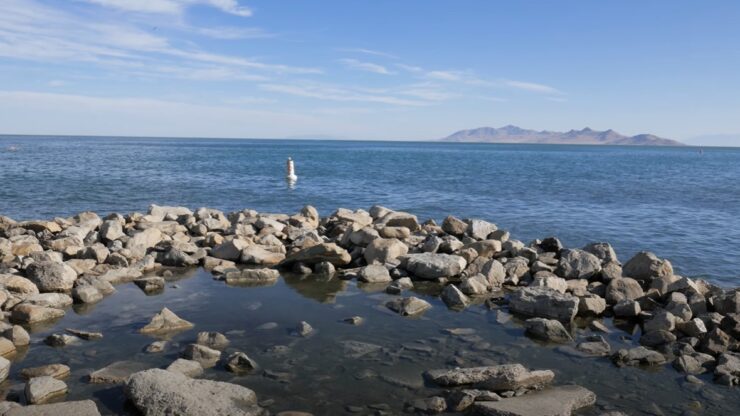 The Great Salt Lake, the largest saltwater lake in the Western Hemisphere, covers 1,700 square miles in northern Utah and is conveniently accessible from Salt Lake City. It offers a range of activities like sailing, paddleboarding, boating, and wildlife observation.
However, due to its high salt content, it's not suitable for fishing. The lake is 3.5 to 8 times saltier than the ocean and has a shallow depth, causing its temperature to fluctuate from sub-zero in winter to over 80 degrees in summer.
Missouri – Ozarks
The Lake of the Ozarks, one of the largest man-made reservoirs in the U.S., was completed in 1931 and boasts over 1,100 miles of shoreline.
The Lake of the Ozarks Convention and Visitors Bureau reports that 5 million people visit annually to enjoy its watersports, fishing, resorts, restaurants, and other attractions. The area experiences all four seasons, including winter snow and ice, and summer thunderstorms.
The lake has approximately 70,000 docks and an average water temperature close to 60 degrees. The region is considered a biodiversity hotspot for plants, insects, and other organisms, with much left unexplored.
New York – George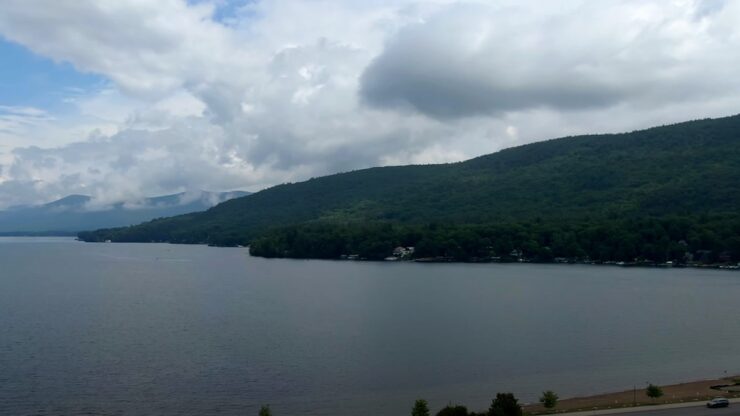 Lake George, one of the largest freshwater lakes in New York's Adirondack Mountains, spans 28,000 acres and is a hotspot for boating, fishing, and swimming.
The Lake George Association says it's one of the cleanest, clearest lakes globally, with over 90% of the surrounding area preserved and undeveloped. The lake and its related businesses contribute an estimated $3 billion to the annual economy.
North Carolina – Norman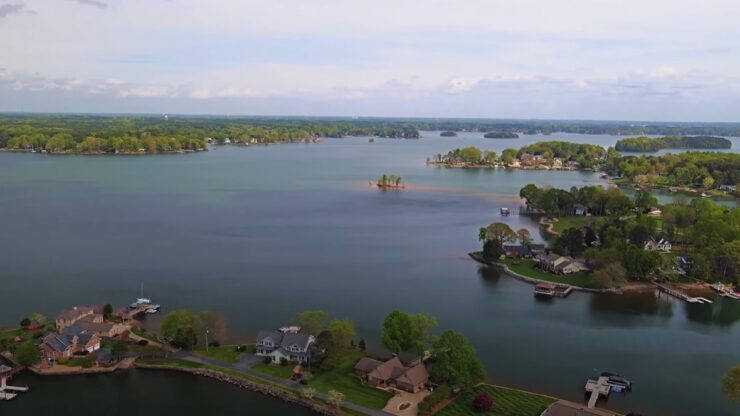 Lake Norman, a large lake situated just outside of Charlotte, spans more than 32,000 acres and features residential areas, parks, and various attractions. The lake was created in the 1960s as part of a dam project for power generation.
The area offers numerous trails and parks that lead to recreational facilities. Due to increased development, only two designated swimming beaches exist – Ramsey Creek and Lake Norman State Park. The best time to visit is during summer, between Memorial Day and Labor Day.
Florida – Okeechobee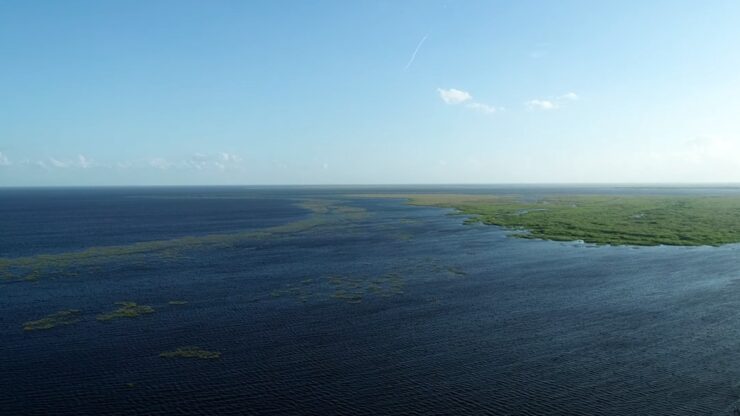 Lake Okeechobee, Florida's largest freshwater lake and part of the Everglades watershed, covers 730 square miles and has a maximum depth of approximately 12 feet.
The shallow depth and Florida's warm climate cause the average water temperature to reach nearly 90 degrees in summer.
The lake serves as a vital drinking water source for nearby communities and a popular destination for fishing, boating, and other recreational activities. The lake is located in an area known for frequent summer thunderstorms.
Louisiana – Pontchartrain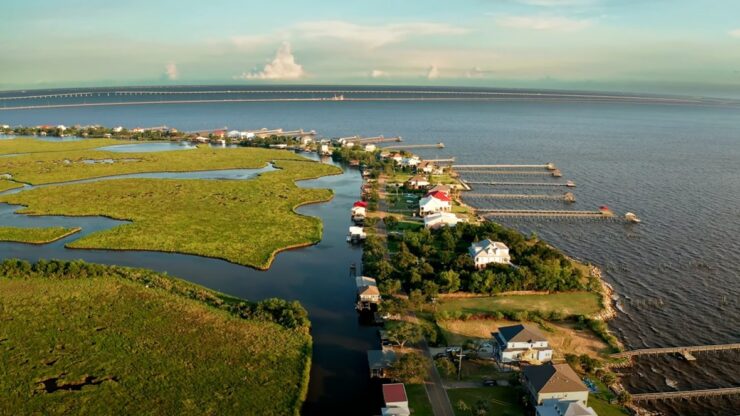 Lake Pontchartrain, a large brackish waterway in southeast Louisiana, borders New Orleans and is vital for fish, crabs, and other marine life. The lake offers year-round opportunities for fishing, boating, and other recreational activities. According to the Pontchartrain Conservancy, the best swimming access is on the north shore at Fontainebleau State Park.
Vermont – Champlain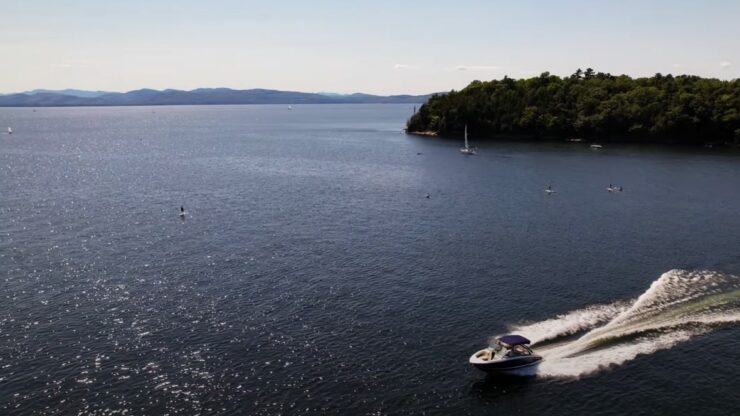 Lake Champlain, a freshwater lake, forms part of the New York and Vermont border, stretching over 500 miles. The lake is known for its diverse terrain, from wetlands to rocky bluffs. It's a popular spot for fishing, boating, and watersports, particularly in late summer.
Warmer years can see water temperatures nearing 70 degrees, but outside the sunny season, the lake can freeze during deep winter. The clean lake is home to over 300 bird species and more than 90 types of fish. Locals regard the 300,000-acre lake as North America's premier bass fishing site.
FAQ
How are the pollution levels in the Great Lakes, and what efforts are being made to control it?
Lake Michigan, like other Great Lakes, faces several pollution challenges such as plastic waste, agricultural runoff, and industrial pollutants.
Various organizations and agencies, such as the Great Lakes Restoration Initiative (GLRI), have taken up initiatives to improve water quality, restore habitats, and tackle invasive species.
Moreover, public awareness campaigns are being conducted to curb littering and encourage responsible use of these resources. There are also strict regulations in place to control industrial effluents.
What is the ecosystem like in Lake Tahoe?
Lake Tahoe has a rich and diverse ecosystem. Its clear, deep blue waters support a range of aquatic life, including various species of trout and Kokanee salmon.
The lake is surrounded by alpine and subalpine forests that host a wide array of wildlife, including black bears, mule deer, martens, and numerous bird species. Protection efforts by local environmental agencies have been crucial in maintaining the balance of this ecosystem.
What makes the Great Salt Lake unique in terms of biodiversity?
Despite its high salt content, the Great Salt Lake supports a unique ecosystem. The lake is an essential habitat for millions of migratory birds, including the American Avocet, Wilson's Phalarope, and Eared Grebe.
The lake is also home to brine shrimp and brine flies, organisms that can survive in its salty environment. These creatures serve as a vital food source for bird species.
What is the historical significance of Lake of the Ozarks?
The Lake of the Ozarks is a reservoir created by the Bagnell Dam on the Osage River. Before the lake's creation, the area was a valley with small towns and farmland.
With the lake's completion in 1931, it created a major source of hydroelectric power and promoted tourism in the region. The lake's history is preserved in nearby museums and landmarks, like the Willmore Lodge, which once served as the administrative offices during the construction of the dam.
How has Lake George contributed to New York's economy?
Lake George's clean, clear waters and the natural beauty surrounding it have made it a major tourist destination, boosting the local economy. Tourism-related businesses, including hotels, restaurants, and recreational facilities, generate significant income.
The lake also supports local fishing and boating industries, contributing to its estimated $3 billion annual economic impact.
What types of fish can be found in Lake Norman?
Lake Norman is a popular fishing destination and is home to a wide variety of fish species. Anglers can find Largemouth Bass, Striped Bass, White Perch, Crappie, Bluegill, Catfish, and others. The lake has also become a venue for several fishing tournaments throughout the year.
What efforts are in place to protect Lake Okeechobee's ecosystem?
Lake Okeechobee is part of the Everglades' larger watershed system, and it's subject to various protection and restoration efforts.
The Comprehensive Everglades Restoration Plan (CERP) is a long-term plan aimed at restoring and preserving the water resources of central and southern Florida, including Lake Okeechobee.
What is the history of the Lake Pontchartrain Causeway, and how has it affected the lake's ecosystem?
The Lake Pontchartrain Causeway, opened in the 1950s, is one of the world's longest over-water bridges. While it provides a crucial transportation link, its construction has had ecological impacts, including altered water circulation patterns and potential impacts on fish migration and aquatic vegetation. There are ongoing studies to better understand and mitigate these impacts.
What are the recreational activities available at Lake Champlain during the winter season?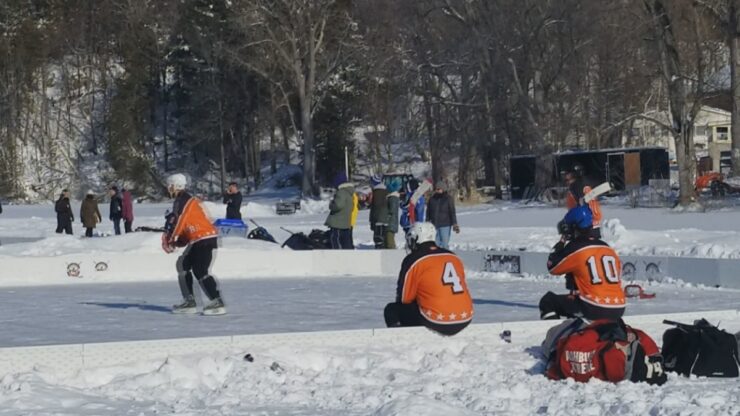 During the winter season, when Lake Champlain freezes, it transforms into a playground for winter sports. Popular activities include ice fishing, snowmobiling, cross-country skiing, and ice skating.
However, it's crucial to check local ice conditions and follow safety guidelines before venturing onto the frozen lake.
Conclusion
In conclusion, the United States is blessed with a multitude of lakes, each offering unique characteristics and opportunities for recreation and exploration.
From the clear, scenic waters of Lake Tahoe to the diverse ecosystem of Lake Champlain, these bodies of water not only provide valuable natural resources and habitat for wildlife but also stimulate local economies through tourism and outdoor activities.
Whether it's the historical significance of the Lake of the Ozarks or the breathtaking vistas around Lake George, these destinations invite visitors to appreciate nature's beauty and complexity.
Despite challenges such as pollution and ecological disruption, continuous conservation efforts are ensuring these natural treasures endure for future generations to enjoy.