South Carolina may be best known for its picturesque coastal landscapes and charming historic cities, but the state is also home to some hidden natural gems.
Among its diverse range of attractions, South Carolina boasts breathtaking waterfalls that cascade through lush forests, offering visitors a refreshing escape into the tranquility of nature. From the Upstate region to the Lowcountry, let's embark on a journey to explore the mesmerizing waterfalls of South Carolina.
1. Raven Cliff Falls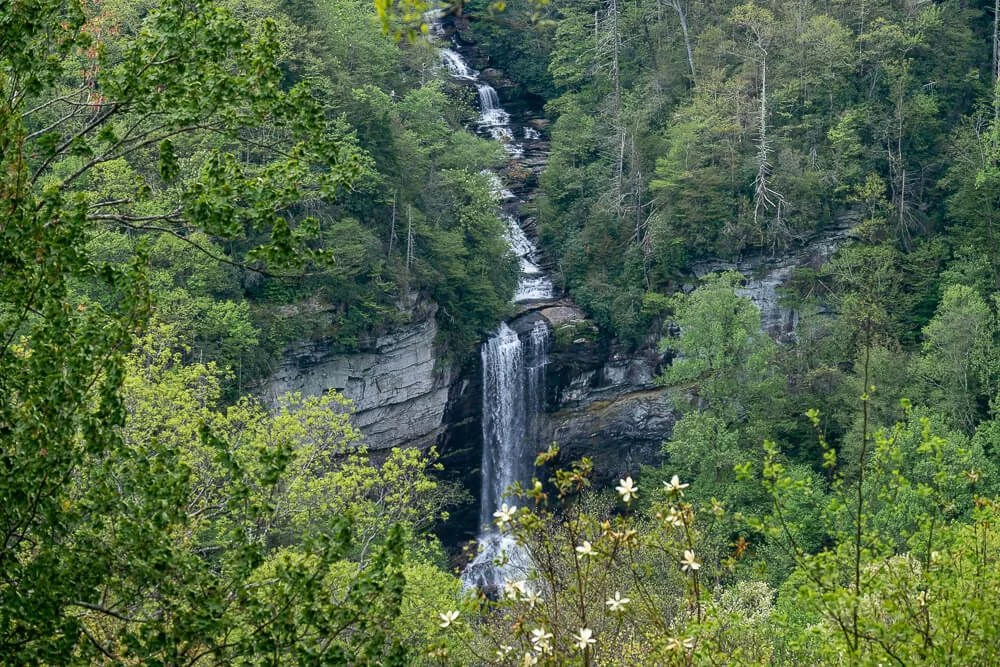 Tucked away in Caesar's Head State Park, Raven Cliff Falls is one of South Carolina's most captivating waterfalls. As you embark on the 2.2-mile trail through the pristine forest, you'll witness the Saluda River plunging over a 420-foot precipice, creating a magnificent sight.
The trail meanders alongside Matthews Creek, leading hikers through a picturesque landscape of rhododendron thickets and ancient hardwoods, culminating in a breathtaking view of the falls from an overlook platform.
2. Whitewater Falls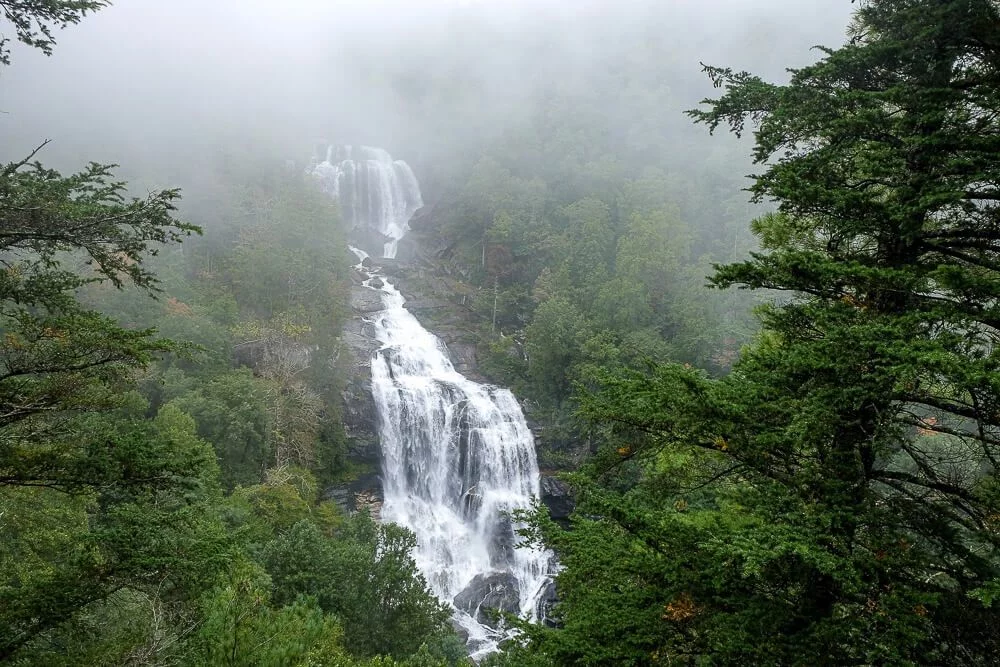 Situated in the Jocassee Gorges area near the North Carolina border, Whitewater Falls is an awe-inspiring spectacle worth visiting. With a staggering drop of 411 feet, it stands as the highest waterfall east of the Rocky Mountains.
The Lower Whitewater Falls can be accessed via a paved path, offering a captivating view of the cascades and the surrounding rugged wilderness. For the more adventurous, a hike to the Upper Whitewater Falls allows you to experience the grandeur of the falls from a closer vantage point.
3. Falls Park on the Reedy
Nestled in the heart of downtown Greenville, Falls Park on the Reedy is a vibrant urban oasis boasting its very own waterfall. The Reedy River gracefully cascades over massive granite boulders, creating a picturesque scene that harmonizes with the surrounding park's landscaped gardens and walking trails.
Take a stroll along the Liberty Bridge, a unique suspended pedestrian walkway, for a panoramic view of the falls and the cityscape. With its combination of natural beauty and urban charm, Falls Park on the Reedy offers a distinct waterfall experience.
4. King Creek Falls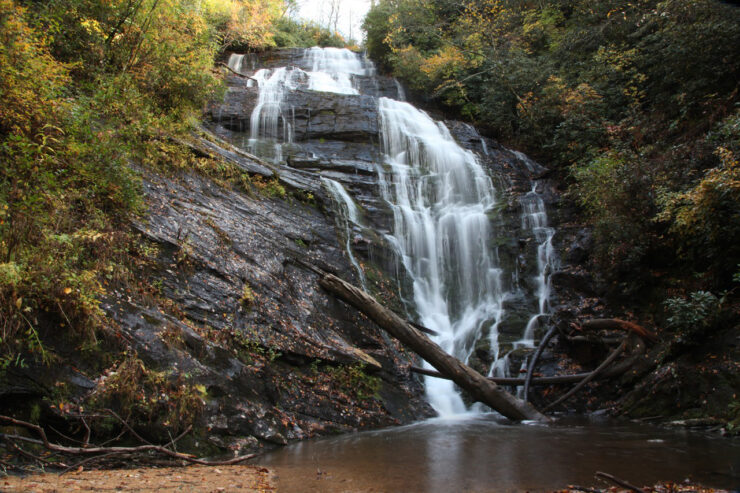 Located in Oconee County's Sumter National Forest, King Creek Falls showcases the serene beauty of the Blue Ridge Mountains. This 70-foot cascade captivates visitors with its gentle flow, surrounded by a dense forest adorned with vibrant wildflowers during the spring and summer months.
A moderate 1.7-mile round-trip hike takes you to the falls, passing through a peaceful woodland setting that immerses you in the sights and sounds of nature.
5. Issaqueena Falls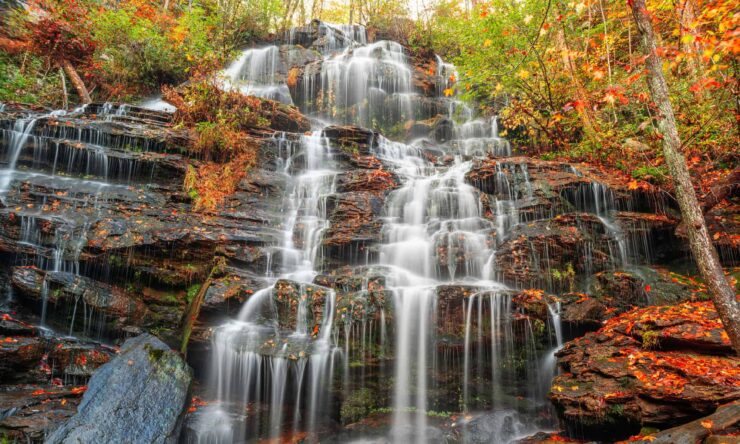 Located near the town of Walhalla, Issaqueena Falls is a picturesque waterfall named after a Native American legend. The falls plunge approximately 100 feet into a rocky gorge, surrounded by lush greenery. There is a short trail that leads to an overlook, allowing visitors to admire the mesmerizing beauty of the falls.
6. Chau Ram Falls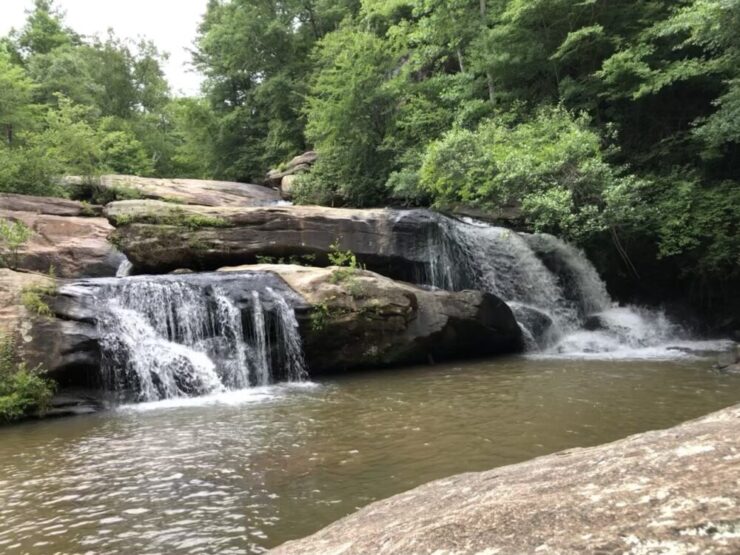 Situated in Chau Ram County Park in Westminster, Chau Ram Falls is a lovely waterfall along the Chauga River. The falls drop over a series of rocky ledges, creating a captivating sight. Visitors can enjoy swimming, fishing, and picnicking in the park while immersing themselves in the natural splendor.
7. Cedar Falls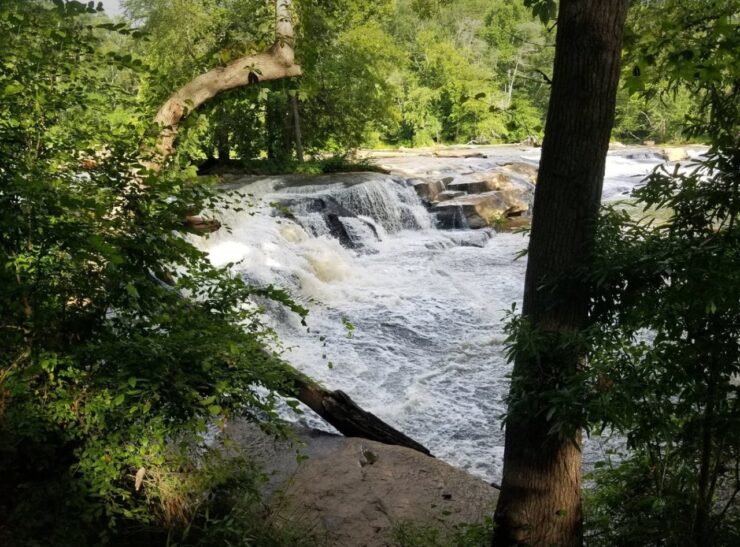 Located in the beautiful Andrew Pickens Ranger District of the Sumter National Forest, Cedar Falls is a hidden gem in South Carolina. This remote waterfall cascades over moss-covered rocks into a tranquil pool, creating a serene atmosphere. The hike to Cedar Falls is moderate in difficulty but rewards hikers with a secluded and picturesque destination.
8. Spoonauger Falls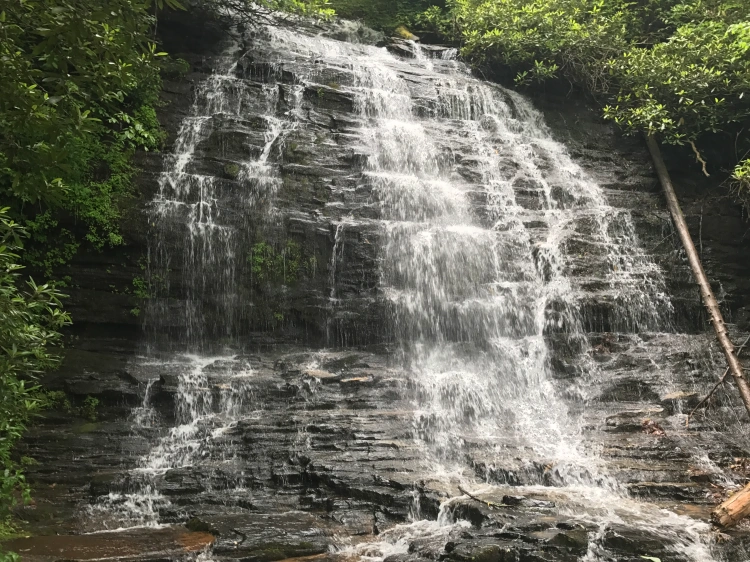 Situated in the Mountain Bridge Wilderness Area, Spoonauger Falls is a delightful waterfall on Spoonauger Creek. The falls feature a two-tiered drop with a total height of about 50 feet. Surrounded by a lush forest, the falls offer a peaceful setting that's perfect for relaxation and photography.
9. Wildcat Falls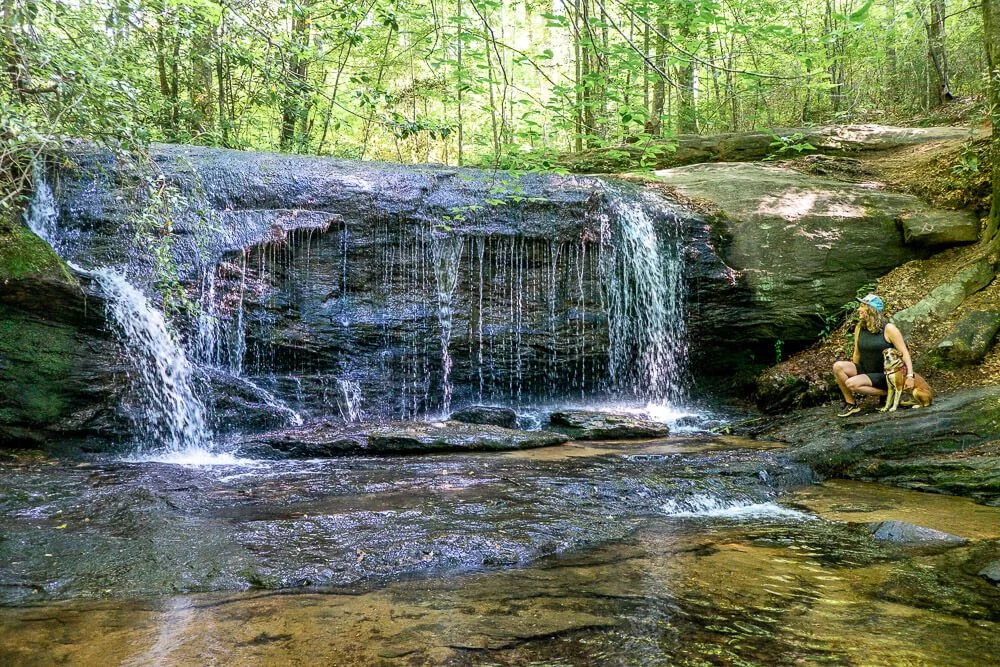 Located in the scenic Sumter National Forest near the town of Mountain Rest, Wildcat Falls is a charming waterfall accessible via a short hike. The falls cascade down a series of rock formations, creating a picturesque scene. It's an ideal spot for nature enthusiasts and photographers to capture the beauty of South Carolina's waterfalls.
FAQs
1. Are there any admission fees to visit?
Most of the waterfalls in South Carolina are located within state parks, national forests, or public areas that may require an entrance or parking fee. It's advisable to check the specific park or area's website or contact them directly to inquire about any fees.
2. Can I swim in the waterfalls?
Swimming opportunities vary depending on the waterfall and the park regulations. Some waterfalls, like those within state parks, may have designated swimming areas, while others may have restrictions due to safety concerns. It's important to follow park rules and guidelines regarding swimming to ensure your safety and preserve the natural environment.
3. Are the waterfalls accessible year-round?
Yes, most waterfalls in South Carolina are accessible year-round. However, the water flow and appearance may vary depending on the season. Spring and early summer, after periods of rainfall, often offer the best viewing experience as the water levels are higher. During periods of drought, the water flow may be reduced.
4. Are there hiking trails?
Yes, many waterfalls in South Carolina can be accessed via hiking trails. The length and difficulty of the trails can vary, ranging from short and easy walks to longer, more strenuous hikes. It's recommended to check the trail conditions and difficulty level beforehand to ensure it matches your hiking abilities.
5. Can I bring my pets?
Pet policies vary depending on the specific park or area where the waterfall is located. Some places allow leashed pets on the trails, while others may have restrictions. It's advisable to check the park's guidelines or contact them in advance to inquire about their pet policy.
6. Are there facilities available near?
The availability of facilities near the waterfalls can vary. State parks often have amenities such as restrooms, picnic areas, and visitor centers. However, for more remote waterfalls, facilities may be limited or nonexistent. It's a good idea to prepare accordingly by bringing water, snacks, and any necessary supplies.
7. Are there guided tours?
Some state parks or outdoor adventure companies may offer guided tours or hikes that include visits to waterfalls in South Carolina. These guided tours can provide additional information, safety guidance, and a more immersive experience. It's recommended to research and inquire about guided tour options in the specific area you plan to visit.
Conclusion
South Carolina's waterfalls offer a tranquil respite from the bustling cities and coastal attractions, providing a chance to reconnect with nature's grandeur.
Whether you seek adventure or seek solace, the state's waterfalls, such as Raven Cliff Falls, Whitewater Falls, Falls Park on the Reedy, and King Creek Falls, present remarkable experiences that leave lasting memories.
So, pack your hiking gear, embark on a journey to these hidden treasures, and immerse yourself in the captivating beauty of South Carolina's waterfalls.