When it comes to natural beauty and captivating landscapes, Ohio might not be the first state that comes to mind. However, hidden within its picturesque countryside, Ohio boasts an array of stunning waterfalls that will leave nature enthusiasts awe-struck. From tranquil cascades nestled in dense forests to dramatic plunges over rocky cliffs, Ohio's waterfalls offer a serene escape from bustling city life. In this article, we will embark on a journey to explore some of the most enchanting waterfalls that grace the Buckeye State.
1. Brandywine Falls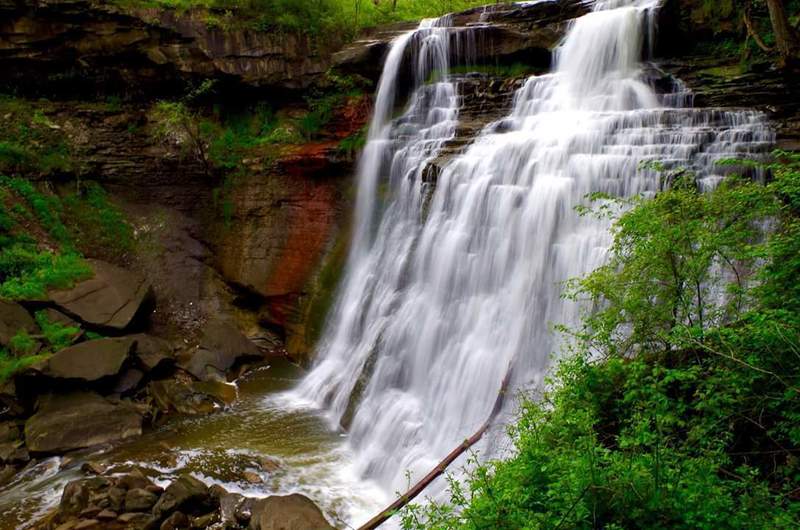 Tucked away in Cuyahoga Valley National Park, Brandywine Falls stands as one of Ohio's most iconic and breathtaking waterfalls. With a height of approximately 65 feet, the cascading waters plunge dramatically into a serene gorge below.
Visitors can explore the park's well-maintained boardwalk, allowing for magnificent views of the falls from different angles. The surrounding lush greenery adds to the enchanting ambiance, making Brandywine Falls a must-visit destination for nature lovers and photographers alike.
2. Old Man's Cave and Cedar Falls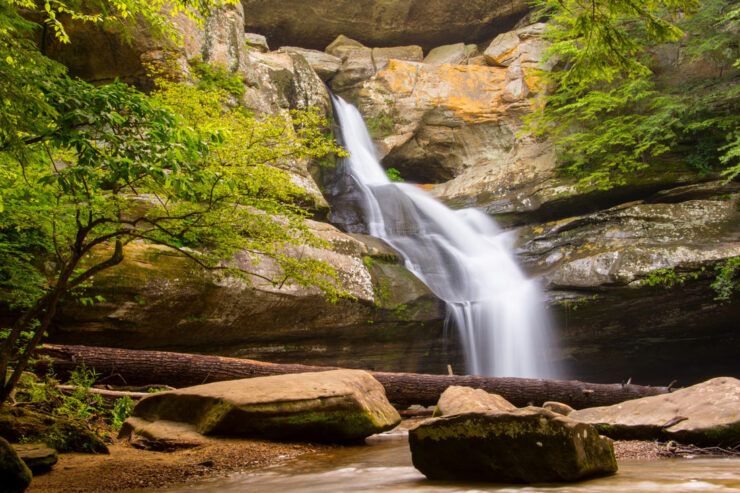 Located within Hocking Hills State Park, Old Man's Cave is a natural wonder that combines waterfalls with stunning rock formations. The park features several waterfalls, but Cedar Falls is undoubtedly the highlight.
As the cascading waters gracefully flow into a rocky pool, surrounded by towering hemlocks and sandstone cliffs, visitors are treated to a serene and tranquil oasis. Hiking trails within the park provide opportunities to explore the area, discover hidden waterfalls, and immerse oneself in the beauty of nature.
3. Ash Cave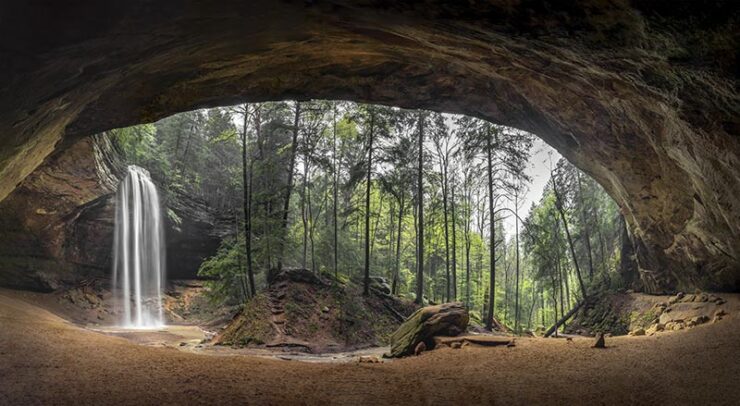 Ash Cave, also situated within Hocking Hills State Park, offers a unique waterfall experience. Unlike traditional falls, the water cascades over the rim of a massive recess cave, creating an awe-inspiring spectacle.
The waterfall, combined with the cave's immense size and natural amphitheater-like structure, results in a captivating sight. Visitors can enjoy a leisurely stroll along a paved trail to reach the cave, which is particularly mesmerizing during spring when the falls are at their peak flow.
4. Clifton Gorge State Nature Preserve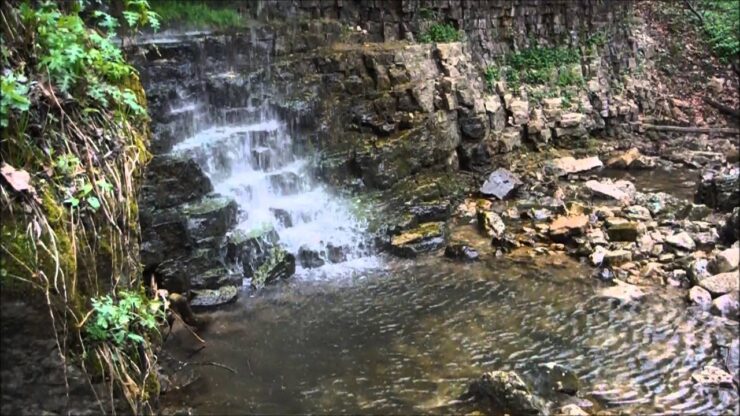 Nestled along the Little Miami River, Clifton Gorge State Nature Preserve is a hidden gem boasting picturesque waterfalls and stunning geological formations. The gorge, carved over centuries by the river's flow, offers a unique hiking experience surrounded by towering cliffs and lush forests.
Two notable waterfalls, Yellow Springs Falls and Clifton Falls, showcase the power and beauty of nature. Exploring the trails and admiring these falls is a rejuvenating experience that showcases Ohio's diverse natural landscapes.
5. Chagrin Falls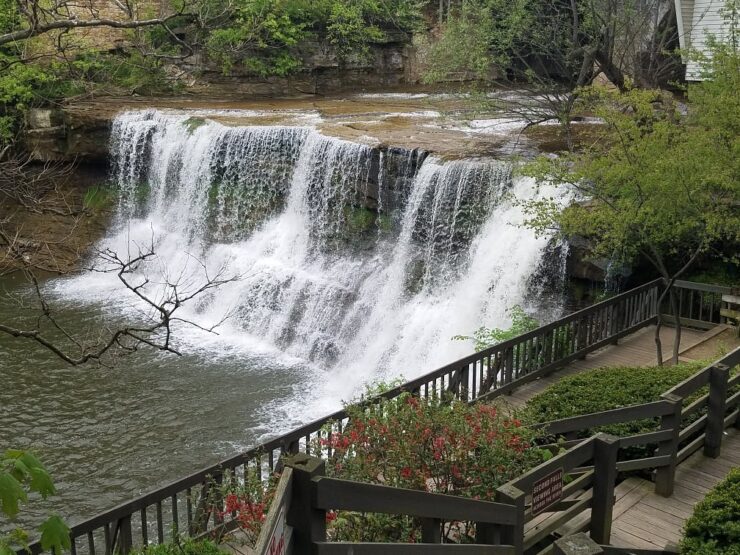 Located in the charming village of Chagrin Falls, this waterfall is a picturesque sight to behold. Situated on the Chagrin River, the falls drop approximately 20 feet and cascade gracefully into a gorge below.
The surrounding area offers a delightful setting with a quaint downtown area, a historic district, and various vantage points to admire the falls.
6. Big Lyons Falls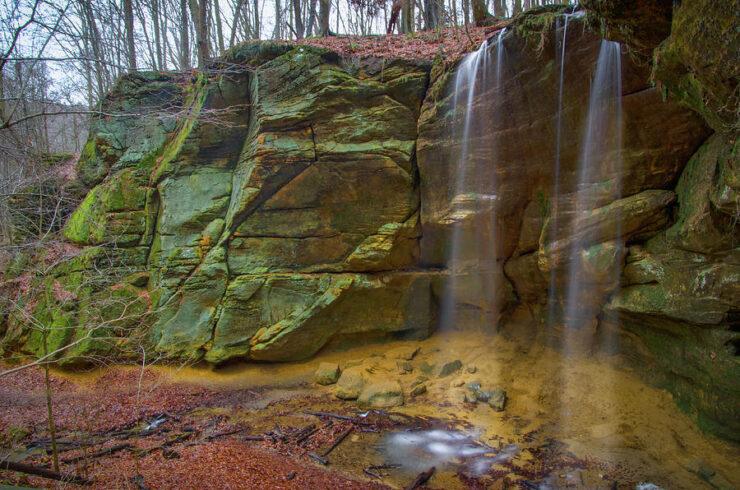 Situated in Mohican State Park, Big Lyons Falls is a hidden gem nestled within a secluded gorge. The waterfall tumbles down a series of limestone steps, creating a beautiful display of cascading waters.
While the hike to reach the falls may be challenging, the serene atmosphere and natural beauty make it a rewarding adventure for outdoor enthusiasts.
7. Hayden Falls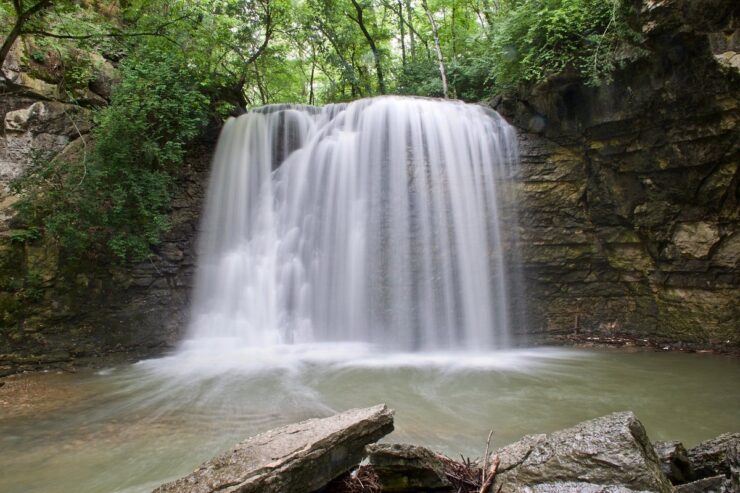 Located on the western outskirts of Columbus, Hayden Falls is a charming waterfall nestled along the banks of the Scioto River. The waterfall drops around 25 feet, surrounded by towering rock formations and verdant foliage.
A boardwalk and observation deck provide visitors with stunning views of the falls, making it an easily accessible natural escape within the city.
8. Indian Run Falls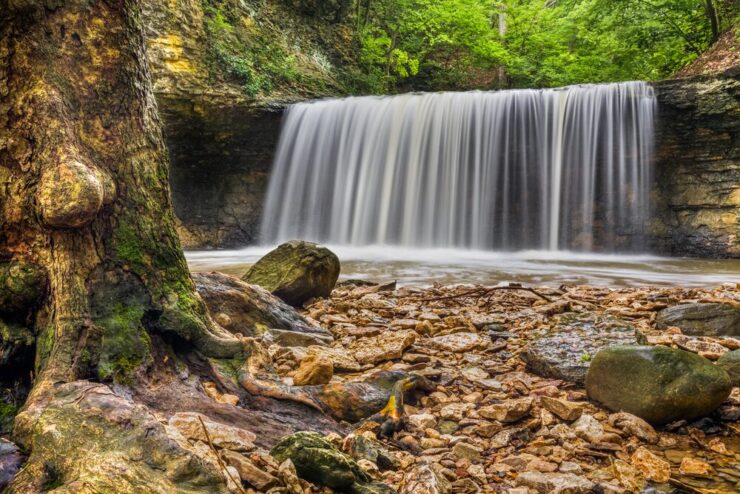 Situated in Dublin, a suburb of Columbus, Indian Run Falls is a serene and picturesque waterfall. With multiple cascades flowing over layers of shale, the falls create a tranquil atmosphere.
The park surrounding the falls offers walking paths, bridges, and observation platforms, allowing visitors to explore and appreciate the beauty of the area.
9. Ludlow Falls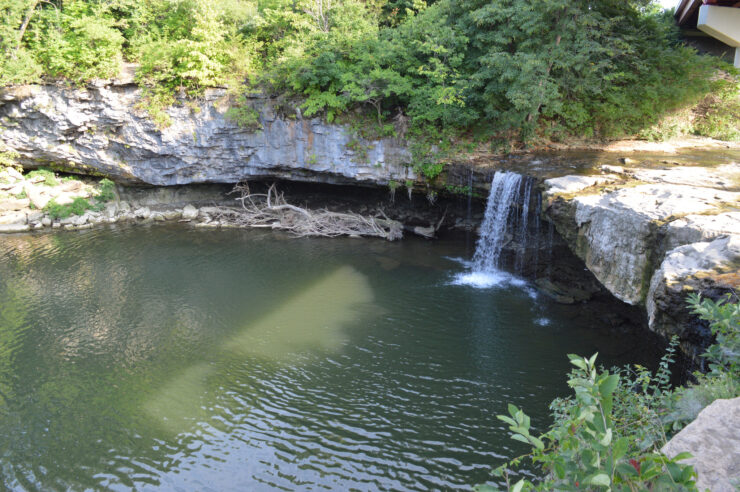 Located near West Milton, Ludlow Falls is a charming waterfall that is particularly captivating during the winter months when the freezing temperatures create beautiful ice formations. The falls consist of twin cascades, each dropping around 15 feet, and offer a peaceful setting for nature enthusiasts and photographers.
While Ohio boasts some of the most breathtaking waterfalls in the United States, there are also lesser-known cascades waiting to be discovered. One such destination is Oregon, where you can find 9 cascades that are worth the effort.
FAQs
1. How many waterfalls are there in Ohio?
Ohio is home to numerous waterfalls, with estimates ranging from over 100 to 150, varying in size and accessibility.
2. What is the tallest waterfall in Ohio?
The tallest waterfall in Ohio is Brandywine Falls in Cuyahoga Valley National Park, which stands at approximately 65 feet.
3. Are there any wheelchair-accessible cascades in Ohio?
Yes, some waterfalls in Ohio, such as Brandywine Falls and Hayden Falls, offer wheelchair-accessible paths or viewing platforms.
4. Can you swim in the waterfalls?
Generally, swimming is not allowed in the waterfalls in Ohio due to safety concerns, but there may be designated swimming areas in some state parks.
5. Are there any guided tours?
Some tour companies and outdoor organizations offer guided tours and hikes to explore Ohio's waterfalls, providing informative experiences for visitors.
6. Which waterfalls are best for photography?
Waterfalls like Brandywine Falls, Old Man's Cave, and Ash Cave offer picturesque views and are popular among photographers.
7. Are there any camping grounds near the cascades?
Yes, several state parks and nature reserves in Ohio, such as Hocking Hills State Park and Mohican State Park, provide camping facilities near waterfalls.
8. Do any waterfalls freeze during the winter?
Yes, certain waterfalls in Ohio, including Ludlow Falls and some sections of Hocking Hills, can freeze during the colder winter months, creating stunning icy formations.
9. Can you fish near Ohio's cascades?
Fishing opportunities near Ohio's waterfalls vary depending on the specific location and regulations. Some waterfalls are near rivers or streams where fishing is allowed.
Conclusion
While Ohio may not be renowned for its waterfalls, the state's hidden treasures offer a delightful surprise for nature enthusiasts. Brandywine Falls to Hocking Hills and the captivating Clifton Gorge, Ohio's waterfalls provide are worth it. If you want a serene escape into the heart of nature, this is it.
Whether an avid hiker, a photographer, or someone looking to reconnect with the natural world, Ohio's waterfalls are waiting. Grab your hiking boots, pack your sense of adventure, and embark on a journey. Discover the mesmerizing beauty of Ohio's waterfalls. You will not regret it one bit!