Topeka, Kansas – On Wednesday, the Kansas State High School Activities Association's (KSHSAA) executive board decided that high schools and middle schools must examine transgender athletes' original birth certificates to determine their eligibility for team participation.
Meanwhile, an effort in the state legislature to prohibit gender-affirming care for transgender minors failed.
The KSHSAA executive board has taken a significant step in assisting the state in enforcing a ban on female transgender athletes participating in girls' and women's sports. The new policy, which will be effective from July 1, replaces the previous policy that permitted decisions to be made on an individual athlete basis.
This new policy follows a law enacted by the Republican-controlled legislature earlier this month, despite a veto from Democratic Gov. Laura Kelly.
The governor vetoed five GOP bills aimed at rolling back transgender rights, and Republicans are on track to override three more vetoes, including a veto of a comprehensive bathroom bill.
However, GOP conservatives lacked the necessary two-thirds majority to override Kelly's veto of a bill that would require the state medical board to revoke the licenses of doctors providing puberty-blocking medications, hormone treatments, and surgery to transgender minors.
The Senate's vote on an override Wednesday fell short by one vote, with a 26-14 result.
Kansas' bills are part of a broader push by Republicans across the U.S. against LGBTQ+ rights, especially transgender rights. At least seven states have bathroom laws, at least 21 restrict transgender athletes, and at least 14 have enacted laws limiting or prohibiting gender-affirming care.
Supporters of the Kansas bill against gender-affirming care argued that they were protecting children from making life-altering decisions they might later regret.
However, research indicates that detransitioning is not as prevalent as opponents of transgender medical treatment for youth claim.
Furthermore, studies have shown that transgender youths and adults can be prone to suicidal behavior when forced to live as the sex they were assigned at birth. Gender-affirming care for minors has been available in the U.S. for more than a decade and is endorsed by major medical associations.
On Wednesday, the legislature did override Gov. Kelly's veto of a bill that would prohibit county jails from housing transgender inmates in accordance with their gender identities, meaning that transgender women would be housed with cisgender men.
The Senate and House also voted to override Kelly's vetoes on the bathroom bill and a bill preventing public schools from having transgender boys room with cisgender boys and transgender girls with cisgender girls on overnight trips.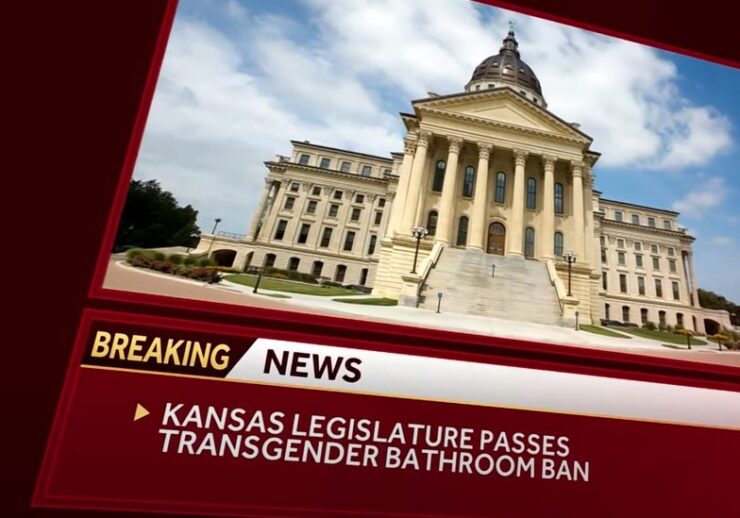 The new KSHSAA policy regarding transgender athletes is tied to the requirement for an annual physical for students seeking to participate in sports from seventh through 12th grade. The KSHSAA has reported that three transgender girls competed in sports during the current school year.
Source:
https://news.yahoo.com/kansas-sets-trans-athlete-rule-021539252.html