Texas, known for its vast plains and arid landscapes, may not be the first state that comes to mind when you think of waterfalls. However, hidden within its diverse terrain are some stunning natural wonders that are worth exploring.
From the panhandle to the Hill Country, Texas is home to several breathtaking waterfalls any nature lover will love. Take a closer look at some of the most beautiful waterfalls in Texas.
1. Hamilton Pool Preserve
Located just outside of Austin, Hamilton Pool Preserve is a picturesque oasis that features a stunning waterfall that spills into a natural pool.
This unique waterfall is formed by Hamilton Creek as it cascades over limestone rocks and creates a serene scene that looks straight out of a postcard.
The pool itself is surrounded by a lush, fern-covered grotto and towering cliffs. It is a perfect spot for swimming, hiking, and photography.
However, access to Hamilton Pool Preserve is limited and requires a reservation. Be sure to plan ahead if you want to visit this natural gem.
2. Gorman Falls
Tucked away in Colorado Bend State Park in Central Texas, Gorman Falls is a hidden gem that offers a truly magical experience. This 70-foot tall waterfall is fed by the springs of Gorman Creek and features delicate, fern-covered travertine formations that create a stunning backdrop.
The hike to Gorman Falls is a moderate 1.5-mile round trip, but the effort is well worth it. You will enjoy the breathtaking views of the waterfall and the surrounding lush greenery. Gorman Falls is a protected area, and visitors are required to stay on designated trails to preserve it.
3. Lost Maples State Natural Area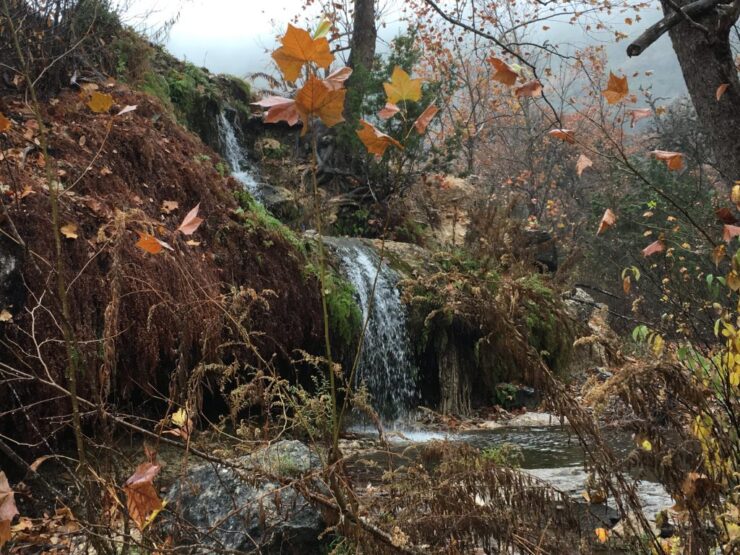 Nestled in the picturesque Hill Country of Texas, Lost Maples State Natural Area is home to a beautiful waterfall. The East Trail in Lost Maples leads to a hidden gem called Monkey Rock, where you can find a small waterfall cascading over limestone rocks.
The crystal-clear water and the surrounding colorful foliage create a mesmerizing scene that's perfect for nature photography or simply enjoying the serenity of the outdoors.
4. Pedernales Falls State Park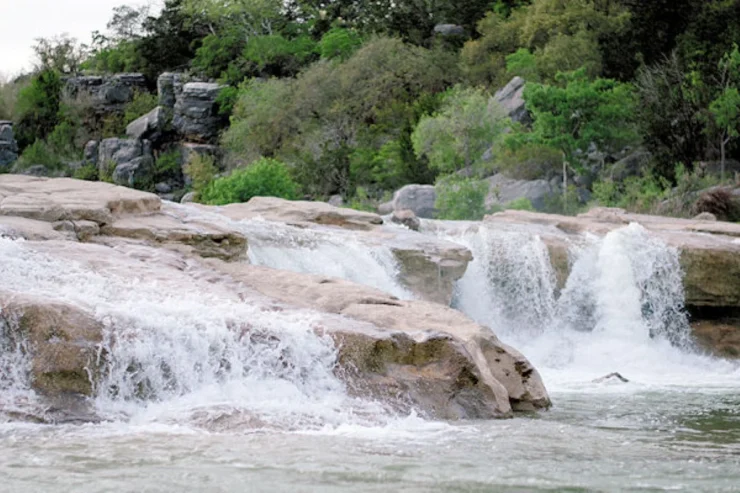 Pedernales Falls State Park, located west of Austin, is a popular destination for outdoor enthusiasts, and it's also home to a picturesque waterfall. The Pedernales River flows over massive, tilted slabs of limestone, creating a series of cascades and rapids that make up Pedernales Falls.
The falls are not very high, but their unique formation and the turquoise waters flowing over the rocks make for a striking sight. Visitors can hike along the riverbank and take in the beauty of the falls or even go swimming in the calm pools above the cascades.
5. Devils River Falls
Located in Val Verde County in West Texas, Devils River Falls is a hidden gem accessible only by boat or a strenuous hike.
The falls are part of the remote and pristine Devils River State Natural Area and offer picturesque views of the clear, turquoise waters of the Devils River cascading over limestone rocks. It is a great spot to take a breather and rest for a bit.
6. Upper McKinney Falls
While McKinney Falls State Park in Austin is a popular destination, the same is not true about Upper McKinney Falls. This serene waterfall is located upstream from the main falls and offers a tranquil setting with a smaller cascade and a peaceful swimming hole. Not the biggest cascade out there, but a pristine one for sure.
Conclusion: Texan Waterfalls Are Worth It
While Texas is not really famous for its waterfalls, the Lone Star State has its fair share of natural wonders. From Hamilton Pool Preserve's oasis to the hidden Gorman Falls, the waterfalls offer a glimpse of the state's natural beauty.
If you are looking to experience the splendor of waterfalls in Texas, be sure to put these hidden treasures on your must-visit list. Prepare to be awe-struck by the stunning beauty of these natural wonders in the Lone Star State.