When it comes to natural beauty, New Mexico may not be the first state that comes to mind. However, this southwestern gem is home to some truly breathtaking waterfalls that are sure to captivate any nature lover. From the high mountains to the rugged canyons, New Mexico's waterfalls offer a unique and enchanting experience. Here are some of the most stunning waterfalls that you can discover in the Land of Enchantment.
1. Nambe Falls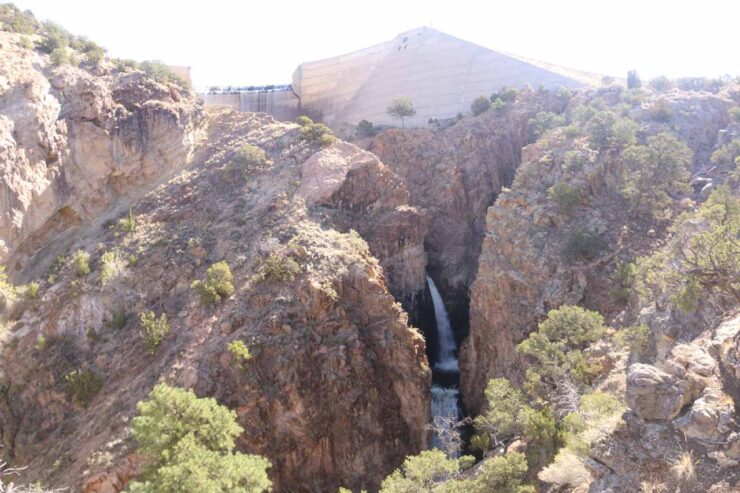 Nestled in the Santa Fe National Forest, Nambe Falls is a hidden gem that promises a serene and picturesque escape. The falls are located on the Nambe Pueblo and can be accessed via a short hike through the stunning canyon landscape.
The main waterfall plunges approximately 30 feet into a pristine pool, creating a stunning backdrop for relaxation and reflection. Nambe Falls also offers camping and picnic areas, making it a perfect spot for a day trip or a weekend getaway.
2. Jemez Falls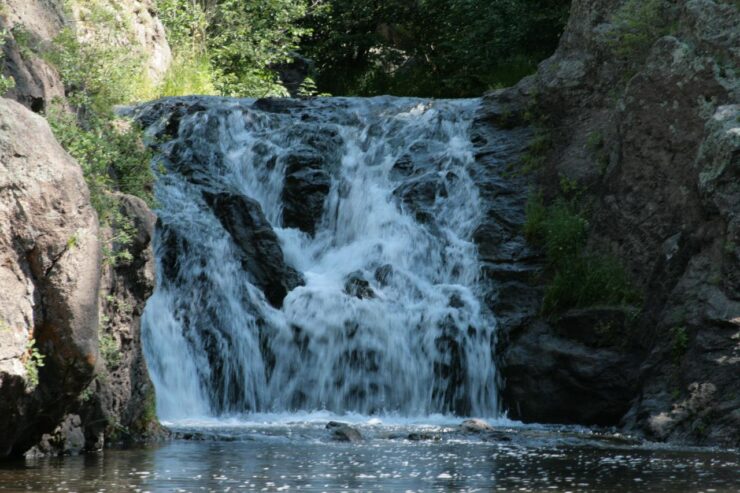 Located in the Jemez Mountains, Jemez Falls is a breathtaking waterfall that can be easily accessed from a short trail in the Santa Fe National Forest. The falls cascade down a series of rocky tiers, with the main drop measuring approximately 30 feet.
The surrounding area is lush with ponderosa pines and aspens, creating a tranquil atmosphere for hiking and picnicking. Jemez Falls is particularly stunning in the fall when the surrounding foliage turns vibrant shades of red, orange, and yellow.
3. Water Canyon Falls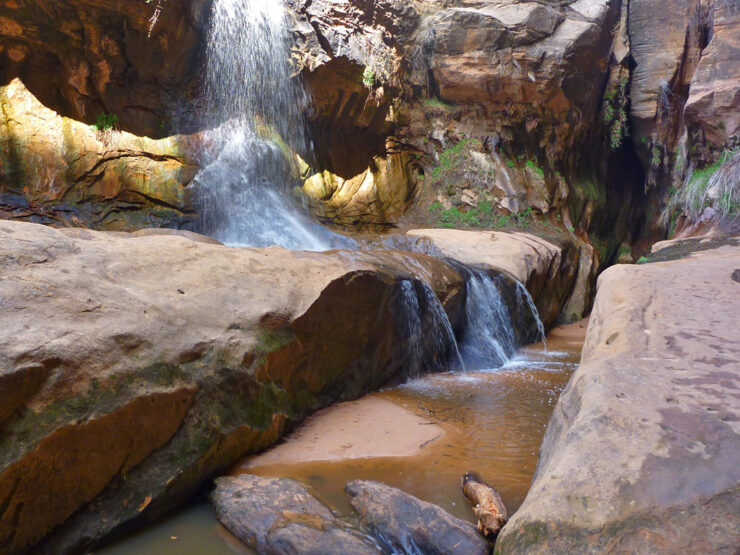 Tucked away in the Gila Wilderness, Water Canyon Falls is a remote and stunning waterfall that rewards those willing to make the trek. The trail to the falls is a moderate to difficult hike, but the effort is well worth it once you reach the waterfall.
Water Canyon Falls plunges over 50 feet into a pool surrounded by towering cliffs, creating a dramatic and awe-inspiring sight. The falls can be visited as part of a longer backpacking trip or a day hike, and the pristine wilderness setting makes it a perfect spot for solitude and reflection.
4. Sitting Bull Falls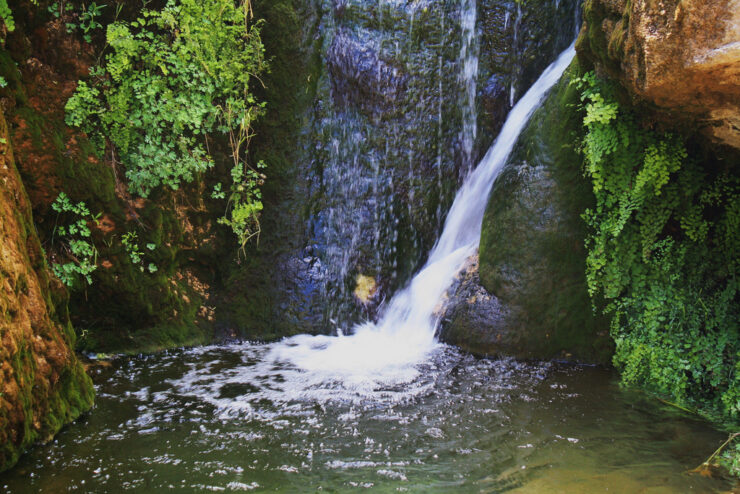 Located in the Lincoln National Forest, Sitting Bull Falls is a mesmerizing waterfall that stands at an impressive 150 feet tall. The falls are fed by a natural spring and flow year-round, making them a refreshing oasis in the desert landscape of southern New Mexico.
Sitting Bull Falls is a popular spot for swimming, picnicking, and hiking, with several trails that lead to scenic overlooks of the falls and the surrounding canyon. The area also features picnic tables, grills, and restrooms, making it a great spot for a family outing.
5. Rio Grande Gorge Bridge and Overlook
While not a traditional waterfall, the Rio Grande Gorge Bridge and Overlook in Taos offers a stunning view of the Rio Grande River as it carves its way through a dramatic gorge. The bridge spans over 650 feet across the gorge and offers panoramic views of the rugged canyon walls and the rushing river below.
The overlook provides a unique perspective of the river as it winds its way through the gorge, creating a breathtaking vista that is sure to leave you in awe.
6. McCauley Hot Springs Waterfall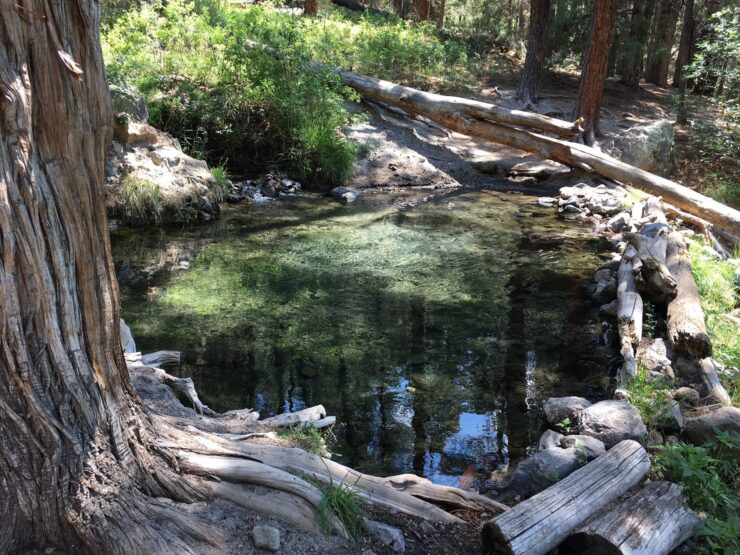 Tucked away in the Jemez Mountains, McCauley Hot Springs Waterfall is a unique waterfall that combines hot springs with a waterfall. The waterfall flows over layers of colorful mineral deposits, creating a mesmerizing display of colors and patterns.
Visitors can soak in the warm, mineral-rich waters of the hot springs while enjoying the soothing sound of the waterfall, making it a truly unique and relaxing experience.
7. Pecos Falls
Located in the Pecos Wilderness, Pecos Falls is a remote waterfall that requires a strenuous hike to reach. The falls drop approximately 30 feet into a rocky canyon, surrounded by dense forests and rugged terrain.
The hike to Pecos Falls is challenging, but the untouched wilderness and the scenic beauty of the waterfall make it a hidden gem for adventure seekers and nature lovers.
8. Bridal Veil Falls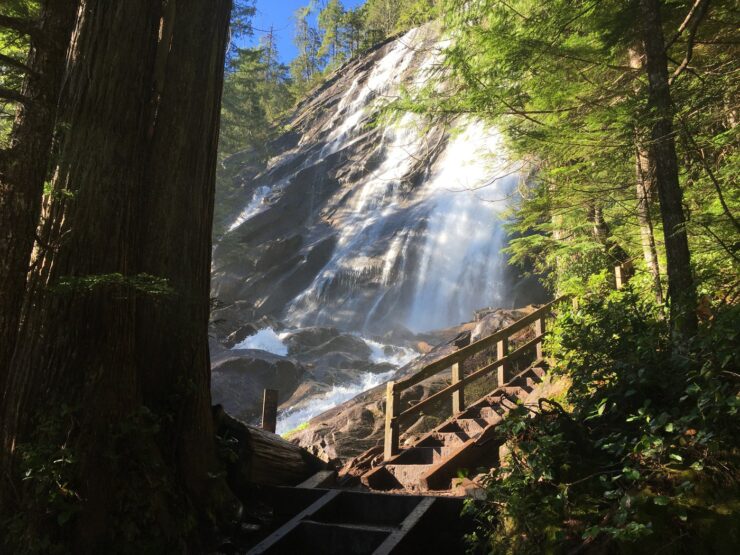 Taos Ski Valley area is the home of Bridal Veil Falls, a picturesque waterfall often overlooked by tourists. The falls drop approximately 80 feet into a rocky canyon, surrounded by lush greenery and stunning alpine scenery.
The hike to Bridal Veil Falls is relatively short and easy, making it accessible to visitors of all ages and abilities. The waterfall is especially beautiful in the spring and early summer when the snowmelt from the surrounding peaks feeds the falls, creating a bridal veil-like appearance, hence its name.
Conclusion and Takeaways
New Mexico's waterfalls offer a diverse and awe-inspiring range of natural beauty. From serene and tranquil cascades to dramatic plunges into deep pools, these waterfalls are sure to captivate your senses and leave you with lasting memories.
Whether you're a seasoned hiker or just looking for a peaceful escape into nature, these stunning waterfalls in the Land of Enchantment are worth exploring. So, pack your hiking boots, grab your camera, and embark on an unforgettable adventure to witness the breathtaking beauty of New Mexico's waterfalls.