Mississippi, often known as the Magnolia State, is a treasure trove of natural beauty. While it may not be the first place that comes to mind when you think of waterfalls, this southern state has some hidden gems that are worth exploring.
In this blog post, we'll take a journey through six captivating waterfalls, each with its own unique charm and allure. Waterfalls have a magical quality that draws us in.
The sound of water cascading down rocks, the misty air, and the lush greenery that often surrounds these natural wonders make them a must-visit. In Mississippi, you'll find a variety of waterfalls, from small trickles to more majestic flows, each offering a unique experience.
Mississippi may not be the first state you think of when planning a waterfall expedition, but that's what makes it so special. The waterfalls here are less crowded, giving you the opportunity to enjoy them in peace.
Plus, the state's diverse landscapes provide a stunning backdrop for these natural wonders.
Why Visit Mississippi for Waterfalls?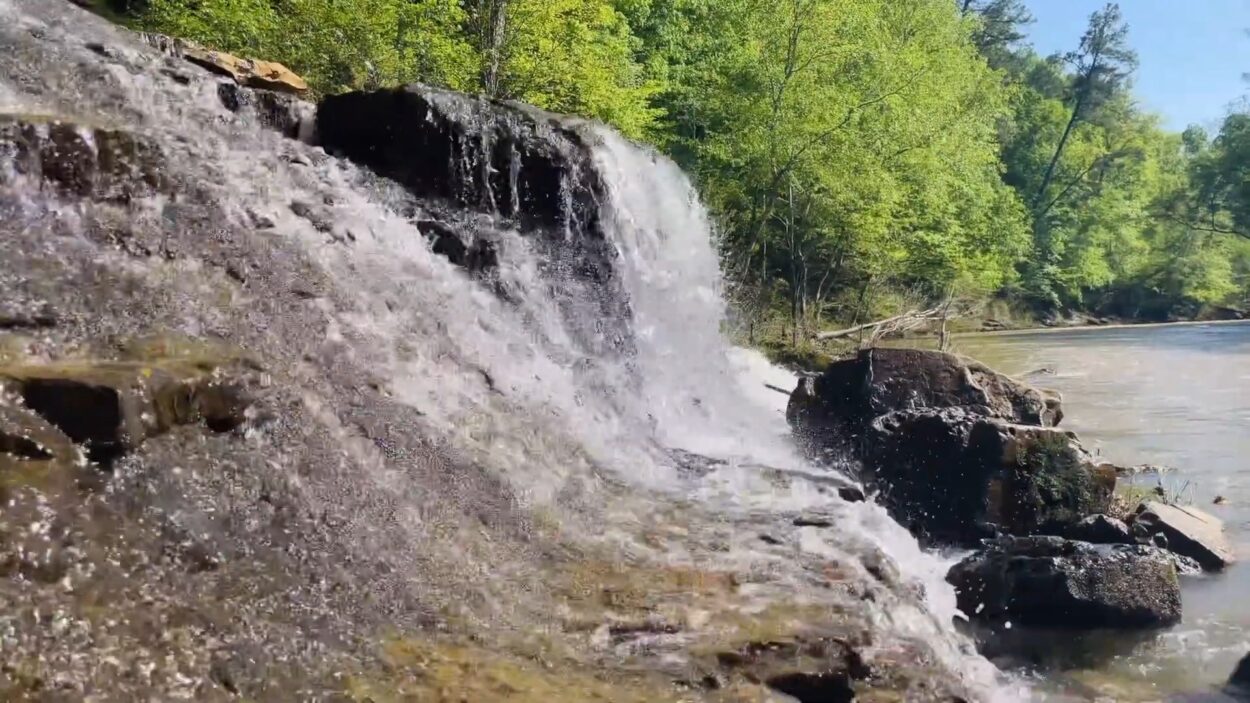 Mississippi offers a unique blend of southern charm and natural beauty. But why should you consider it as your next waterfall destination?
Let's find out.
Hidden Beauty
Mississippi's waterfalls are often overlooked, which means you get to enjoy them without the crowds. These hidden gems are tucked away in forests, making the journey to find them an adventure in itself.
The sense of discovery and solitude you'll feel is unmatched.
Accessibility
One of the best things about Mississippi's waterfalls is how accessible they are. Whether you're an experienced hiker or someone who prefers a leisurely walk, there's something for everyone.
Many falls are just a short hike from the parking lot, making them perfect for a quick nature escape.
1. Clark Creek Natural Area
Nestled in southwestern Mississippi, Clark Creek Natural Area is a haven for nature lovers. With over 700 acres of pristine wilderness, it's home to more than 50 waterfalls, making it a must-visit.
The Main Waterfall
The main waterfall at Clark Creek is a sight to behold. Standing at around 30 feet, it's one of the tallest in the state.
The water plunges into a crystal-clear pool below, perfect for a refreshing dip on a hot day. The surrounding area is rich in flora and fauna, adding to the waterfall's natural beauty.
Hiking Trails
Clark Creek offers a variety of hiking trails to suit all levels. The Waterfall Trail is a popular choice, taking you past several smaller falls before reaching the main attraction.
The trail is well-marked and offers plenty of photo opportunities along the way. For those looking for a challenge, the Primitive Trail offers a more rugged hiking experience.
2. Dunn's Falls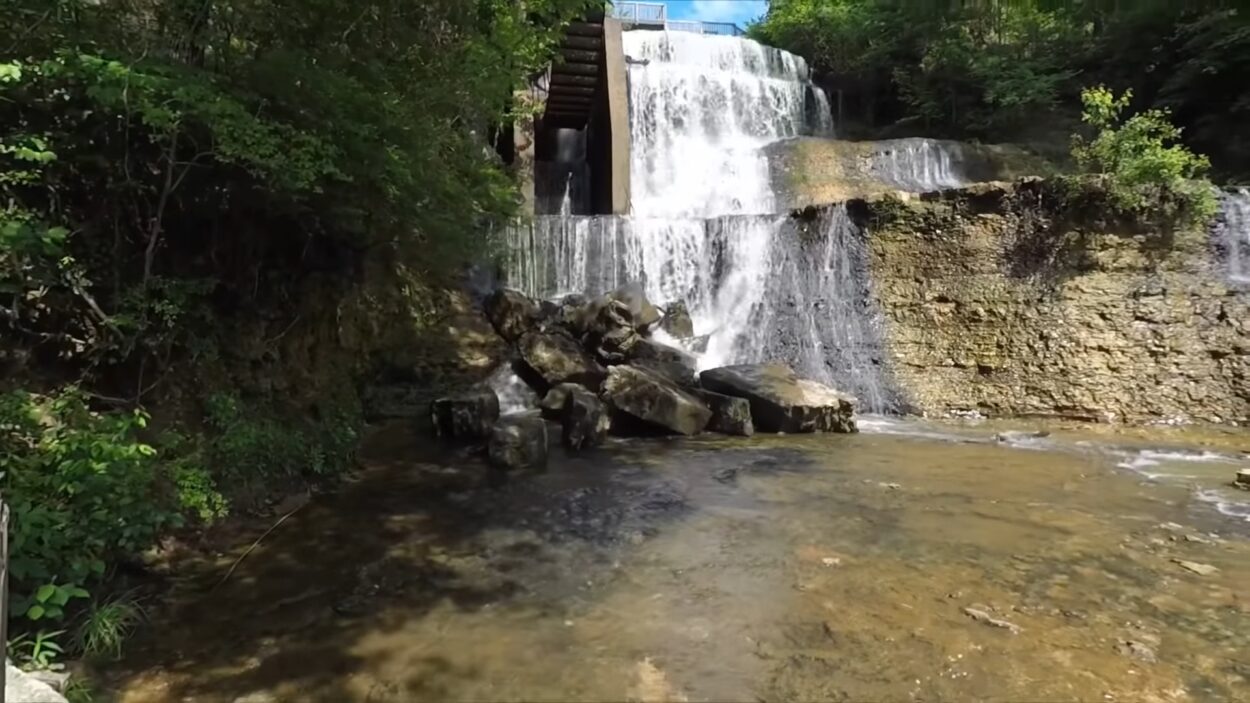 Dunn's Falls, located near Enterprise, is another must-see waterfall in Mississippi. With a drop of 65 feet, it's the tallest waterfall in the state, offering a truly awe-inspiring experience.
The Waterwheel
What sets Dunn's Falls apart is the historic waterwheel situated beside the waterfall. This waterwheel was originally used in the 1850s for milling purposes.
Today, it adds a touch of history to the natural beauty of the falls. It's a perfect spot for photography, capturing both the man-made and natural wonders in one frame.
Best Time to Visit
The best time to visit Dunn's Falls is in the spring or fall when the weather is mild, and the foliage is at its peak. The colors of the leaves create a stunning contrast with the flowing water, making it a photographer's paradise.
Plus, the cooler temperatures make for a more comfortable hiking experience.
3. Tishomingo State Park
Tishomingo State Park is a haven for outdoor enthusiasts. Located in the foothills of the Appalachian Mountains, the park offers a range of activities from hiking and rock climbing to fishing and canoeing.
Bear Creek Canyon
Within Tishomingo State Park, you'll find the beautiful Bear Creek Canyon. While the waterfalls here are smaller compared to others in the state, they offer a unique charm.
The creek winds through rocky outcrops and lush forests, creating several cascades along its course. It's a peaceful spot to relax and enjoy nature.
Hiking and More
Tishomingo offers several hiking trails that take you past these charming waterfalls. The Outcroppings Trail is a popular choice, featuring not just waterfalls but also fascinating rock formations.
If you're up for more adventure, the park also offers canoeing and fishing opportunities, making it a perfect spot for a day of outdoor activities.
4. Merit Water Park
Merit Water Park is a lesser-known spot that offers a delightful escape from the hustle and bustle of daily life. Located in the small town of Merit, this park is home to a beautiful waterfall that's perfect for a family outing.
The Waterfall and Pool
The waterfall at Merit Water Park is smaller but incredibly scenic. The water flows over a series of rocks into a shallow pool below, making it a safe and enjoyable spot for kids to play.
The surrounding area is equipped with picnic tables and grills, so you can make a day of it.
Accessibility and Amenities
One of the best things about Merit Water Park is its accessibility. The waterfall is just a short walk from the parking area, making it suitable for visitors of all ages.
The park also offers restrooms and other amenities, ensuring a comfortable visit for everyone.
5. Owens Creek Waterfall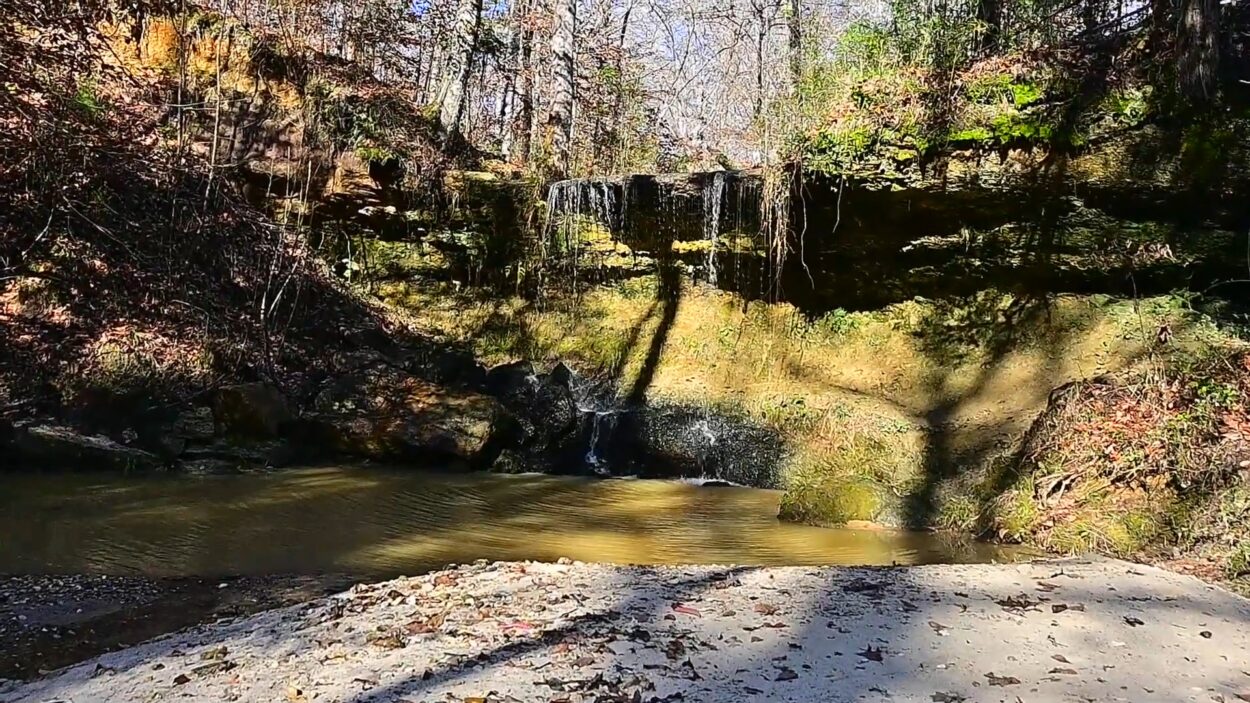 Owens Creek Waterfall is another hidden gem located in the Natchez Trace Parkway. This waterfall is particularly special because of its serene setting and easy accessibility.
The Scenic Beauty
Owens Creek Waterfall is surrounded by lush greenery, making it a perfect spot for nature lovers. The waterfall itself is a series of cascades that flow over rocks, creating a soothing sound that adds to the tranquility of the area.
It's a great place to sit back, relax, and soak in the beauty of nature.
Easy Access
One of the best things about Owens Creek is how easy it is to get to. The waterfall is visible from the road, and a short, paved trail leads you right to it.
This makes it an excellent option for those who may not be up for a strenuous hike but still want to experience the beauty of a Mississippi waterfall.
6. Union Falls
Union Falls is a mesmerizing spectacle located within a secluded forest reserve. Its breathtaking beauty and allure have made it a must-visit destination for travelers and nature aficionados alike.
The Scenic Beauty
Encircled by dense foliage and vibrant flora, Union Falls offers a visual treat for those fortunate enough to witness it. The waterfall cascades gracefully over layered rock formations, producing a melodic symphony of water sounds that accentuate the peaceful ambiance of the location.
It's a haven for visitors to disconnect, unwind, and bask in nature's magnificence.
Easy Access
A standout feature of Union Falls is its commendable accessibility. The shimmering falls can be spotted from nearby vantage points, and a smooth, paved pathway guides adventurers directly to its base.
Its convenience ensures that even those not inclined towards rigorous treks can effortlessly enjoy the splendor of the falls and its surrounding landscape.
Frequently Asked Questions (FAQ)
Do I need a permit to visit these waterfalls?
No, most of the waterfalls in Mississippi are located in public parks and natural areas, so you generally do not need a permit. However, it's always a good idea to check the specific regulations of the area you plan to visit.
Are these waterfalls safe for swimming?
Some waterfalls have pools that are safe for swimming but always exercise caution. The depth can vary, and there may be underwater rocks. Always check local guidelines or consult with park rangers.
What should I bring for a waterfall hike?
Comfortable hiking shoes
Water bottle
Snacks
Camera
Bug spray
Sunscreen
Is camping allowed near these waterfalls?
Camping policies vary by location. Some parks, like Tishomingo State Park and Little Biloxi State Park, offer designated camping areas. Always check the specific rules of the area you're visiting.
Are pets allowed?
In most state parks, pets are allowed but must be kept on a leash. However, it's best to check the specific rules of each location before bringing your furry friend.
Final Words
Mississippi's waterfalls are a testament to the state's underrated natural beauty. From the tallest falls to the most accessible, each offers a unique experience worth exploring.
So why wait? Adventure calls in the Magnolia State!