Hawaii is renowned for its lush landscapes, pristine beaches, and volcanic mountains. Among its many natural wonders, the islands are also home to a plethora of awe-inspiring waterfalls. From towering cascades to hidden gems tucked away in the tropical rainforests, Hawaii's waterfalls are a sight to behold.
Here, we explore some of the most stunning waterfalls that grace the islands of Hawaii.
1. Akaka Falls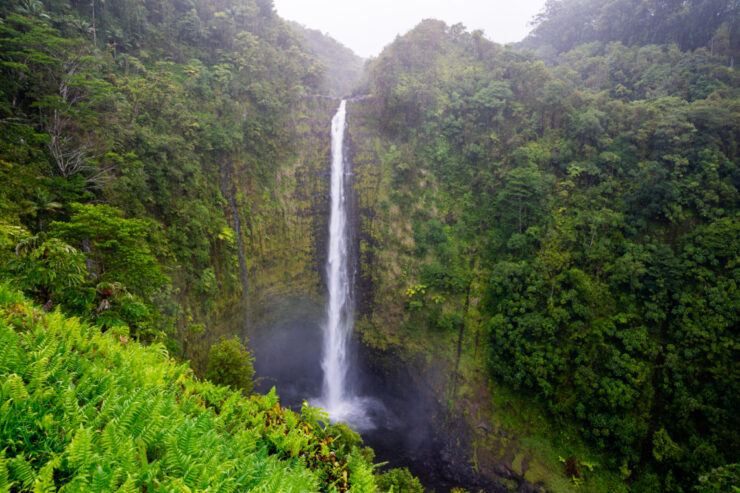 Located on the Big Island of Hawaii, Akaka Falls is one of the most iconic waterfalls in the state. This majestic waterfall plunges 442 feet into a gorge surrounded by lush vegetation, creating a stunning spectacle of cascading water.
A short hike through a well-maintained loop trail takes you to viewpoints that offer breathtaking views of Akaka Falls as well as the smaller Kahuna Falls. The lush greenery and dramatic drop of Akaka Falls make it a must-visit destination for any waterfall enthusiast.
2. Wailua Falls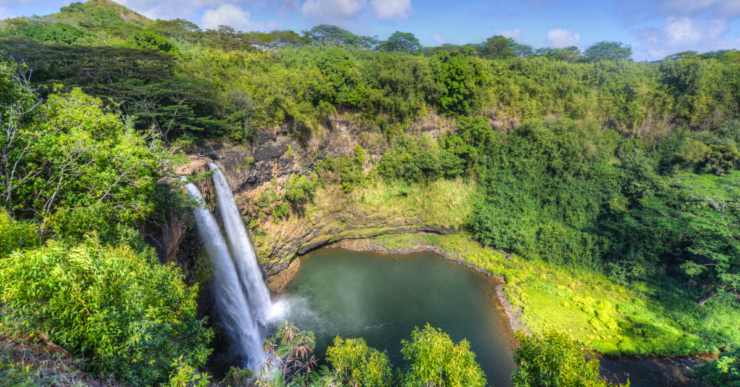 Situated on the island of Kauai, Wailua Falls is a double-tiered waterfall that is both majestic and easily accessible. Located just off the road, you can view these stunning falls from a viewpoint above or hike down to the base for a closer look.
The falls drop 80 feet into a pool below, surrounded by lush tropical foliage, creating a picturesque scene that has been featured in numerous films and TV shows. The serene and scenic beauty of Wailua Falls makes it a popular destination for visitors to Kauai.
3. Manoa Falls
Nestled in the lush Manoa Valley on the island of Oahu, Manoa Falls is a tranquil and enchanting waterfall that is easily accessible from the city of Honolulu. A moderate hike through a verdant rainforest takes you to the base of this 150-foot waterfall, surrounded by ferns, bamboo, and vibrant flowers. The ethereal beauty of Manoa Falls has made it a popular spot for photographers, nature lovers, and hikers alike.
4. Rainbow Falls
Located in Hilo on the Big Island of Hawaii, Rainbow Falls is a picturesque waterfall known for its scenic beauty and cultural significance. Legend has it that the waterfall is named "Rainbow Falls" because rainbows can often be seen in the mist created by the waterfall.
The falls drop about 80 feet into a turquoise pool, surrounded by lush vegetation and volcanic rock formations. Rainbow Falls is easily accessible and offers a serene and peaceful setting that is perfect for soaking in the natural beauty of Hawaii.
5. Waipoo Falls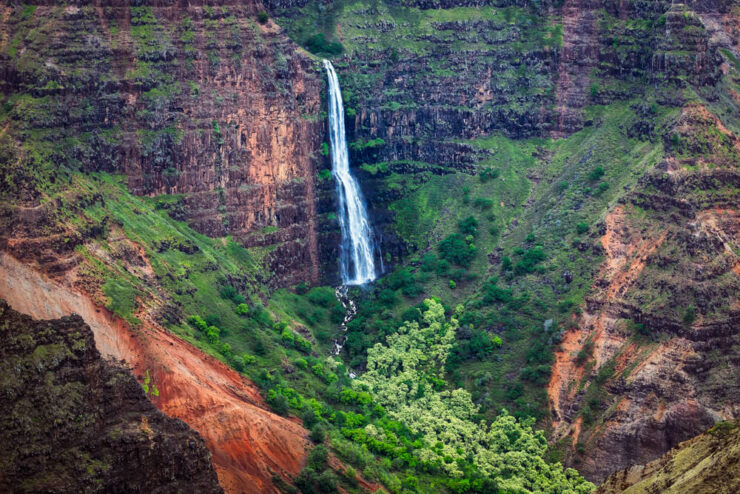 Situated in Waimea Canyon, also known as the "Grand Canyon of the Pacific," on the island of Kauai, Waipoo Falls is a stunning waterfall that is accessible via a moderate hike.
The falls drop approximately 800 feet into a lush canyon, surrounded by vibrant greenery and dramatic red cliffs. The hike to Waipoo Falls offers breathtaking views of the canyon and the waterfall, making it a rewarding experience for nature enthusiasts and hikers alike.
6. Hanakapiai Falls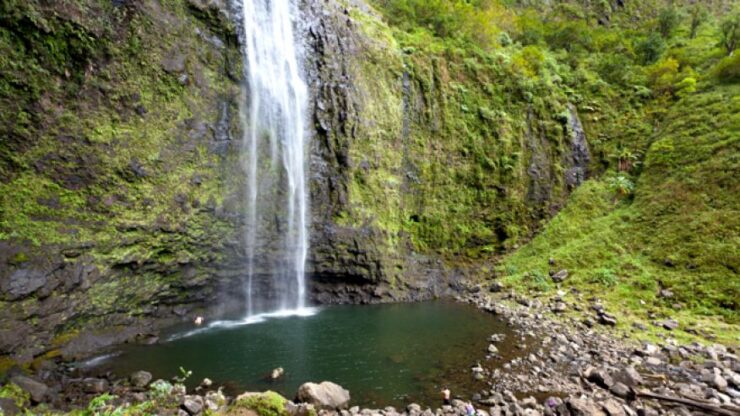 Nestled along the rugged Na Pali Coast on the island of Kauai, Hanakapiai Falls is a remote and breathtaking waterfall that can be accessed via a challenging hike. The hike to the falls requires crossing streams and traversing a muddy trail, but the reward is well worth it.
Hanakapiai Falls drops approximately 300 feet into a serene pool, surrounded by lush tropical vegetation and dramatic cliffs. The secluded and untouched beauty of Hanakapiai Falls offers a true sense of adventure and exploration for those willing to make the trek.
7. Sacred Falls
Located on the island of Oahu, Sacred Falls, also known as 'Ohe'o Gulch, is a majestic waterfall nestled in a lush, verdant valley. Access to Sacred Falls is currently restricted due to safety concerns, but the waterfall's beauty is still admired from a distance.
The falls drop approximately 80 feet into a turquoise pool, surrounded by sheer cliffs and dense foliage, creating a serene and pristine setting. Despite limited access, Sacred Falls remains a captivating and sacred site that continues to mesmerize visitors with its natural splendor.
8. Umauma Falls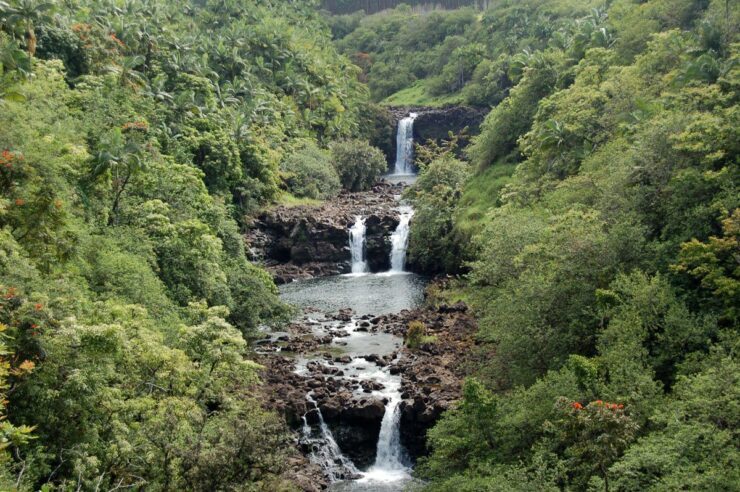 Situated on the Big Island of Hawaii, Umauma Falls is a series of three stunning waterfalls that can be viewed from a zipline adventure or via a guided tour. The falls drop in tiers, with the first tier being the most impressive at approximately 100 feet in height.
The lush surroundings, including ferns, flowers, and a botanical garden, make Umauma Falls a picturesque and unforgettable destination. Visitors can also take a dip in the refreshing pools at the base of the falls, adding an element of adventure and fun to the experience.
9. Hiilawe Falls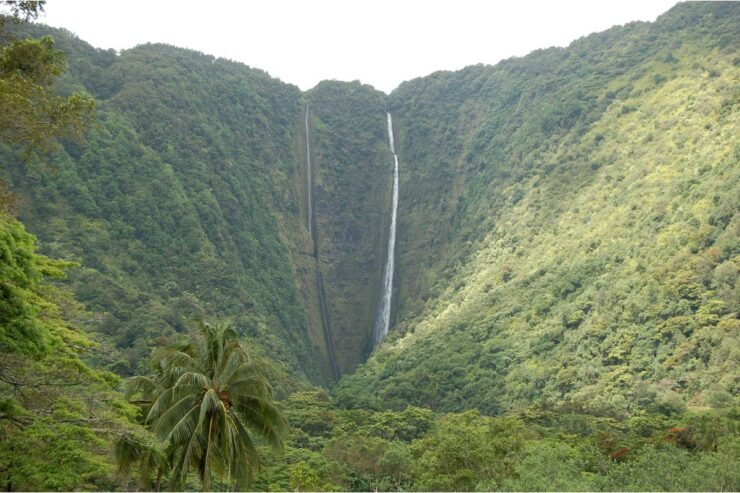 In the Waipio Valley on the Big Island, Hiilawe Falls drops approximately 1,200 feet. It is one of the tallest waterfalls in Hawaii. Its falls are visible from a distance from the Waipio Valley lookout. Also, you can embark on a challenging hike to get a closer view of this mesmerizing waterfall.
The Waipio Valley has dramatic cliffs, lush greenery, and stunning scenery. The Hiilawe Falls is a true highlight of this magical place.
If you're planning a trip to Hawaii to explore the stunning waterfalls in the tropics, make sure to check out the latest article on our website for important information about the local wildlife, including potentially venomous snakes.
Conclusion: No Shortage of Cascades in the Aloha State
Hawaii's waterfalls are some of nature's most spectacular wonders, showcasing the beauty and diversity of these tropical islands. From towering cascades to hidden gems in lush rainforests, the waterfalls of Hawaii offer breathtaking scenery.
A unique experience for visitors is guaranteed. Whether an adventure seeker, a nature lover, or someone who appreciates waterfalls, Hawaii is an unforgettable experience. It will leave you in awe of the natural wonders of the Aloha State. Plan your visit to Hawaii and the mesmerizing beauty of its waterfalls!