WAILUKU, Hawaii – The serene island of Maui, a paradise known for its pristine beaches and vibrant culture, faced an unprecedented tragedy as the Lahaina fire claimed 36 lives, according to a statement from Maui County.
The wildfire, intensified by the gusty winds of Hurricane Dora, left a trail of devastation in its wake, turning bustling streets into ghostly scenes of charred vehicles and reducing historic landmarks to smoldering ruins.
As night fell, the roaring flames drove terrified residents to seek refuge in the ocean's embrace. The fire's wrath spared little, with 271 structures either damaged or obliterated, and countless injured.
Kamuela Kawaakoa, a Lahaina native, recounted the heart-wrenching moment of fleeing with his family as the world he knew crumbled around him. "Watching my town turn to ashes, feeling so powerless… it's a pain I can't describe," Kawaakoa shared, his voice heavy with emotion.
The town of Lahaina, a gem dating back to the 1700s and a beloved tourist hotspot, now stands scarred. Aerial footage paints a grim picture: once-thriving businesses on Front Street reduced to rubble, boats in the harbor charred, and the once-green canopy replaced by the haunting silhouette of burnt trees.
Richard Olsten, a veteran helicopter pilot, remarked, "In my 52 years here, I've never witnessed such devastation. It brought tears to my eyes."
The King Kamehameha III Elementary, a school that stood as a testament to Lahaina's rich history, now faces an uncertain future. Keith Hayashi, State Department of Education Superintendent, expressed concerns over the extensive damage it sustained.
The Coast Guard's valiant efforts saw 14 individuals, including children, rescued from the water's deadly grasp. Among the injured, three critically burned victims were airlifted to Straub Medical Center on Oahu.
Mayor Richard Bissen Jr. addressed the community, emphasizing the challenges posed by the dry conditions, low humidity, and fierce winds. Over 2,100 souls sought shelter in evacuation centers, while the Hawaii Convention Center in Honolulu braced to accommodate thousands of displaced individuals.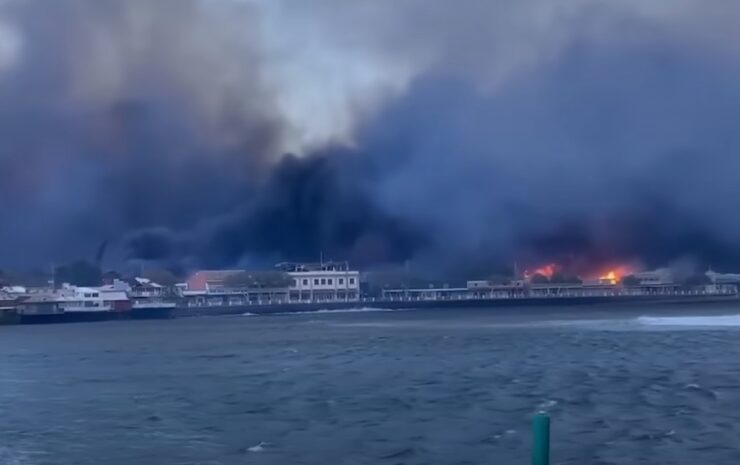 Mauro Farinelli, a Lahaina resident, likened the fire's ferocity to a blowtorch, recounting how the fierce winds trapped his car in his garage.
President Joe Biden pledged federal support, mobilizing the Hawaii National Guard for rescue and fire suppression operations. Former President Barack Obama, Hawaii's son, expressed his sorrow on social media, reflecting the sentiments of many.
Alan Dickar, a local business owner, captured the flames' fury on video, lamenting the loss of his properties. "Every significant thing I owned burned down today," he said, emphasizing his gratitude for escaping unharmed.
While Maui grappled with this catastrophe, Hawaii's Big Island too faced wildfires, though no casualties or significant damages were reported.
The National Weather Service attributed the intense winds to Hurricane Dora, which skirted south of the islands. With power outages affecting approximately 14,500 Maui residents and communication lines disrupted, many turned to social media to connect with loved ones.
Acting Gov. Sylvia Luke issued an emergency proclamation, urging visitors to steer clear of the affected areas. "This is not a safe place to be," she warned.
As the embers of the Lahaina fire continue to smolder, the resilient spirit of its residents shines through. Iiulia Yasso, who escaped the blaze with Kawaakoa, emphasized the collective loss. "It's not just about the homes. It's about our memories, our history. We all lost a piece of ourselves in this fire."