In the world of sports, speed is often the difference between victory and defeat. It's the electrifying factor that keeps fans on the edge of their seats, waiting for that game-changing moment.
In the National Football League (NFL), where every second and every inch counts, speed is not just an asset; it's a weapon. Over the decades, the NFL has been graced by players whose speed was nothing short of legendary.
These athletes, with their unparalleled acceleration and velocity, have not only broken records but have also redefined the very essence of the game.
Their impact goes beyond just running fast; they've changed game strategies, influenced drafts, and left a legacy that future generations aspire to.
As we journey through the annals of NFL history, let's take a closer look at ten such speedsters who, with their blistering pace, have etched their names in the annals of the league.
1. Deion Sanders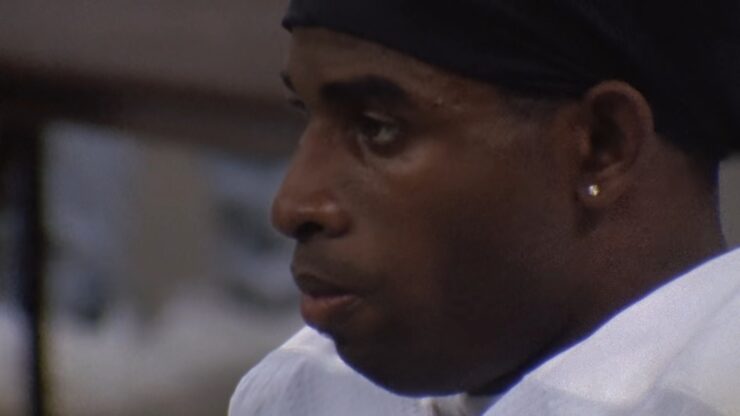 Position: Cornerback, wide receiver
Teams: Atlanta Falcons, San Francisco 49ers, Dallas Cowboys, Washington Football Team, Baltimore Ravens
Years active: 1989-2005
Deion "Prime Time" Sanders was nothing short of electrifying. His speed was evident when he clocked a 40-yard dash in just 4.27 seconds at the 1989 NFL Combine. Although he unofficially ran a 4.21 time, it was considered wind-aided.
Sanders' prowess wasn't limited to football; he was a multi-sport athlete, excelling in baseball as well. His speed made him one of the most formidable return men in NFL history, second only to Devin Hester in non-offensive touchdowns.
2. Darrell Green
Position: Cornerback
Teams: Washington Football Team
Years active: 1983-2002
Darrell Green's speed is legendary. He reportedly ran a 40-yard dash in 4.43 seconds—at the age of 50! While this claim is yet to be verified, there's no doubt about his speed during his playing days.
Rumors suggest he clocked a 40-yard dash in a staggering 4.09 seconds during a training camp in 1986. Green's official time of 10.08 in the 100 meters in college further cements his place among the fastest NFL players.
3. Fabian Washington
Position: Cornerback
Teams: Oakland Raiders, Baltimore Ravens
Years active: 2005-2010
Fabian Washington showcased his speed early on, running a 4.29 40-yard dash during his senior year of high school. He followed this up with a 4.25 at the 2005 NFL Combine.
His 10-yard split of 1.50 and 20-yard split of 2.43 rank among the fastest in combined history. However, while his speed was a significant asset, his coverage skills often left much to be desired, leading to a relatively short NFL career.
4. Renaldo Nehemiah
Position: Wide receiver
Teams: San Francisco 49ers
Years active: 1982-1984
Before stepping onto the NFL field, Renaldo Nehemiah was already a sensation in the track world. He was the first man to complete the 110-meter high hurdles in under 13 seconds, setting a world record in 1981 with a time of 12.93 seconds.
Despite not playing football in college, the 49ers saw potential and signed him in 1982. Nehemiah spent three years with the team, even securing a Super Bowl ring in 1984. However, after the 49ers drafted Jerry Rice, Nehemiah returned to his track career.
5. John Ross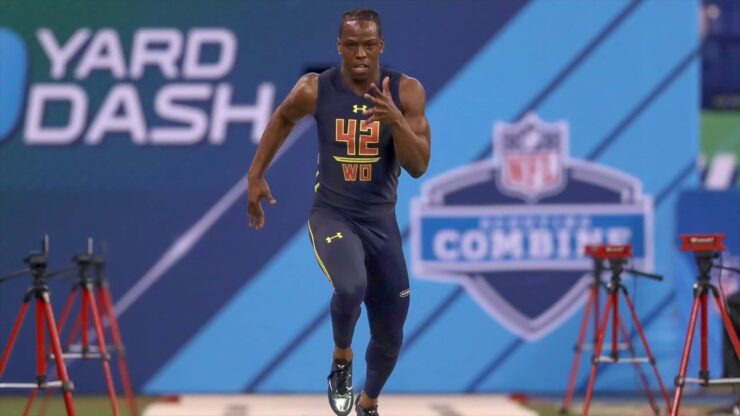 Position: Wide receiver
Teams: Cincinnati Bengals
Years active: 2017-present
John Ross made headlines when he set a new NFL combine record, running the 40-yard dash in a blistering 4.22 seconds in 2017. This feat led to the Bengals selecting him in the first round of the NFL Draft.
Unfortunately, injuries have plagued Ross's career, limiting his appearances. However, when fit, Ross's speed is undeniable, capable of outpacing defenses with ease.
6. Tyreek Hill
Position: Wide receiver
Teams: Kansas City Chiefs
Years active: 2016-present
Tyreek Hill is a name synonymous with speed in the current NFL era. He announced his arrival with a 4.29 time in the 40-yard dash during his pro day.
Since joining the NFL in 2016, Hill has been a constant deep threat. He has an impressive record of receiving touchdowns of 25 or more yards and is quickly approaching Jerry Rice's record for touchdowns of 50 or more yards.
Hill's speed isn't just limited to receiving; he also boasts two of the 50 longest punt return touchdowns in NFL history.
7. Dri Archer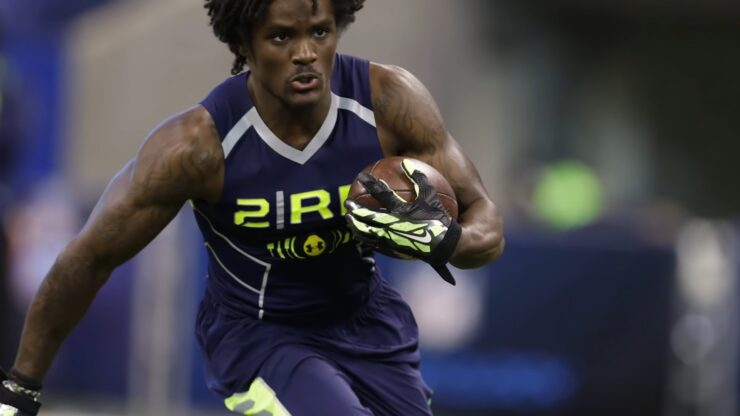 Position: Wide receiver
Teams: Pittsburgh Steelers
Years active: 2014-2015
Dri Archer's name might not resonate with many, but his speed was undeniable. Clocking a 40-yard combine time of 4.26 seconds, he ranks among the fastest ever recorded.
The Pittsburgh Steelers, recognizing his potential, drafted him and attempted to utilize his speed both as a wideout and on special teams. However, despite his blistering pace, Archer struggled to find his footing in the NFL and exited the league after just two years.
8. Chris Johnson
Position: Running back
Teams: Tennessee Titans, New York Jets, Arizona Cardinals
Years active: 2008-2017
Chris "CJ2K" Johnson was a force to be reckoned with during his prime. In 2009, he set an NFL record by amassing 2,509 yards from scrimmage in a single season.
His speed was evident at the 2008 NFL Combine, where he registered a 4.24 time in the 40-yard dash, a record at that time.
Johnson's speed was not just for show; once he found an opening on the field, few could catch him. Though injuries impacted his career, at his peak, there were few players as intimidating as CJ2K.
9. Bo Jackson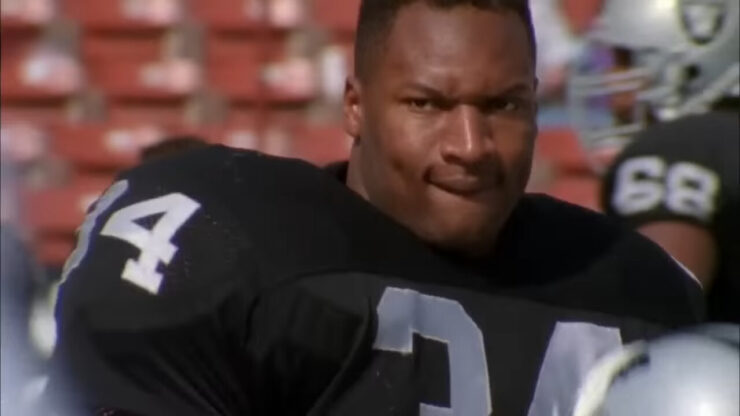 Position: Running back
Teams: Los Angeles Raiders
Years active: 1987-1990
Bo Jackson is a name that transcends the NFL, known for his exploits in both baseball and football. His 40-yard dash time of 4.13, though hand-timed, remains one of the fastest verified times in NFL history.
Despite his short NFL career, curtailed by injury, Jackson's impact was profound. Averaging over five yards per carry, he showcased a blend of power and speed that was rarely seen.
His legendary status is further cemented by tales of his incredible feats, both on and off the field.
10. Bob Hayes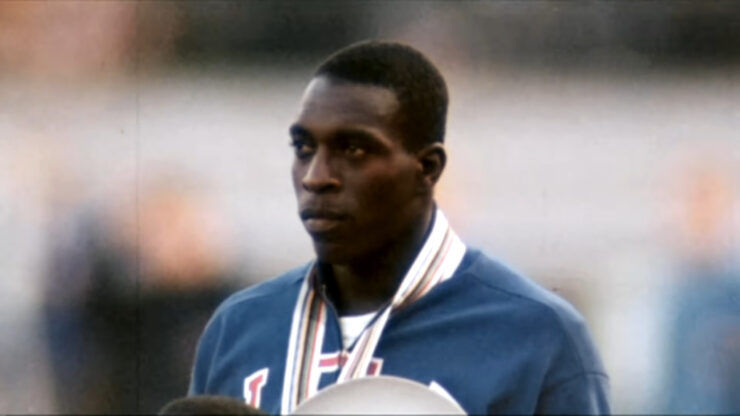 Position: Wide receiver, split end
Teams: Dallas Cowboys, San Francisco 49ers
Years active: 1965-1975
"Bullet Bob" Hayes was not just an NFL star; he was a global sprinting sensation. Before gracing the NFL, Hayes set world records in sprinting, including a 9.1 second time in the 100-yard dash.
Representing the United States at the Olympics, he clinched gold in the 100-meter dash with a record time of 10.06 seconds. In the NFL, Hayes's speed was a game-changer, stretching defenses and creating opportunities for his teammates.
His unique achievement of winning both an Olympic gold medal and a Super Bowl solidifies his place among the greats.
FAQ
How is speed measured during the NFL Combine?
Speed is primarily measured using the 40-yard dash at the NFL Combine. It's a test of acceleration and top-end speed, and it's one of the most watched events during the Combine.
Are there other positions in the NFL where speed is crucial besides wide receivers and cornerbacks?
Absolutely! While wide receivers and cornerbacks are often highlighted for their speed, running backs, safeties, and even some linebackers benefit greatly from having quick acceleration and top-end speed.
How does playing on different surfaces, like turf vs. grass, impact a player's speed?
The surface can play a role. Turf is generally considered faster than natural grass, but the difference can be marginal and varies based on the quality and maintenance of the surface.
Has there been a noticeable increase in player speed over the years?
With advancements in training, nutrition, and recovery techniques, players today are generally faster and more athletic than in previous generations. However, the NFL has always had standout speedsters in every era.
How do injuries, especially leg and foot injuries, impact a player's speed?
Injuries can have a significant impact on a player's speed, especially if not rehabilitated properly. However, with modern medical advancements, many players return to their pre-injury speed or even improve upon it.
Final Words
The NFL has always been a showcase of not just skill and strategy, but also raw, unbridled athleticism. Speed, in particular, has been a game-changer, turning ordinary plays into highlight-reel moments and ordinary players into legends.
As we've journeyed through the tales of the fastest players, it's evident that speed is more than just a number; it's an embodiment of hard work, dedication, and the relentless pursuit of greatness.
As the league evolves, we can only anticipate more speedsters to grace the field, pushing the boundaries of human potential and adding chapters to the rich tapestry of the NFL.