Dog parks provide a unique opportunity for canines and their owners to socialize, exercise, and enjoy the outdoors together. In Tulsa, Oklahoma, dog parks have become increasingly popular, offering a safe and welcoming space for dogs to play and interact.
In this article, we explore some of the top spots in Tulsa and highlight their features, amenities, and the benefits they offer to both dogs and their owners.
1. Joe Station Dog Park
In the very heart of Tulsa, Joe Station Dog Park is a well-known and beloved park for dog enthusiasts. This park covers a sizable area, providing ample space for dogs to roam and play freely. It has two sections, one for smaller dogs and another for larger breeds, ensuring a comfortable environment for all.
Joe Station Dog Park features various amenities, including water fountains for both dogs and their owners, waste disposal stations, and shaded seating areas. The park also offers well-maintained walking trails, allowing visitors to take leisurely strolls while their furry friends explore and socialize.
2. Biscuit Acres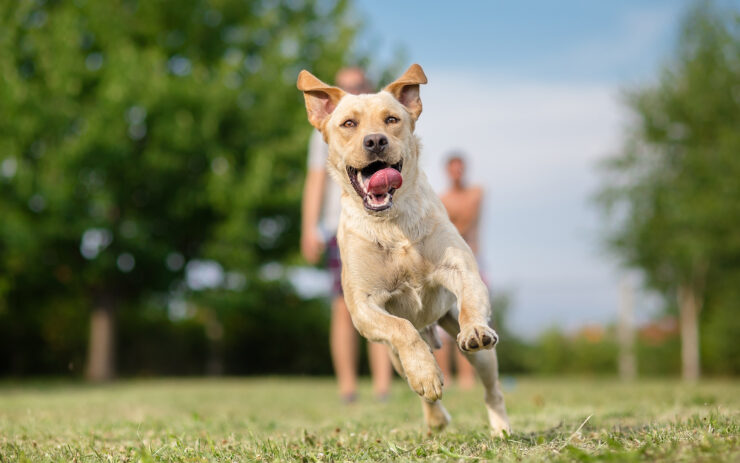 Biscuit Acres within Hunter Park, is a popular dog park in Tulsa. This expansive park offers a beautiful landscape with lush greenery, trees, and walking paths, creating a serene environment for both dogs and their owners to enjoy.
The park includes separate play areas for large and small dogs, ensuring compatibility and safety during playtime. Biscuit Acres is known for its engaging dog agility equipment, providing an opportunity for dogs to test their skills and enhance their physical abilities.
Visitors can also find benches and picnic tables throughout the park, allowing for relaxation and socializing with other dog owners.
3. Paw Park at Gathering Place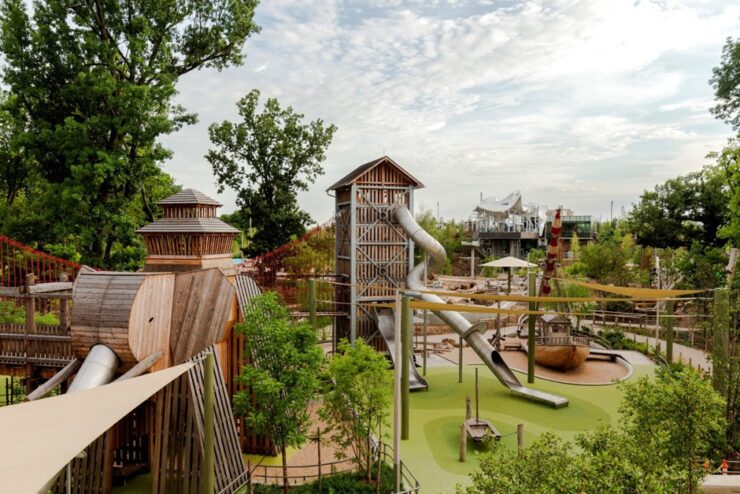 Within the iconic Gathering Place, Paw Park is a gem among Tulsa's dog parks. This park offers a unique blend of natural beauty, vibrant scenery, and a range of amenities tailored to both dogs and their owners.
Paw Park features separate areas for small and large dogs, with well-maintained grassy spaces for play. The park also boasts an enclosed swimming pond, providing a refreshing and enjoyable experience for water-loving canines.
Dog owners can take advantage of various seating options, picnic tables, and even a dog washing station to keep their furry companions clean and happy.
4. Chandler Park Off-Leash Area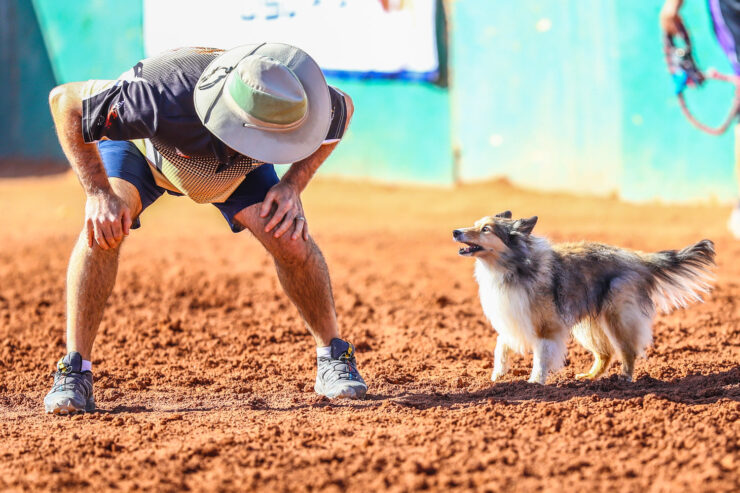 For those seeking a more rugged and adventurous dog park experience, the off-leash area at Chandler Park is a must-visit. On the west side of Tulsa, this park offers an expansive natural setting with rocky terrains, hills, and trails for dogs to explore and conquer.
Chandler Park Off-Leash Area does not provide separate sections for different-sized dogs, but the vast space allows for ample room for all dogs to roam and play.
The park features several water stations for dogs to quench their thirst after a vigorous run. Additionally, the scenic overlook within the park offers breathtaking views of Tulsa's skyline, making it an ideal spot for both dogs and their owners to appreciate the city's beauty.
Dog-owning Rules of Tulsa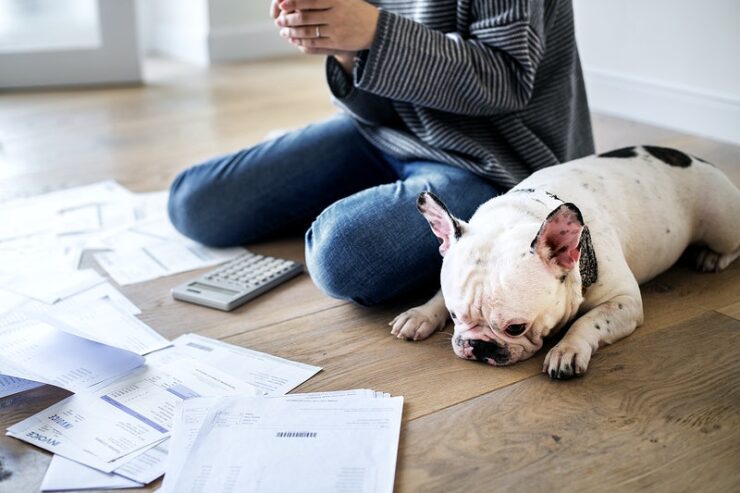 Tulsa, Oklahoma, is a city famous for its pet-friendly atmosphere and responsible dog ownership practices. The residents of Tulsa take pride in providing a safe and nurturing environment for their four-legged companions. Let's delve into some common dog-owning practices observed in Tulsa.
Licensing and Identification
In Tulsa, dog owners must license their pets. This helps to ensure that dogs are up to date on vaccinations and can be easily identified if they are lost or stray.
Licensing can typically be done through local animal control or city government offices, and it often involves providing proof of vaccination and paying a nominal fee.
Proper identification, such as a collar with tags or a microchip, is also encouraged to enhance the chances of reuniting lost dogs with their owners.
Responsible Leash Usage
Responsible leash usage is highly emphasized in Tulsa. When outside of designated off-leash areas, dogs are required to be on a leash.
This practice promotes safety, prevents dogs from wandering off, and minimizes conflicts with other animals or pedestrians. Tulsa residents are typically vigilant about keeping their dogs leashed and maintaining control over them while in public spaces.
Vaccinations and Healthcare
Tulsa dog owners prioritize the health and well-being of their pets. Regular vaccinations, including rabies vaccinations, are essential to protect both dogs and the community from preventable diseases.
Additionally, Tulsa residents make sure their dogs receive routine veterinary care, including wellness exams, dental care, and preventive treatments for fleas, ticks, and heartworms. This commitment to healthcare helps keep dogs in Tulsa healthy and happy.
Socialization and Training
Tulsa dog owners recognize the importance of socialization and training for their pets. They actively seek opportunities to socialize their dogs with other canines and people, promoting positive interactions and well-rounded behavior.
Training classes and obedience schools are readily available in Tulsa, offering a structured environment where dogs can learn essential commands, proper behavior, and good manners.
Responsible Waste Management
Cleanliness and responsible waste management are highly present in Tulsa. Dog owners understand the importance of promptly cleaning up after their pets to maintain the cleanliness of public spaces.
Waste disposal stations with bags and trash bins are always in parks, neighborhoods, and dog-friendly areas throughout the city. This practice ensures a clean and hygienic environment for all residents and visitors.
Dog-Friendly Facilities and Events
Tulsa embraces a dog-friendly culture, evident through the availability of numerous facilities and events catering to canines.
From dog parks with separate areas for different-sized dogs to pet-friendly hiking trails, Tulsa provides ample opportunities for dogs to exercise, socialize, and explore. The city also hosts various dog-centered events, such as adoption drives, charity walks, and pet expos, creating a sense of community among dog owners.
Conclusion
Tulsa, Oklahoma, is home to a variety of dog parks that cater to the needs of four-legged friends and their owners. Whether you're looking for well-maintained play areas, engaging agility equipment, swimming ponds, or rugged terrains, Tulsa has a dog park to suit every preference.
These parks not only provide opportunities for dogs to exercise and socialize but also offer a sense of community and camaraderie among dog owners. Grab a leash, head out to one of these dog parks, and enjoy quality time with your pooch. Every furry companion in the vibrant city of Tulsa is happy to call the place home.