Delaware, the "Diamond State," may be small in size, but it boasts an abundance of natural beauty, captivating landscapes, and hidden gems for outdoor enthusiasts. For those seeking an escape from the hustle and bustle of everyday life, Delaware offers a variety of picturesque camping spots that promise a rejuvenating experience amidst nature's embrace.
From serene coastal retreats to tranquil woodland getaways, this article will guide you through some of the best camping spots in Delaware, ensuring an unforgettable outdoor adventure.
1. Cape Henlopen State Park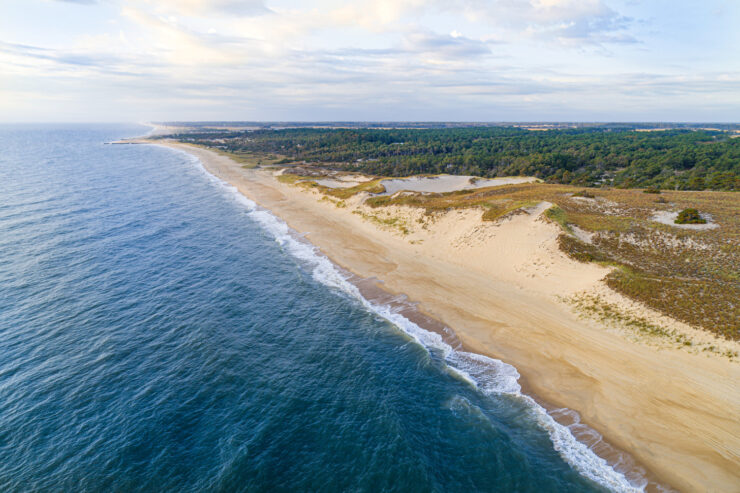 Situated on the coast near Lewes, Cape Henlopen State Park offers a unique camping experience with stunning views of the Atlantic Ocean and Delaware Bay. The park features campsites nestled within the sand dunes, providing campers with easy beach access.
Activities abound, including swimming, fishing, kayaking, and hiking through scenic trails. Make sure to visit the historic Fort Miles and climb to the top of the observation tower for panoramic vistas.
2. Trap Pond State Park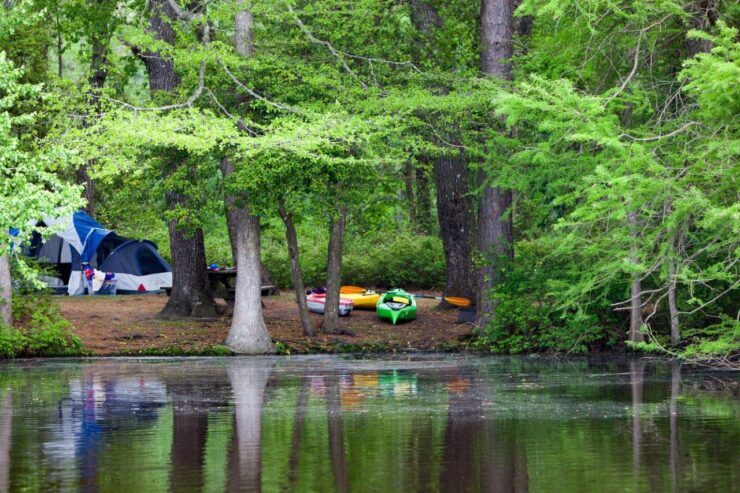 Located in southern Delaware near Laurel, Trap Pond State Park is a true natural gem. The centerpiece of the park is a beautiful bald cypress swamp, one of the northernmost in the United States. Campers can choose from tent or RV camping sites, some of which are waterfront, offering picturesque views of the pond.
Explore the park's serene waterways by renting a kayak or canoe, or hike along the many trails, including the popular Cypress Point Trail, which winds through the enchanting swamp.
3. Lums Pond State Park
Situated in Bear, Delaware, Lums Pond State Park is renowned for its 200-acre freshwater pond, making it a haven for water-based activities. The park offers both tent and RV camping options, with sites nestled among towering trees.
Spend your days kayaking, paddle boarding, or fishing on the pond, or embark on the park's extensive trail system for a scenic hike or bike ride. Adventure enthusiasts can also enjoy ziplining and treetop obstacle courses at the nearby Go Ape! Treetop Adventure.
4. Delaware Seashore State Park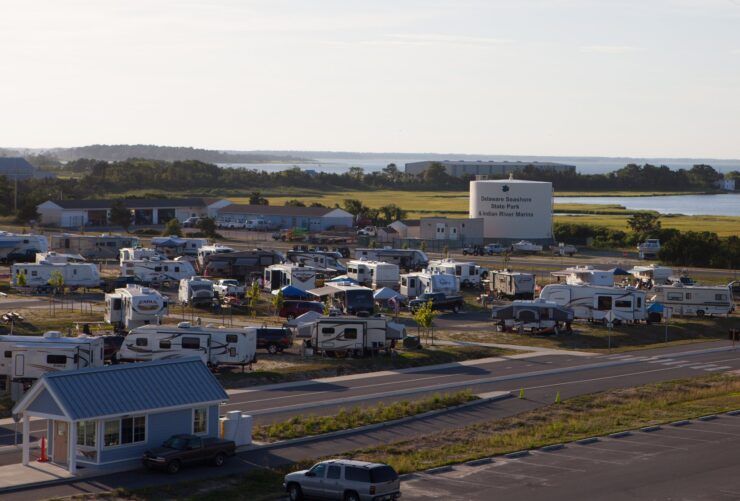 For those seeking a beachfront camping experience, Delaware Seashore State Park, located between Bethany Beach and Dewey Beach, is an ideal destination. The park offers both ocean-side and bay-side camping options, allowing visitors to choose between the crashing waves of the Atlantic Ocean or the calm waters of Rehoboth Bay.
Enjoy swimming, sunbathing, or beachcombing during the day, and as evening falls, gather around a campfire for a mesmerizing sunset view.
5. Brandywine Creek State Park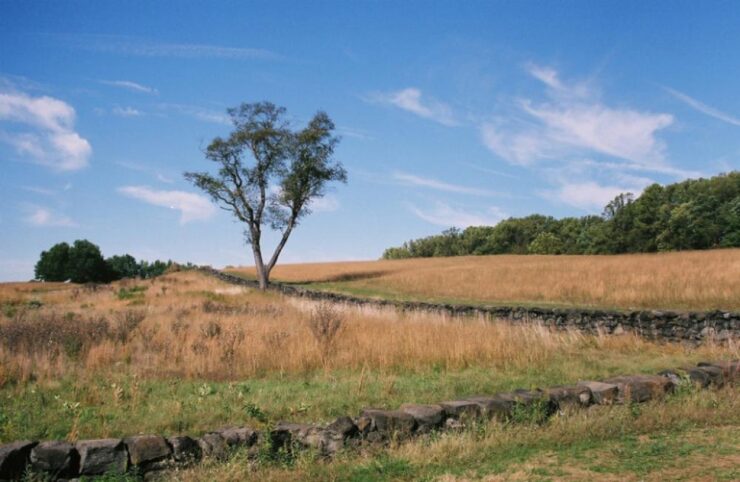 Nestled in the picturesque Brandywine Valley near Wilmington, Brandywine Creek State Park offers a serene camping experience within a tranquil woodland setting. The park features secluded tent camping sites, allowing you to immerse yourself in the beauty of nature.
Explore the park's extensive trail network, meander along the meadows, and admire the majestic Brandywine Creek. Don't miss the historic sites within the park, such as the iconic stone walls of the former Joseph Bancroft Estate.
6. Killens Pond State Park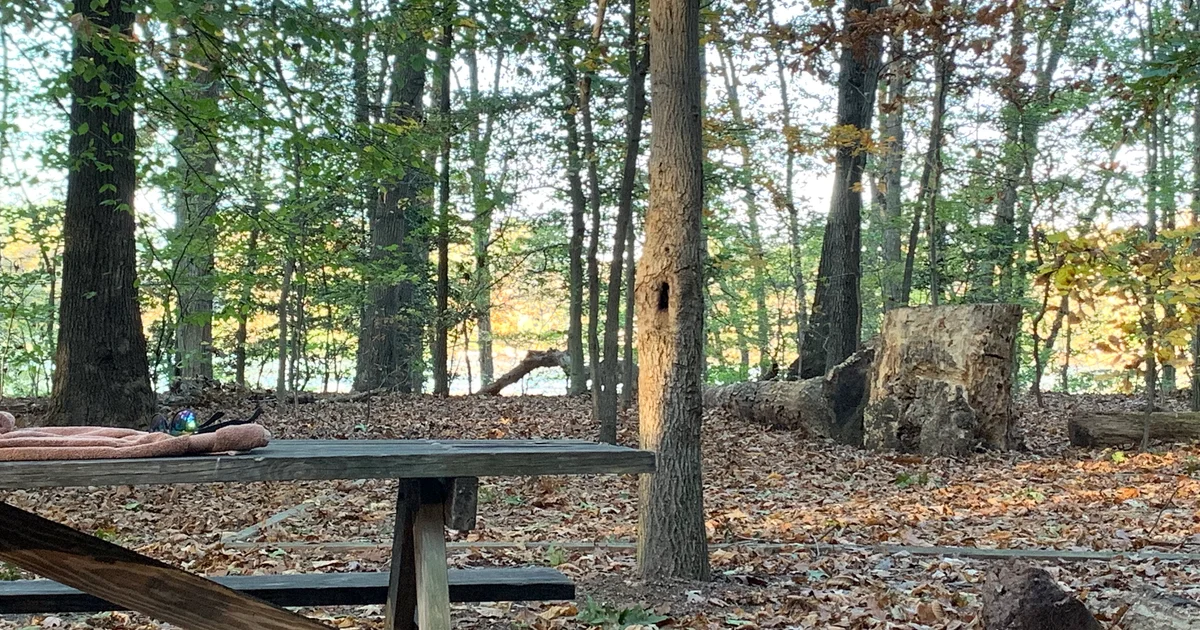 Situated near Felton, Killens Pond State Park offers a tranquil camping experience in a wooded setting. The park features both tent and RV campsites, some of which are nestled along the picturesque Killens Pond. Enjoy swimming, boating, and fishing in the pond, or take advantage of the park's amenities, including a water park, disc golf course, and hiking trails.
7. Holts Landing State Park
Located near Millville, Holts Landing State Park is a hidden gem along Delaware Bay. The park offers tent and RV camping options, with campsites surrounded by lush vegetation and beautiful views. Spend your day birdwatching, kayaking, or paddleboarding, or explore the park's trails and boardwalks that wind through scenic wetlands and woodlands.
8. Redden State Forest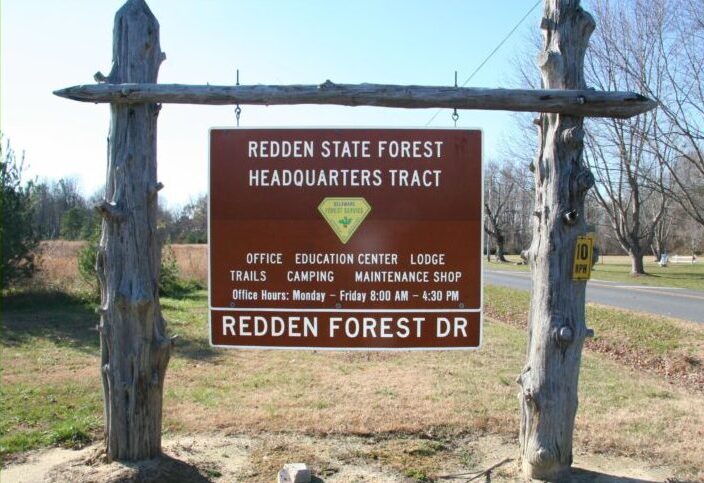 Situated near Georgetown, Redden State Forest offers a peaceful camping experience amid a sprawling pine forest. The forest provides primitive camping sites, allowing you to truly connect with nature. Enjoy hiking, birdwatching, and wildlife spotting in this serene natural oasis.
9. Assateague Island National Seashore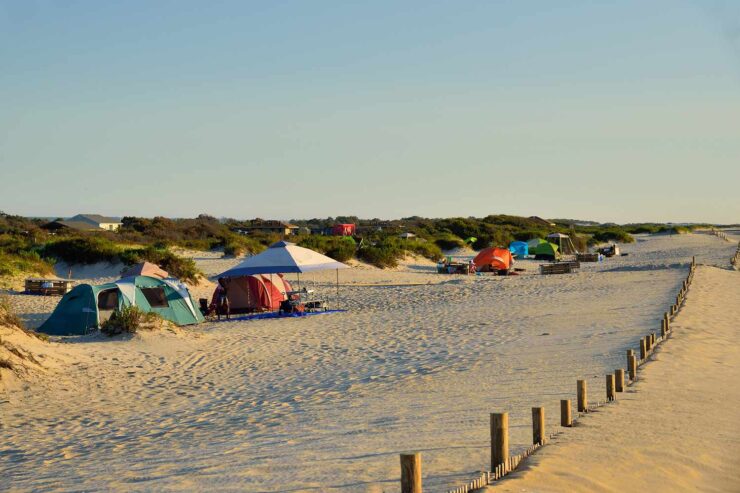 Although actually in Maryland and Virginia, Assateague Island is easily accessible from Delaware and offers a unique camping experience. It is a popular state for Delaware residents so it deserves the last spot on this list.
The island is famous for its wild horses and pristine beaches. Campers can choose between tent camping and RV camping, enjoying the sounds of the ocean and the chance to witness wild horses roaming freely.
FAQs
1. Are campfires allowed?
Yes, campfires are typically allowed at designated fire rings or fire pits in most camping spots in Delaware. However, it's important to check for any specific restrictions or regulations in the particular campground or park you plan to visit.
2. Do I need a camping permit or reservation?
Yes, it is recommended to make a camping reservation in advance for popular camping spots in Delaware, especially during peak seasons. Some parks may require permits for camping, so it's advisable to check with the specific park or campground authorities for their reservation and permit requirements.
3. Are there amenities like showers and restrooms available?
Many camping spots in Delaware offer amenities such as restrooms, showers, and laundry facilities. However, the availability of these amenities may vary depending on the campground or park. It's advisable to check the amenities offered at your chosen camping spot beforehand.
4. Can I bring my pets?
Yes, pets are generally allowed at camping spots in Delaware, but there may be certain restrictions or guidelines regarding leash requirements and pet-friendly areas. It's always a good idea to check the park's pet policy and ensure you follow any regulations to ensure a safe and enjoyable experience for everyone.
5. Are there recreational activities available near?
Absolutely! Delaware camping spots offer a range of recreational activities, including swimming, fishing, boating, hiking, biking, and wildlife observation. Additionally, some parks may have specific attractions like water parks, disc golf courses, or ziplining adventures nearby, providing ample opportunities for outdoor fun and exploration.
Conclusion
Delaware may be the second smallest state in the United States but do not let that fool you. It is teeming with remarkable camping spots that offer diverse landscapes and unforgettable outdoor experiences.
Whether you prefer coastal panoramas, enchanting swamps, serene ponds, or woodland retreats, Delaware has something to offer every nature lover. Grab your camping gear, embark on an adventure, and discover the natural wonders of Delaware.