As a sports enthusiast and journalist, I've had the privilege of witnessing the evolution of NBA commentary over the years.
The league's rich 75-year history has been graced by some of the most iconic voices that have not only narrated the game but have also become an integral part of it.
These commentators and analysts have the power to elevate a play, making it memorable for generations.
Here's my take on the top NBA commentators and color analysts, inspired by my colleagues and the voices that have resonated with fans worldwide.
15. Doris Burke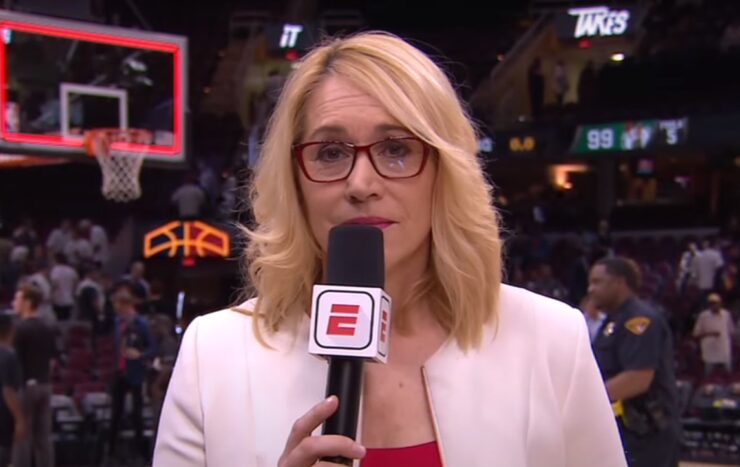 Doris Burke's contribution to the NBA's commentary landscape is nothing short of legendary. Her journey, spanning decades, has been a beacon of inspiration for many.
Doris Burke has been a pivotal figure in ESPN's NBA coverage over the years. Her dedication and passion for the game are evident in her insightful commentary. Starting her career in 1990 with the WNBA and college basketball games, she broke barriers by becoming the first woman to call a New York Knicks broadcast in 2000.
Before the 2017-18 season, Burke was elevated to the position of national NBA game analyst for ESPN. Currently, she offers her expertise during the NBA Finals on ESPN Radio, showcasing her versatility and depth of knowledge.
14. Chris Webber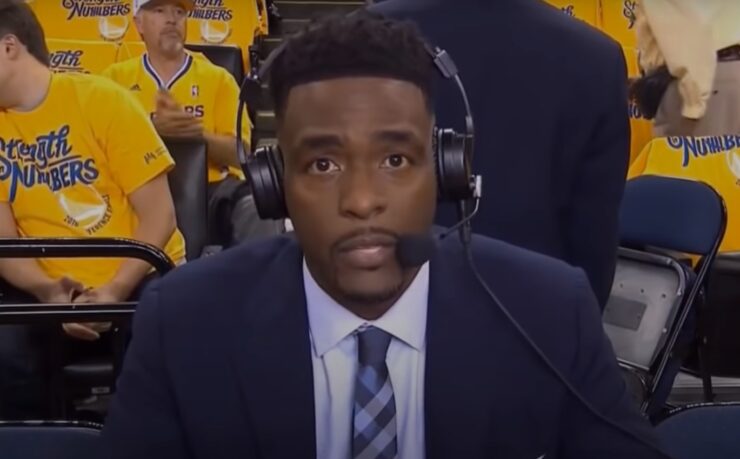 Chris Webber's transition from a celebrated player to an analyst has been seamless. His insights, drawn from his playing days, add a unique perspective to the commentary.
Webber's association with TNT from 2008 to 2021 saw him emerge as one of the top NBA analysts. His understanding of the game and ability to articulate intricate plays made him a fan favorite. Although he parted ways with TNT before the 2021 playoffs, his contribution to the network remains unparalleled.
The former NBA All-Star shared the broadcasting stage with Marv Albert for a significant part of his stint at TNT. He also graced the "Inside the NBA" show, where his camaraderie with fellow analysts was evident.
13. Dick Stockton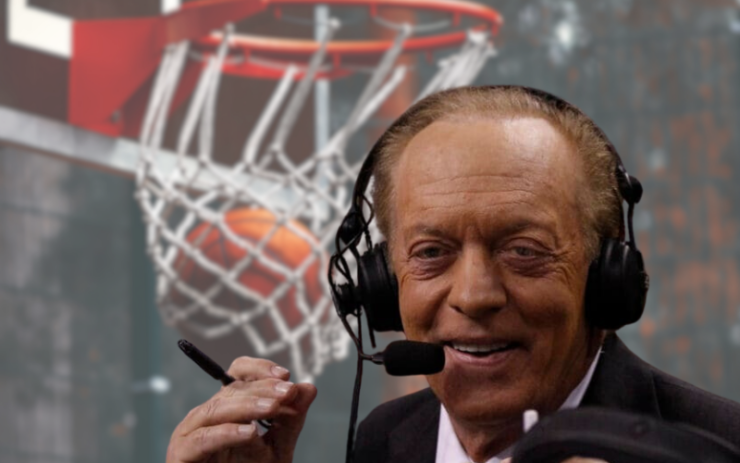 Dick Stockton's voice has been synonymous with NBA commentary for decades. His longevity in the industry speaks volumes about his expertise and connection with the audience.
Starting his illustrious career in 1974, Stockton has been the voice behind some of the most iconic moments in NBA history. His association with networks like Boston Celtics TV, New York Knicks TV, NBA on CBS, and NBA on TNT has solidified his legacy as one of the top NBA announcers.
While at CBS from 1981 to 1990, Stockton had the honor of calling nine NBA Finals. His contributions to the world of sports broadcasting were recognized in 2001 when he was inducted into the Naismith Basketball Hall of Fame.
12. Ian Eagle
Ian Eagle's versatility in broadcasting is commendable. While he has made significant contributions to NFL and college basketball commentary, his work in the NBA stands out, making him one of the premier voices in the league.
Ian Eagle began his NBA broadcasting journey in 1994 as a radio voice for the Brooklyn Nets. His insightful commentary and unique style quickly caught the attention of fans and experts alike. This led to his elevation as the television commentator for the team, a role he embraced with unmatched enthusiasm.
Apart from his association with the Nets, which continues on the YES Network, Eagle has been a prominent play-by-play announcer during the NBA playoffs for TNT. His ability to capture the essence of crucial moments has endeared him to fans worldwide.
11. Mike Fratello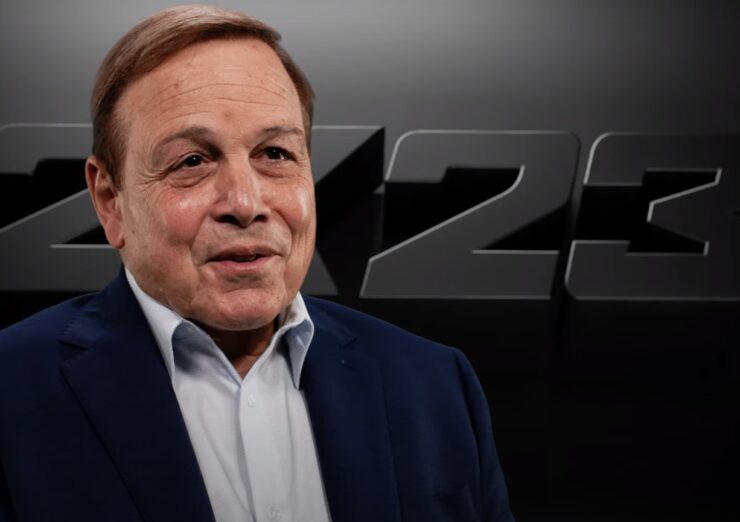 Mike Fratello's deep understanding of the game, stemming from his coaching days, has made him one of the most respected figures in NBA commentary. His dual roles as a coach and commentator have provided fans with a unique perspective on the game.
Mike Fratello's journey in the NBA is multifaceted. While he has been recognized as one of the top NBA commentators, he has also left an indelible mark as a coach, clinching the Coach of the Year title in 1985-86 with the Atlanta Hawks.
Fratello's broadcasting career saw him associated with giants like NBC, TNT, NBA TV, and YES Network. His partnerships with other top NBA announcers, including Steve Kerr, Marv Albert, and Kevin Harlan, have produced some of the most memorable commentary moments in the league's history.
10. Kevin Harlan
Kevin Harlan's voice is instantly recognizable to any NBA fan. His energetic and passionate commentary style has made some of the league's most iconic moments even more memorable.
One of Harlan's most unforgettable calls came on May 12, 2008, when after a spectacular LeBron James dunk, he exclaimed, "LeBron James with no regard for human life!" Such moments encapsulate Harlan's ability to elevate the viewing experience for fans.
Recognizing his immense contribution to sports broadcasting, Harlan was honored as the National Sportscaster of the Year in both 2017 and 2019. Currently, he continues to enthrall fans with his play-by-play commentary for NBA on TNT.
9. Steve Kerr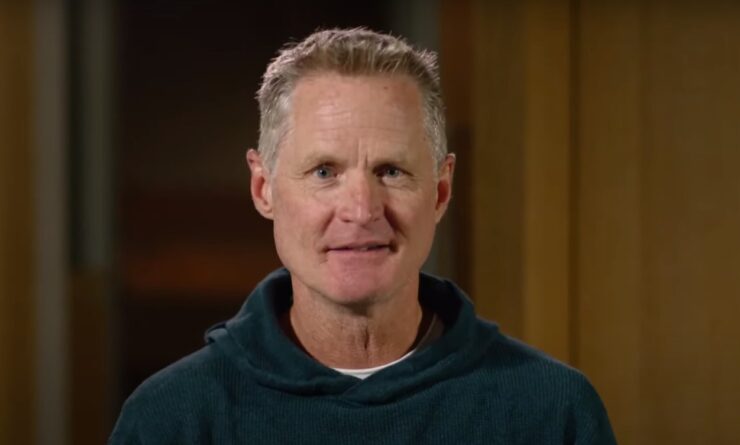 While most recognize Steve Kerr for his achievements as a player and the head coach of the Golden State Warriors, his stint as an NBA commentator showcased his deep understanding and love for the game.
Steve Kerr ventured into broadcasting in 2003, lending his voice to games on TNT alongside the legendary Marv Albert. His insights, drawn from his experiences as a player, added depth to the commentary, making it relatable and insightful for fans.
Apart from his work on TNT, Kerr was the voice behind in-game commentary for the NBA Live series for five years and also served as the color analyst for NBA 2K for four years. His ability to seamlessly transition between roles is a testament to his versatility and passion for basketball.
8. Walt "Clyde" Frazier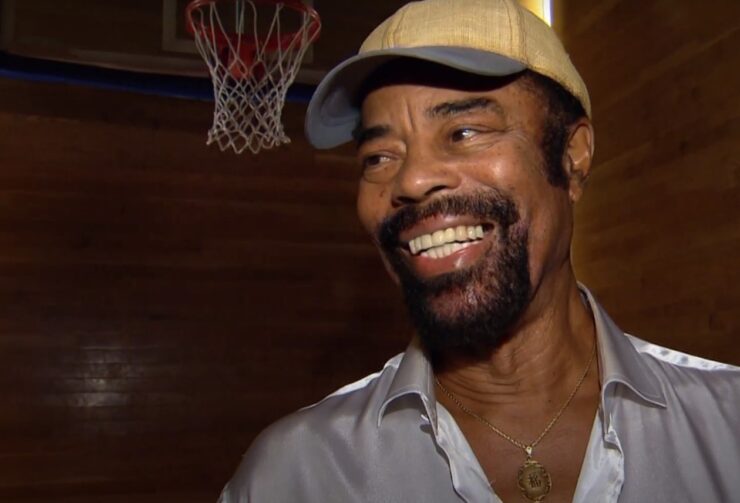 Walt "Clyde" Frazier's association with the New York Knicks is legendary. As a player, he dazzled fans with his skills, and as a commentator, he has continued to be an integral part of the Knicks' legacy.
Frazier began his commentary journey with the Knicks in 1987, initially on radio broadcasts. His unique style and catchphrases quickly made him a fan favorite. Later, he transitioned to television, partnering with iconic commentators like Marv Albert and Mike Breen.
Even in his 70s, Frazier's enthusiasm remains undiminished as he continues to call Knicks games on the MSG Network. His dual achievements were recognized when he was announced as the first person to be inducted into the Naismith Basketball Hall of Fame both as a player and a broadcaster, following his win of the 2022 Curt Gowdy Award.
7. Doug Collins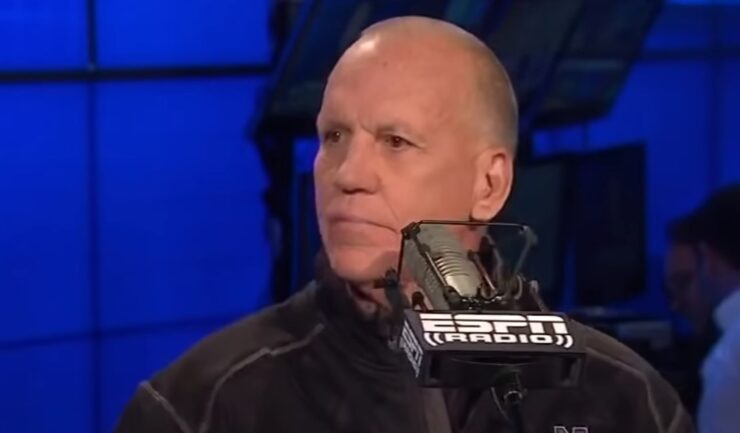 Doug Collins's deep-rooted association with basketball, both as a player and a coach, has provided him with insights that few can match. His commentary is a blend of technical knowledge and on-court experience.
Collins began his broadcasting journey in 1985, starting with playoff games for CBS. His analytical approach, combined with his firsthand experience as a coach, made him one of the most sought-after NBA analysts of his time.
While he often oscillated between coaching roles and broadcasting, Collins's contribution to NBA commentary is undeniable. He has been associated with several networks, including NBC, TNT, CBS, TBS, and ABC/ESPN. Additionally, his expertise was on display during NBC's basketball coverage of the 2008 and 2012 Olympics.
6. Mike Breen
Mike Breen's voice has become synonymous with some of the most iconic moments in NBA history. His signature call, "Bang!", after a player sinks a crucial shot, resonates with fans across the globe, making him one of the most recognizable commentators in the league.
With a career spanning over 30 years, Mike Breen has been at the forefront of NBA broadcasting. His association with ESPN and ABC has seen him call the NBA Finals on ABC since 2006, a testament to his expertise and popularity. Additionally, his work with the MSG Network, where he calls Knicks games, showcases his versatility and depth.
Breen's contributions to the world of sports broadcasting were acknowledged in 2021 when he was inducted into the Naismith Basketball Hall of Fame. His passion, knowledge, and iconic calls have solidified his place among the greats.
5. Hubie Brown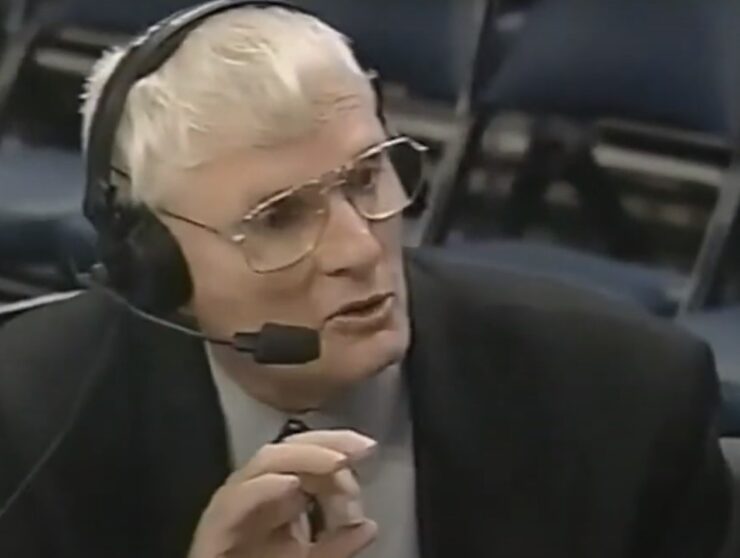 Hubie Brown's analytical approach to commentary, combined with his coaching experience, offers fans a unique perspective on the game. His ability to break down complex plays and strategies has made him one of the most respected analysts in the NBA.
Hubie Brown began his broadcasting journey in 1982, shortly after his tenure as the head coach of the Atlanta Hawks. His insights, drawn from his coaching days, added a new dimension to NBA commentary, making it more comprehensive and educational for fans.
Over the years, Brown has been associated with CBS, ABC, and ESPN, showcasing his vast knowledge and expertise. His contributions will be further recognized in 2022 when he is inducted into the Naismith Basketball Hall of Fame as a broadcaster.
4. Chick Hearn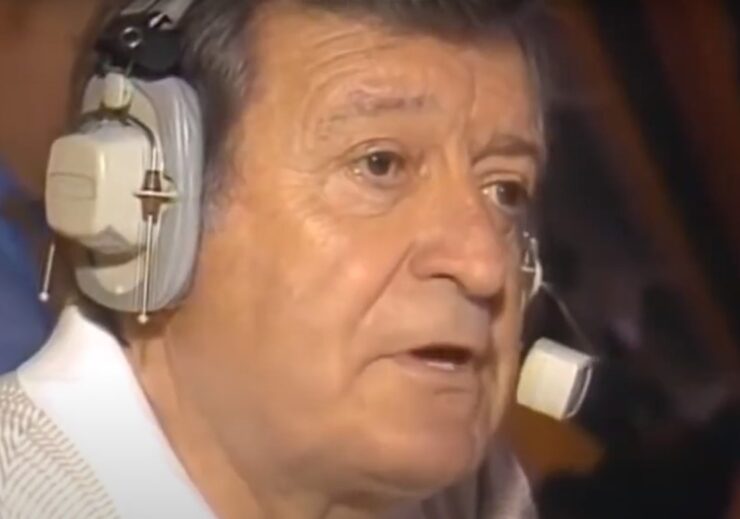 For many, especially Los Angeles Lakers fans, Chick Hearn is the voice of basketball. His innovative style and the phrases he coined have become an integral part of NBA lexicon.
Between 1965 and 2001, Chick Hearn's voice graced 3,338 consecutive Lakers games, a testament to his dedication and love for the game. His commentary was not just about calling the game; it was about painting a vivid picture for the listeners, making them feel as if they were right there on the court.
Hearn's legacy includes popularizing phrases like "Slam dunk," "air ball," "finger-roll," and "give and go." These terms, now commonly used in basketball commentary, are a testament to Hearn's lasting impact on the sport.
3. Jeff Van Gundy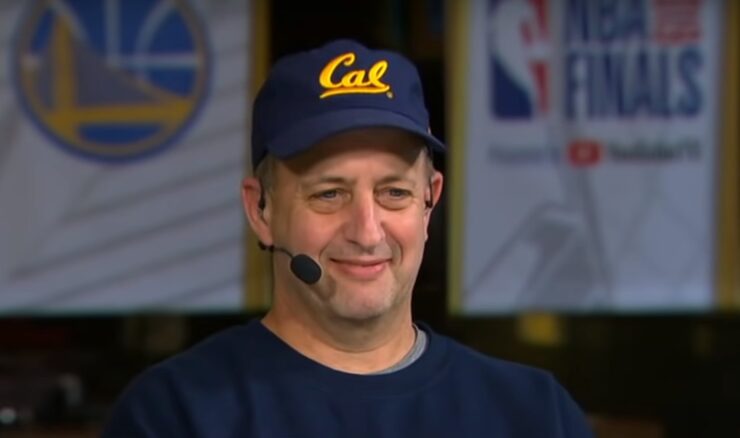 Jeff Van Gundy's candid and forthright style of commentary sets him apart. Known for his no-nonsense approach, Van Gundy offers insights that are both sharp and unfiltered, making him a favorite among fans who appreciate straight talk.
Jeff Van Gundy transitioned to broadcasting in 2007, following his stint as the head coach of the Houston Rockets. His deep understanding of the game, combined with his willingness to call out players, referees, or even NBA rules, has made him one of the most distinctive voices in the league.
Currently associated with ESPN, Van Gundy's commentary is both enlightening and entertaining. His ability to blend technical insights with candid observations ensures that fans get a comprehensive understanding of the game.
2. Jack Ramsay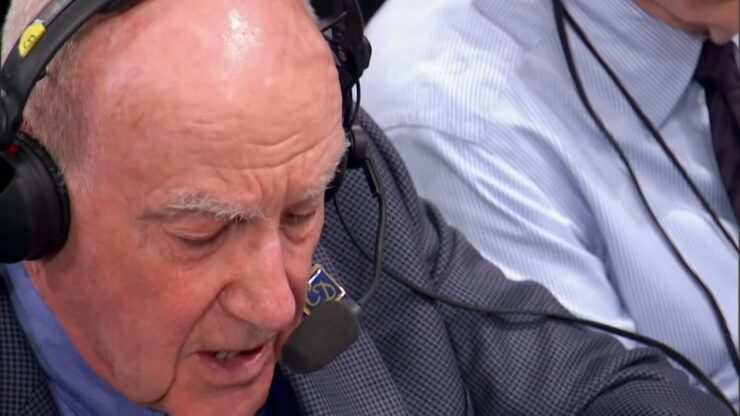 Dr. Jack Ramsay's profound basketball knowledge, stemming from his diverse roles as a player, coach, and general manager, made him one of the most revered NBA commentators in history.
Jack Ramsay's commentary was a masterclass in basketball understanding. His vast experience provided him with insights that few could match. Ramsay's tenure saw him call 15 NBA Finals on ESPN Radio, further solidifying his legacy as one of the greats.
Apart from his radio commentary, Ramsay also served as a color commentator on television for teams like the Philadelphia 76ers and Miami Heat. His deep-rooted basketball wisdom, combined with his articulate presentation, made him a cherished figure in NBA broadcasting.
1. Marv Albert
Topping the list is none other than Marv Albert, often referred to as "the voice of basketball." With a broadcasting career that spans over half a century, Albert's contributions to NBA commentary are unparalleled.
Marv Albert began his broadcasting journey in the early 1960s and has since been the voice behind countless iconic NBA moments. His association with networks like MSG Network, NBC Sports, TNT, and YES Network showcases the breadth and depth of his illustrious career.
Known for his signature calls and unmatched enthusiasm, Albert's voice has been the soundtrack for generations of NBA fans. His retirement in 2021 marked the end of an era, but his legacy as the greatest NBA commentator of all time remains intact.
Honorable Mentions
While the aforementioned commentators have left an indelible mark on NBA broadcasting, there are several others who, over the years, have contributed immensely to the world of basketball commentary. Their voices, insights, and unique styles deserve recognition.
Bill Walton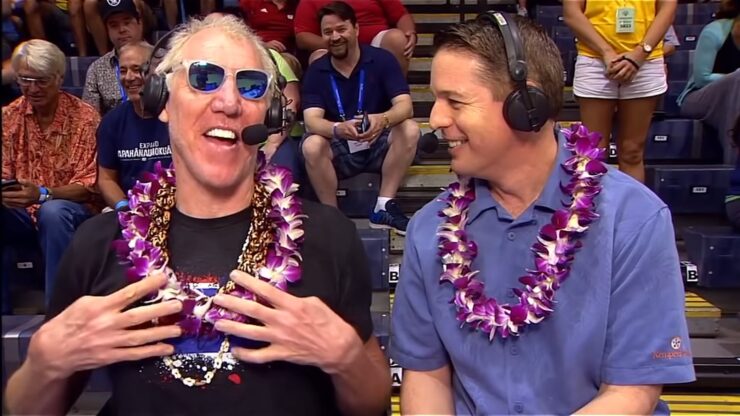 Bill Walton, with his eccentric and passionate style, has been a polarizing figure in NBA commentary. However, there's no denying the depth of his basketball knowledge and his genuine love for the game.
A former NBA player, Walton's transition to commentary was marked by his distinctive style, blending technical insights with personal anecdotes and often philosophical musings. His commentary is as unpredictable as it is entertaining.
Over the years, Walton has been associated with networks like NBC, ABC, and ESPN. Whether you love him or find him perplexing, there's no denying that Walton brings a unique flavor to NBA broadcasts.
Reggie Miller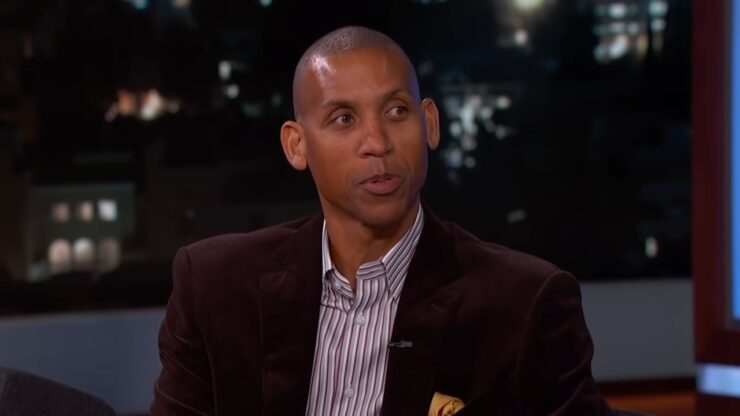 Reggie Miller, one of the greatest shooters in NBA history, has seamlessly transitioned into the world of commentary, bringing with him insights from his playing days.
Miller's sharp analysis and understanding of player mindsets make him a valuable asset in the commentary box. His firsthand experience of high-pressure situations in the NBA allows him to provide viewers with a player's perspective.
Currently associated with TNT, Miller's camaraderie with fellow commentators and his playful banter, especially during intense moments, adds a light-hearted touch to broadcasts.
Grant Hill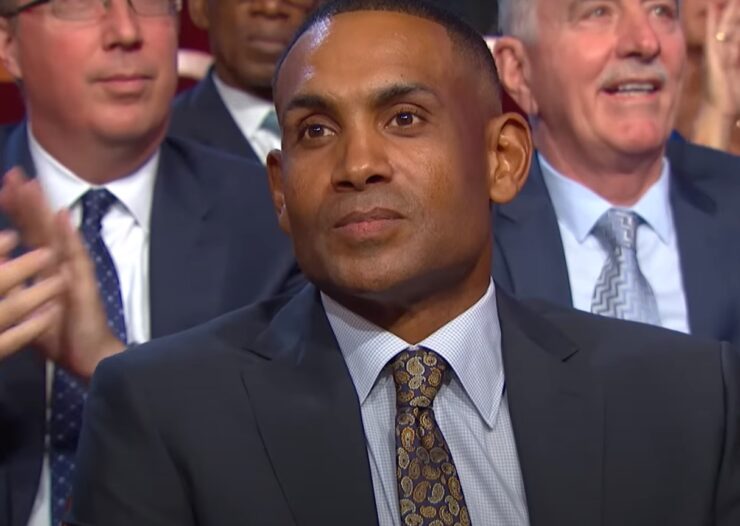 Grant Hill, a former NBA All-Star, has brought his calm and analytical approach to the world of NBA commentary, making him a favorite among fans who appreciate in-depth analysis.
Hill's commentary is characterized by his ability to break down plays, offering viewers insights into team strategies and player decisions. His calm demeanor contrasts with the high-energy nature of the game, providing a balanced viewing experience.
Working with networks like TNT and NBA TV, Hill's contributions to NBA broadcasting continue to grow, solidifying his place among the best in the business.
FAQ
How did Marv Albert develop his signature "Yes!" call?
Marv Albert's iconic "Yes!" call developed organically over time. Initially, it was just a spontaneous reaction to exciting plays. However, as fans began to associate this call with him, it became one of his signature phrases, capturing the excitement of pivotal moments in games.
What inspired Doris Burke to transition from playing basketball to commentary?
Doris Burke's love for the game was evident during her playing days at Providence College. After her playing career, her passion for basketball remained, and she saw commentary as a way to stay connected to the sport. Her deep understanding of the game, combined with her unique perspective as a former player, made her transition to commentary seamless.
Why did Chris Webber part ways with TNT before the 2021 playoffs?
Chris Webber's departure from TNT was unexpected for many fans. While specific details were not publicly disclosed, it's not uncommon for broadcasters and networks to re-evaluate their partnerships. Webber's contributions to TNT over the years were significant, and he remains a respected figure in NBA broadcasting.
How did Chick Hearn come up with the term "slam dunk"?
Chick Hearn had a knack for coining phrases that captured the essence of the game. The term "slam dunk" was one of his many contributions, describing the powerful and emphatic nature of the play. Hearn's colorful language and innovative terms added a unique flavor to his commentary.
Did Jeff Van Gundy ever consider returning to coaching while he was a commentator?
Jeff Van Gundy has always had a deep love for coaching, and there have been rumors and speculations over the years about potential coaching opportunities. While he has expressed interest in certain roles, his commitment to broadcasting and the platform it provides has kept him in the commentary booth.
How do commentators prepare for an NBA game?
Commentators spend hours preparing for each game. This involves studying team statistics, player histories, recent performances, and potential game strategies. They often have pre-game meetings with coaches and players to gain insights that might not be publicly available. Additionally, they familiarize themselves with player pronunciations, especially for international players, to ensure accuracy during the broadcast.
Are there specific schools or courses for aspiring NBA commentators?
While there isn't a specific school solely for NBA commentary, many universities offer courses in sports journalism and broadcasting. Aspiring commentators often start with a degree in communications or journalism and then specialize in sports broadcasting. Internships and hands-on experience, such as calling college games, can also be invaluable.
How has the role of analytics influenced NBA commentary?
With the rise of advanced analytics in basketball, commentators now have access to a wealth of data that goes beyond traditional stats. This has added depth to their commentary, allowing them to discuss player efficiencies, shooting hotspots, and defensive metrics in real-time, providing fans with a more comprehensive understanding of the game.
How do commentators handle live errors or mistakes during a broadcast?
Live broadcasting is challenging, and errors are inevitable. When mistakes occur, seasoned commentators quickly acknowledge the error and correct it. Transparency and authenticity are key. It's essential to maintain credibility with the audience.
Are commentators affiliated with specific teams or are they neutral?
While some commentators work exclusively for specific teams and cater to that team's fan base, most national broadcast commentators maintain neutrality to provide an unbiased perspective. However, local commentators might have a slight bias towards the home team, given their primary audience.
Final Words
The world of NBA commentary is as vibrant and dynamic as the game itself. These voices, past and present, have shaped our experiences and understanding of basketball. They've celebrated the highs, analyzed the lows, and provided context to the most iconic moments in NBA history.
As fans, our appreciation for the game is enriched by their insights, passion, and dedication. As the NBA continues its global journey, these commentators will remain our guides, narrating the ever-evolving story of basketball. Whether you're a casual viewer or a die-hard fan, the voices of these commentators resonate, reminding us of the beauty, complexity, and excitement of the NBA.